You're going to love my Chicken Cordon Bleu Casserole. It's loaded with layers of chicken, deli ham, and a creamy, cheesy dijon mustard sauce, topped with crunchy buttery panko bread crumbs.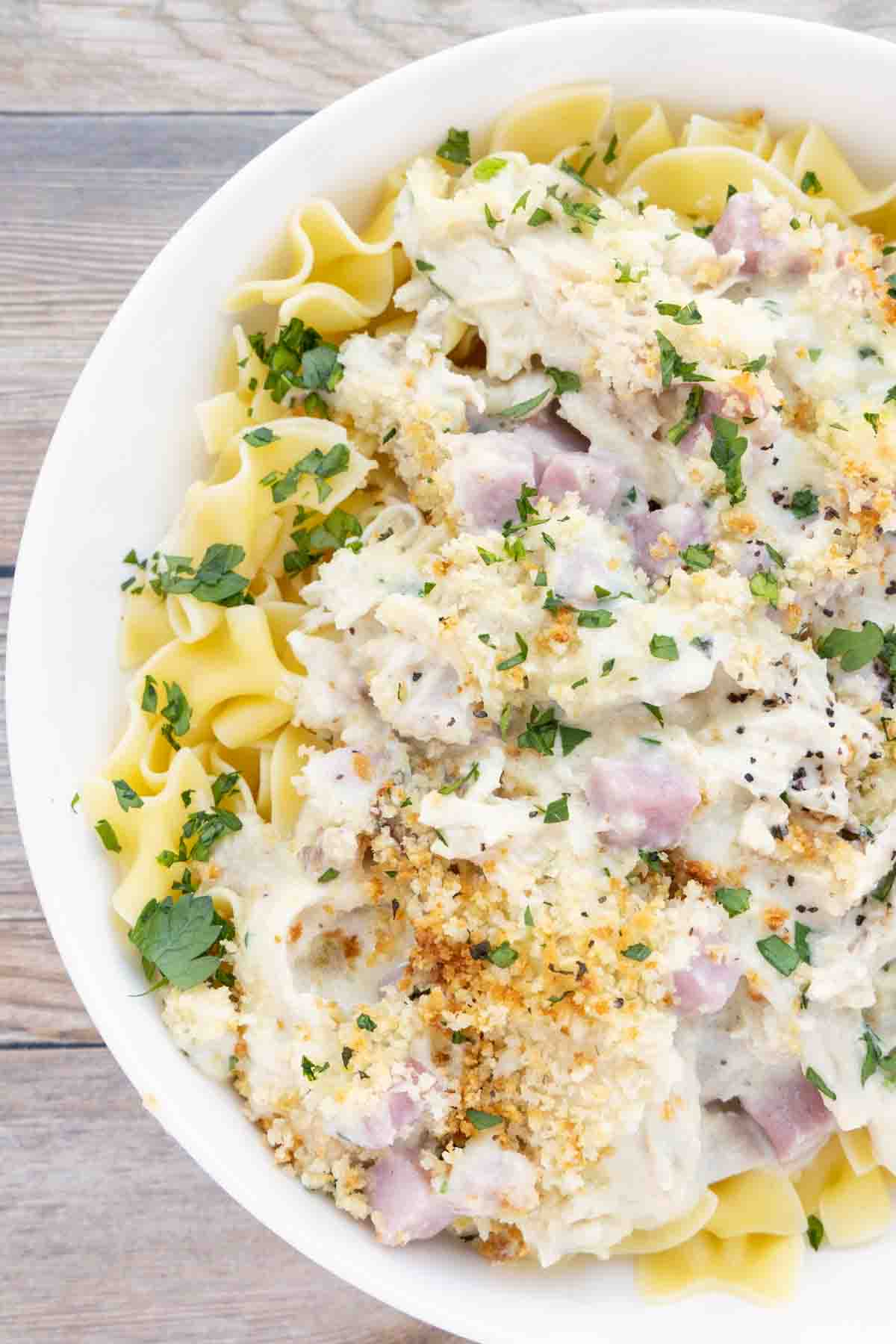 Serve this flavorful casserole with it's creamy sauce over egg noodles or rice, and you've got a delicious, easy-to-make dinner perfect for busy weeknights.
My Easy Chickne Cordon Beu Casserole is with simple ingredients and it's a great way to use up leftover chicken and leftover ham.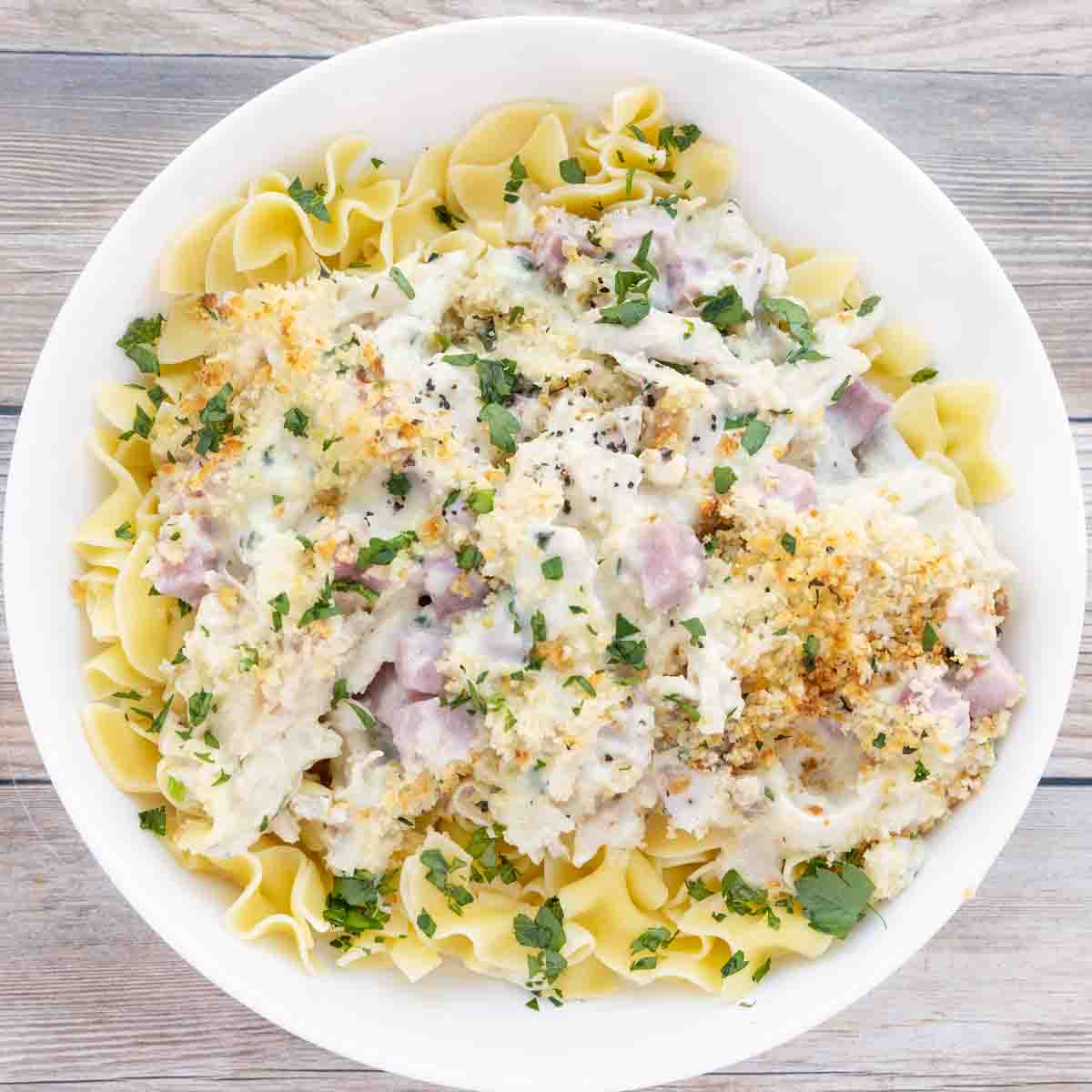 My Chicken Cordon Bleu in casserole form is a lot easier to make than the traditional chicken cordon bleu and every bit as delicious. I used a rotisserie chicken to make this dish but you can also make it with chicken breast if you want to make it with all white meat.
Ingredients for Chicken Cordon Bleu Casserole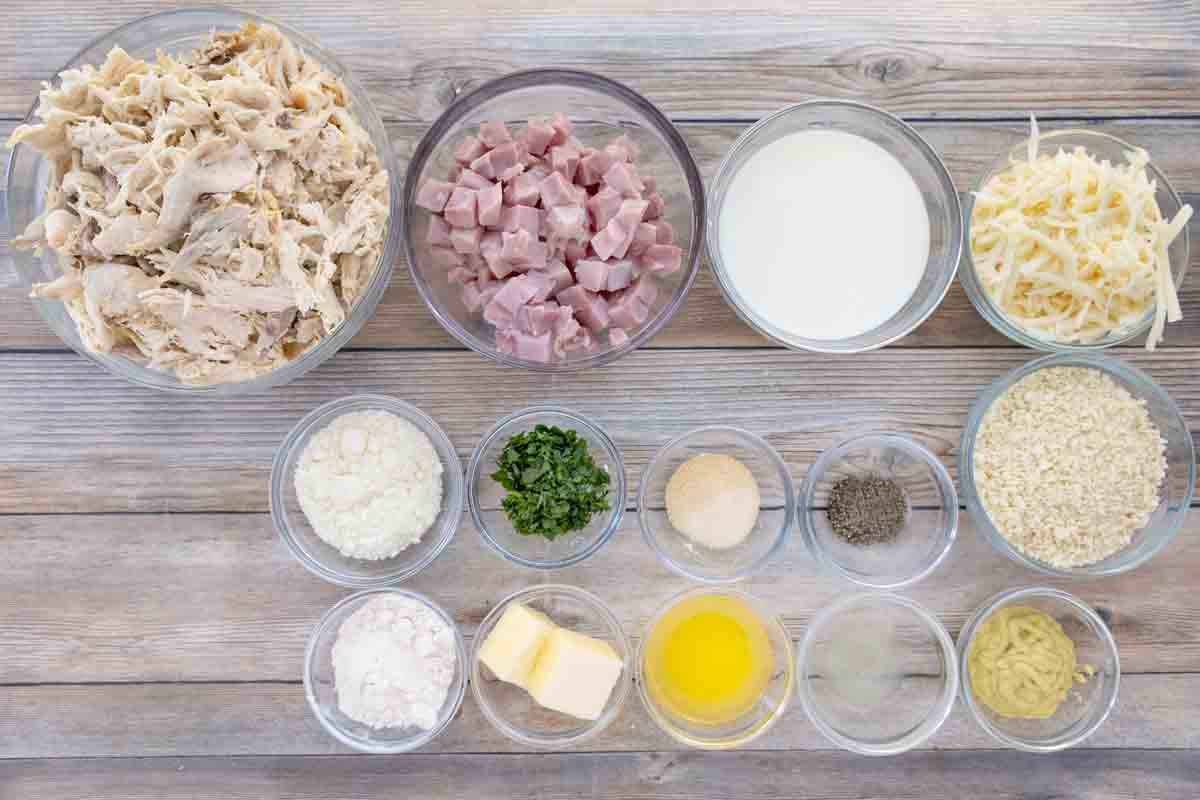 Let's start by gathering the ingredients we need to make this easy recipe for Chicken Cordon Bleu Casserole. In Chef Speak, this is called the "Mise en Place," which translates to "Everything in its Place."
Not only does setting up your ingredients ahead of time speed up the cooking process, it also helps ensure you have everything you need to make the dish.
How to make dijon cheese sauce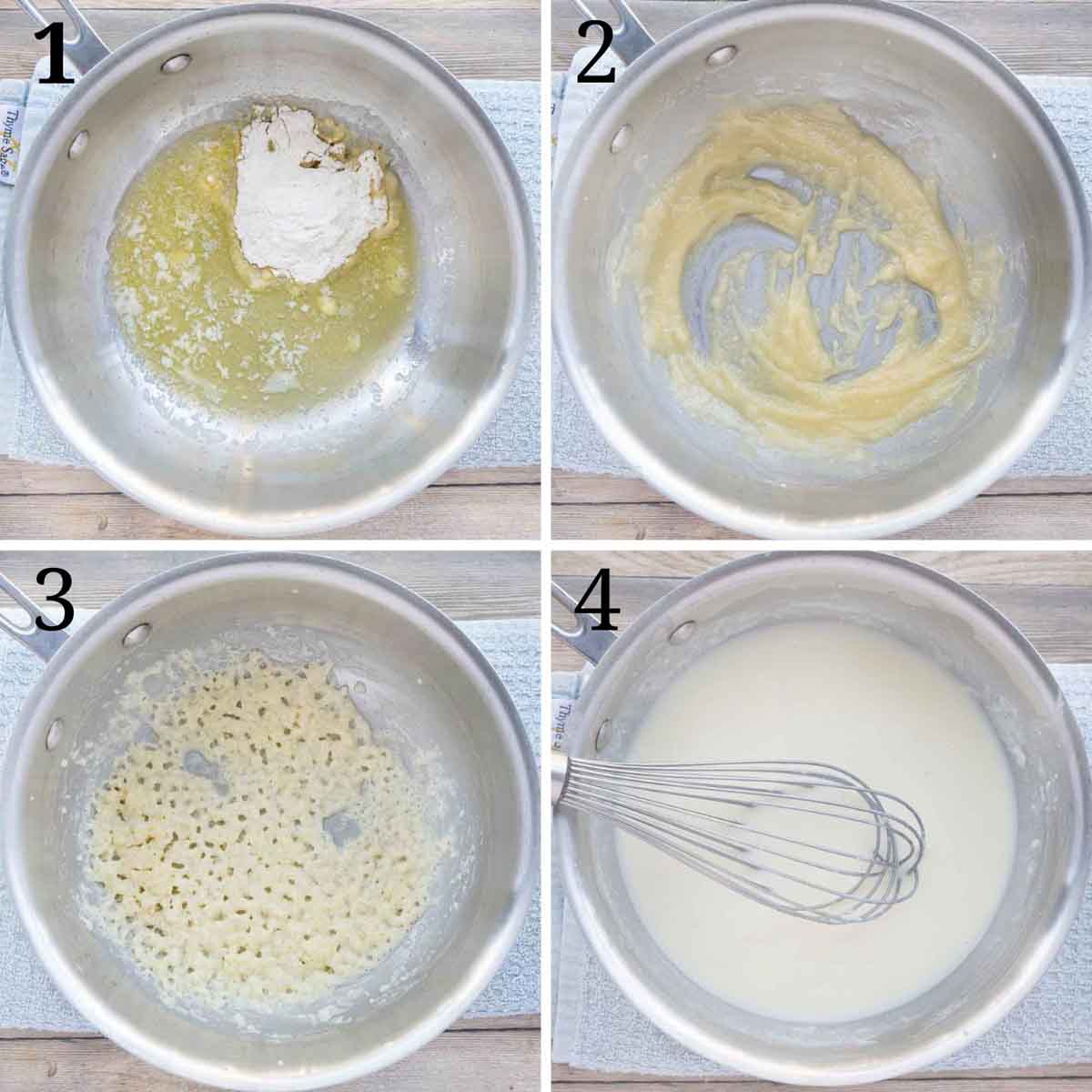 Melt the butter in a saucepan over low heat. Then add the flour to the pan.
Mix the flour with the melted butter to make a roux.
Allow the roux to cook over low heat for 2-3 minutes. Don't let it burn!
Whisk the milk into the roux until smooth. Increase to stove to medium heat. The sauce will begin to thicken.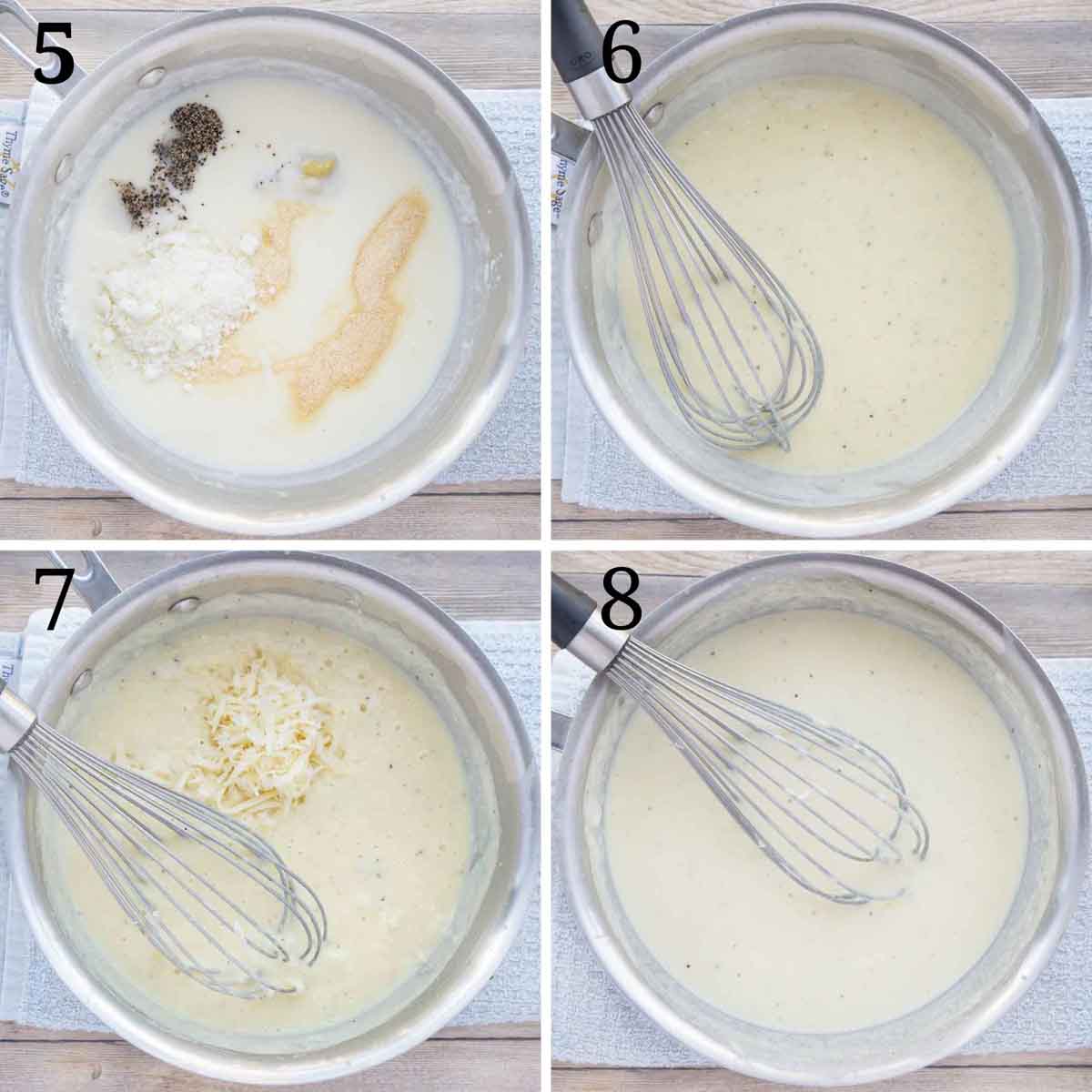 Add the Dijon mustard, lemon juice, garlic powder, onion powder, and black pepper to the sauce.
Whisking the ingredients until well blended. Let the mixture simmer for 3-5 minutes. Keep whisking the sauce and turn the heat down to medium-low.
Add the shredded Swiss cheese and grated romano (or parmesan cheese) to the sauce and whisk until well blended.
Add the chicken stock to the mixture. The sauce should now resemble a cream soup. *The sauce will thicken more as it bakes, so don't be afraid to add a little more milk or chicken broth if it looks too thick.
How to make Chicken Cordon Bleu Casserole
*Before you begin to assemble the casserole, prepare the Buttered Panko Bread Crumbs
Preheat the oven to 375 degrees F.
Use cooking spray to coat a 9 x 13 inch casserole dish.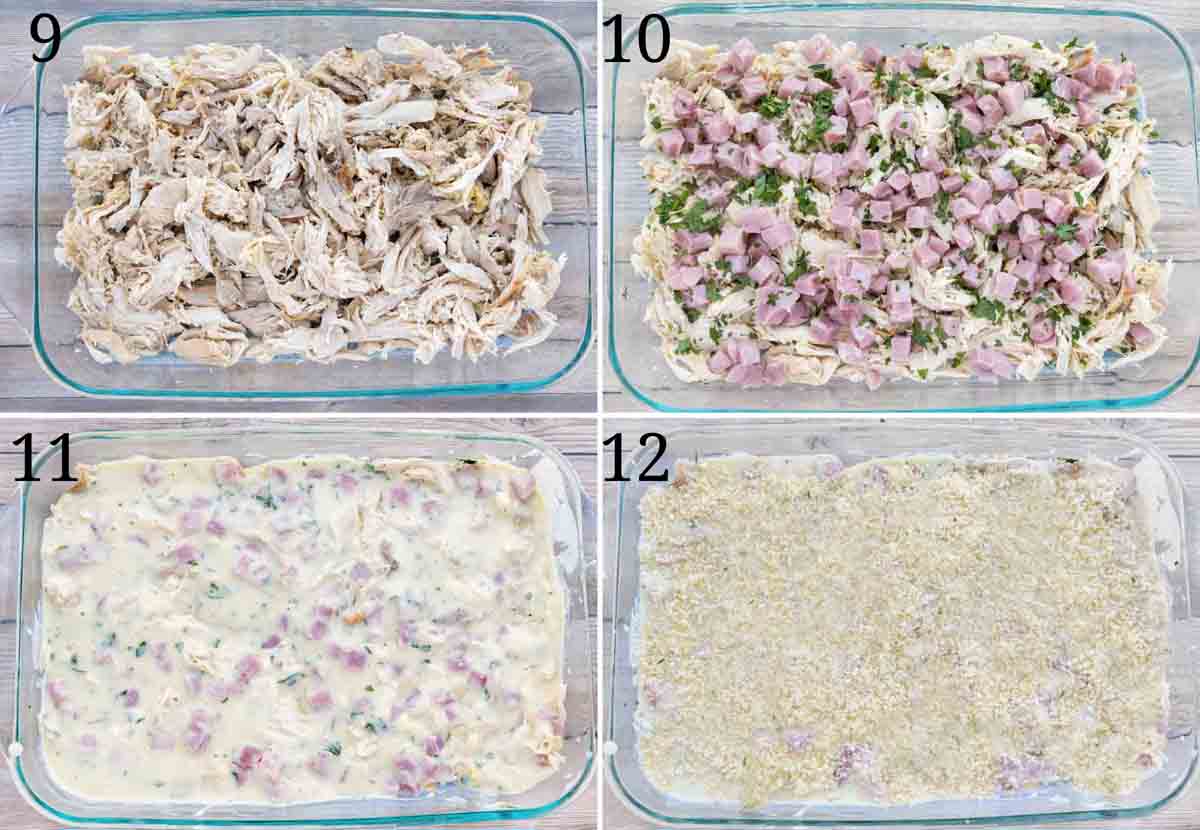 Layer the pulled chicken on the bottom of the baking dish.
Add the cubed ham on top of the chicken and sprinkle the chopped Italian parsley over the meats.
Pour the sauce over the meats in the casserole dish, making sure to cover all the meats completely. Do not stir the ingredients together.
Sprinkle the buttered panko bread crumbs over the top of the casserole.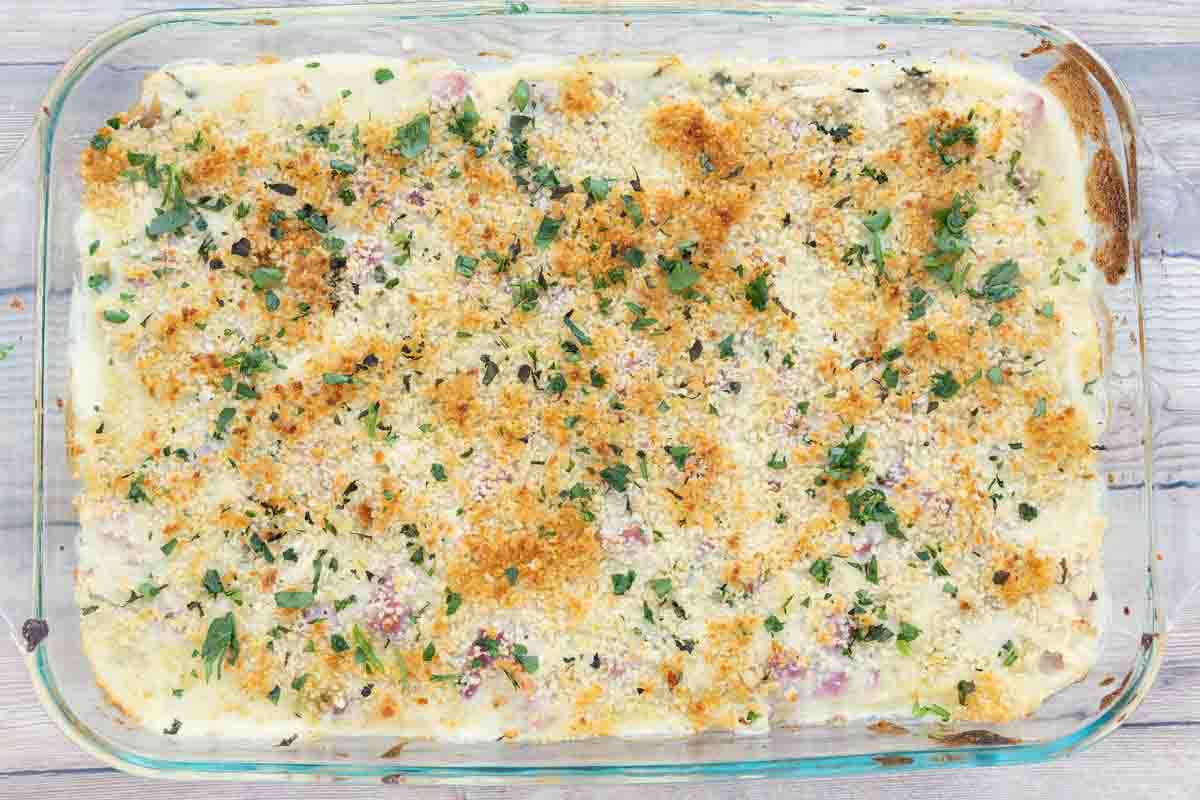 Place the finished casserole on the center rack of the preheated oven and bake for 15-20 minutes, or until the bread crumbs have browned.
Allow the casserole to cool for 5 minutes before serving.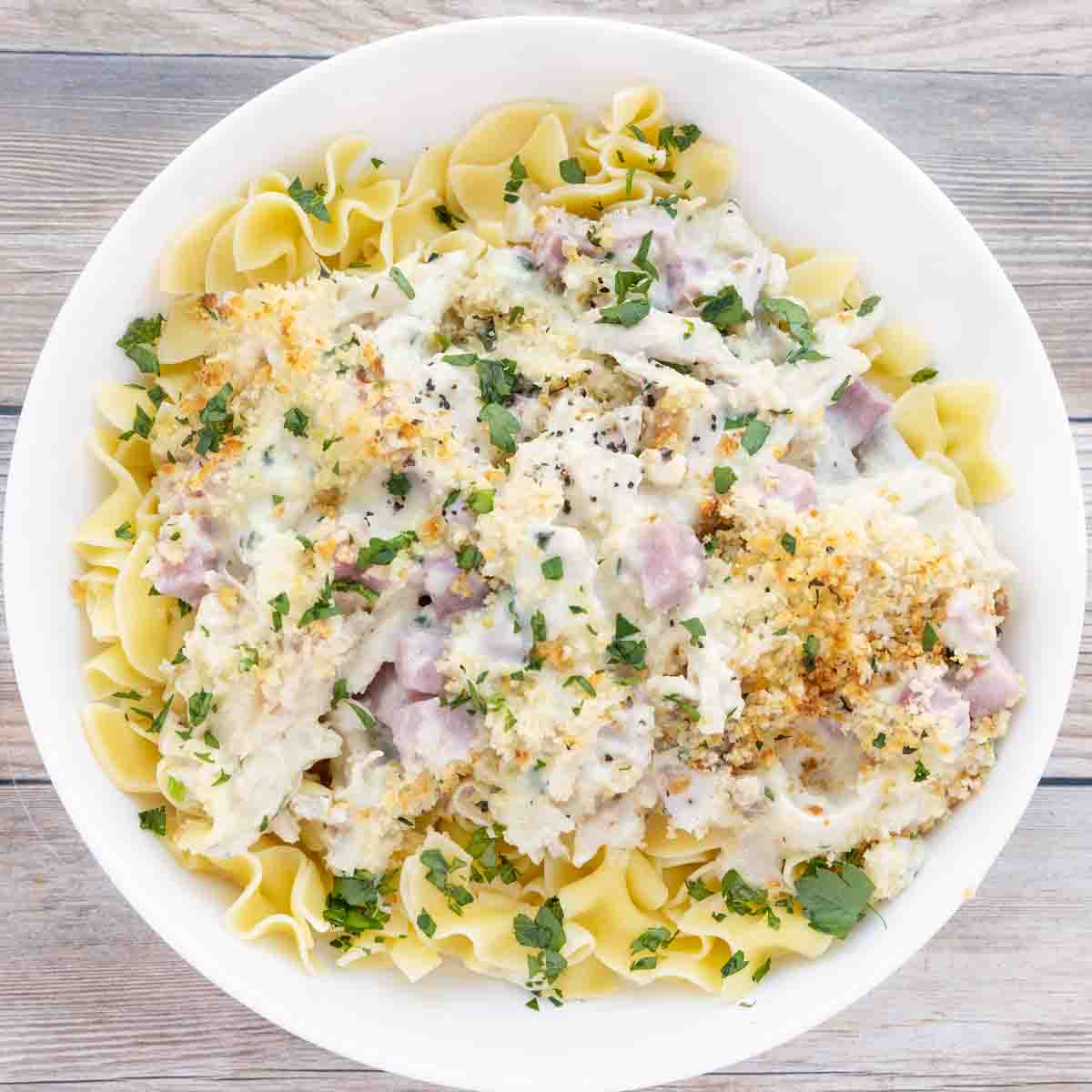 This is one of my favorite casserole dishes and one your whole family will love. I'm sure you'll agree that my Chicken Cordon Bleu Casserole is pure comfort food!
Spoon the casserole over egg noodles and serve with a green salad for a delicious easy dinner.
Recipe FAQ's
What is a cordon bleu sauce made of?
Cordon Bleu sauce is made by making a bechamel sauce with Dijon mustard, grated Romano cheese (or parmesan cheese), Swiss cheese and seasonings to create a creamy decadent sauce.
Do I have to use ham in my casserole?
No, you don't. If you're not a fan of ham, you can leave it altogether or substitute broccoli, asparagus or mushrooms for the ham.
Do I have to use Swiss cheese in my casserole?
No, you don't. You can use your favorite cheese or a combination of your favorite cheeses. Cheddar, gruyere, and even a few bleu cheese crumbles would be my choices.
More Recipes You'll Love!