When they asked me to visit Bürgenstock Resort on my trip to Lucerne, I had no idea what I would find. A beautiful hotel, maybe some quiet time by the pool and if I was lucky a good meal.
Instead, I found a resort the likes of which I'd never seen. This post is brought to you thanks to my friends at Lucerne Tourism and Bürgenstock Resort. All opinions are 100% my own and honest.
Where is Bürgenstock Resort?
In the heart of Central Switzerland on the shores of Lake Lucerne is where you'll find Burgenstock. This incredible resort with four hotels, nine restaurants and bars, shopping, two spa areas, one wellness center and more than 30 business event rooms, with a capacity for conferences for more than 600 guests.
You'll also find 67 private residence suites at the resort that have been occupied by the rich and famous since it was built in 1905. In May of 2018 Bürgenstock reopened after a 560 million dollar remodel and I can personally attest to the magnificence of this dazzling Swiss resort. It is simply amazing.
To get to Bürgenstock you can drive or take a ferry to Mt. Burgenstock where you'll board a funicular to the top of the mountain. The funicular is quite an experience with the highest angle of the ascent being 58 degrees. And as you can guess, the view is spectacular.
Our tour of the resort grounds was quite an unexpected experience. The majestic beauty of the surrounding area and the opulence of this perfectly placed Swiss resort gave us one OMG moment after another.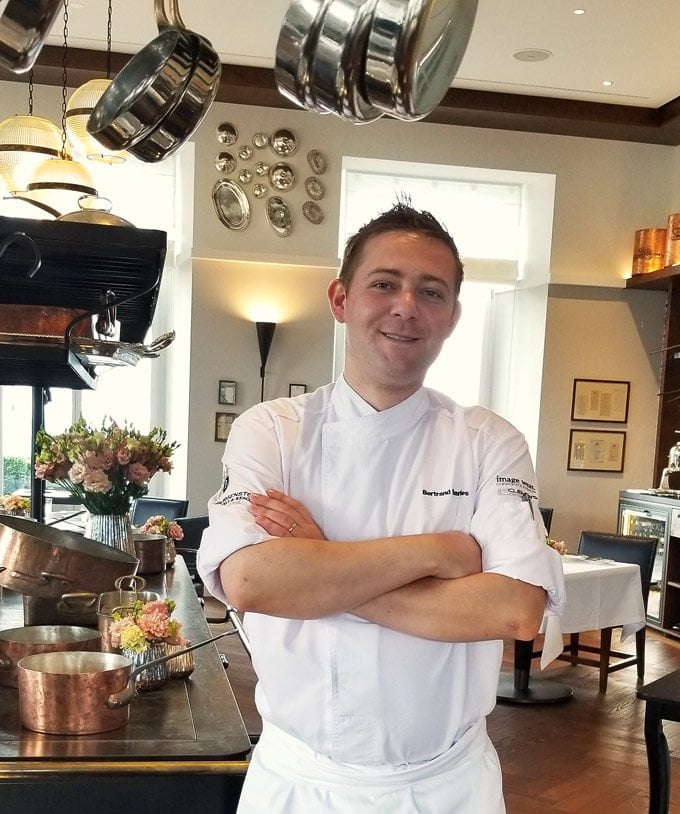 But the tour of the restaurants is what impressed me the most. We spent some time with the chef of the RitzCoffier restaurant and I couldn't have been more impressed with the entire operation of this exquisite restaurant. I only wished I had gotten to sample the menu.
The centerpiece of this beautiful dining room is the original stove (completely restored) that Auguste Escoffier used when creating recipes for his Le Guide Culinaire. For a chef, it was like a trip to the Culinary Holy Land.
We also got to sample what had to be the best caviar that I've ever had the good fortune of tasting.
The Main Event: Spices Kitchen at Bürgenstock Resort
After our tour of the resort and its restaurants, we settled in at Spices Kitchen for a glass of wine as they prepared the menu for dinner. Here you see the chefs planning the menu they will be serving us. Lisa kept asking me, who do they think you are..lol.
When the food started coming out, I was blown away at the incredible array of dishes we were served. Lisa enjoyed their California Rolls and other cooked Sushi selections.
While I got to sample their ah-mazingly delicious Sashimi. It's hard to believe before I moved to Florida I thought of sushi as bait….sigh. All those years I wasted not tasting the amazing flavors of raw seafood.
And it didn't stop there as we were treated to a tasting of their Pan-Asian Cuisine. Spices Kitchen brings authentic flavors from Japan, China, India and Thailand to the heart of Switzerland. Flying in their ingredients from the regions their chefs come from as needed.
The Sushi and Sashimi were followed by a Szechuan Hot & Sour Soup.
After the Soup, we continued the feast with Spicy Minced Thai Chicken Salad with chili powder and roasted rice.
Next up we enjoyed Deep-fried Scallop Spring Roll. I think this was my favorite.
We also enjoyed a Thai Green Papaya Salad with dried shrimp, crushed peanuts, tomatoes and cowpeas (similar to a black-eyed pea).
And last but not least Steamed Crystal Prawn Dumplings.
Spices Kitchen Bürgenstock Resort: Round Two Dinner
Lisa and I did a pretty good job finishing all of those appetizers. But honestly, we thought that was dinner and had no clue until the waiter came by and said: "That was a pretty good starter". Lisa looked at me and said what did he say….lol.
At that point, I called the waiter back over and was told the entrees were to follow. OMG! We asked our server to ask the chef to scale it back a little. And I think he did as we only got 3 entrees.
First up was a Stir-fried Chicken with Cashews, red and green peppers and dried chili. Flavorful doesn't begin to describe this perfectly prepared dish, also known as Gai Phad Met Mamuang.
Next up was Barrah Lamb Chops, lamb marinated in ginger, garlic, onions, Garam masala & Indian spices, grilled in a tandoor.
And the last entree we were served was Steamed Black Cod with a light soy sauce, aka Qingzheng Xue Yu.
At that point, I don't think either of could have eaten another bite. Everything had been so amazingly flavorful that we wanted to eat every last morsel that served to us.
Do you have room for dessert?
I knew it was going to happen and at this point, there was no turning back.
I'm so glad we went for dessert. The dry ice provided the smoke for effect on this glorious dessert. A half coconut filled with Yuzu gel, banana puree, mango passionfruit sorbet & coconut foam.
I don't think they could have served a more perfect dessert. It was light, sweet and a delicious way to end our meal at Spices Kitchen.
So now I know why you need to visit Bürgenstock Resort on the shores of beautiful Lake Lucerne. It's a one of a kind resort that is not only opulent, it's welcoming. When I go back to Lucerne you can bet I'll be staying at least one night at this amazing resort. It will be a check off my bucket list!
Click on the links for more information on Lucerne and Burgenstock.
If you love to travel and enjoy good food you may also like these Culinary Travel posts: