Did you know that St. Augustine, Florida is America's Oldest City?
That's right, St. Augustine aka "Florida's Historic Coast" was the first permanent settlement in what would later become the United States. It was established by the Spanish in 1565 making it the nation's oldest continuously occupied city.
But that's not the only reason to visit St. Augustine. Beside's the cities rich history, you'll also find a trendy dining scene, beautiful beaches and a delicious nightlife! What more could you ask for?
The sunshine state beckons and St. Augustine is ready to show you the time of your life!
What are the Historical Sights of St. Augustine?
If you love history, you'll find plenty to keep you busy in St. Augustine.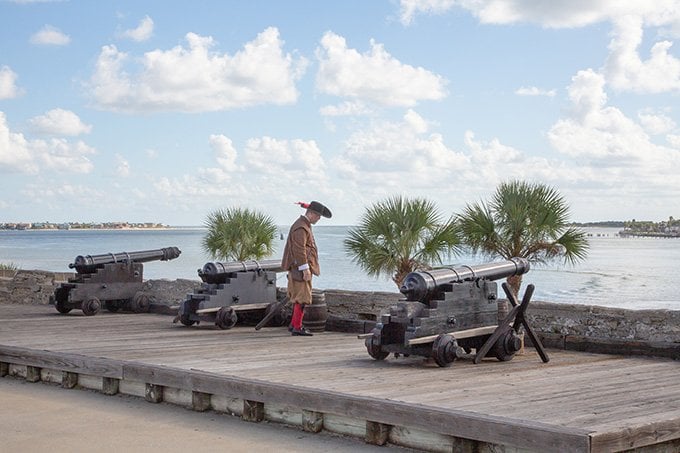 My favorite place to start is at the Castillo de San Marcos. The Castillo is the oldest masonry fort in the continental United States. This large Spanish stone fortress was built to protect and defend Spain's claims in the New World. 
"There's plenty to do at the Castillo de San Marcos, from the numerous rooms that once housed soldiers and prisoners, to the large interior courtyard and gun deck which offers a great view of the city. Regular daily programs and ranger-led tours are free with admission to the Castillo de San Marcos as are canon firings which are offered (weather and staffing permitting) on Fridays, Saturdays and Sundays at 10:30 a.m., 11:30 a.m., 1:30 p.m., 2:30 p.m. and 3:30 p.m."
Although many Spanish forts preceded the Castillo, this fort made of coquina was impenetrable to enemy attack and was fire resistant.
"The fort came under fire for the first time in 1702. British forces, led by General Moore, burned the city but could not penetrate the Castillo's walls. Subsequent attacks in 1728 and 1740 yielded similar results, and the British were never able to take the city of St. Augustine by force"
And of course no visit to St. Augustine is complete without stopping by the legendary Fountain of Youth. On his travels to what is now Florida in 1513, Ponce de León allegedly searched for and found the Fountain of Youth. Thanks to local Native Americans he was directed to Skelt's backyard where they told him the magical waters could restore youth to anyone.
Disclaimer** I drank about a half gallon and have seen no visible effects….. sigh.
Do you believe in ghosts? If you do you may find more than you bargained for in St. Augustine.
Lisa and I joined the Ghostly Encounters Walking Tour to the Castillo, Graveyards and other haunted sights of the city. We didn't see any ghosts but the guide showed us images that guests had emailed from the previous tours. Do you believe in ghosts? If you do you'll St. Augustine
What Kind of Restaurants do they have in St. Augustine?
One thing I can you promise you is you'll never go hungry in St. Augustine. They have some of the best restaurants in Florida and a wide variety of cuisines to keep your palate and your stomach entertained and happy!
One of the restaurants on our list for this visit was Preserved Restaurant featuring Authentic Southern Cuisine with an emphasis on showcasing locally sourced ingredients. These perfectly prepared Pan Seared Scallops with a sunchoke soubise and a muscadine grape verjus was outstanding!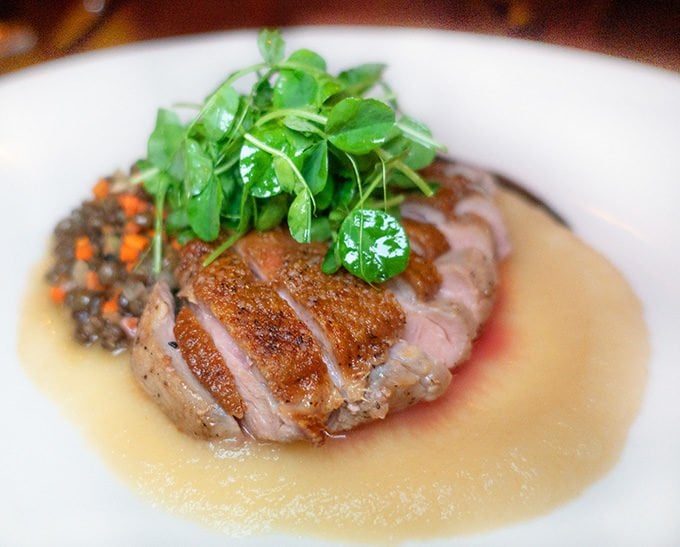 James Beard-nominated Chef Brian Whittington will tantalize your taste buds with his offerings. His presentation of the classic Duck Breast with French green lentils, house bacon lardons, parsnip puree, roasted duck jus, pea shoots was heaven on a plate.
And because Chef Brian is serious about the food he serves, he opened Chop Shop – Artisan Butcher to ensure his restaurants had quality sourced ingredients. The Chop Shop is open to the public, and you can purchase the same quality foods for your home that Chef Brian uses at Preserved.
A
Make sure to stay in town for at least 4 days, so you have time to try all of my favorite restaurants. Michaels Tasting Room is another delicious spot for you to try. One of the items I always order at restaurants is their charcuterie. I love sampling what the chef has picked out as his favorites paired with mustards, jams and other flavorful accompaniments.
After partaking in a delicious starter, your stomach is more than ready for the main course! These Braised Short Ribs with a red wine demi-glace were exquisite…sigh. The server had to pry the plate out of my hands as I sopped up every last bit of that sauce.
On the night we dined Chef Michael Lugo had a Cauliflower Steak on his menu. My wife was intrigued and wanted to try his creation. Lisa absolutely loved this flavorful entree with its rich veggie demi-glace and tri-color couscous.
And make sure to save some room for dessert because Chef Michael will wow you with his offerings. Not only are they delicious, they're also beautiful!
One of the highlights of our trip was spending a delicious afternoon with The Tasting Tours.
We started our adventure at Osprey Tacos on Anastasia Ave. And to be honest, I could've stayed there all day just eating tacos…sigh. They were glorious! I got to sample these OMG Baja Shrimp Tacos as well as their Carne Asada tacos and world-famous St. Augustine Fried Shrimp Tacos with a pink Datil pepper sauce.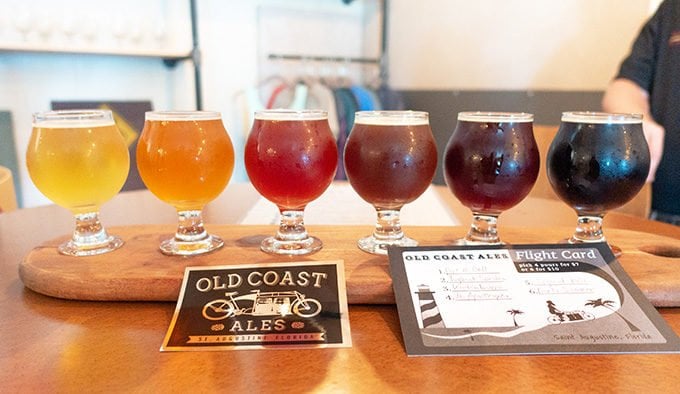 That was stop number 1. Our next stop was right next door at Old Coast Ales where we got to sample a flight of their brews. They were all so delicious it was hard to pick a favorite, but I do lean toward the dark beers. I can't believe the different flavors that each of these craft beers had. And opening next to a taco stand makes the brewery a great place to spend the day!
But there are too many delicious spots in St. Augustine to stay in one spot when you're on a tasting tour.
Our next stop was at the Fountain of Youth. I know what you're thinking, who would ever go to eat at an attraction? Well, my friend's people were stopping just for the food while we were there, and after sampling this delicious plate of meats, I could understand why people were flocking to Smoked- Southern BBQ.
As it turns out, this is no ordinary barbecue restaurant. Smoked is one of Chef Brian Whittington's (Preserved) restaurants and will be on my list of favorite barbecue joints.
Our last stop of the tour was an iconic St. Augustine restaurant The Floridian. They call their offerings Innovative Southern Fare for Omnivores, Herbivores, and Locavores. I call it damn delicious!
I was about ready to burst when we got to The Floridian, but our guide had something special in mind for this stop. We had a dessert and beer pairing that was the perfect end to a delicious afternoon! 
When you visit St. Augustine, make sure to book an afternoon with The Tasting Tour, you will love it!
What type of Accommodations will I find in St. Augustine?
When deciding where to stay in St. Augustine, you'll find options for every type of traveler and every budget. You can choose from Airbnb, Chain Hotels and Quaint Old Florida Inns on the Island and adjacent, 
I love staying in Old Florida properties when I travel around the state and I do love a good breakfast, so we generally look for a Bed and Breakfast. On this trip, we were lucky enough to secure a room at the St. Francis Inn.
It was the perfect location to get around the city while not being right in the middle of the crowds. We loved having our breakfast (or snacks) out in the courtyard at the St. Francis Inn,
How are the Beaches in St. Augustine?
Can you pristine? The beach in and around St. Augustine are some of the best you'll find on Florida's Atlantic Coast.
What Else Can I do in St. Augustine?
No visit to St. Augustine is complete without stopping by the Historic Lighthouse & Maritime Museum, where you can climb 219 steps to the top of the 165-foot tower for a breathtaking view of historic downtown St. Augustine, the beaches, and the nation's oldest port.
And the Lightner Museum is where you can experience "Florida's Smithsonian." Henry Flagler's former Alcazar Hotel holds 19th-century artifacts, including natural history exhibits, Tiffany glass, a Victorian Village, and antique mechanical musical instruments.
And make sure to grab a bite to eat in Cafe Alcazar. Café Alcazar is an elegant eatery situated in the space of the Lightner Museum, originally designated for the massive indoor swimming pool that once graced the hotel. Reservations are suggested and make sure to leave room for dessert!