Perfect for game day or an extra delicious taco night, my Buffalo Chicken Tacos will have your family and friends cheering and asking for seconds and thirds!
Total Time:
1
hour
5
minutes
This post includes affiliate links. As an Amazon Associate I earn from qualifying purchases.
Buffalo Chicken Tacos would be a delicious menu item for your next family night dinner or game day gathering. Just add your favorite toppings and let everyone build their own tacos. Just don't forget the napkins!
One of my favorite meals growing up was tacos, not only did tacos remind me of Texas but they were a lot of fun to eat and I have to admit they still are fun to eat! Over the years the lowly taco has gone through many culinary changes with the hard shell crunch taco giving way to the soft flour tortilla version that you find on most restaurant menus.
But the changes didn't stop with the outside of the taco, no that was just the beginning. Culinarians around the world began experimenting and adding nontraditional fillings to these little bundles of deliciousness creating a never ending assortment of choices with what has long been regarded as peasant food.
They've come a long way since my days in Texas, and I for one am very happy to see the changes!
It's no secret that I absolutely love Buffalo Chicken and its found its way into many different dishes that I've made. So when I started thinking about tacos, it just seemed natural to use it as a filling.
As I thought about the filling I knew I wanted to use bleu cheese with it but took it a little outside the box by adding my bleu cheese dressing to cabbage creating a tangy version of a traditional cole slaw. Many times my additions are also for color and texture and roasted corn fell into that category very easily, and the results were amazingly delicious!
So much so that Lisa, who has refused to even touch a taco in all the years I've known her devoured one and asked for more. Now that's when I know I have a winner, and I hope you enjoy these as much as we did!
These little beauties will make a great addition to a family taco night or when friends come over to watch the big game.
Set up a do it yourself taco bar with all your favorite toppings and let your guests do the rest, just don't forget the napkins because you'll find everyone reverting to their childhood as they enjoy their creations, eating with wild abandon and making a little bit of a mess.
If you enjoyed this recipe you may also like these:
[full social]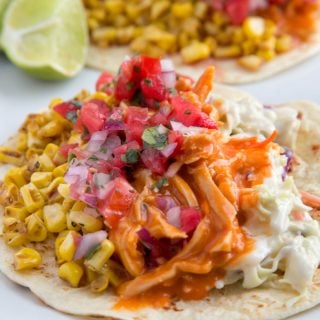 Print Recipe
Buffalo Chicken Tacos with a Bleu Cheese Slaw
Perfect for game day or an extra delicious taco night, my Buffalo Chicken Tacos will have your family and friends cheering and asking for seconds and thirds!
Ingredients
Buffalo Chicken Tacos
24

6 inch

flour tortillas

2

lb

chicken thighs

cooked and pulled

2

cups

roasted or grilled corn

fresh or frozen
Buffalo Sauce
12

oz

Franks Buffalo Wing Sauce

or hot sauce of your choice

2

oz

unsalted butter

½ stick

3

oz

honey
Blue Cheese Slaw
1

small head of cabbage - cored and sliced very thinly or pre cut slaw mix

½

small

red pepper or carrot

sliced thinly and chopped

½

cups

blue cheese dressing

homemade or your favorite brand

1

tablespoon

apple cider vinegar

1

teaspoon

sea salt

or to taste

½

teaspoon

black pepper

or to taste
Homemade Blue Cheese Dressing
8

oz

Bleu Cheese

1

cup

sour cream or Greek Yogurt

1

cup

Mayonnaise

¼

cup

milk or buttermilk

¼

teaspoon

granulated onion

½

teaspoon

salt

¼

teaspoon

black pepper
Instructions
Chicken Thighs
Lightly coat the chicken thighs with olive oil and season with sea salt and black pepper. Place the chicken on a sheet pan in 350 degree oven and cook for 25 minutes or until they have reached an internal temperature of 165 degrees F.

Allow chicken thighs to cool for 5 minutes, then using two forks start pulling the meat off the thigh. Set aside till needed

**You can also pull the meat apart by hand then use a mixer to shred the meat. A stand or hand mixer will work, just don't try to do too much at one time.
Buffalo Sauce
In a saucepan melt the butter then add the honey and turn off the heat

Add in hot sauce and using a wire whip blend until fully incorporated into the butter/honey mixture.

You can heat this sauce if you want it hotter, but at this temperature the sauce will cling really well to the chicken. If you let the sauce get to hot it will break and separate into an oily mess!

Set aside sauce until ready to coat the chicken
Bleu Cheese Dressing
In a food processor, add the sour cream or Greek yogurt, the milk and half of your bleu cheese.

Pulse the mixture until all of the bleu cheese has been blended in.

Add this mixture to the mayonnaise with the remaining bleu cheese crumbles and seasonings. (The seasonings are just a guide, season it to your taste)

You should make this dressing at least one day ahead of time, to let the flavors build, it will taste the best after 48 hours.
Slaw
Mix blue cheese dressing, vinegar, sea salt and black pepper in a small bowl, blending the ingredients completely.

Blend cabbage mixture, and bleu cheese dressing, mix well and let sit for 4-6 hours.

Refrigerate until ready to use
Nutrition
Calories:
691
kcal
|
Carbohydrates:
48
g
|
Protein:
24
g
|
Fat:
45
g
|
Saturated Fat:
15
g
|
Cholesterol:
117
mg
|
Sodium:
2140
mg
|
Potassium:
527
mg
|
Fiber:
4
g
|
Sugar:
14
g
|
Vitamin A:
699
IU
|
Vitamin C:
33
mg
|
Calcium:
238
mg
|
Iron:
3
mg