You'll love the flavor of these Brats cooked in beer with onions and peppers! And when it comes to deliciousness these Brat Tacos are sure to please.
This post includes affiliate links. As an Amazon Associate I earn from qualifying purchases.
Every August 16th we gather around the grill to retell the story of Carl the Great Bratsgiver and why we celebrate BratsGiving. This year my friends at Johnsonville have asked me to help celebrate Bratsgiving by sharing some of the delicious ways I enjoy Johnsonville Brats.
Although this is a sponsored post, all opinions, images and deliciousness are honest and 100% mine.
To celebrate Bratsgiving the Johnsonville Way this year, I decided to pull out all the stops by creating a new taste sensation to serve up some extra special deliciousness at my Bratsgiving Party. While brainstorming in my mastermind group of one it came to me……..Brat Tacos!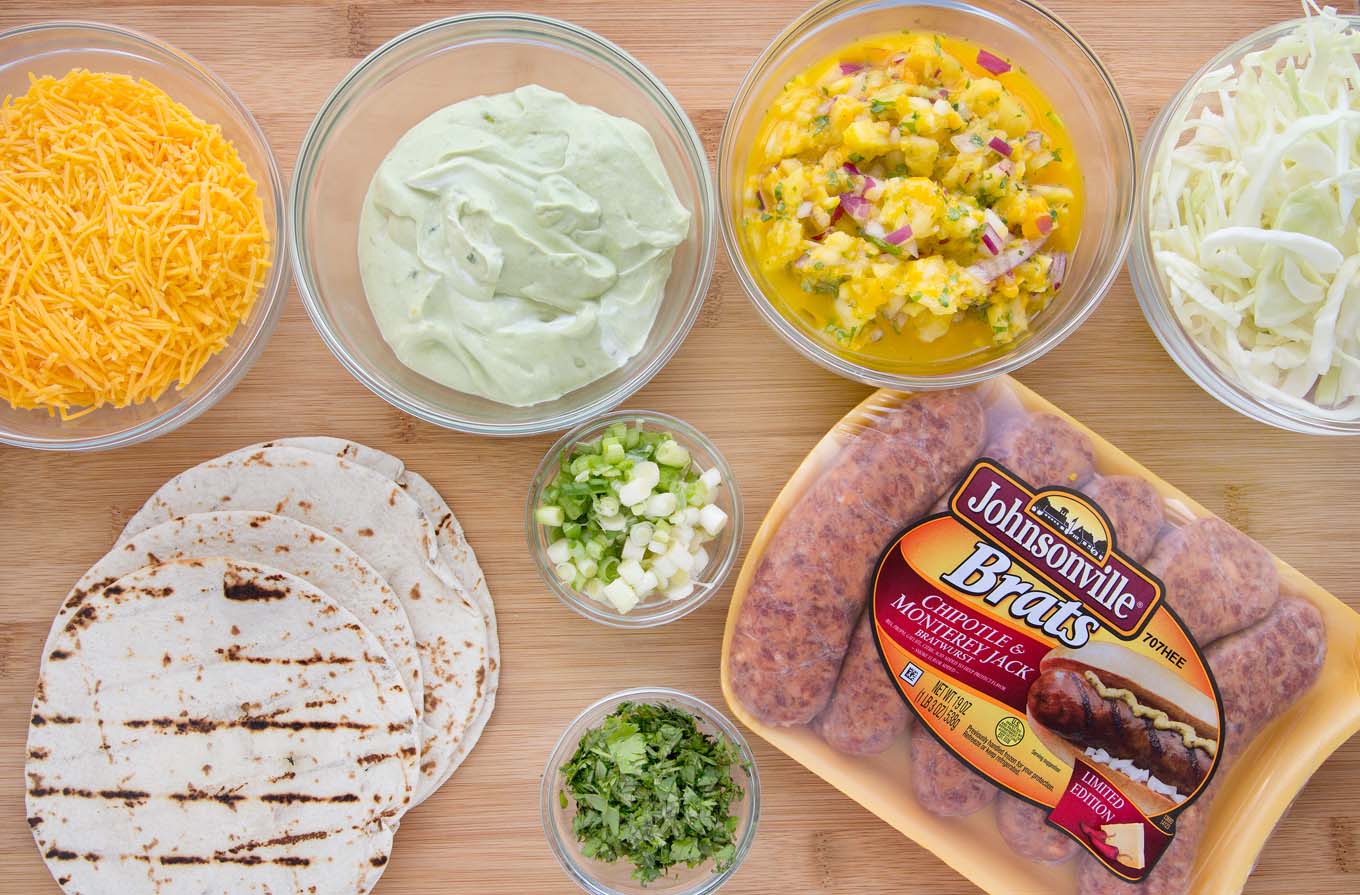 Let's start by getting our ingredients together (aka mise en place) for my Brat Tacos.
I used Chipotle & Monterey Jack Brats for my Tacos, but Johnsonville Brats have to be one of the versatile meats to work with.
Adding your flair to the dish only increases the deliciousness, so have fun and be creative with your toppings!
Of course, when it comes to grilling brats I've found my new favorite way cook up plump, juicy brats every time, that's ah-mazingly easy and OMG delicious! That my friends is a Brat Hot Tub.
After spending some time steeping in my beer mixture on the grill, I plated up my brats and couldn't get over how beautiful they looked….sigh. But then it was time to dive in and enjoy the fruits of my labor. I'm sorry to say that before I could snap any pictures of these beauties on a roll, they disappeared as my guests greedily devoured them! But the empty plate was a testament to their deliciousness.
If you enjoyed this recipe you may also like these:
Print Recipe
Brat Tacos and Brat Hot Tub
You'll love the flavor of these Brats cooked in beer with onions and peppers! And when it comes to deliciousness these Brat Tacos are sure to please.
Ingredients
Brat Taco
2

packs Johnsonville Brats of your choice

2 1/2

cups

shredded cabbage

10

ounces

shredded sharp cheddar cheese

10

flour tortillas

1/2

bunch cilantro finely chopped for garnish

1

bunch scallions - sliced for garnish
mango-pineapple salsa
1

cup

prepared sweet chili sauce

cup

½ finely chopped mango

cup

½ finely chopped pineapple

cup

¼ finely chopped red onion

juice from one lime

1

teaspoon

chopped cilantro
Avocado Crema
1

cup

prepared avocado puree or guacamole

1

cup

sour cream

2

teaspoons

lime juice

1/4

teaspoon

sea salt
Brat Hot Tub
24

ounces

of beer

1

large sweet Vidalia onion sliced

1

large red pepper sliced

2

tablespoons

of butter
Instructions
Brats
Preheat gas grill to medium-low. (If charcoal, allow it to burn until white ash has formed on the coals.

Place links on , using tongs to turn links often.

Grill covered for 15-20 minutes or until cooked through and browned. (Closing the grill lid while cooking helps minimize flare-ups.) Grill brats until cooked to a temperature of at least 160 degrees.

while brats are cooking, grill tortillas on both sides until you get good grill marks on them.
Pineapple-Mango Salsa
In a small bowl add chopped pineapple, mango, red onion, cilantro, lime juice and 1 cup sweet chili sauce.
Avocado Crema
mix prepared avocado puree, sour cream, lime juice and salt in a bowl, stir until ingredients are fully blended
Brat Taco Assembly
Set Brats, tortillas, cheese, shredded cabbage, salsa, avocado crema, cilantro and scallions out for your guests to build their Brat Tacos and enjoy
Brat Hot Tub
add sliced onions, peppers, butter and beer into baking dish

Place baking dish aka brat hot tub on to heat mixture to cooking temperature.

Grill brats until almost done, then place in hot beer mixture to continue cooking for 10-15 minutes.

Serve to your guests with your favorite toppings and be prepared to grill more Brats!
Nutrition
Calories:
696
kcal
|
Carbohydrates:
40
g
|
Protein:
24
g
|
Fat:
47
g
|
Saturated Fat:
20
g
|
Cholesterol:
115
mg
|
Sodium:
1491
mg
|
Potassium:
607
mg
|
Fiber:
3
g
|
Sugar:
17
g
|
Vitamin A:
933
IU
|
Vitamin C:
25
mg
|
Calcium:
305
mg
|
Iron:
2
mg