How to make Chicken Taco Cup Salads
Being creative in the kitchen is not always easy and the last thing you want to do is disappoint your family come supper time. And with everyone's busy schedule we don't always have time to cook everything from scratch or make elaborate meals. Now that doesn't mean you still can't cook up deliciousness in your kitchen, it just means you have to be smart about it.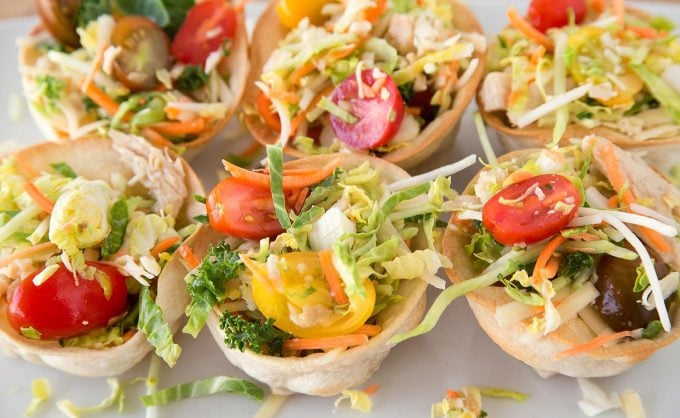 For today's easy to make Chicken Taco Salad Cups I picked up a few essential ingredients. I definitely needed tortillas and growing up with a Mexican grandmother I know nothing beats a freshly cooked tortilla. And since I discovered TortillaLand® Flour Tortillas you won't find any other brand in my home. They're made from 5 simple ingredients with no preservatives, and the fact that I find them in the refrigerated section lets me know they're fresh.
And, yes, I can make my own salad dressings but when you can buy something that's better than you can make at home, why fight it. That's why I use premade Italian Dressing when I want a dressing packed full of herbs, seasonings and flavor that's easy to use. It's a full-flavored dressing that you can use on salads, roasted meats or as a marinade.
So now that we've talked about ingredients, let's get down to the business of creating some deliciousness in under 15 minutes!
The first thing you need to do is get out your muffin tins. Cut the TortillaLand Flour Tortillas in half and make cones out of each half, pressing them into the cups of the muffin tin. As long as you've got non-stick muffin tins, there is no need to spray them. Pop them into a 400-degree oven for 6-7 minutes or until they start looking golden brown.
The fun part is you can fill them with just about anything you want. In fact, you can make different flavors, or set up a fixin's bar and let the family have fun creating their own. For my Chicken Taco Salad Cups, I used a precut slaw mix I found at my Walmart. It contained a mixture of brussels sprouts, broccoli, napa cabbage, kohlrabi, carrots and kale. All cut up and ready to go! It's a great way to get everyone to eat their vegetables while having fun making their taco cups.
If you enjoyed this recipe make sure to check out my Ultimate Nachos!
If you've tried my Chicken Taco Salad Cup recipe or any other recipe on askchefdennis.com please don't forget to rate the recipe and let me know where you found it in the comments below, I love hearing from you! You can also FOLLOW ME on Instagram @chefdenniseats and @chefdennistravels, Twitter and Facebook.