Ever since I can remember I've wanted to visit Rocky Mountain National Park. The Majesty of the Rockies was calling to me and Estes Park was the perfect home base for exploring the park.
Everything you see on TV about Colorado and the Rockies barely scratches the surface of the experience you'll get when you see those mountains up close and personal. It's a breathtaking experience in more ways than one.
Hiking uphill becomes quite challenging at 9000 feet, especially the older you get. But the views are spectacular. I did manage to make it up to Nymph Lake (elevation 9705 feet) while the others in our group went on to Emerald and Dream Lake. This was my I survived picture.
Afterwards, I sat down on a log with the rest of the out of shape folks to catch my breath, before walking around the other side of the lake for even better views!
Just when you think the scenery can't get any more beautiful you turn a corner and you have another photo op. We must have stopped 10 times a day to take breathtaking landscapes of this beautiful state.
One of the most scenic routes in the country has to be Old Fall River Road. It's a one-way route up the mountain to the ranger station with epic views all along the way. And no bathrooms till you hit the ranger station. I made a pit stop up a mountain hanging onto a tree and needed oxygen when I got back to the car….lol. While I joke about bathroom breaks, the other necessity of altitude activities (even driving) is extra water. You really need to stay hydrated or you will suffer the consequences of altitude sickness.
When you finally reach the ranger station near the highest point of the mountain the airs a little thinner but the views at 11, 796 feet are spectacular.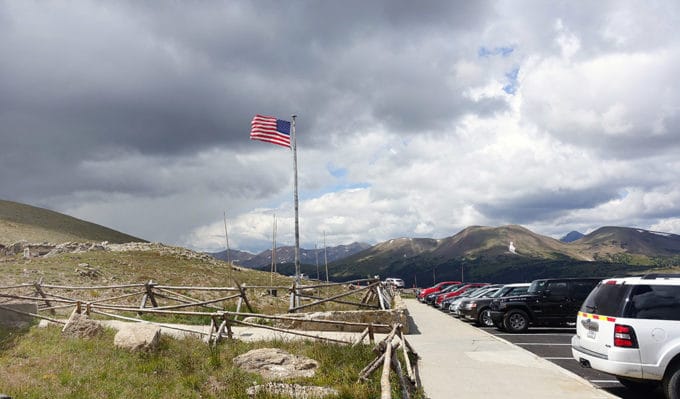 Seeing our flag waving proudly at this elevation would have taken my breath away if the altitude hadn't already done it. This is America, from sea to shining sea.
One of the best features of this beautiful national park is the shuttle bus service that takes you from the Estes Park Visitors Center to various locations in the park. That takes all the work out of getting around town and the park. Just click on the links provided to get more information about the shuttle service and where it can pick you up along the routes.
Of course, you can't go traipsing around the mountain tops all day without good food to fuel your adventure. And we found plenty of that in Estes Park!
Smokin Dave's BBQ served up some of the best barbecue I've ever had and there was no shortage of meat on my sandwich, it's definitely a hungry man's sandwich!
I also got to sample the deliciousness at Latitude 105 Alehouse in Estes Park. I went with one of their signature burgers the Woodrow and chose Bison for my burger ( you get a choice of Colorado beef, elk, bison, grilled chicken, house-made turkey burger or a vegan burger). The Woodrow came with Colorado cheery jam, prosciutto, brie and arugula and I finished every last bite….sigh
Of course, they tempted me with their handspun milkshakes. And I didn't need to hear any other choices once they said Twinkie Shake.
But the magic happens in Estes Park. The people are super friendly and the main street is a lively fun spot to spend your time with an ice cream cone, coffee, people watching or simply gazing out at the mountain range.
Picking a good base camp for your visit to Estes Park and Rocky Mountain National Park is really important. This is why I stayed at the StoneBrook Resort on Fall River
The location couldn't have been better for exploring the area and provided a safe, comfortable set of rooms that made us feel more relaxed during our stay.
We had a very comfortable living area, complete with a full kitchen, Jacuzzi tub and fireplace.
Our Bedroom was steps away from Fall River, which made for an exceptionally peaceful nights sleep. Imagine having your morning coffee overlooking this mountain paradise.
Or maybe a walk down to the river to sit on an old rustic swing and enjoy the sounds and beauty of nature.
I understand why so many people make this area their home.
Now that we know how much there is to do in the area, we will definitely be back!
Give yourself at least a week to enjoy Estes Park and Rocky Mountain National Park. And make sure to say hello to our friends at the StoneBrook Resort on Fall River when you check in.
If you love to travel and enjoy good food you may also like these Culinary Travel posts: