When it comes to comfort food, chili is at the top of my list, and my three-bean chicken chili is a delicious way to enjoy this classic dish. Savory, rich and spicy this mouth-watering Chicken Chili is perfect for busy weeknights or game day get-togethers.
As a native Texan, I admit this isn't traditional chili, but that doesn't make it any less delicious. And as times change, so do recipes.
True cowboy chili would not include any beans. They were always served on the side. But honestly, I like beans in my chili. Everyone loves kidney beans, but I like to break up the monotony of one-bean chili by adding a few of my favorites.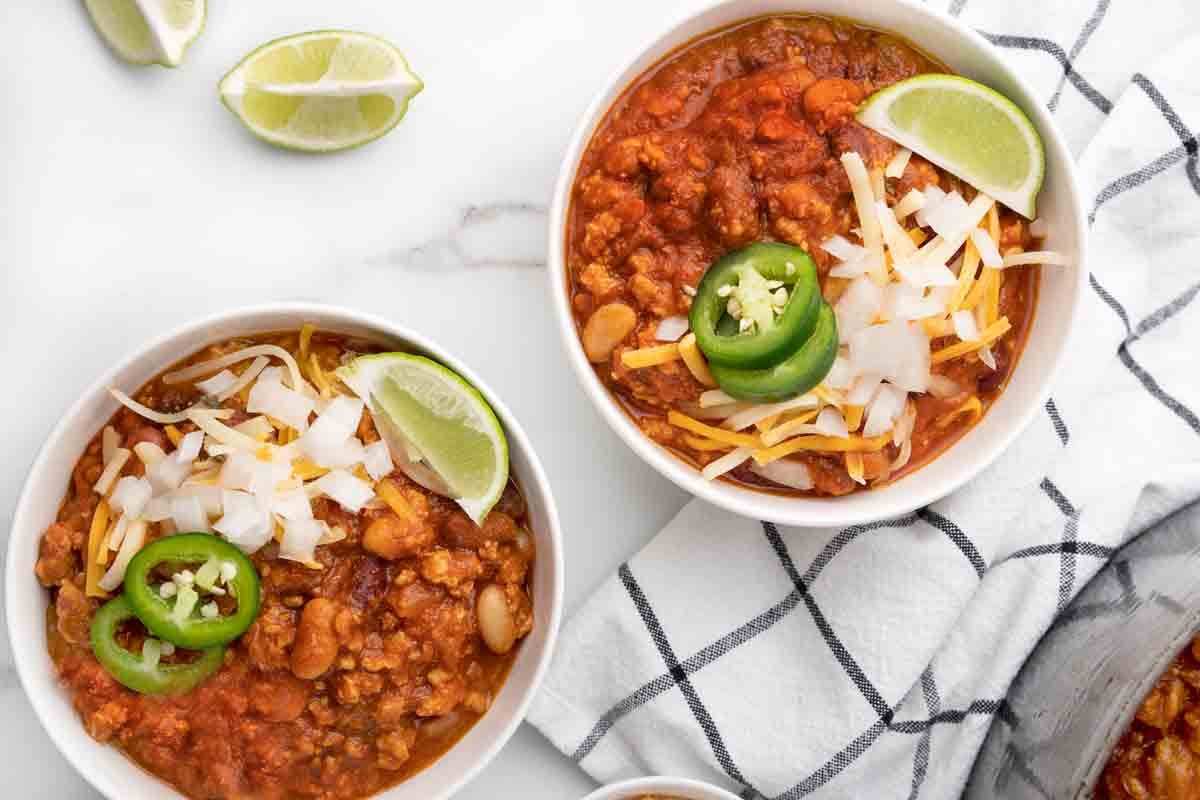 One of the great joys of Chicken Chili (or your favorite chili) are adding topping!
Some of my favorite toppings are:
Cheddar cheese
Sour cream
Chopped onions
green chilies
Jalapeno, Poblano Peppers or Habenero peppers
Fresh cilantro and lime juice
Crispy tortilla strips
I have a friend that likes to make burritos with this chili and adds a layer of cream cheese to the tortilla. It sounds strange, but was pretty darn delicious! So have fun with your toppings.
Ingredients to make Chicken Chilli
Let's start by gathering the ingredients we need to make my Three-Bean Chicken Chili. In Chef Speak, this is called the "Mise en Place," which translates to "Everything in its Place."
Not only does setting up your ingredients ahead of time speed up the cooking process, it also helps ensure you have everything you need to make the dish.
*If you want to add a little more heat to the chili, add more chili powder, hot sauce or a little bit of cayenne pepper to the chili while its cooking.
What kind of beans can I use to make Chili?
Using your favorite beans is part of the fun of making chili, I like to use three of four different types. But if you're a purist and what to make White Bean Chicken chili, then stick with Great Northern Beans.
Some of my favorite beans are:
Cannellini beans (white beans)
Pinto beans
Chili beans (pinto beans in chili sauce)
Kidney beans
Black beans
How to make Chicken Chili
In a large skillet (dutch oven or pot ) add the chopped onions, chopped garlic cloves, and olive oil.
Let the mixture cook for a few minutes until the onions are softened and aromatic.
Add the brown sugar to the pot.
Mix until well blended and continue cooking for 2 minutes.
I use a little bourbon in my chili and if you'd like to add it this is the time to do it. When adding any alcohol make sure it doesn't go near open flames. Remove the pan from the burner. After adding allow the alcohol to burn off for a minute before continuing.
Add ground meat and begin the browning process. You may need to add additional olive oil.
Brown all the meat continuously stirring to break up the meat. ( you may find a heavy wire whisk helpful in breaking up the chunks)
When the meat is browned, add the seasonings ( remember you can always add more after its cooked).
Mix the seasons in until well blended.
Add the tomatoes, chicken stock , and beans to the mixture.
Mix well and reduce the heat to simmer and allow to simmer for 1 – 2 hours. Stir as needed so it won't stick to the bottom of the pot.
*If the chili begins to get too thick you can add additional water to achieve the desired consistency. Taste and re-season to your taste.
Wnen the Chicken Chili is ready serve it up along with all of your favorite sides, hot sauce, and toasted flour tortillas.
Now this is a bowlful of deliciousness! This would make a delicious weeknight dinner and can be made in your slow cooker or crockpot for game day get togethers.
*Blend in a little heavy cream or sour cream for Creamy Chicken Chili.
Recipe FAQ's
What thickens chicken chili?
I use corn masa to thick my chili. You can also use cornmeal, pureed beans, flour or cornstarch to thicken the chili. Letting it cook longer to reduce the liquids will also thicken the chili.
Is beef broth or chicken broth better for chili?
Either will work, whether its beef chili or chicken chili. Chicken broth is a little milder and will add flavor without overpowering the dish.
More Recipes You'll Love!