You can't visit San Francisco and not sample the Cioppino Stew. It's a classic dish created by the San Francisco Italian fishermen of North Beach in the late 1800s using the seafood that was left over from the day's catch.
But if you can't travel to San Francisco, my Cioppino Stew is the next best thing to being there!
Cioppino comes from the Ligurian dialect of Italy, coming from the word "ciuppin". The literal translation means chopped and torn to pieces. But in the culinary world, it translates into delicious seafood stew….sigh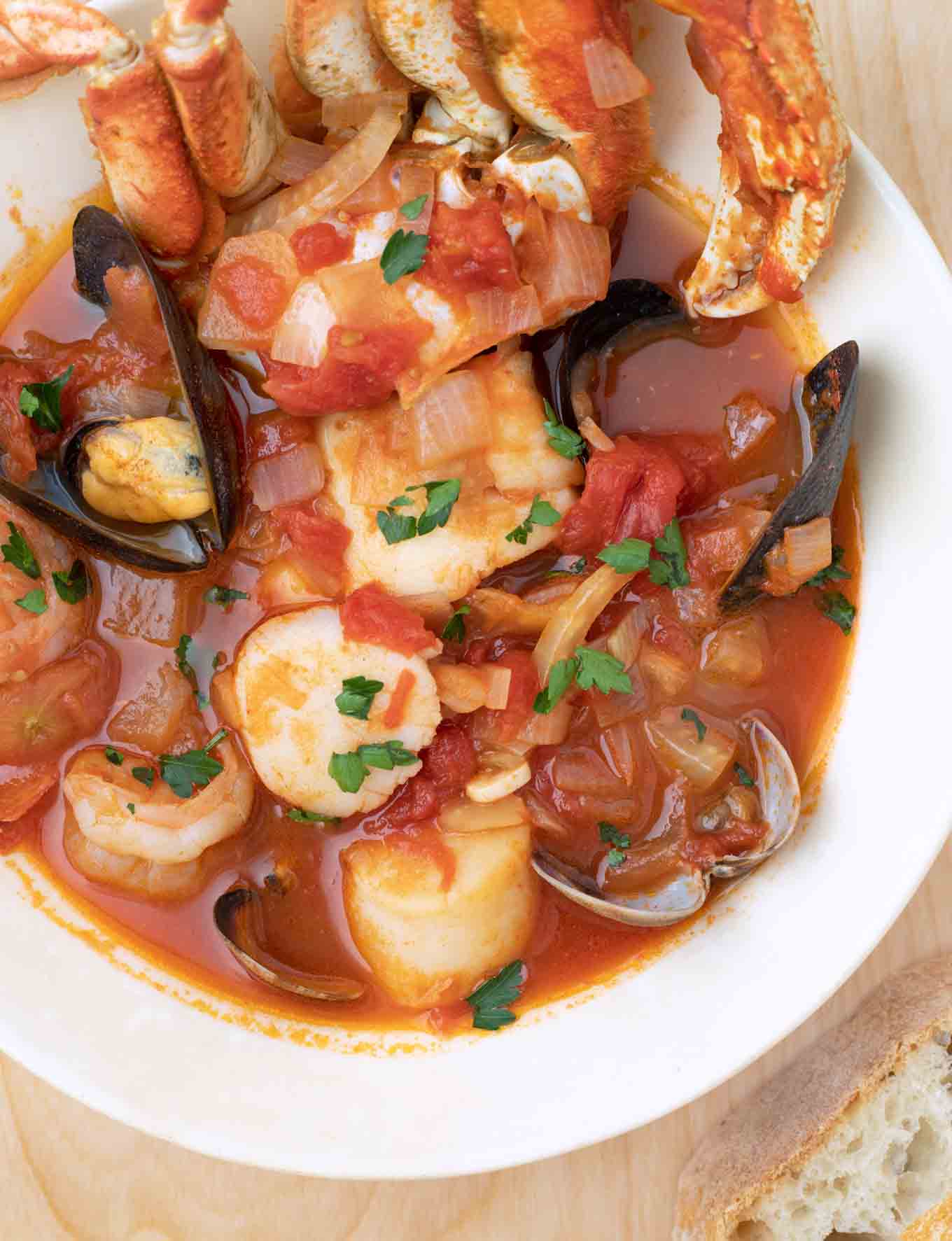 You'll find versions of my Cioppino Recipe with less seafood and others with squid, but this dish's main ingredients are shellfish. Anything else that finds its way into the pot is a bonus!
If you like seafood stews, you're going to love my Spanish Seafood Stew!
What ingredients do I need to make Cioppino?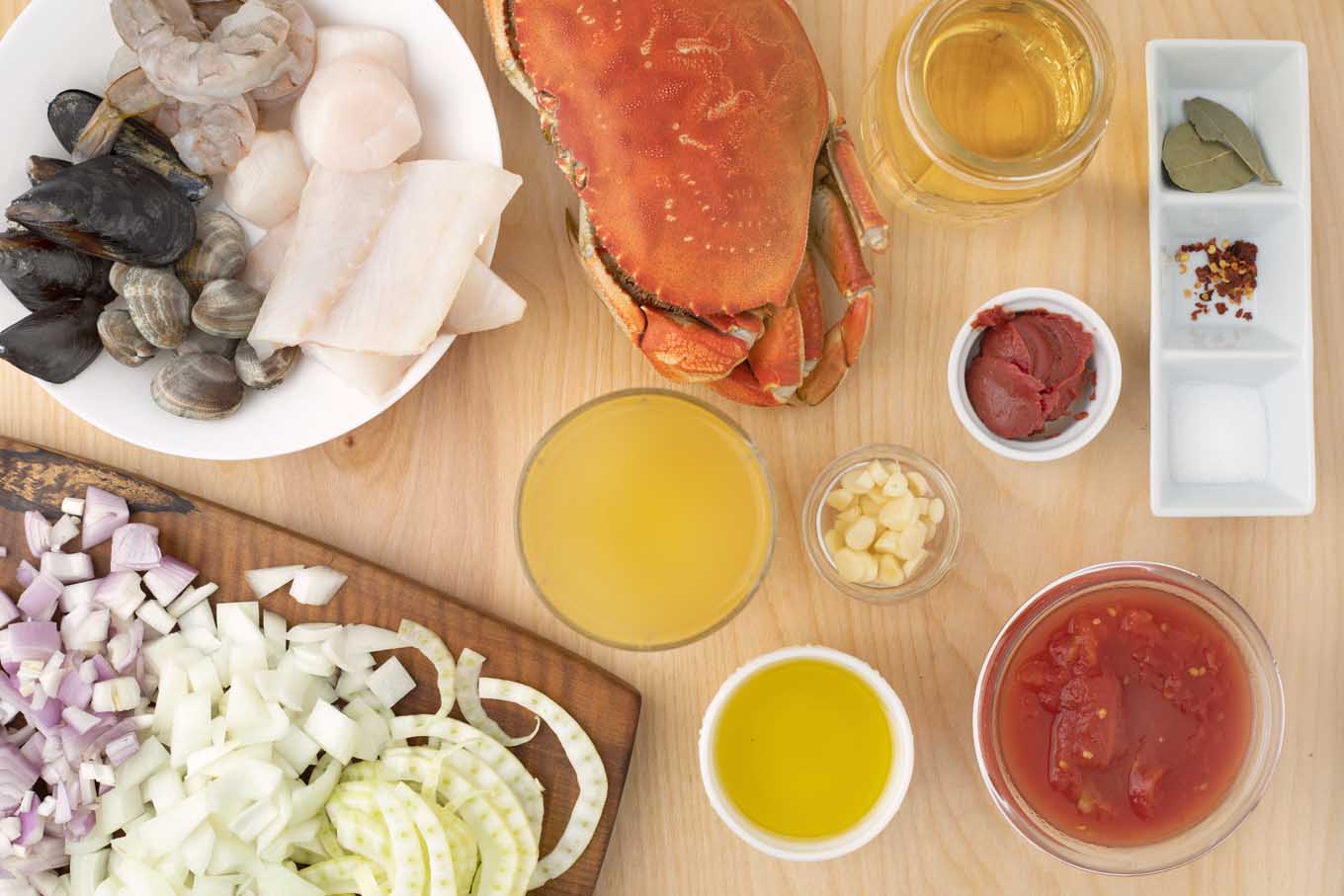 Let's start by gathering the ingredients we need to make San Francisco Style Cioppino. In Chef Speak, this is called the "Mise en Place," which translates to "Everything in its Place".
Not only does setting your ingredients up ahead of time speed up the cooking process, but it also helps ensure you have everything you need to make the dish.
Over the years, I've worked and dined at restaurants with Cioppino on their menu, but it was rarely the real thing, being more of a Fugazi-style representation of the dish. The big difference between the Italian-style Cioppino recipe and a San Franciscan Style Cioppino recipe is how the sauce is made.
Made with simple ingredients
olive oil
fennel bulb
sweet onion
shallots
garlic
sea salt
tomato paste
whole plum tomatoes
dry white or red wine
chicken stock
small clams
mussels
shrimp
sea scallops
Dungeness crabs
fish
bay leaf
red pepper flakes
Do I have to use Dungeness Crab to make Cioppino?
No, you don't need to use Dungeness in your cioppino recipe but don't be scared off by the Dungeness crab. You can actually find them at some of the big box stores, frozen, already cleaned, and ready to go.
Of course, you can use blue crab, king crab, or leave the crab out altogether.
How tomake Cioppino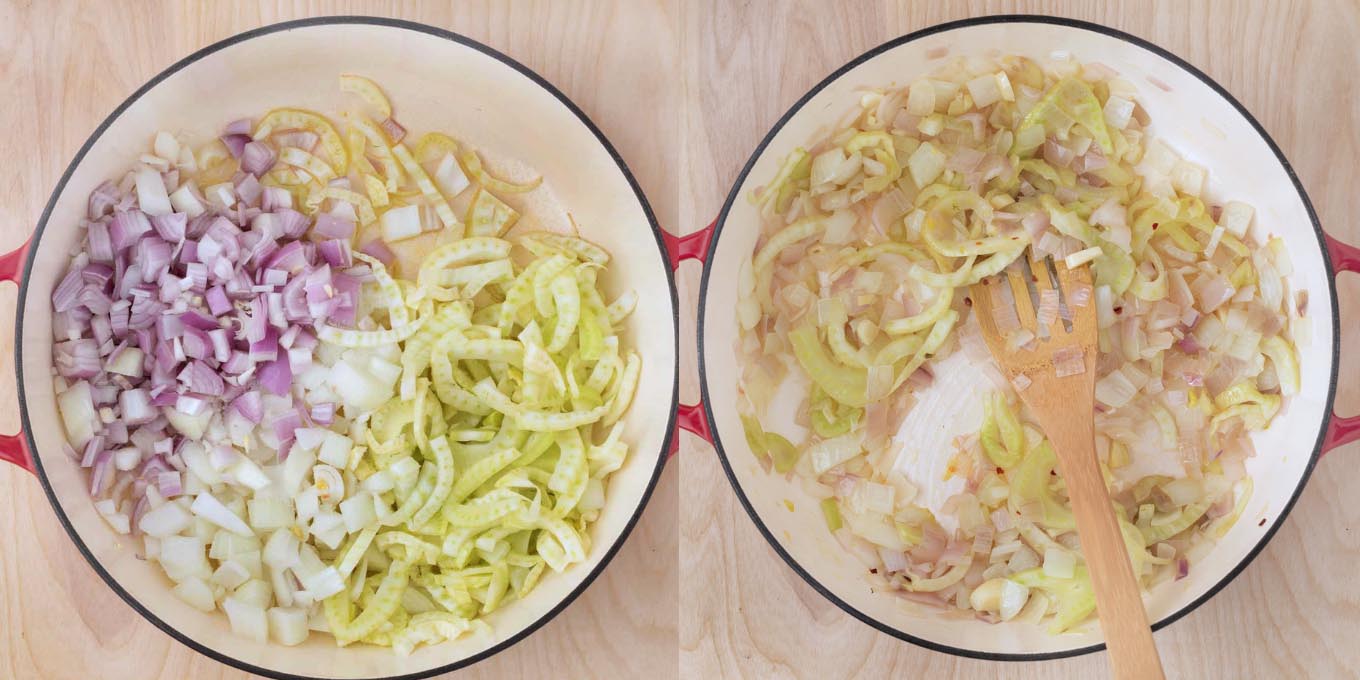 Heat two tablespoons of olive oil in a large pot or sauteuse (deep skillet) over medium heat. Add the fennel, onion, shallots, and salt. Saute the vegetables until the onion becomes translucent, about 5-7 minutes.
Add the garlic and red pepper flakes and continue to cook for 2 more minutes.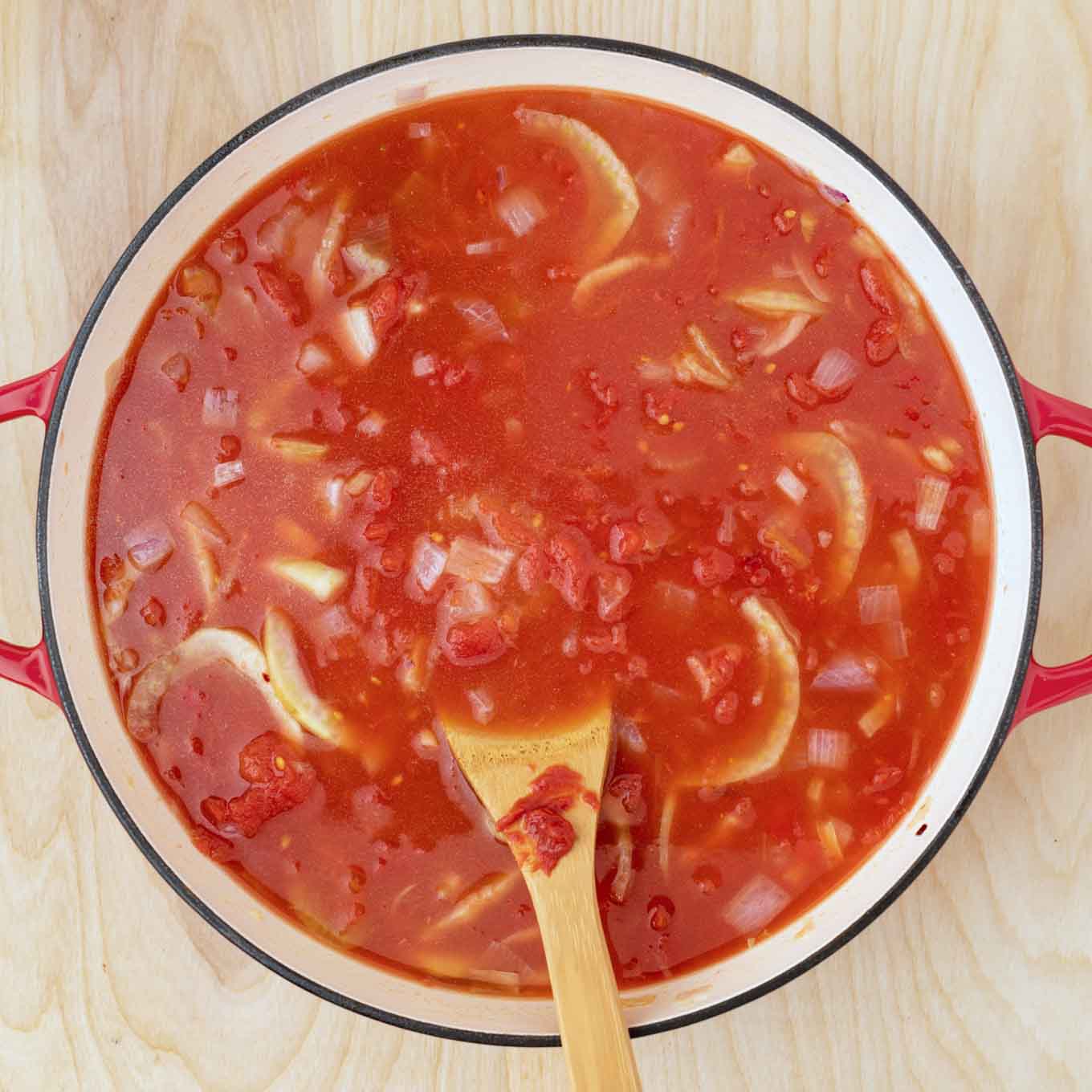 Add the tomato paste, plum tomatoes, and all juices, wine, chicken stock, and bay leaf.
Bring to a boil, then reduce the heat to simmer and allow to cook for one hour, stirring occasionally.
(you can use crushed tomatoes instead of whole tomatoes in juice and fish stock instead of chicken stock)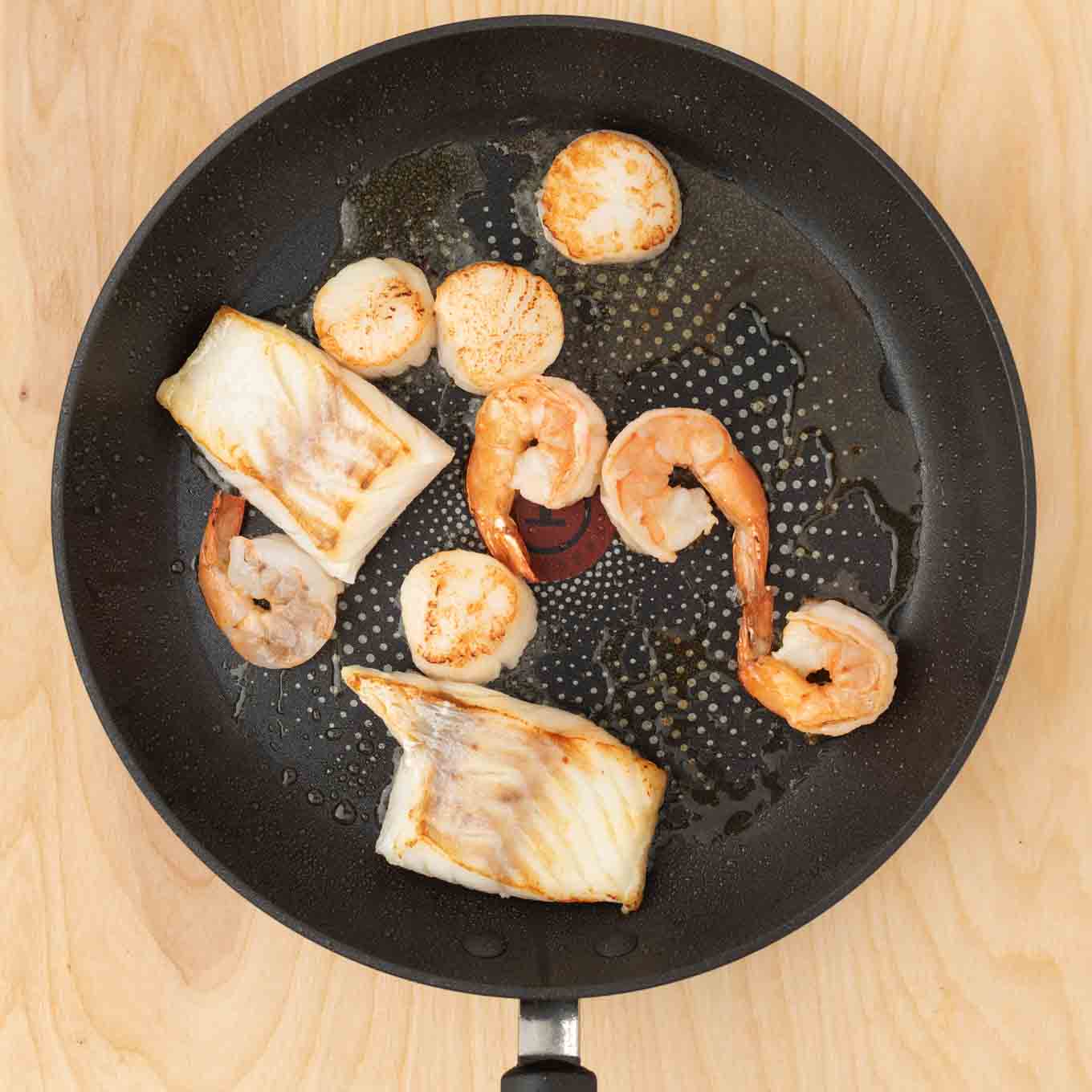 While the sauce is simmering, using another saute pan, add 2 tablespoons of olive oil and sear the shrimp, scallops (and fish pieces if used) on both sides, but do not fully cook the seafood.
Remove the seafood from the pan and place it on a plate until needed.
*If you did use the fish pieces, you can add them to the sauce now. (do not add the shrimp or scallops at this time)
In the same pan you used for the fresh seafood, add a little more olive oil, then add the clams and mussels. Cover and cook them until they open up.
*If any of the mussels or clams are open before cooking, discard them. They're dead and aren't safe for consumption.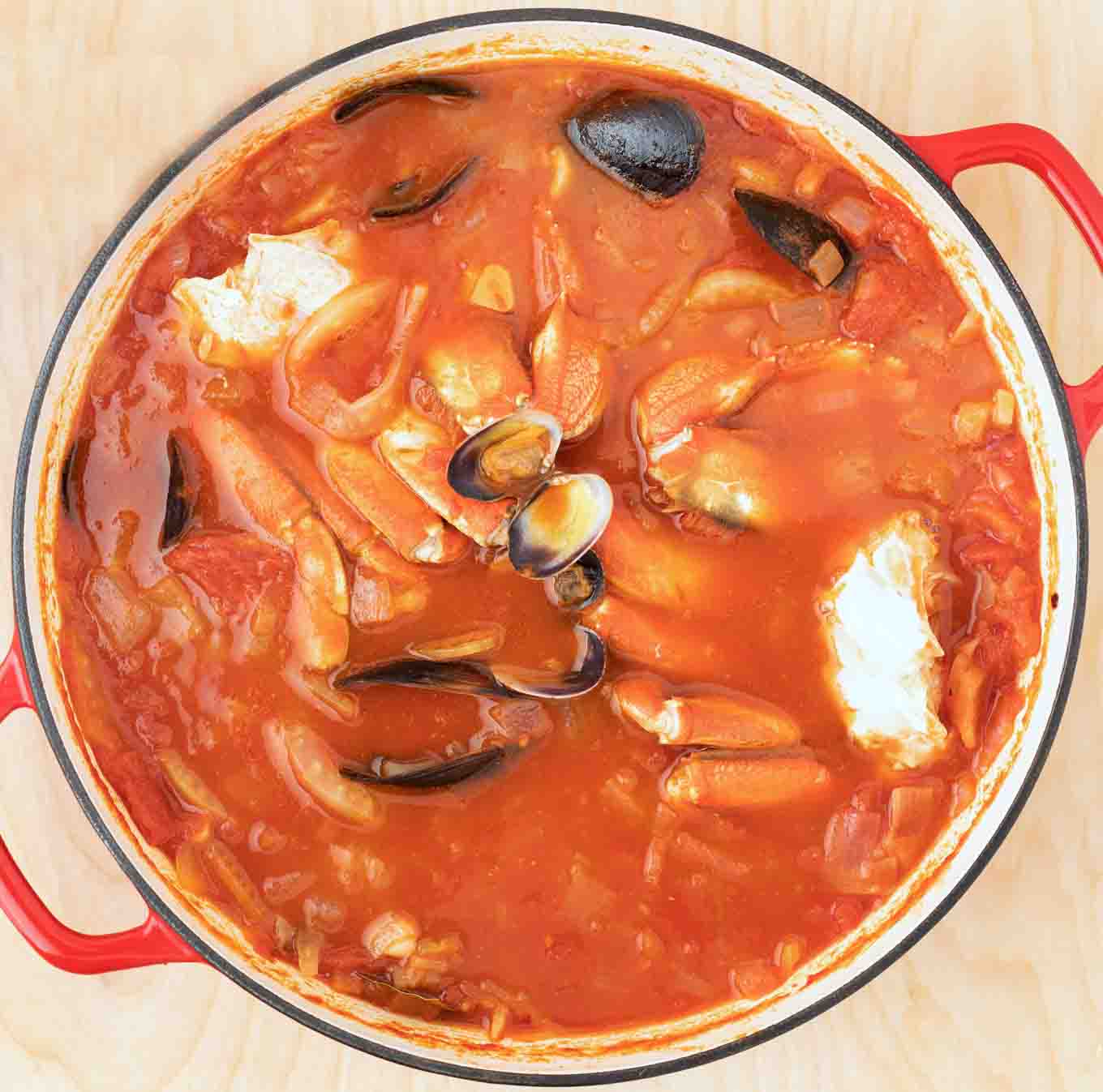 At about the 45-minute mark of simmering the sauce, add in the crabs, and the mussels and clams with all the pan juices. Continue to simmer.
Five minutes before you're ready to serve the Cioppino, add the shrimp and scallops to the sauce and let them finish cooking for five minutes.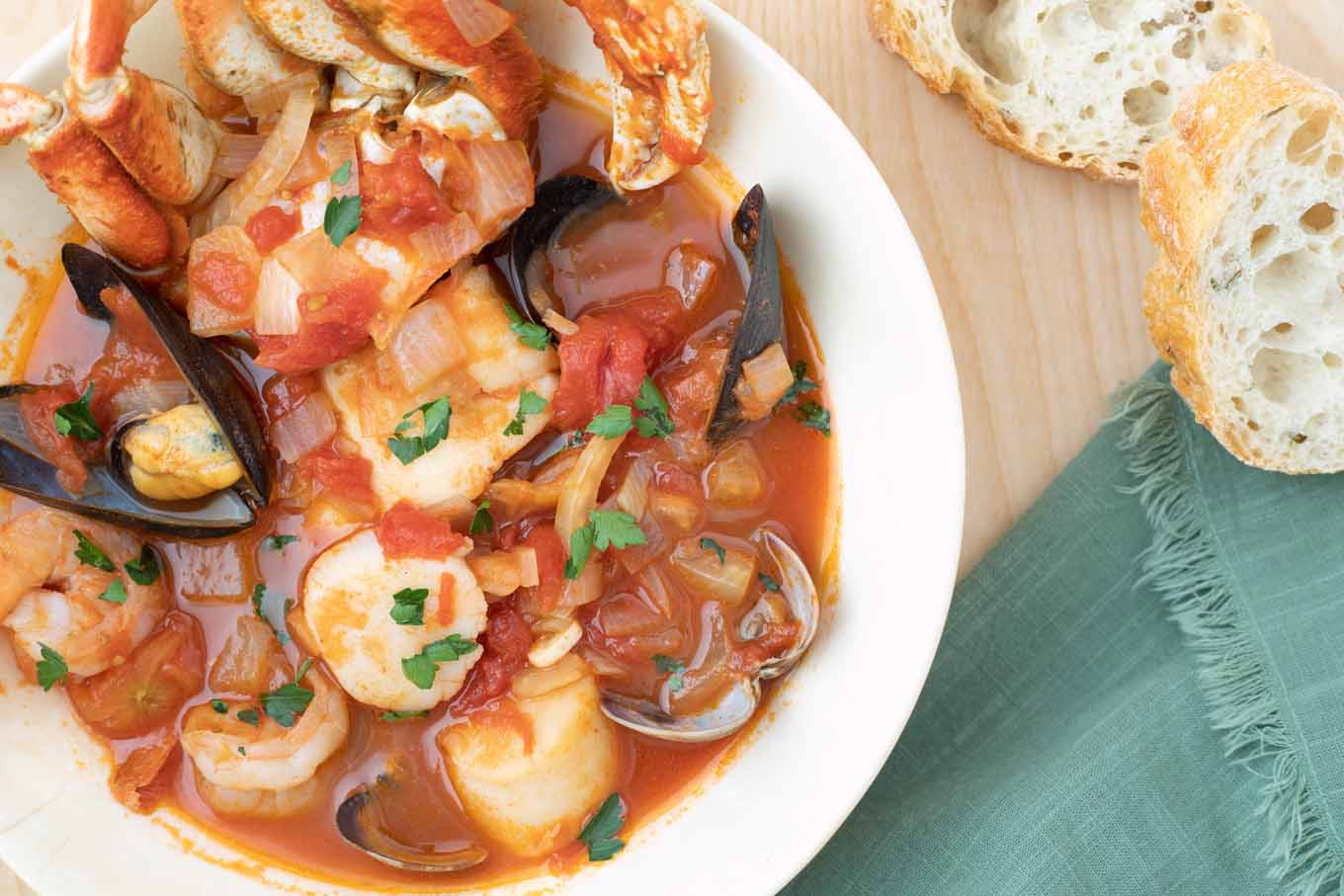 Risotto, rice, or pasta are usually served with cioppino. You want a plain version of those accompaniments, so they complement the sauce and don't fight with the flavors. This seafood stew also goes well with a tossed salad and of course, crusty bread to dip in the sauce.
If you've never thought of making Cioppino, I urge you to try this recipe. It may contain many ingredients, but it is a very simple dish that Italian Americans have enjoyed for years, and I promise you'll have one delicious dinner on your table that will impress your family or friends.
More Seafood Recipes You'll Love!