Creating restaurant-style dishes like my pan-seared scallops isn't difficult and finding the right side dish to serve it with can be fun and change seasonally.
Since it's officially summertime for many that means eating lighter. But that doesn't have to mean eating less delicious meals.
On the contrary with all the fresh produce in the markets, there's an abundance of flavors available for you to share with your family and friends.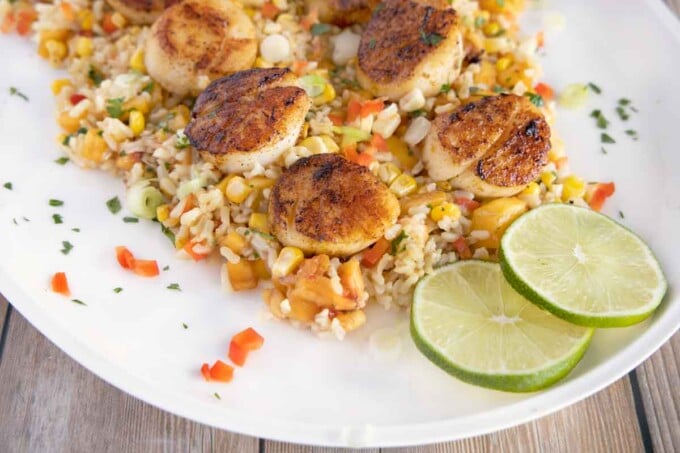 For this recipe, I blended sweet corn, peaches and rice to make the side dish. But you could always use your favorite vegetable and grain to serve with my pan-seared scallops. Just think of the possibilities.
In recipe development, it's about the presentation as much as it is the flavor. So don't be afraid to experiment and create your masterpiece for dinner.
What Ingredients do I need to make Pan-Seared Scallops?
Let's start by gathering the ingredients we need to make my pan-seared scallops. In Chef Speak this is called the "Mise en Place" which translates to "Everything in its Place".
Not only does setting your ingredients up ahead of time speed up the cooking process, it also helps ensure you have everything you need to make the dish.
How do I make Seasoned Rice?
The secret to making really good rice is to use chicken stock (or vegetable stock) instead of water. I always add a tablespoon of butter to the water and just make it as I normally would on the stovetop.
*You can also make rice in the oven if you're making large amounts. Just add all the ingredients into an oven-safe casserole or pan, cover it with foil and bake at 350 for about 45 minutes.
How do I make pan-seared scallops?
Pat dry the scallops with paper towels. (remove the mussel if its still attached to the side of the scallop and discard)
Season the scallops with seasoning on both sides
In a saute pan with very little oil over medium-high heat, sear the scallops allowing a little bit of a crust to build up on the scallop, it can take 2-4 minutes depending on the heat and the pan. (do not move the scallops to check until you begin to see a little browning on the edges)
Turn the scallop to sear the other side. (use a good metal spatula to get under the scallop so you don't leave the best part stuck to the pan)
The scallops will no longer be translucent when they're done.
*If you prefer slightly underdone scallops, feel free to cook them to your tastes.
How do I make a Summer Corn Medley?
While the scallops are searing, in another saute pan add the butter, and allow to melt.
Add the corn and red peppers to the pan and saute for 3-4 minutes until partially cooked.
Add the rice and peaches to the corn mixture and continue cooking on low until the scallops are done (you may need to add a little water to the pan)
Add the chopped cilantro, reseason as needed with sea salt and black pepper.
Place the rice on your serving platter or individual dishes topped with the pan seared scallops.
Garnish with sliced limes, chopped red pepper, scallions, cilantro and serve.
It's no secret that I love seafood, especially shellfish and although I don't serve scallops as often as I would like, they're still high on my list of seafood favorites.
Scallops are very versatile, you can grill them, broil them, pan-sear them, or fry them (I'm starting to sound like Bubba Gump). But any way you make them they're delicious!
What I like most about pan-searing is that it's relatively quick and that you can season your scallops with your favorite spices, or keep it simple with sea salt and black pepper.
You don't need a sauce and the only thing you need to be careful about is overcooking them and having the scallops become tough and rubbery. For my taste slightly underdone is always better than overcooked.
*You'll find that most restaurants serve them a little on the underdone side, and they're perfectly fine to eat that way. So dig in and enjoy!
More Seafood Recipes You'll Love!