This post includes affiliate links. As an Amazon Associate I earn from qualifying purchases.
Let's make Pan Seared Scallops!
It's officially summertime and that means eating lighter. But that doesn't have to mean eating less delicious meals, on the contrary with all the fresh produce in the markets there's an abundance of flavors available for you to share with your family and friends. For this recipe, I blended together sweet corn and rice to make the side dish. But you could always use your favorite vegetable and grain to serve with my pan seared scallops. Just think of the possibilities.
In recipe development it's about the presentation as much as it is the flavor. So don't be afraid to experiement and create your masterpiece for dinner.
It's no secret that I love seafood, especially shellfish and although I don't serve scallops as often as I would like, they're still high on my list of seafood favorites. Scallops are very versatile, you can grill them, broil them, pan sear them, or fry them (I'm starting to sound like Bubba Gump). Anyway, you make them they come delicious, just don't overcook them.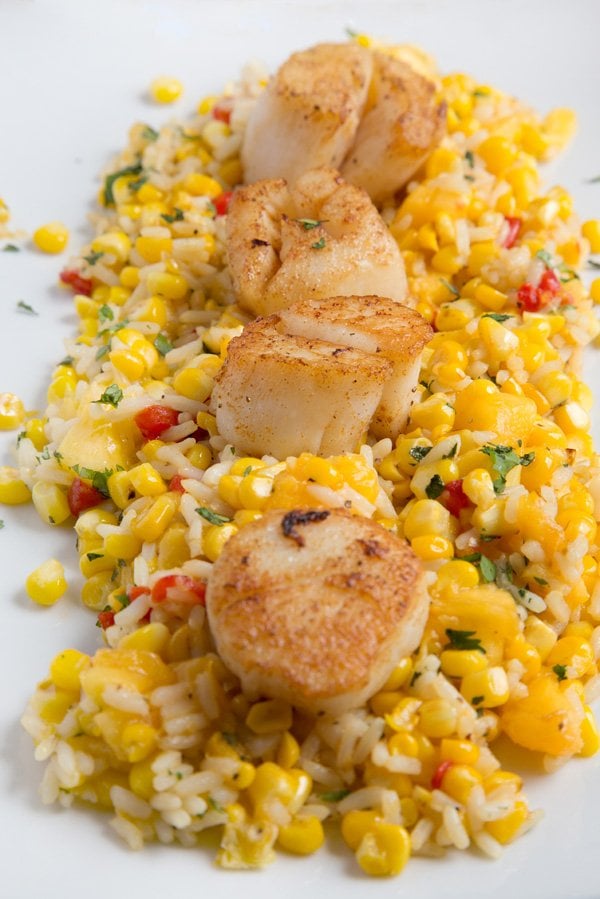 What I like most about pan searing is that its relatively quick and that you can season your scallops with your favorite of spices, or simply sea salt and black pepper. You don't need a sauce and the only thing you need to be careful about is overcooking them and having them be tough and rubbery. For my taste slightly underdone is always better than overcooked.
You'll find that most restaurants serve them a little on the underdone side, and they're perfectly fine to eat that way. So dig in and enjoy! And you liked this recipe, you might also enjoy my recipe for Red Snapper in Parchment.
If you've tried my Pan Seared Scallops recipe or any other recipe on askchefdennis.com please don't forget to rate the recipe and let me know where you found it in the comments below, I love hearing from you!