This is the best homemade Frutti Di Mare you'll ever taste! You won't believe how easy it is to make and how incredibly delicious this classic Italian seafood dish is.
Made with fresh clams, mussels, scallops, and sweet succulent shrimp in a garlic wine sauce served over pasta is a meal you soon won't forget.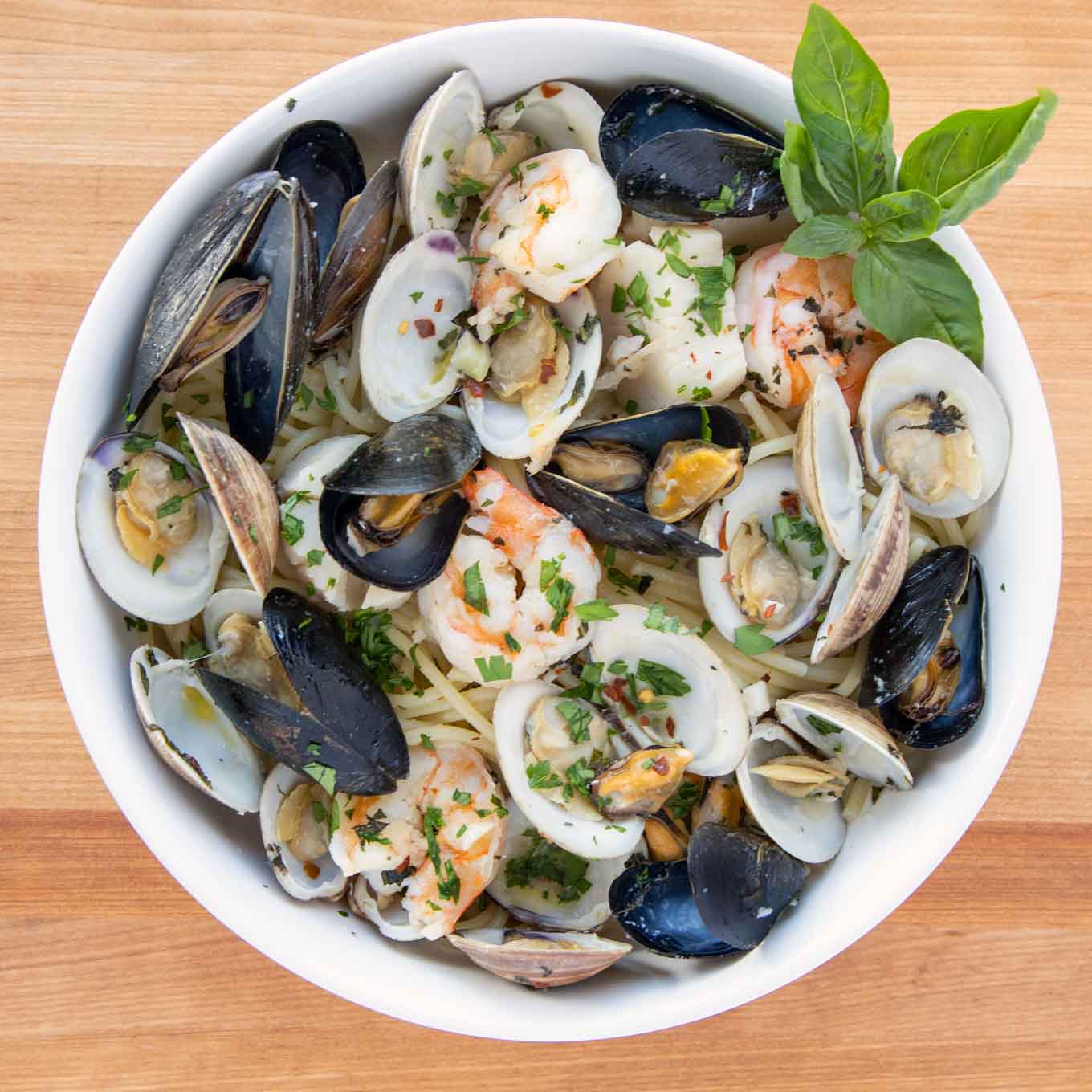 There are as many different recipes as there are Italian grandmothers for Frutti di Mare. And every family has a favorite ingredient that makes it their own special version of this Italian classic.
My Cioppino Recipe is a San Francisco version of this classic dish.
What Ingredients do I use to make Frutti di Mare?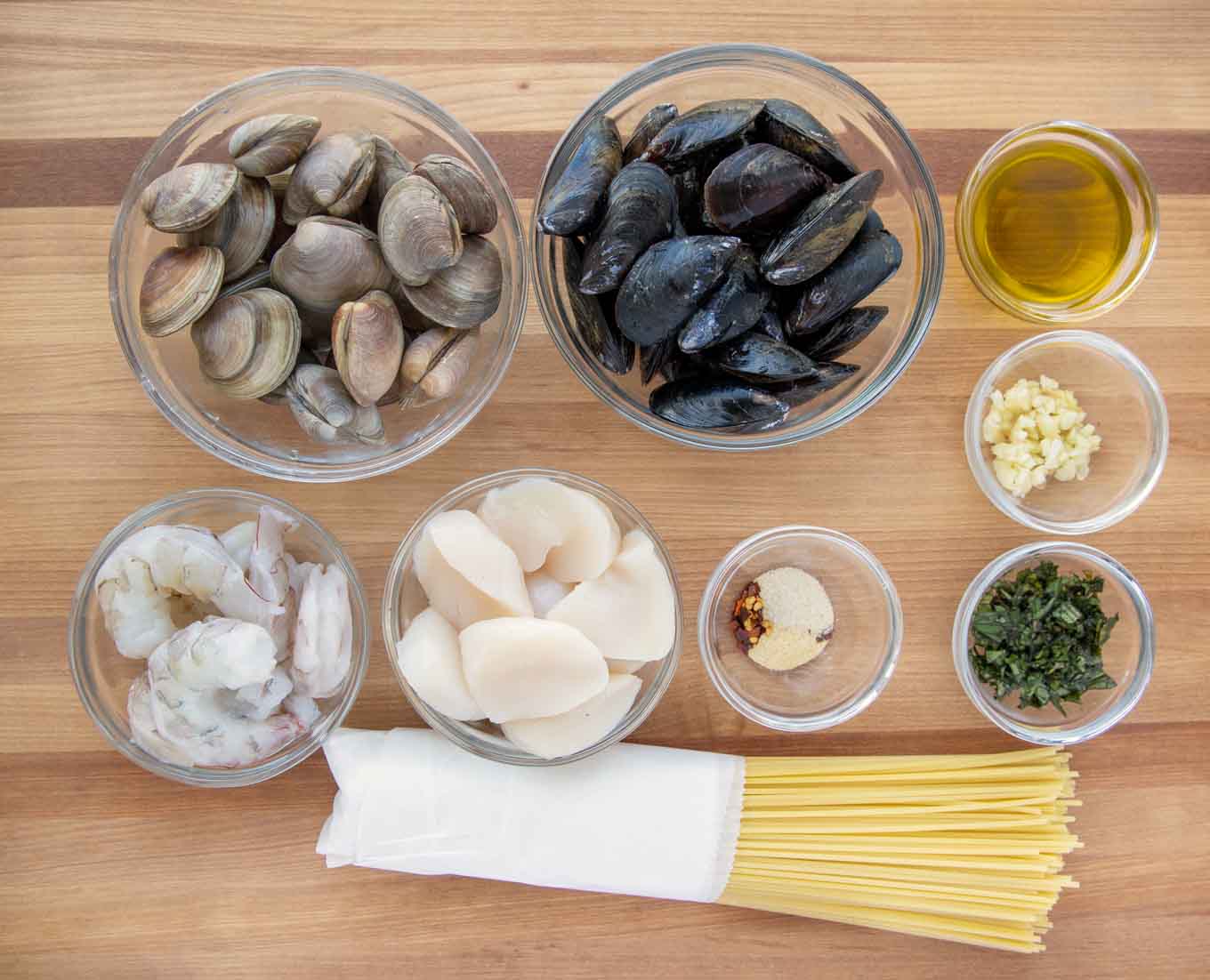 Let's start by gathering the ingredients we need to make a Frutti di Mare. In Chef Speak this is called the Mise en Place which translates into Everything in its Place.
Not only does setting your ingredients up ahead of time speed the cooking process, but it also helps ensure you have everything you need to make the dish.
Depending on what I have available and who I am serving will often dictate what goes into my interpretation of this wonderful dish.
My wife enjoys white sauces more than red, so when I prepared this dish for her I kept it in more of an Aioli type sauce. Of course, if you prefer a red sauce or a touch of red feel free to adjust the recipe.
This dish also makes a wonderful Fra Diavolo if your mood is for a little more on the spicy side.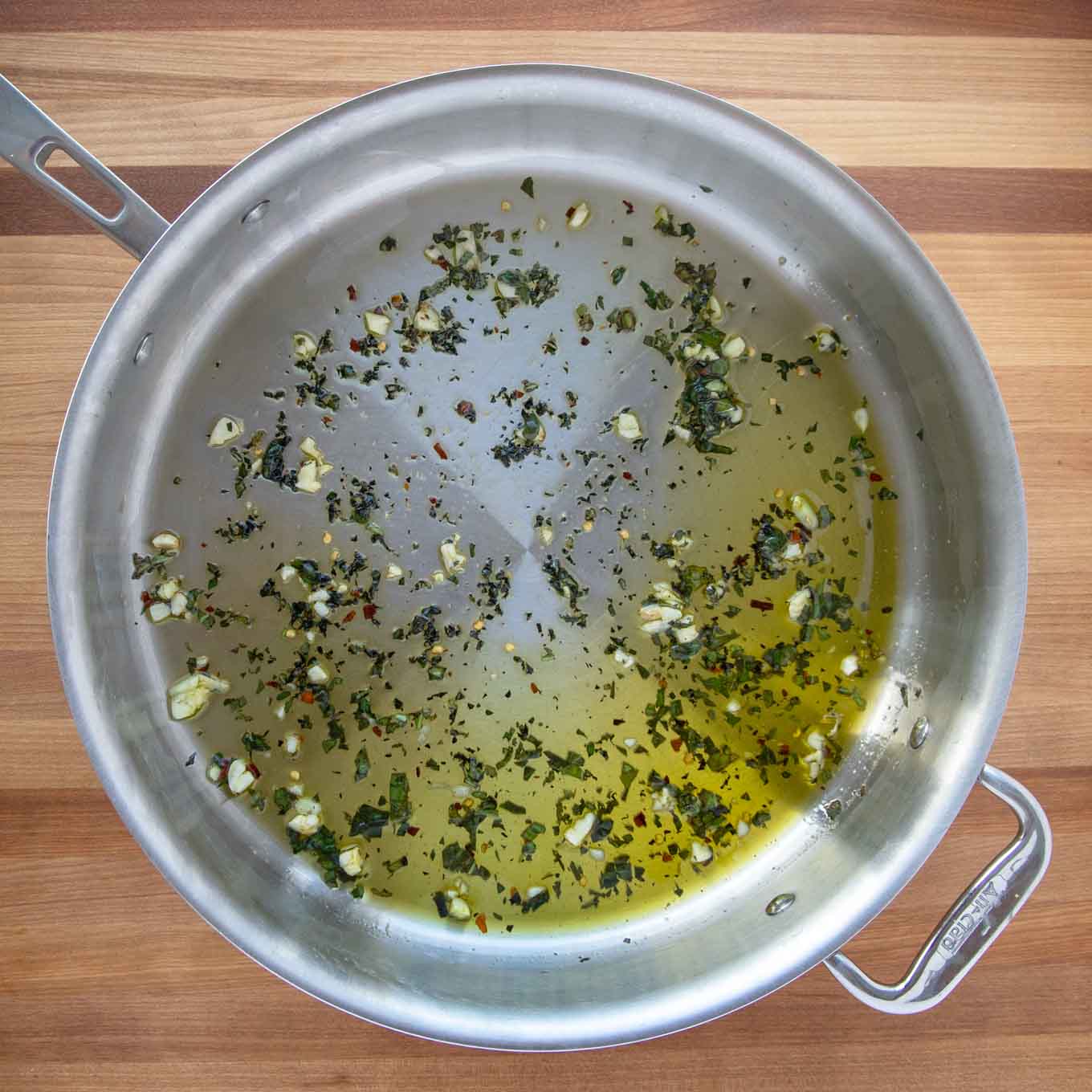 The first step is adding the olive oil, garlic, basil and red pepper flakes to a large saute pan over medium-high heat. Let the garlic cook for about 30 seconds to release the flavor into the oil.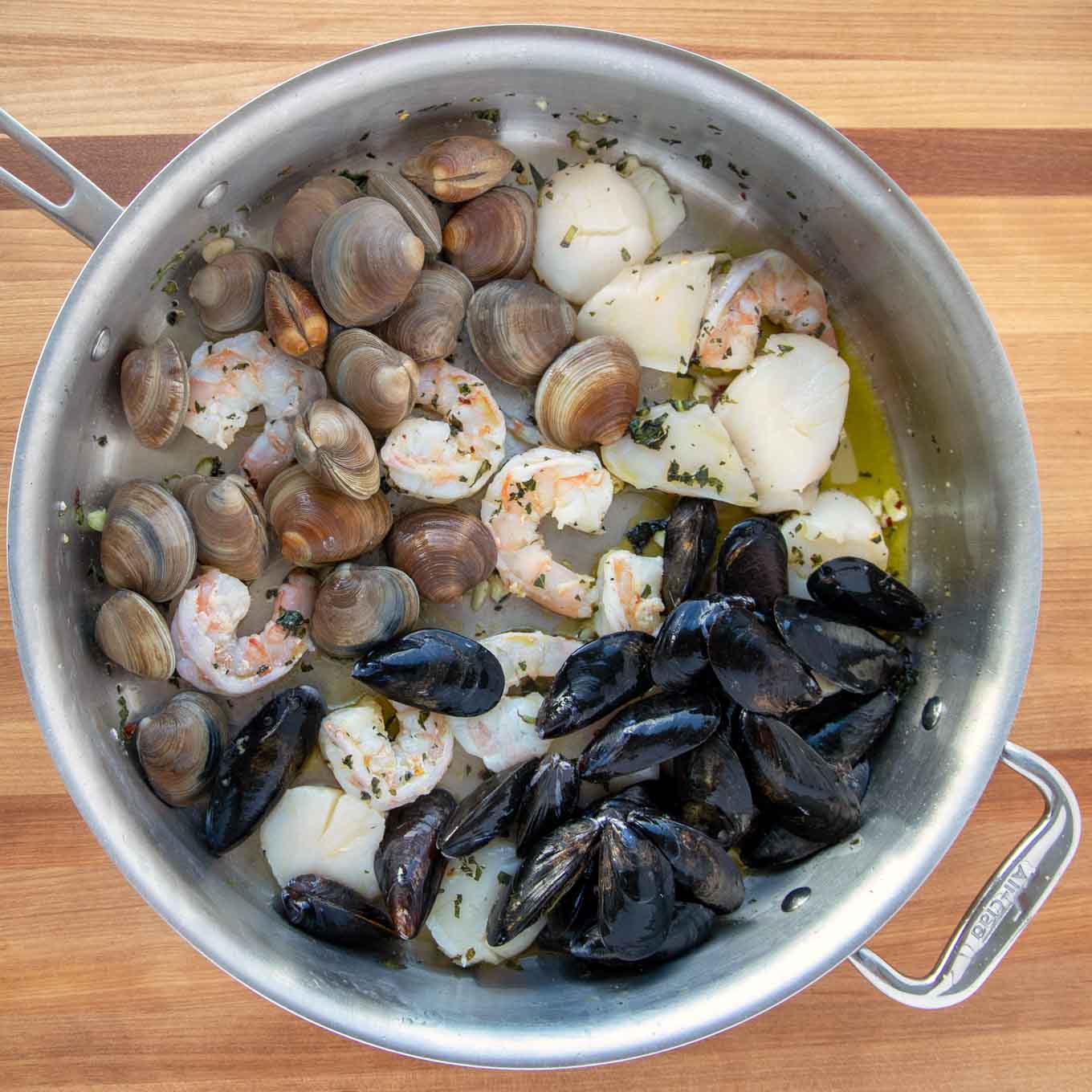 Then add the seafood to the hot pan and cover the pan. This will steam the mussels and clams open as well as cook the shrimp and scallops.
Chef Dennis Tip:
** I thought searing the shrimp and scallops first might help, but it really wasn't necessary and caused them to be just a little overcooked. My advice would be to par-cook the shrimp and scallops, then remove them from the pan before adding the mussels and clams to steam open. Then add them back to the pan to finish cooking once the mussels and clams have steamed open.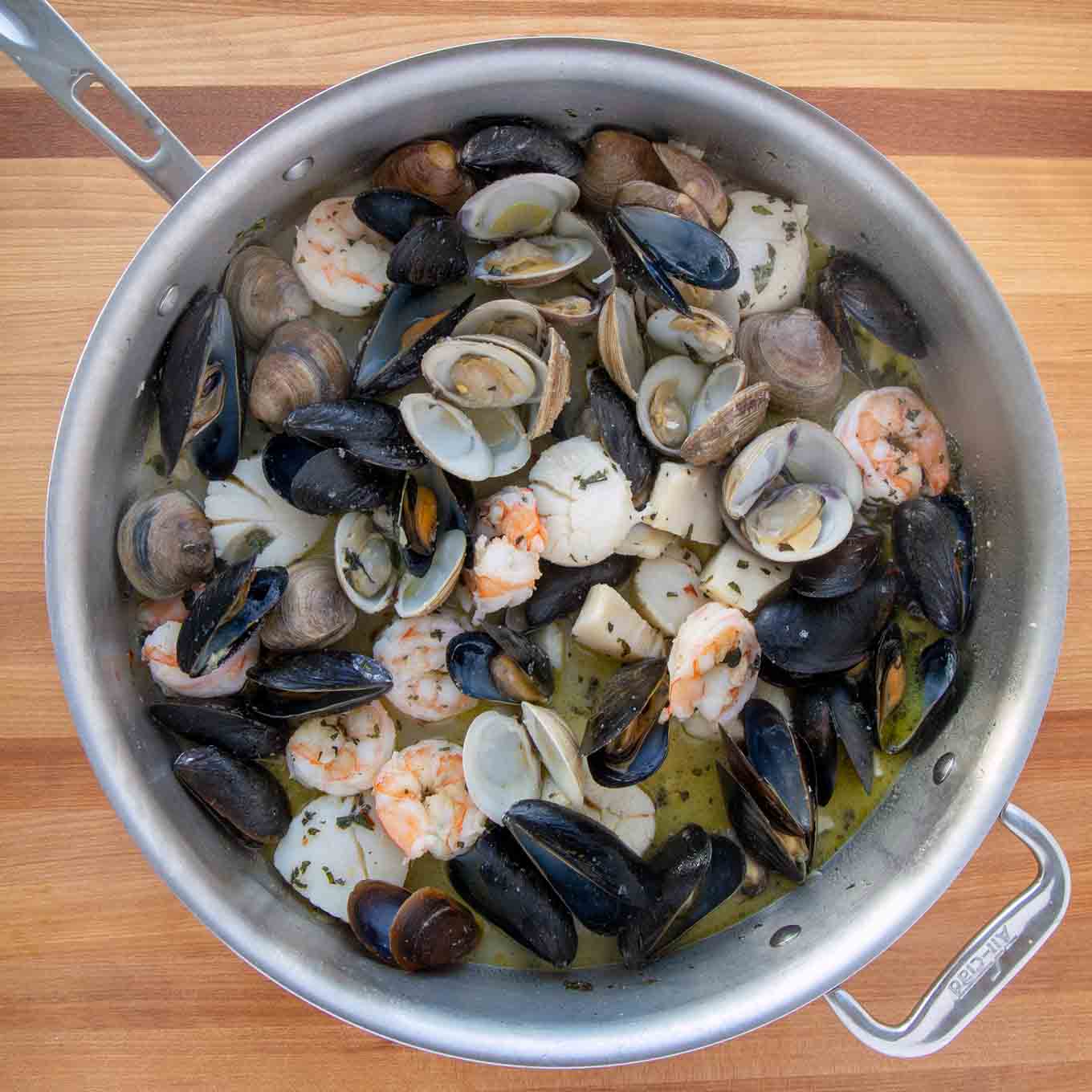 I had a nice variety of seafood, but again feel free to add in what you have on hand.
What other seafood can I add to Frutti de Mare?
Some of my favorite additions to this dish are:
Calamari
Salmon, snapper, mahi-mahi or any thick cut fish you enjoy.
Crabmeat
Lobster
Serve your Frutti di Mare over linguine and pour a little of the best olive oil you have on top for added flavor, and I know Italians don't like cheese with seafood, but I always add some grated Romano cheese to my pasta dishes, even seafood.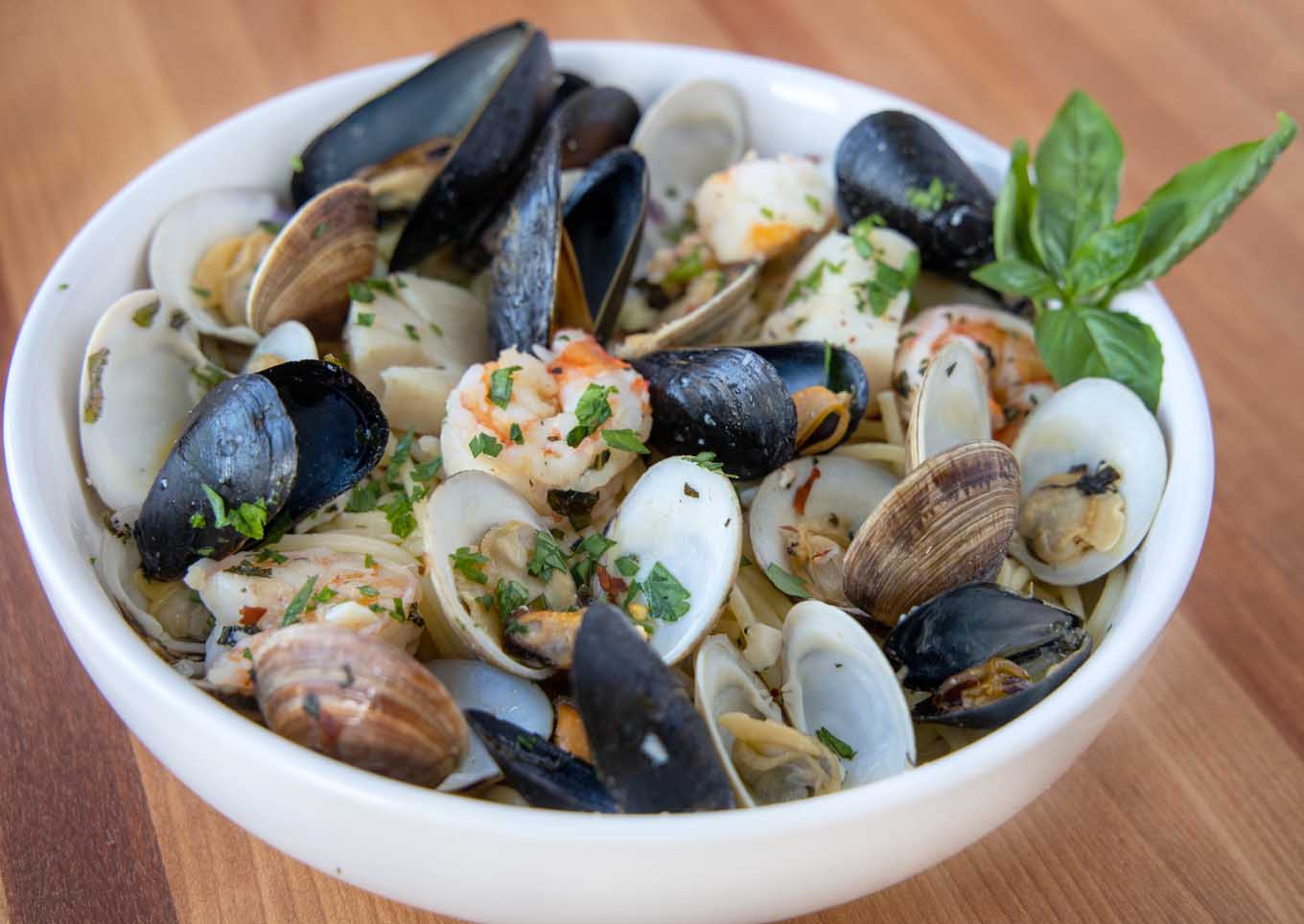 I do hope you give this dish a try, it's really very easy to make, and you'll have a restaurant-quality dinner for less than half the price of dining out at your favorite restaurant.
Recipe FAQ's:
What does frutti de mare mean?
Frutti de Mare literally translates into fruit of the sea. Which means all the delicious types of seafood found in the oceans and seas. When preparing frutti de mare, shellfish of every type, calamari and any type of fish are used in this Italian classic.
Do you use marinara sauce to make fruiti de mare?
Tomatoes or marinara are not typically used when making Frutti de mare, it's made with olive oil, garlic and all the delicious juices from the seafood. Since it's your dinner you can of course use marinara or tomatoes when you make it.
What type of pasta do you serve frutti de mare with?
Typically Frutti de mare is served over linguine, spaghetti, or bucatini. Angel hair is to fine to support the pasta and wider noodles or shapes will not complement the sauce and seafood.
More Seafood Recipes You'll Love!