Everyone loves baked chicken thighs and my recipe using a seasoning oil makes the best tender, juicy chicken thighs with crisp skin that your whole family will love.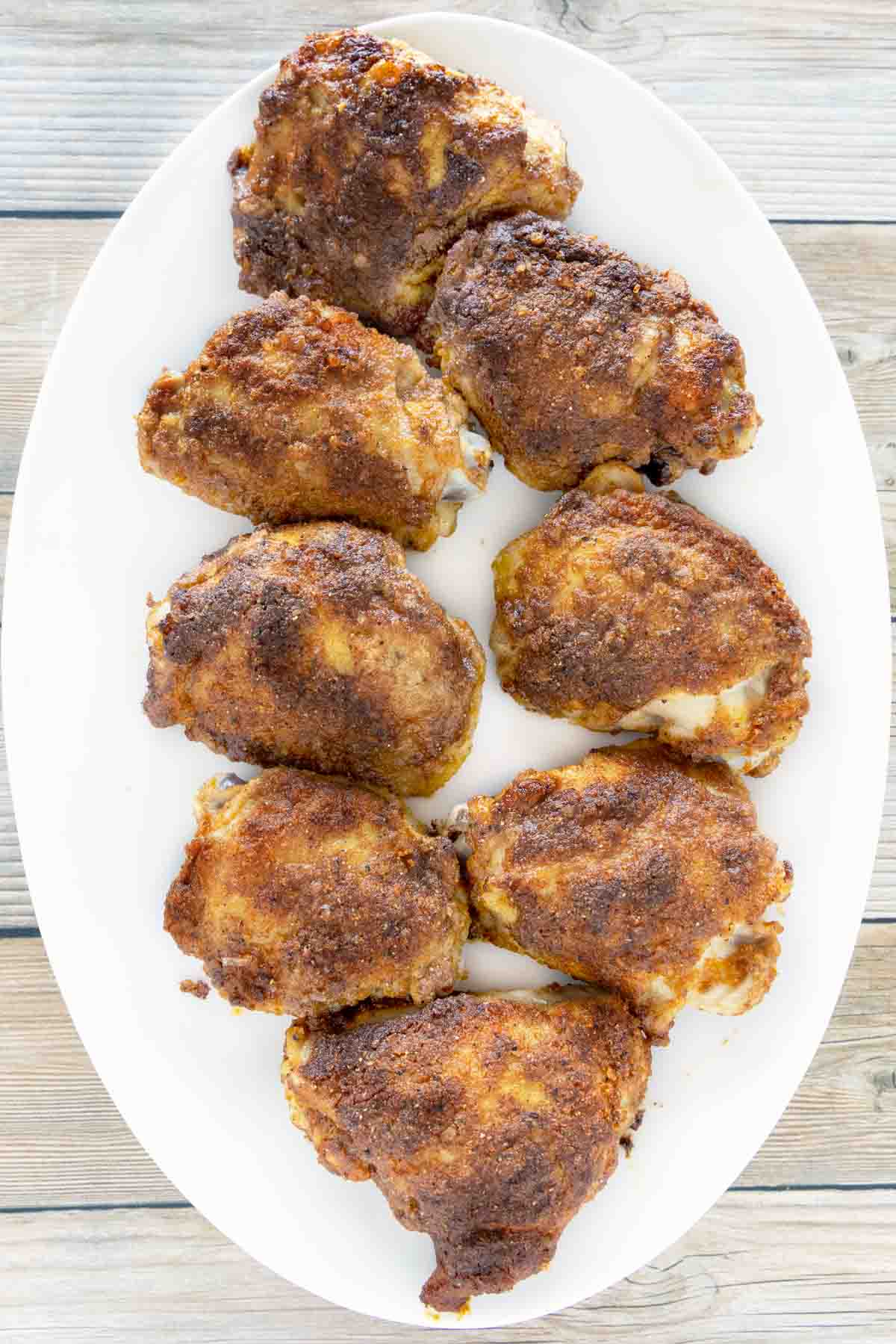 Made with simple ingredients it's hard to love my easy chicken thigh recipe. It's a simple recipe that you'll love making and that your family will love eating.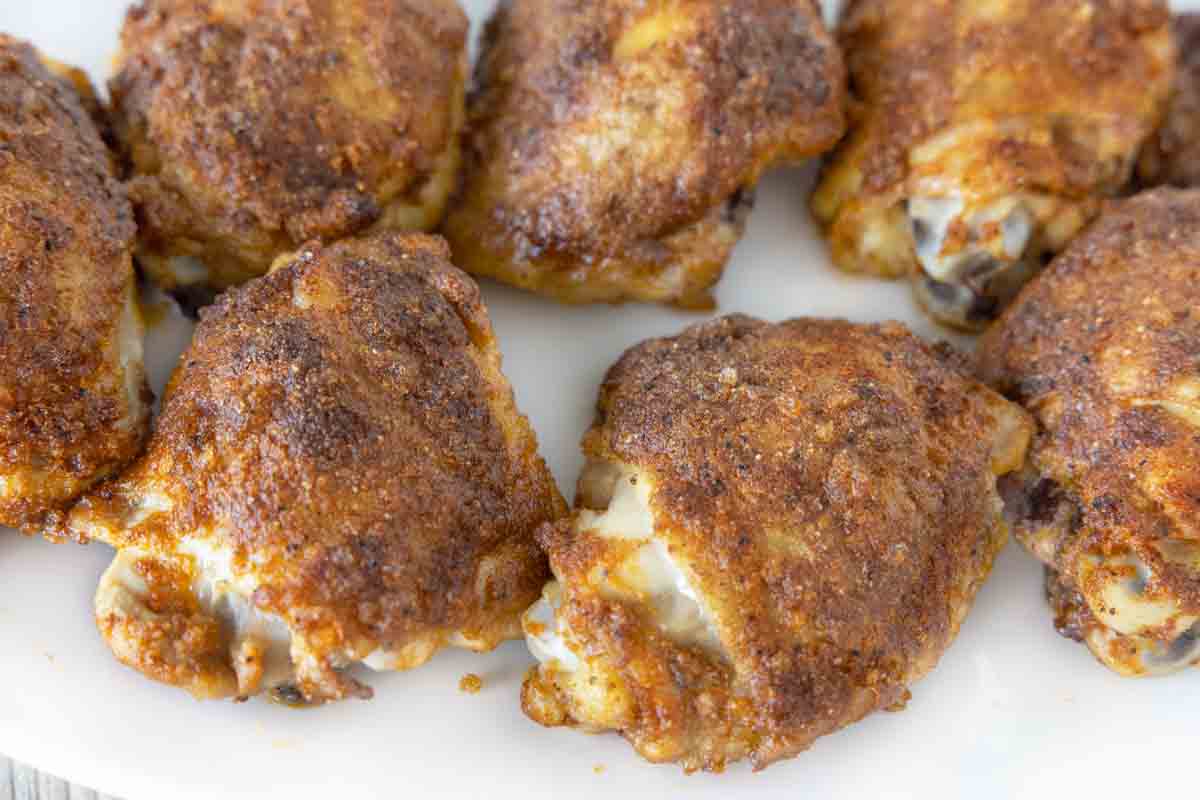 High temperature is the key to getting delicious crispy skin, so don't be swayed by other recipes telling you to use a lower temperature. High heat is the best way to cook oven-roasted chicken.
If you love crispy baked chicken, make sure to try my Baked Chicken legs.
Ingredients to make Baked Chicken Thighs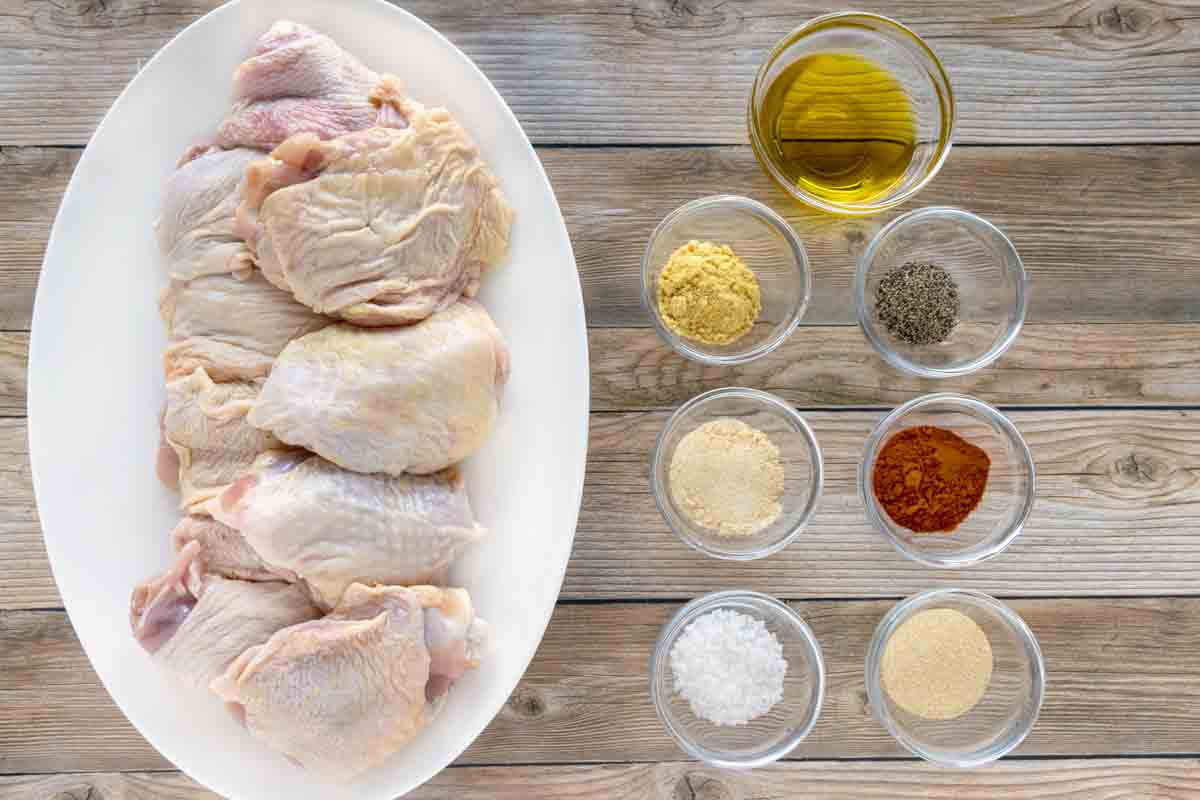 Let's start by gathering the ingredients we need to make Baked Chicken Thighs. In Chef Speak, this is called the "Mise en Place," which translates to "Everything in its Place."
Not only does setting up your ingredients ahead of time speed up the cooking process, it also helps ensure you have everything you need to make the dish.
Can I use different seasonings to make Baked Chicken Thighs?
Absolutely! The secret to finding joy in the kitchen is cooking foods you enjoy to eat. And that means seasonings too. You can add dried oregano, chili powder, cumin, or any of your favorite seasonings. For a touch of heat add cayenne pepper and for a sweet taste add a little brown sugar to the mixture.
You can also use any of your favorite seasoning blends. Lemon pepper, Cajun, Jerk seasoning, bbq seasoning, rotisserie seasoning, and even Old Bay are delicious options.
How to make Baked Chicken Thighs
Preheat your oven to 400 degrees F. Line a baking sheet with aluminum foil or parchment paper.
Allow the chicken thighs to come to room temperature while you prepare the seasonings.

Add the garlic powder, onion powder, paprika, salt, and black pepper to a small bowl.
Add the olive oil to the spices.
Mix the olive oil with the spices and blend thoroughly. *You can blend the spices together before adding the oil, but I've found it really doesn't make a difference.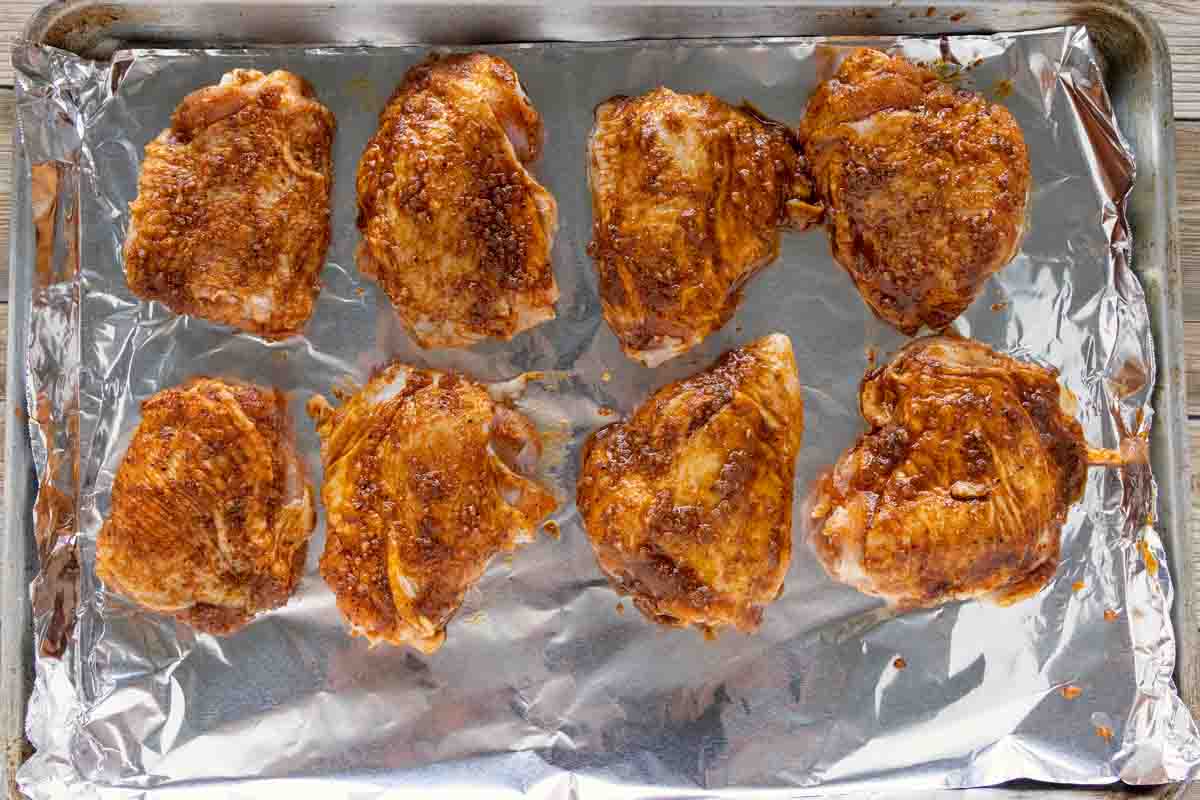 Pat dry the bone-in thighs with paper towels.
Using a pastry brush (or your hands) coat the chicken thighs with the seasoning oil mixture. Make sure the chicken skin is well coated to ensure crispy skin. Place the seasoned chicken thighs in a single layer on a foil-lined baking sheet, making sure to leave room between them.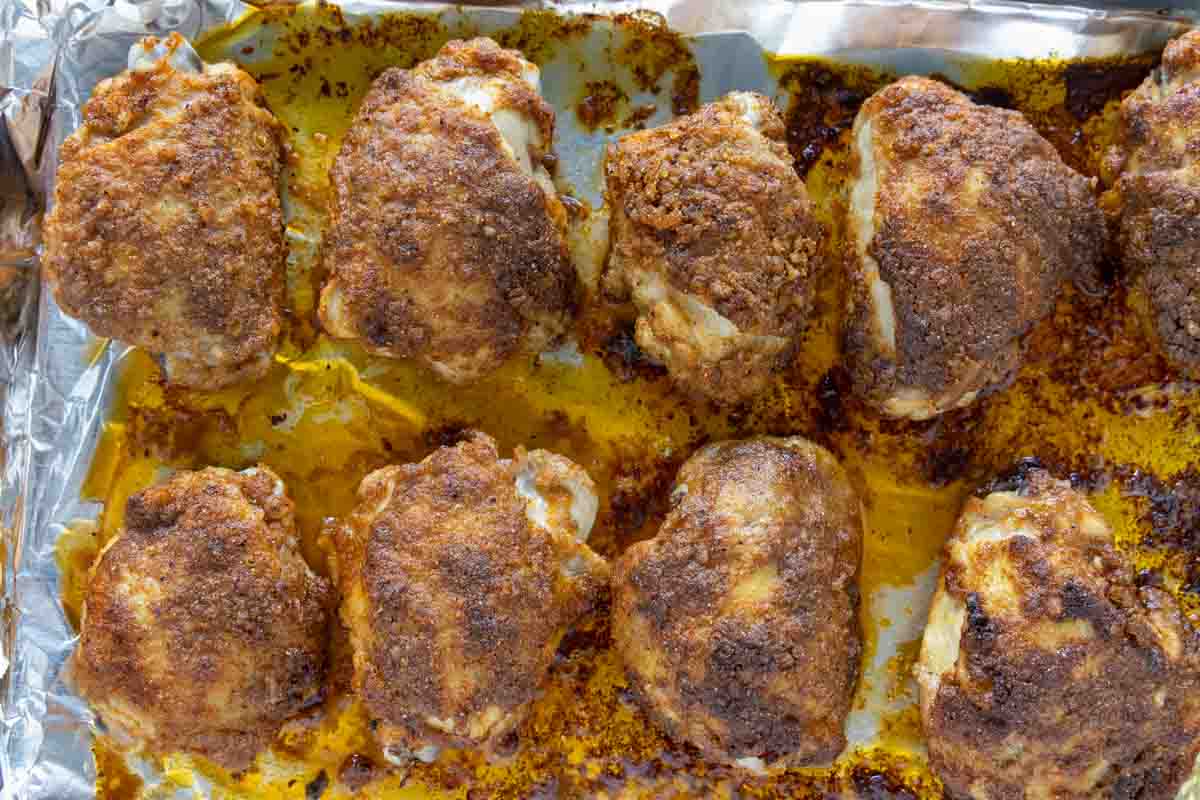 Place the baking pan on the middle rack of the preheated oven and bake for 40-50 minutes or until the internal temperature reads at least 165 degrees F. Use a meat thermometer stuck in the thickest part of the meat. Based on the time and oven temperature, the internal chicken will more than likely be higher than 165 degrees, but please check to make sure it's safe to eat.
*I buy pasture-raised chicken from small farms and the size varies depending upon the time of the year. These bone-in chicken thighs were running a little small and took 40 minutes for the skin to get crispy. Your cooking time may vary, as grocery store thighs run larger and may take 10-15 minutes longer to cook.
You can use boneless chicken thighs to make this recipe, but cooking will be shorter.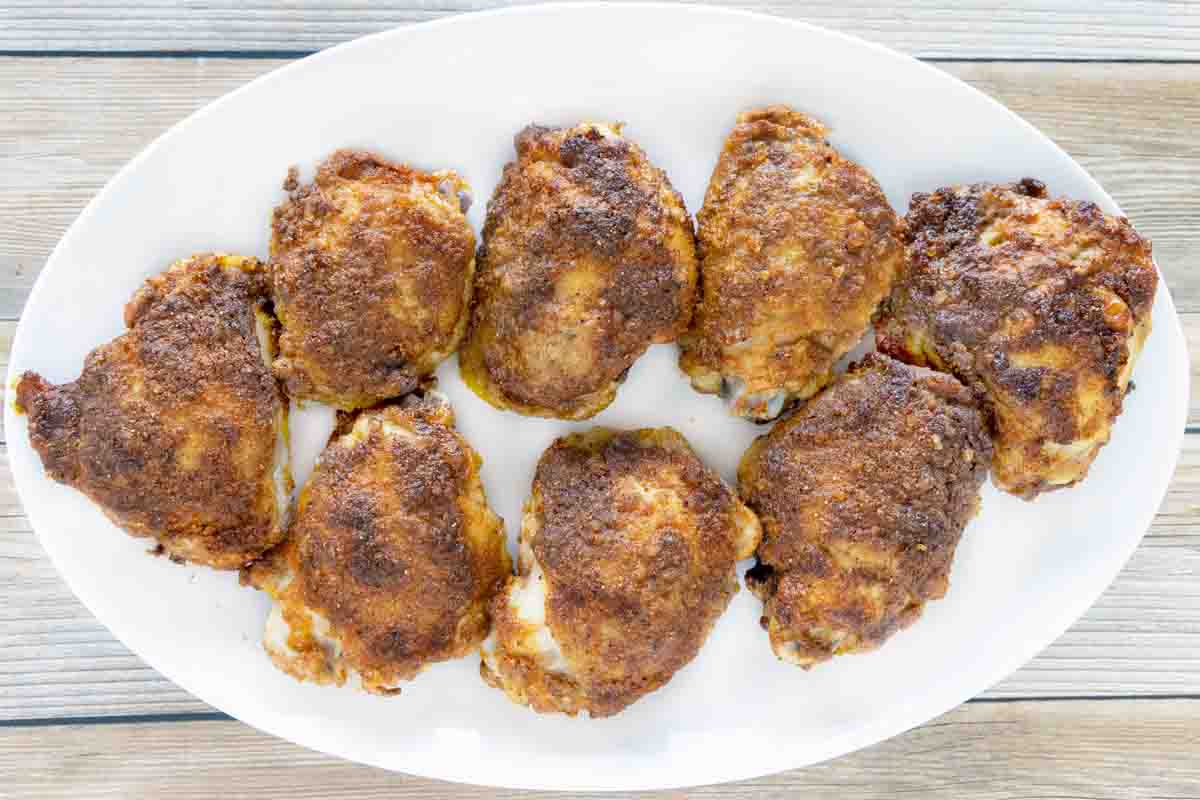 Remove the crispy baked chicken thighs from the oven, and for the best results, let them sit for 5-10 minutes before serving. This will give the juices time to reabsorb and redistribute into the meat.
Then it's time to enjoy delicious tender chicken thighs with flavorful juicy meat!
Can I air fry these chicken thighs?
You sure can. They will cook in less time and get a nice crispy exterior.
Preheat the air fryer to 400 degrees F.
Add the chicken thighs in a single layer, skin-side down leaving room between them so they don't touch. You may have to cook in batches if there is not enough room.
Air fry the chicken thighs for 18 to 22 minutes, flipping the thighs halfway through. Cook the chicken until a thermometer inserted into the thickest part of the chicken reads at least 165 degrees F.
Cover the chicken with aluminum foil and let it rest for 5 minutes before serving.
Recipe FAQ's
Is it better to bake chicken thighs at 350 or 400?
I prefer 400 degrees F for chicken. The higher temperature helps crisp up the skin and makes the chicken tastier and more appealing. It also cooks the chicken a little faster than 350 degrees.
425 is just a little too hot and the seasonings will darken making the thing less appealing.

Should I cover the chicken while it's in the oven?
You shouldn't cover the chicken thighs during the baking process. Leaving the chicken uncovered will help the skin get brown and get crispy. While covering the chicken will steam the chicken instead of roasting it.
Can I use chicken breasts to make this recipe?
You can use bone-in skin-on chicken breasts to make this recipe, but you have to watch the cooking time more closely by monitoring the internal temperature of the breasts. Chicken breasts don't contain as much fat as dark meat and can easily be overcooked, resulting in dry, flavorless meat.
More Chicken Recipes You'll Love!