This post includes affiliate links. As an Amazon Associate I earn from qualifying purchases.
I love meatballs and my Baked Chicken Marsala Meatballs is one of my favorite ways to enjoy this classic Italian dish substituting the typical meatball mixture with ground chicken.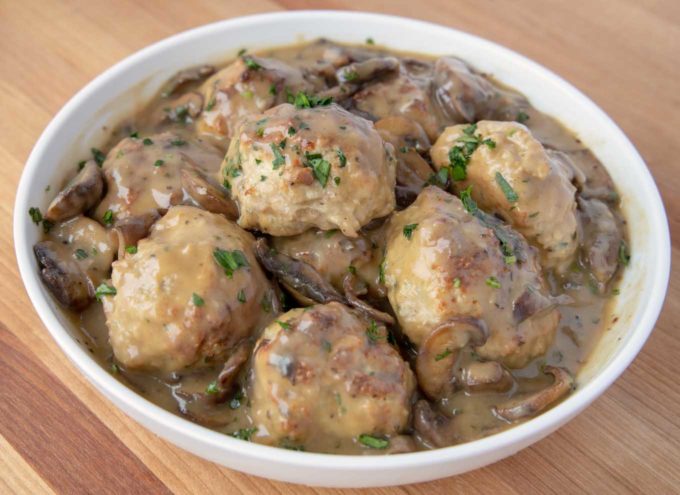 For about ten years I didn't eat red meat and learned to love chicken burgers and chicken meatballs. Most people use ground turkey for their non-beef ground meat dishes, but I always found ground turkey too dry and tasteless.
Although ground chicken is a little harder to work with, with its wetter consistency, the texture and flavor are so much better than ground turkey.
Add in a mushroom marsala sauce and you've just elevated this dish to another level of deliciousness!
What Ingredients do I need to make Baked Chicken Meatballs?
Let's start by gathering the ingredients we need to make Baked Chicken Meatballs. In Chef Speak this is called the "Mise en Place" which translates to "Everything in its Place".
Not only does setting your ingredients up ahead of time speed the up cooking process, but it also helps ensure you have everything you need to make the dish.
Can I use Ground Turkey instead of Ground Chicken?
You sure can. You could even use ground beef, your favorite blend of meats, or the new vegetarian ground meat.
Do I have to use a Marsala sauce with my Chicken Meatballs?
No, you don't! Their equally delicious in a tomato sauce (homemade or store bought).
How do I make Chicken Meatballs with a Mushroom Marsala Sauce?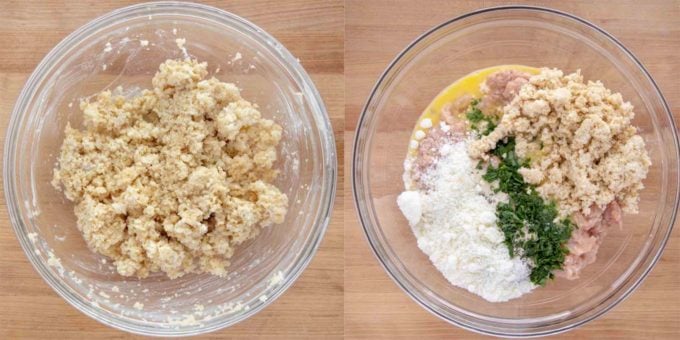 The first step in making the meatballs is prepping the bread crumbs for the mixture.
Once you've mixed the milk with the bread crumbs and allowed it to sit for five minutes, you can add it to the rest of the ingredients.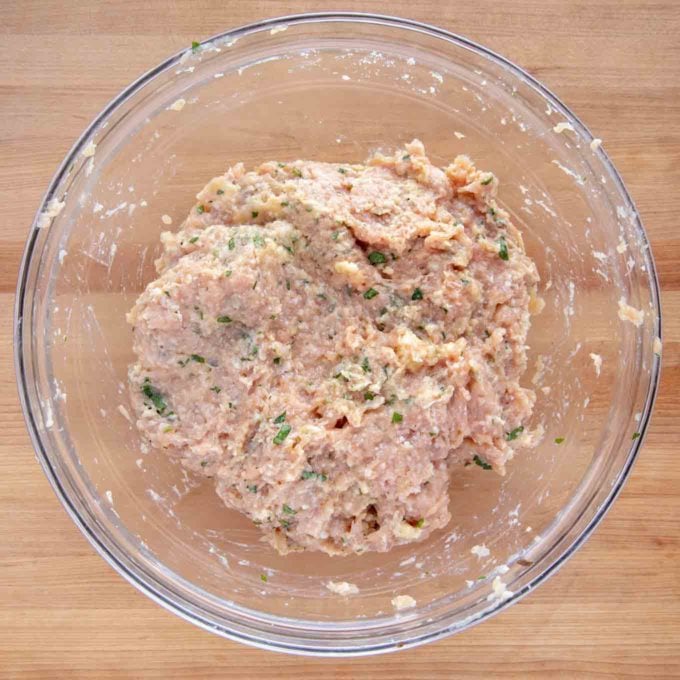 Gently mix together the ingredients until combined. Do not overmix!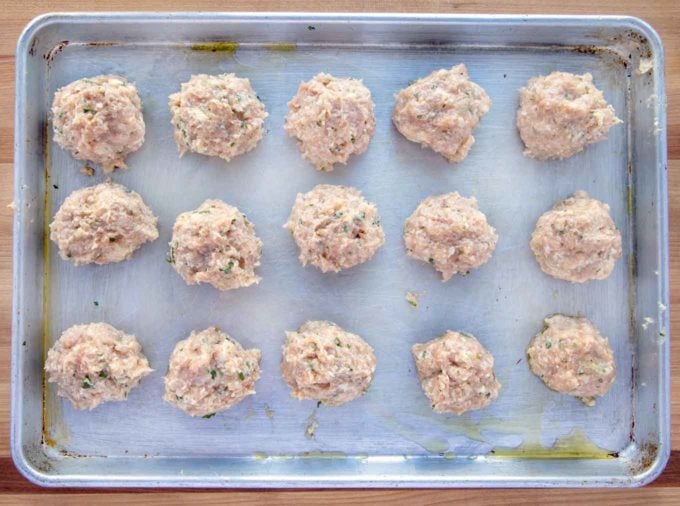 Use a cookie scoop or tablespoon to portion the meatballs. Roll the mixture into balls and place on a lightly oiled baking sheet.
*Plastic gloves will make the job easier. If you don't have gloves try wetting your hands.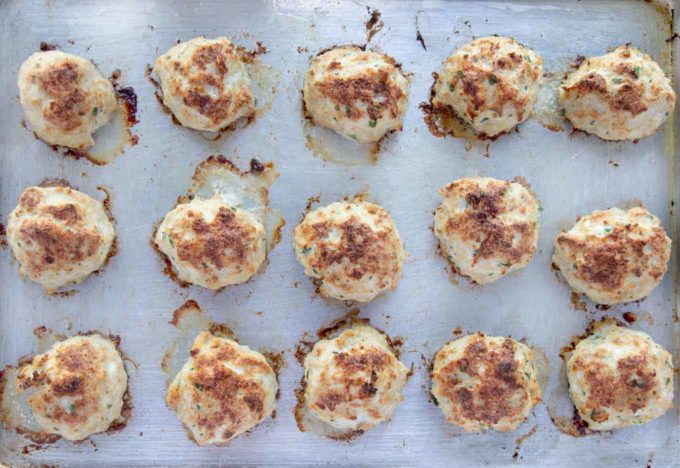 Place the sheet pan under the broiler and cook for 7-10 minutes or until the meatballs get nicely browned. Remove the baked chicken meatballs from the oven and set aside until needed.
*The meatballs might not be fully cooked through, but they will finish cooking in the sauce.
Can I saute the Chicken Meatballs?
Yes, you can. Add oil to a large saute pan and sear on as many sides as possible. Be gently with the meatballs as they're softer than beef meatballs.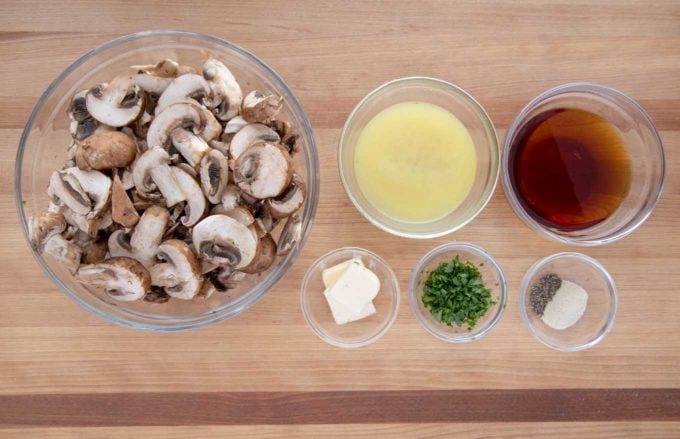 While the meatballs are cooking, get the ingredients for the mushroom marsala sauce ready.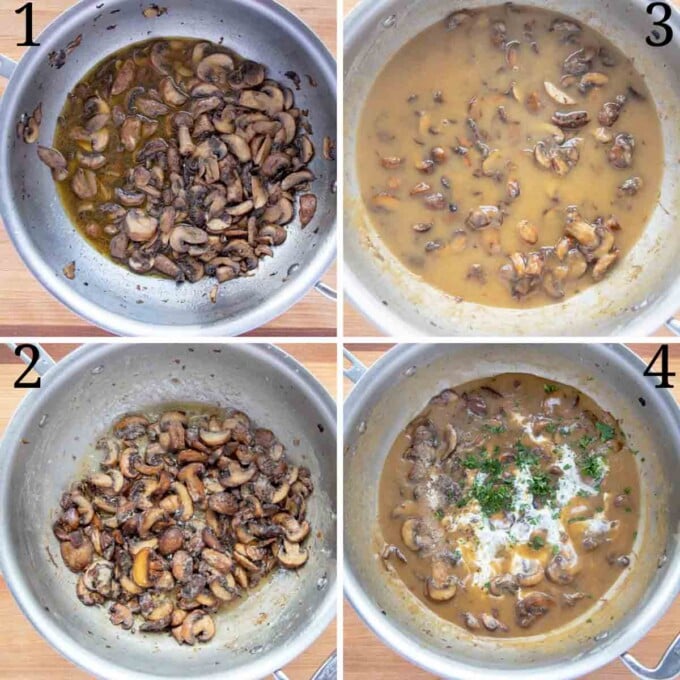 Heat 1 tablespoon of olive oil over high heat. Add the mushrooms and saute for 5 minutes allowing the mushrooms to caramelize.
Add flour to the mushrooms and mix well allowing the flour to cook over low heat for 3-4 minutes.
Add the ⅓ cup marsala wine and stir until the mixture is smooth.
Whisk in the chicken stock and simmer for about 5 minutes.
Add the cream, parsley and season to taste.
*If the sauce isn't thick enough let it reduce a little longer. If the sauce is too thick add a little more marsala, stock or water to the pan.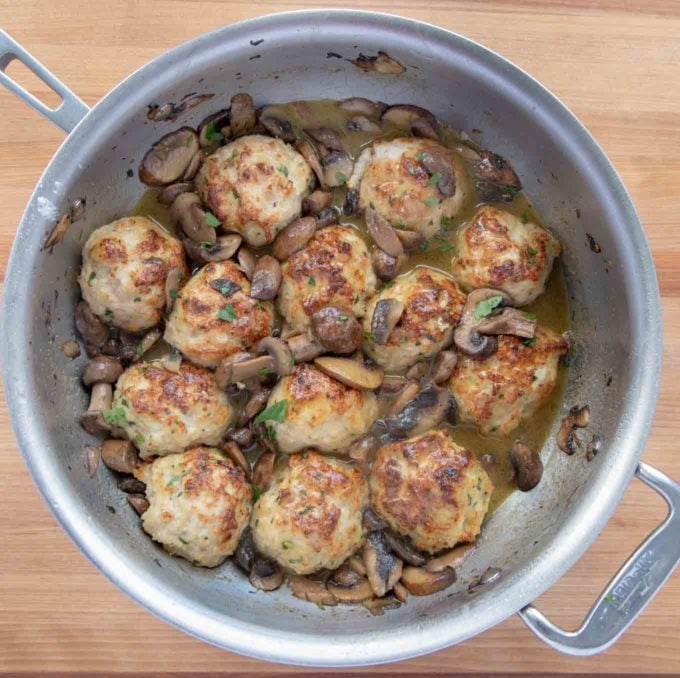 Add the meatballs to the sauce and simmer for an additional 5 minutes to let the flavors blend.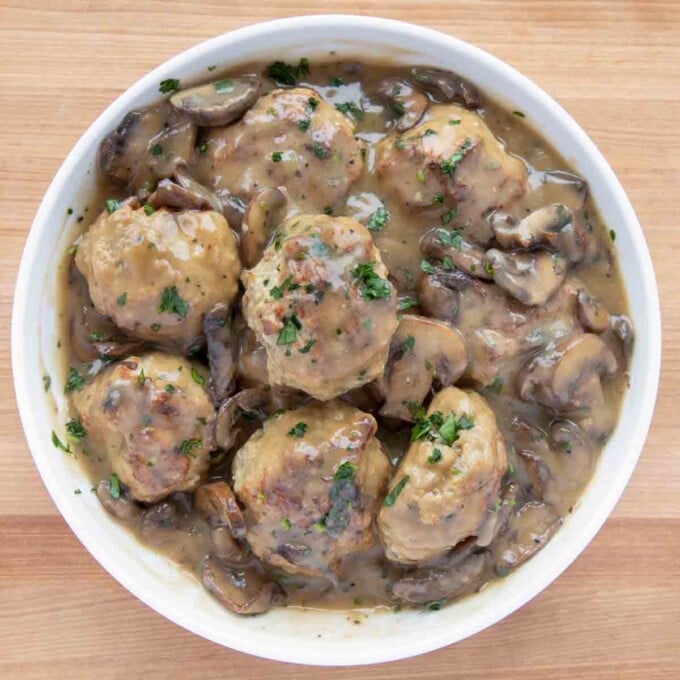 Your friends and family are going to love these tasty Chicken Marsala Meatballs! Serve them over noodles, rice or in a hoagie roll as a submarine sandwich.
Where Does Chef Dennis Shop for Meats?
I have been buying my meats online for quite some time now and have tried many different suppliers. I have found that Crowd Cow has the best prices and selection for chicken and Farm Foods has Heritage Pork and other meats that I regularly use. They both offer much better meats than you can buy at the supermarket, and both offer free delivery to the US. Crowd Cow also includes free bacon with each order!
Click on my affiliate links and get started today.
More Recipes You'll Love!