Make your grilling event memorable and cook up deliciousness with my Cedar Planked Salmon! I used one of my favorite seasonings to give the salmon that perfect blend of Jamaican flavors. Not a fan of Jamaican seasonings? Use your favorite spices to create this delicious dish in your home tonight!
Whether you make this salmon for a date night, entertaining or just to treat the family to a special dinner, you'll be amazed at the results and just how easy it is to make planked salmon!
What ingredients do I need to make Seasoned Cedar Planked Salmon?
Let's start by gathering the ingredients we need to make Cedar Planked Salmon. In Chef Speak this is called the "Mise en Place" which translates to "Everything in its Place".
Not only does setting your ingredients up ahead of time speed the up cooking process, but it also helps ensure you have everything you need to make the dish.
Do I have to use Jamaican Seasonings to make Cedar Planked Salmon?
No, you don't. You can use any of your favorite seasonings or combinations of seasonings and fresh herbs.
How do I make Cedar Planked Salmon?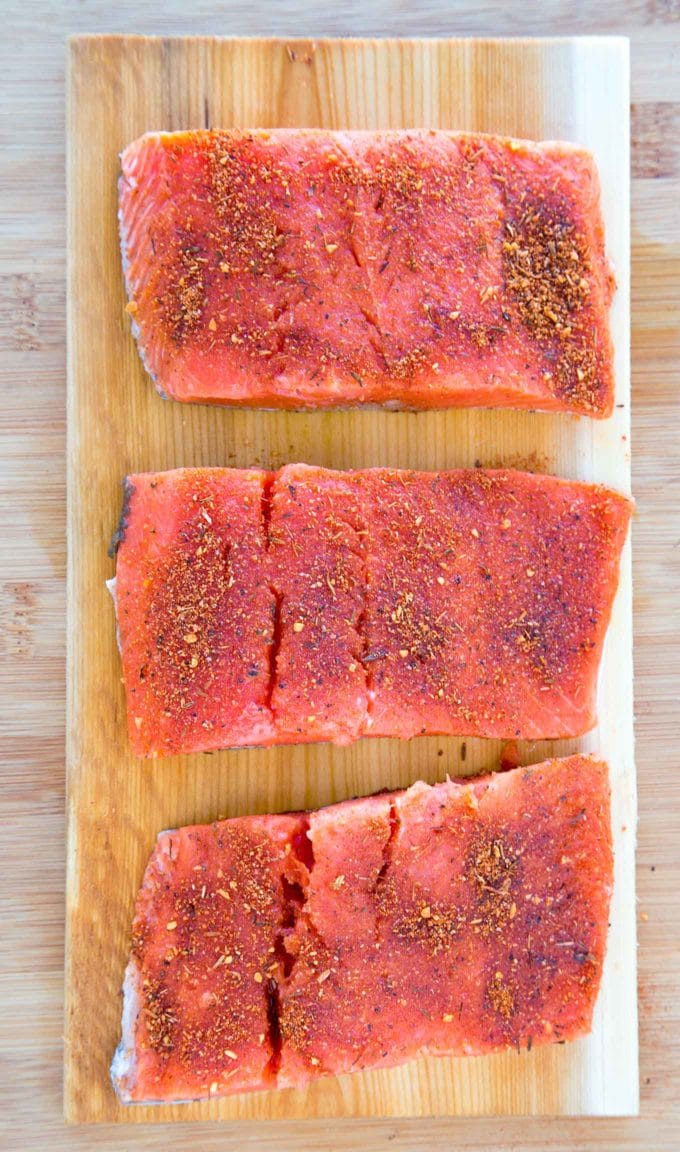 The first and most important thing to know before you start making cedar planked salmon is that you have to soak the cedar plank in water for at least 1 hour, preferably 2-3.
This will ensure that the plank doesn't catch on fire. While this is not as critical if you're making this dish in the oven, it's still something you need to do to create the right cooking atmosphere.
How does a Cedar plank help flavor the salmon?
When the soaked planked is placed on the hot grill or in the oven it releases the moisture along with the aromatic oils that are picked up from the wood during the soaking process. This cedar-infused steam helps cook and flavor the fish while adding moisture into the fish. This gives you an incredibly moist and tender piece of salmon.
If you're cooking the planked salmon on the grill, it also adds smoke. The spicy and fragrant cedar smoke helps cure the outside of the fish and locks in the moisture. Giving you a perfectly cooked flavorful piece of salmon.
Another tip is to use as much of the plank as you can, without overcrowding it. Most planks are 5 x 11 inches. You can find these cedar planks and also larger pieces for grilling whole sides of salmon on Amazon.
The end result will be as close to perfection as you can get. It's so easy to do, you don't have to wait for a special occasion or be afraid of making 20 or 30 pieces for your next get together.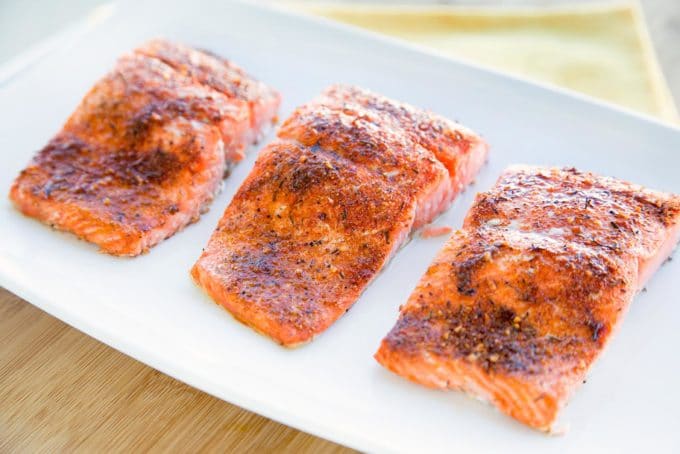 You don't even have to skin the salmon before cooking. The skin will peel right off when you take it off of the cedar plank, leaving you with a perfectly cooked beautiful piece of salmon.
More Recipes You'll Love!