Tangy, spicy, and just a little sweet, homemade buffalo wing sauce is so much b better than using ready-made sauce, and my easy recipe only takes 5 minutes to make. After tasting my sauce, I'm sure you'll agree that this is the best homemade buffalo sauce recipe!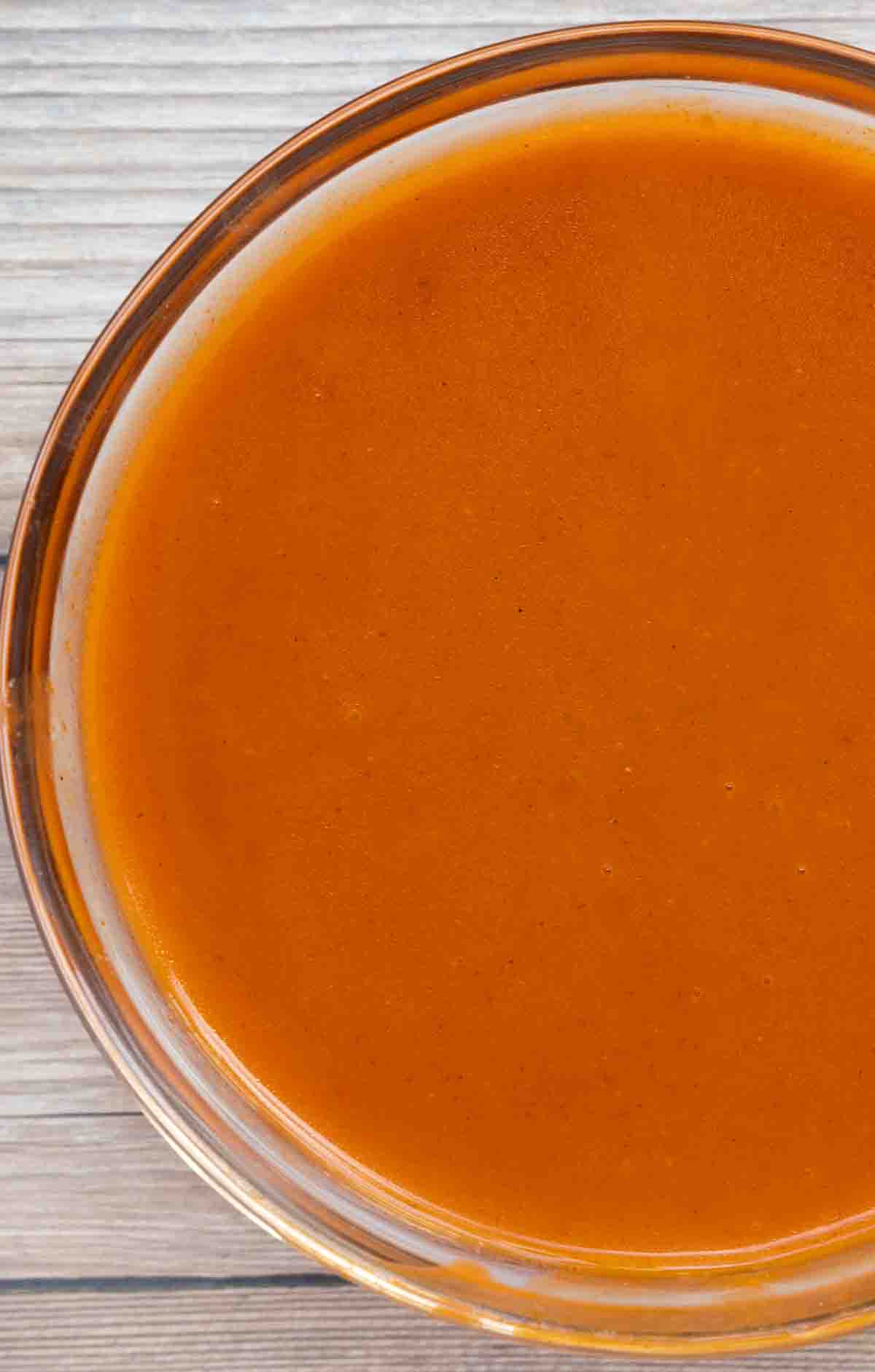 My Buffalo Wing Sauce Recipe only uses three ingredients and sets a new standard of deliciousness when it comes to making buffalo chicken wings.
Americans love just about anything made with buffalo wing sauce. The truth is it's not just for chicken anymore, it's a condiment.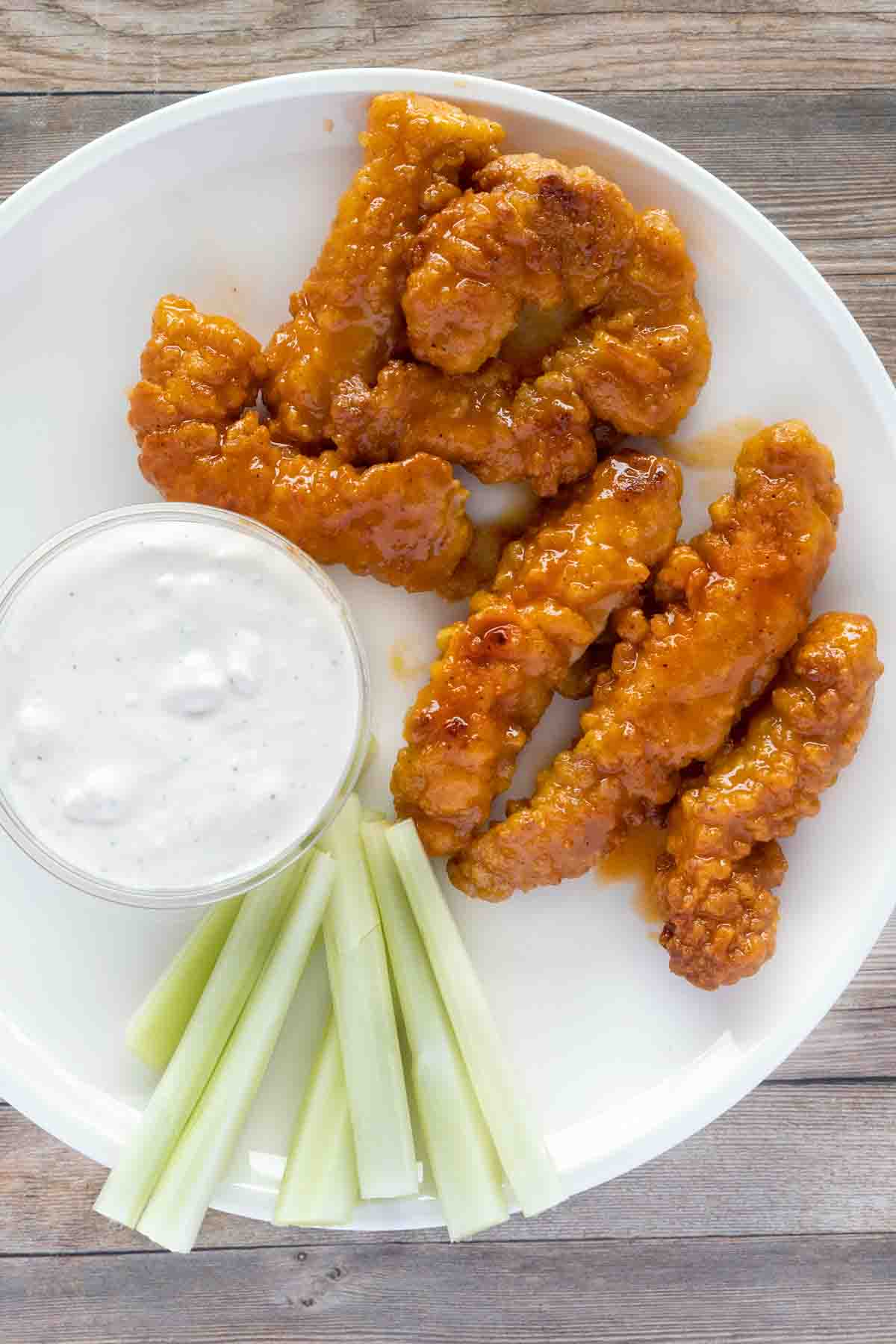 I love the spicy kick my buffalo sauce adds to boneless chicken tenders (aka boneless buffalo wings). Serve them with bleu cheese and celery sticks, and you're living!
I tried using Franks Hot Sauce to make my homemade 'buffalo wing sauce but found it to be too hot, overpowering the flavor. I had accidentally picked up a bottle of Frank's Buffalo Sauce and found that it had the perfect level of heat and flavor, allowing me to make the Best Buffalo Wing Sauce.
Of course, if you prefer a hotter sauce, Frank's has a hot sauce for every palate. My Buffalo Sauce recipe will work with any brand or variety of hot sauce.
Ingredients to make Buffalo Wing Sauce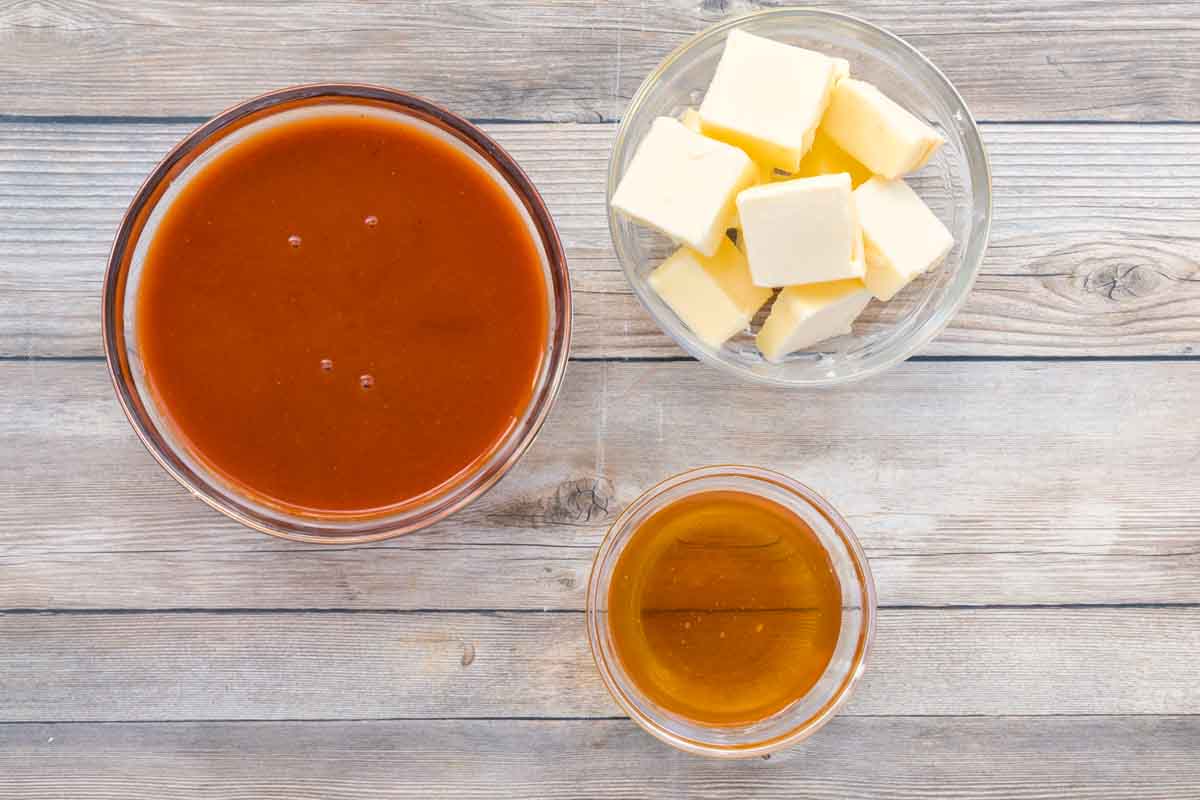 Let's start by gathering the ingredients we need to make Buffalo Sauce. In Chef Speak, this is called the "Mise en Place," which translates to "Everything in its Place."
Not only does setting up your ingredients ahead of time speed up the cooking process, it also helps ensure you have everything you need to make the dish.
Made with three simple ingredients
hot sauce
unsalted butter
honey – optional
I've seen recipes include onion powder, garlic powder, white vinegar, lemon juice, and Worcestershire sauce. None of those ingredients belong in Buffalo sauce. But if you like the flavor it adds, feel free to make those adjustments.
If you're not a fan of Frank's, you can use a different brand. I've used Texas Pete and Louisianna Hot, but they are both considerably hotter. This recipe will work with any of your favorite hot sauces.
Do I have to use honey in the buffalo sauce?
No, you don't. If you'd rather forgo the added sugar, just leave out the honey. Or if you'd rather use maple syrup instead of honey, that will work too.
Do I have to use butter in buffalo sauce?
Fat is an essential ingredient; technically, you can use olive oil, but that would be a different process to emulsify the buffalo sauce. I have found that coconut oil works really well and will thicken up nicely as it cools, so it really clings to the wings.
How to make Buffalo Sauce.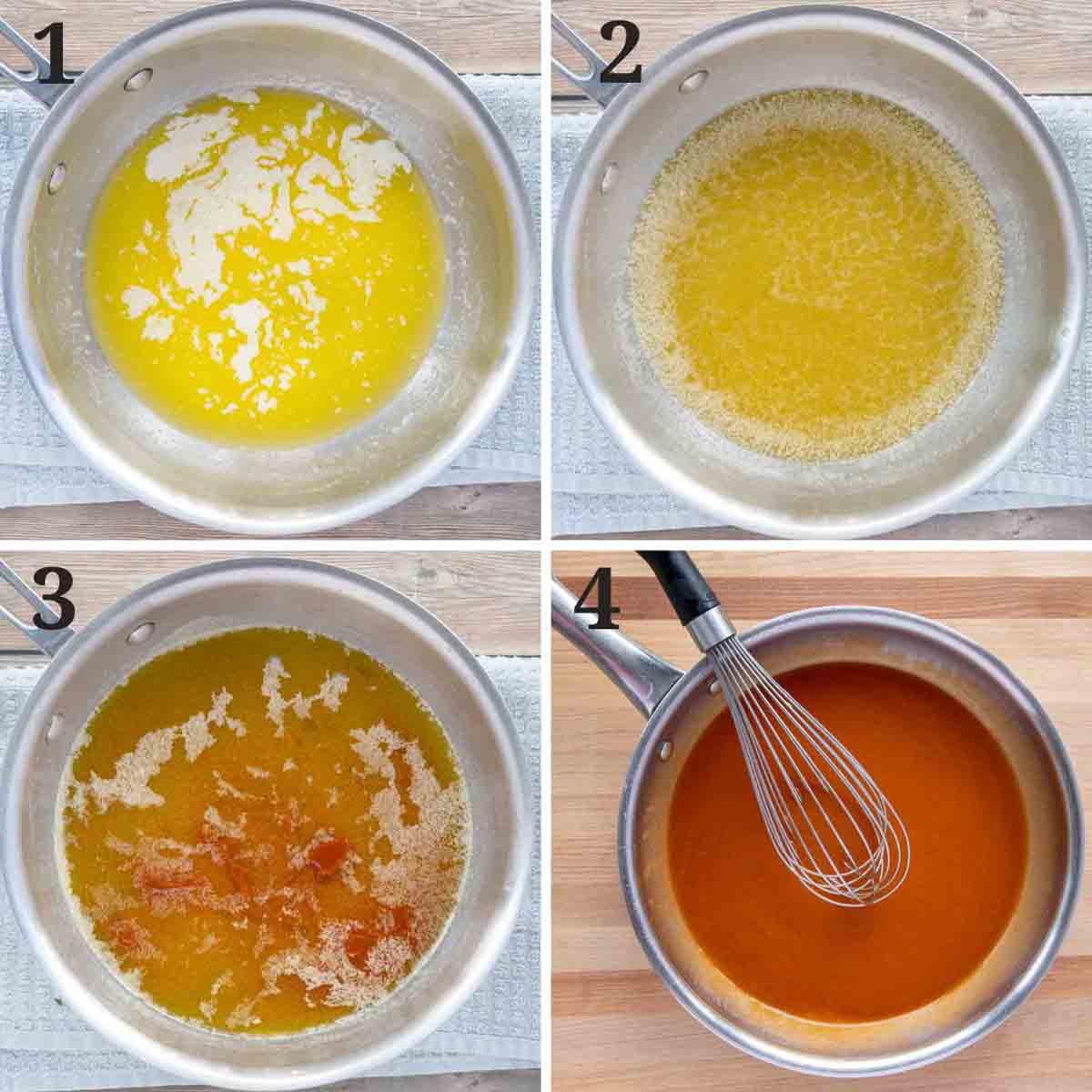 Melt the butter in a small saucepan over medium-low heat.
Add the honey to the butter and whisk it until it's well combined. Remove the saucepan from the heat.
Add the hot sauce to the mixture.
Whisk the hot sauce into the butter mixture until you have a smooth consistency.
What is the secret to good buffalo sauce?
The mistake that many people make with their wing sauce is letting it get too hot. If the sauce gets too hot, it will break and separate back into oil and hot sauce. Have you ever ordered wings and had them served with a puddle of grease in the bottom of the basket? The sauce got too hot an separated.
The other mistake is not draining the wings or boneless tenders before adding the sauce. If they haven't been allowed to drain, the extra grease will make the sauce greasy.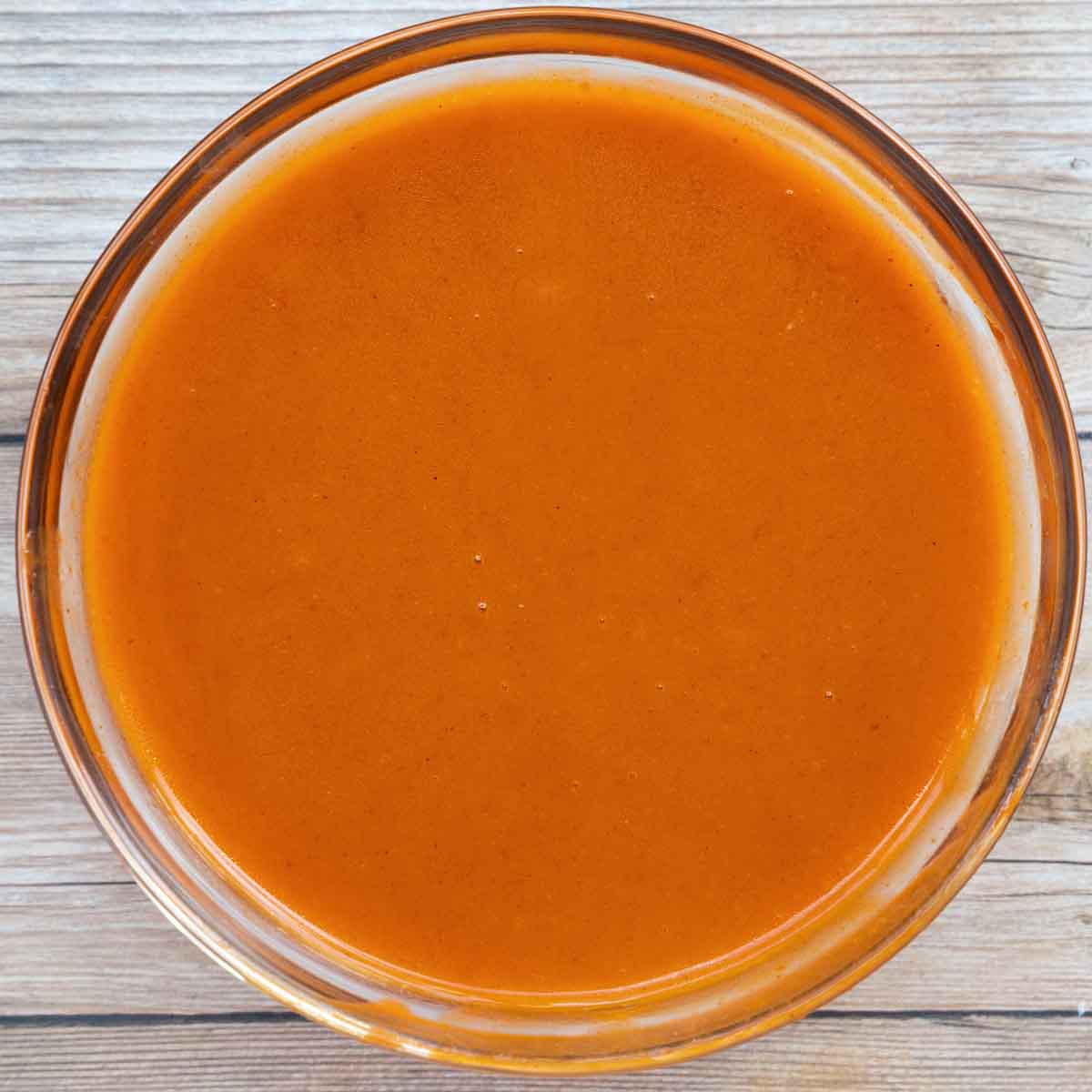 Good Buffalo Wing Sauce is a thing of beauty. It's an easy recipe that will set the standard for hot wing sauce. Don't blame me if your favorite restaurant's wings don't taste as good as yours.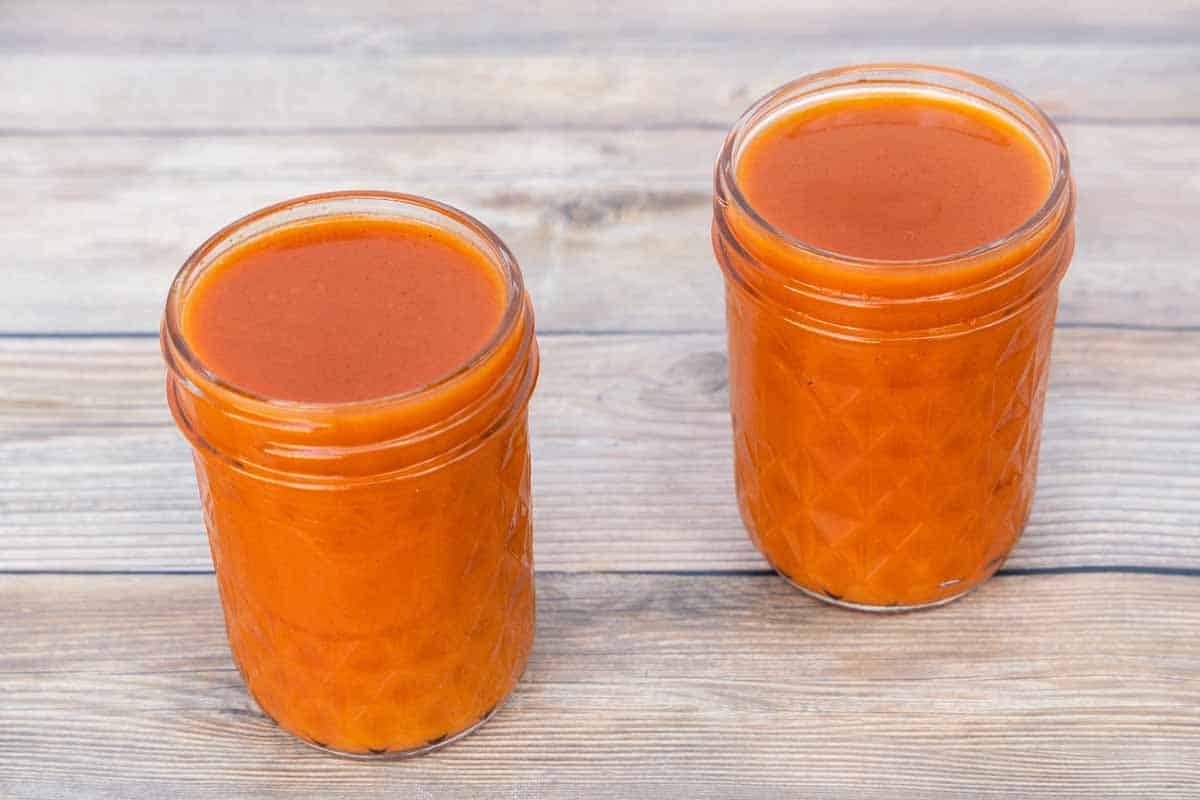 This style of hot sauce was invented in Buffalo, New York, but the entire world has definitely embraced the buffalo wing sauce and all the delicious things you can do with it.
Buffalo sauce can be stored in well-sealed canning jars or other airtight containers and will hold up refrigerated for up to 10 days.
Recipe FAQ's
Why is it called buffalo sauce?
This iconic American wing sauce was named after the city where it was invented. The Anchor Bar in Buffalo, New York, introduced Buffalo chicken wings to their clientele, and it was love at first bite. The original sauce was made with butter, hot sauce, and cayenne pepper
Can I reheat buffalo sauce?
You sure can. But only heat it over moderate to low heat. If the sauce gets too hot or boils, it will break, and you'll end up with a puddle of grease instead of smooth and creamy buffalo sauce.
Can I freeze buffalo sauce?
Buffalo sauce can be frozen in an airtight container and stored frozen for up to three months.
More Recipes You'll Love!