It's almost impossible to imagine making it to the end of the school year, when we first start classes in the fall, but as the year rolls on, we seem to be asking the same question over and over again……where has the year gone?  Now I have to be honest and say I won't look back fondly upon this year, as I have with others (you do have years like that) but it was a hard year for me.  My back problems severely limited what I could do and how much I could do this year, but as a board member put it "I was in denial" , My back isn't going to get better by itself, those days are long gone, and I need to get it taken care of….sigh    I guess that mean I have to retire the red cape, once and for all, that's the bad news.
Now the good news is, the year is just about over, Friday will mark my last student lunch day and Tuesday will mark my last faculty lunch day.  Of course it's not entirely over at that point, I still need to break down the kitchen and start on all the paperwork that I've been putting off through out the year….sigh.   This is the time I miss just being a chef, I know it's necessary, but I hate doing paperwork, and in the corporate world there's more paperwork than you can imagine, and every i has to be dotted and every t crossed, no stone left unturned…..I'm sure you get the picture.  I do understand that if they didn't have such an intricate system in place,  a company this large would be in total chaos, but that doesn't mean I have to like it……I guess understanding will have to do for now.
There I go again, I can go on and on and on (as you feign surprise) but  you're not here today to listen to me complain, it's Guest Post Friday!!!
Today my friends, it's my great pleasure to introduce to you one of my favorite new bloggers, Anna from Icy Violet's!   If you've never had the pleasure of visiting with Anna at Icy Violet's, I can promise you, you're going to love it, and I can also promise you, that you'll never know what you're going to find.  Now granted their's an excellent chance its going to be something sweet, sugary and possibly chocolate, but you never know when a delicious Chicken Mole , or one of her vegetarian specialties like Northern Thai Curry will pop up.  Then again there's also the Ingredient of the week, not only informative but entertaining, leaving room for plenty of discussion on that weeks subject.   But no matter when you stop or what you see,  you're going to be happy you did and when you leave you're going to get that warm cozy feeling all over, like being wrapped in blanket of good food and love!
So sit back, relax, put your feet up and perhaps indulge in an herbal tea, just remember not to hit your head on the screen trying to get to the Chocolate, as I give you…….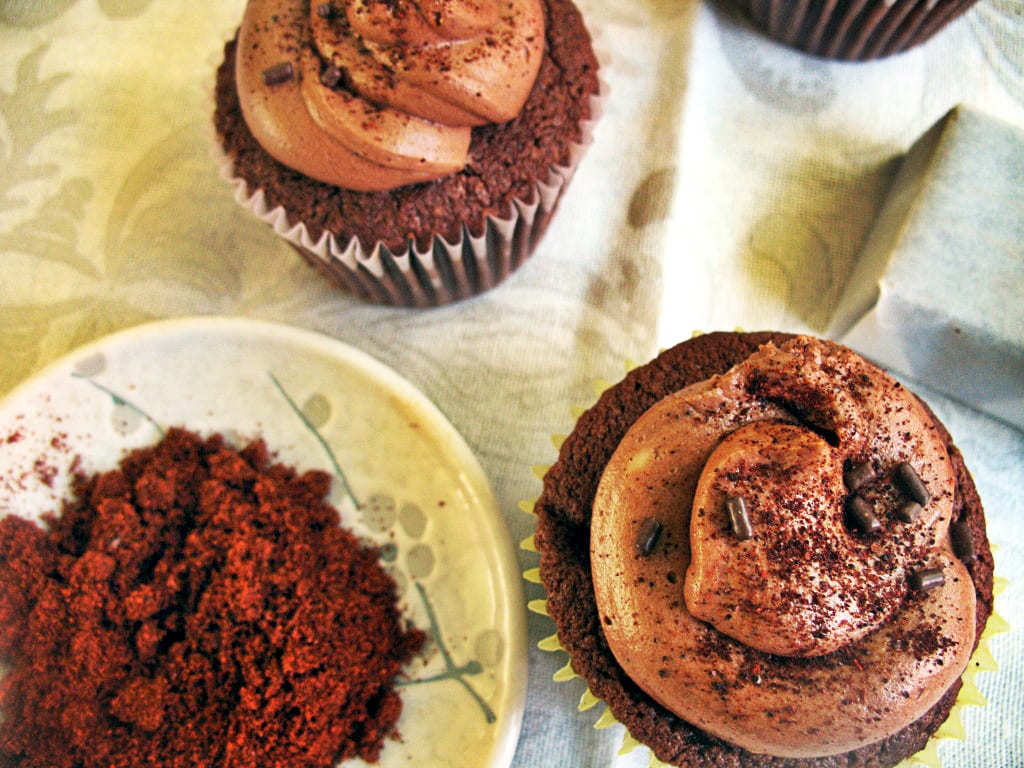 Hi!  My name is Anna.  I'm a post-graduate, underemployed mama of one who dreams big.  I like food, fashion, babies, politics, and fuzzy animals, and I have a lot in the works, my friends.  But for now I run a little food blog known as Icy Violet's Kitchen (if you're wondering about the name, it's because I love to eat flowers and I prefer those flowers to be crusted in sugar, whenever possible).
Our delightful Chef Dennis has invited me to do a blog post, and I'm so pleased to be invited to take a place among the Strawberry Ricotta Crostatas (Crostati?), Blackberry Lime Butter Cakes and other marvelous creations that call this website home.
But enough chatter.  Let's get down to business.
Today our business is with chocolate.  Real chocolate.  Aztec chocolate.  Nahua chocolate.  They drank it cold, peppered with chili
When I was a kid, I thought I loved chocolate.  What did I know about it?  I grew up with one brother, and at the soft-serve-dairy-queen-ice-cream-drive-thru he always chose vanilla.  So it was understood, in my little girl brain, that I must choose chocolate.
But somewhere around college I took a look at the crap I was eating (ice cream, pudding, cakes from a box) and thought you know, I don't like this.  One tastes like another and it's all the same.  It's plastic chocolate.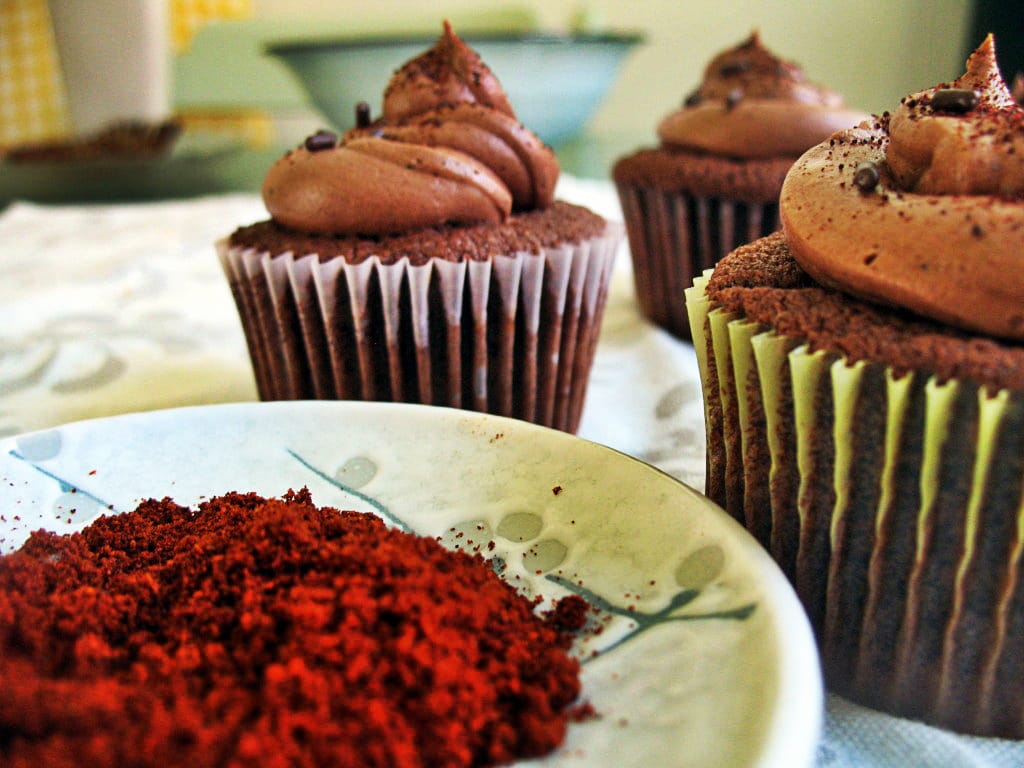 Chocolate should be serious.  It's not the trick-or-treat throwaway food it pretends to be.  It's something dark and mysterious, straight out of a Mesoamerican jungle.  Bitter as coffee, and far more seductive.  Theobroma cacao.  The food of the gods.  A sacrament of chocolate, consumed in place of blood in sacred ritual.
Yeah, it got real heavy right there.
Don't get me wrong.  There is a place for Hershey's Kisses, Rocky Road ice cream, even a box-mix cake once in a while (Lord knows I can't reproduce the perfect, squishy fudginess of box brownies no matter how hard I try).
But chocolate deserves respect.  It deserves to be paired with garlic and almonds in savory dishes.  It deserves to be tried at full strength, melted over sweet oranges.  It deserves to be called by its real name once in a while…xocolatl.  It deserves to be paired up with its Mesoamerican cohorts, chili peppers and vanilla (not opposites after all, but best friends).
These cupcakes are a celebration of chocolate's past.  Cook some up, and dedicate them to the jungle gods.
Xocolatl Cupcakes
This recipe is based on the chocolate cupcake recipe from Magnolia Bakery, my go-to for a chocolate cake with a flavor that favors the stronger notes of chocolate.  Less milk, eggs, and sugar.  More bean.  The icing is my own.
These cuppies can have as much or as little spice as you like.  The recipe I'm giving you was described as 'bitey' from my friends/guinea pigs who tried it.  I thought it could use a little more spice, to be honest, but I like things strong.  Did you notice?
Ingredients
Cupcakes
2

cups

all-purpose flour

1

teaspoon

baking soda

1

cup

unsalted butter

softened

1

cup

granulated sugar

1

cup

firmly packed light brown sugar

4

large eggs

at room temperature

6

ounces

unsweetened chocolate

melted, 170 gm

1

cup

buttermilk

1

teaspoon

vanilla extract

1

teaspoon

cinnamon

2

teaspoons

chili powder (I used pasilla

for a more complex flavor but regular is fine too)
Mexican Chocolate Icing
1/4

cup

cocoa

3 1/4

cups

powdered sugar

1-2

teaspoon

chili powder

8

ounces

butter at room temperature (important! microwaving can approximate it

but you're taking risks with the texture), 227 gm

1/2

teaspoon

vanilla extract

3

tablespoon

milk

or cool coffee if you want to be really exciting!

Chili powder (again

I recommend pasilla) to sprinkle on top
Instructions
Cupcakes
To melt the chocolate, place in a double boiler over simmering water on low heat for 5-10 minutes (about; stir occasionally until completely smooth and no pieces remain; remove from heat and let cool 5-15 minutes or until lukewarm).

Line two 12-cup muffin tins with cupcake papers; set aside.

In a bowl, sift the flour, baking soda, cinnamon and chili powder together; set aside.

In a big mixing bowl, cream the butter, using an electric mixer on MEDIUM speed, until smooth. Add the sugars and beat for about 3 minutes or until fluffy. Add the eggs, one at a time, beat well after each addition. Add the chocolate, mixing until well incorporated.

Add the dry ingredients, in three parts, alternating with the buttermilk and vanilla. With each addition, beat until ingredients are incorporated but do not overmix.

Carefully spoon batter into cupcake liners; fill 3/4 full.

Bake in a 350° oven for 20-25 minutes or until pick comes out clean. Cool in tins for 15
Mexican Chocolate Frosting
With an electric mixer, beat together sugar, cocoa, chili powder, and butter.

Mix on low until well blended, and then on medium for another two minutes.

Add vanilla and milk/coffee, beating on medium for another minute.

Pipe onto cupcakes and top with a sprinkling of chili powder.
I have to admit that I've never tried chili with chocolate, and it was all I could do not to drop the post and run into the kitchen to make those lovely chocolaty cupcakes of joy (but they will be made, very soon)! And if you enjoyed this delicious guest post as much as I did, please head on over to Icy Violet's and say hi to Anna, and check out some of her mouth watering creations, you'll be glad you did!
That's about it for today my friends, have a great weekend and I'll see you all real soon!