I was completely in awe of the landscape on my first trip to Washington State and Whidbey Island proved to be the perfect choice for a delicious getaway. The people on the island were friendly, the scenery breathtaking and the food was ah-mazingly delicious. What more could anyone ask for? It was paradise.
On our first night on Whidbey Island, we luckily stumbled upon Christophers on Whidbey where I got to enjoy a Pacific Northwest Classic, Penn Cove Seafood Stew.
This bowl of deliciousness was chock full of local seafood and fresh local vegetables. After dinner, I had the opportunity to talk with the chef I convinced him to share his recipe for this delicious dish.
Lisa's dinner was every bit as delicious as she enjoyed another signature dish from Christophers, a warm seafood salad. She devoured this flavorful combination of local seafood and greens.
Where is Whidbey Island?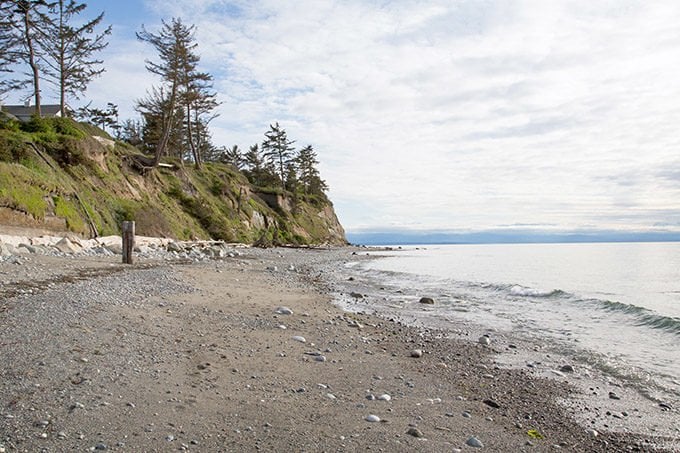 Whidbey is about 30 miles (48 km) north of Seattle and lies between the Olympic Peninsula and the I-5 corridor of western Washington. The island forms the northern boundary of Puget Sound. It is home to Naval Air Station Whidbey Island.
Which is why the only people that had ever heard of Whidbey Island were my ex-military friends. But don't let that stop you from visiting Whidbey and its next-door neighbor Camano Islands.
How do I get to Whidbey Island?
The easiest way to reach Whidbey Island is to fly into Seattle Tacoma Airport, commonly referred to as SeaTac. From there it's an easy drive (under 2 hours) to Whidbey Island via I-5 N or I-405N. You can also take the SeaTac Airport shuttle and just sit back and relax. I rented a car at the airport and dropped it off across from my hotel and used the shuttle for my early morning flight home. It worked out really well and the shuttle picks you up right at the hotel. They have designated stops along the way to the airport.
You can find rental cars at the airport and also find an Enterprise Rental car at Oak Harbor across from the Coachmen Inn, which is where I stayed on Whidbey Island. It's the perfect location on the island with easy access to all towns and attractions.
What Can I do on Whidbey Island?
Take a Hike or Ride a Bike on the beach, though the trails in the forests along the sound or where ever life takes you. Deception Pass State Park offers clifftop views, forest trails and freshwater lakes. To the south, Fort Casey Historical State Park is home to a lighthouse and gun battery. The coastal towns of Oak Harbor, Coupeville and Langley have boutiques, cafes and galleries.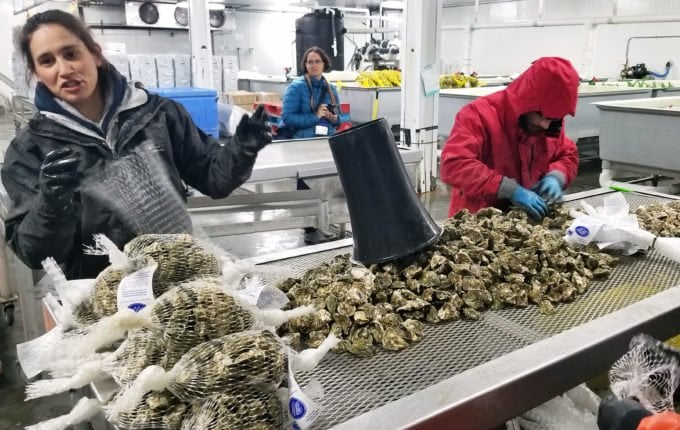 Go Fishing, Crabbing, or Shellfishing. Or if you'd rather have someone do the work for you, stop by one of the local seafood stores for fresh off the boat local seafood. We had a tour of Penn Cove Shellfish the leading supplier of mussels, clams and oysters in the area.
Go Wine Tasting (or beer, spirits, and liqueur tasting), there are seven wineries, three distilleries and two breweries for you to choose from. We had a delicious afternoon sampling wines at Holmes Harbor Cellars.
And local the local brews were too good! Here I sampled a Toby's Parrot Red Ale at Toby's Tavern in Coupeville.
Enjoy Viewing Some Art, Or Make Your Own. Callahan's Firehouse in Langley has some amazing hand-blown glassware and decorations.
Boating, Kayaking, Windsurfing, Kite-boarding, Skim-boarding, Surfing and Swimming are always options. These Kayaks are in front of one of my favorite spots on the island Couple Historic Wharf.
Take the Washington State Ferry to the San Juan Islands, and other neighboring Islands including Vancouver Island.
Take a cruise out in Puget Sound and go Whale Watching. We did see Orca's much closer than this but I didn't move fast enough to capture them. I love the ever-present Mt. Baker in the background, it almost doesn't look real.
You'll also get find Sea Lions and Harbor Seals on your cruise having fun in the water.
Have a Great Dinner which is really easy to do on Whidbey and Camano Islands. We were fortunate enough to secure reservations at the Orchard Kitchen where Chef/Owner Vincent Nattress created an amazing meal for us to enjoy.
Just make sure to save room for dessert. This seven layer Chocolate Cake I devoured at Seabolt's Smokehouse in Oak Harbor was locally made at a bakery on the island and it was OMG delicious!
And when it comes to pies, Whidbey Pies & Cafe in Greenbank has no equal. I sampled a few of their savory and sweet pies finishing off my meal with a classic apple pie ala mode. It was a beautiful thing…..sigh