When I think of world travel, I don't think of Canada. But after my trip to the province of New Brunswick, I've definitely changed my mind.
This is a sponsored post for the province of New Brunswick. But all opinions, images and amazing experiences are 100% my own.
When I first thought about visiting New Brunswick, I'm not sure what I expected. I knew I was going to eat well, and I knew the weather would be cooler than in Florida, that was a given. But what I didn't expect was how much kindness and hospitality our neighbors to the north would show us.
Our adventure began onboard Air Canada (which is now my favorite airline) when we went old school and walked out on the tarmac to board our smaller jet to Moncton, New Brunswick. It had been years since I was treated to that experience! When we landed in Moncton at their regional international airport we were greeted by smiling faces and warm welcomes.
But the first real excitement on our trip came at the car rental counter when I told the agent we were going to Caraquet. Oh, be careful at night she told me…… what? Visions of gangs of Canadians in plaid carrying axes went through my head…… well, maybe not. Needless to say, I was intrigued and asked her why?
Then she told me to watch out for the deer and the moose. What? Now my mind heard what she said, but couldn't really grasp the meaning and the only thing that made sense to me at that point was "watch out for the tiramisu" which I couldn't imagine being a bad thing. But she was dead serious, and from what the locals tell me an incident in a moving vehicle with moose usually winds up as a fatality for both the passengers and the moose.
So we watched out for the deer and the moose (and the tiramisu).
Our first stop was in Miramichi (pronounced meera-ma-she) the largest city in Northern New Brunswick, situated at the mouth of the Miramichi River where it enters Miramichi Bay. We enjoyed the hospitality of the Rodd Miramichi River Resort, where we had our first meal in Canada.
We enjoyed a glass of sangria as we sat there thinking how lucky we were to be experiencing the beauty of  New Brunswick.
The next morning we were on our way to Hotel Paulin in Caraquet. Our hosts Karen and Girard at Hotel Paulin were extremely kind and very helpful. Karen acted as our guide, sharing all the deliciousness that Caraquet had to offer.
Not only we did enjoy the local cuisine, but we also went out Kayaking in the bay to a sandbar to dig for local clams. We even cooked them up on the beach afterward enjoying a cold local brew and very fresh steamed clams!
One of the highlights of the trip was getting to meet Gaeton Dugas, a mixed-blood Acadian Oysterman. He was kind enough to take us out on his boat and share his family's history and Oyster farming techniques. I'll be sharing more about this in a video I shot while on his boat.
We also got to visit the Acadian Village where I had a cooking lesson from Ms. Savoie in her 19th-century kitchen. I'll share more on that in my next post with the rest of our adventures in Caraquet!
After a scenic drive along the coast, we made our way to Fredericton, the capital of New Brunswick. Our hotel, The Crowne Plaza Fredericton Lord Beaverbrook was perfectly situated for sightseeing and dining.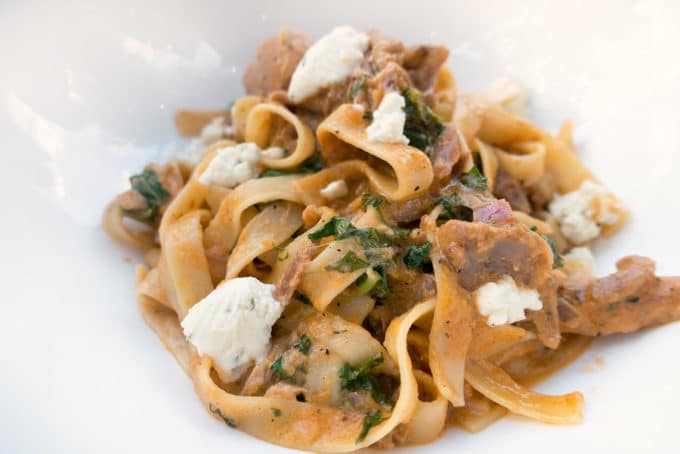 Did I mention dining in Fredericton? We had an amazing meal at 540 Kitchen and Bar Gastropub just 2 blocks from our hotel. I had an OMG delicious bowl of Tagliatelle with pulled Duck Breast in a Rosa Sauce with Boursin cheese. Wowser!
We didn't get to spend a lot of time in Fredericton but we did get to the Beaverbrook Art Gallery and the Fredericton Boyce Farmers Market for coffee and scones. I had been told that even in blizzard conditions the market was open so the locals could get their Whitney Coffee, after tasting it found out why. Unfortunately, you can't buy it online, but I did bring a bag home which I'm now enjoying.
The next stop on our tour of New Brunswick was St. Andrews by-the-Sea. This sleepy little community would be the perfect spot for our summer home…..sigh.
They have a saying in St. Andrews, the Bay of Fundy Starts here. And that means fishing, whale watching or just cruising in the bay for a glorious day on the water.
They have some of the freshest seafood you'll ever taste in St. Andrews and we certainly did our best to sample as much as we could on our trip.
We also got to visit the Kingsbrae Garden, which is a must-visit if you're in the area. And Ministers Island, where twice a day, you can drive across the ocean floor.
During our stay in St. Andrews by-the-Sea, we stayed at the Algonquin Resort, part of the Autograph Collection Hotels run by Marriott. There's a lot of history at the Algonquin and some even say Stephen King started writing the Shining on one of his visits to this beautiful resort.
We couldn't have been happier at the Algonquin and hated to leave. I could really get used to waking up to a view like this!
The next leg of our journey took us to Saint John or #SaintAwesome as the locals like to call it. And Awesome is an understatement! We arrived in Saint John and checked into the Delta Hotel by Marriott, which was located in the hub of the city, or Uptown as it's referred to.
Our first stop was Saint John City Market, the oldest continuing farmer's market in Canada. The roof is a traditional post and beam market roof that resembles the inverted hull of a ship. The Inside Connection (Saint John's indoor walkway system) allows you to get around without setting foot outside. This would certainly come in handy during the winter months. The walkway let us walk from our hotel to the City Market and Market Square, home to the Saint John free public library and the New Brunswick Museum.
We were treated to a delicious dining selection with lunch at the Thandi Restaurant where we had an insanely delicious Red Pad Thai and got to spend some time chatting with the chef Ken Singh after lunch.
And dinner at Italian by night (which is a story for another post) where I had the best-fried calamari I've ever had!
Saint John has a unique flavor being a port city and is slowly becoming the culinary mecca of New Brunswick. It might feel like a blue-collar town, but they certainly know about fine dining and everything that goes along with it.
After leaving Saint John with our bellies full and well-rested from our night on the town, we had a short drive to the Village of Alma. This was the first breathtaking view of the day as we prepared to drive through Fundy National Park and it just kept getting better!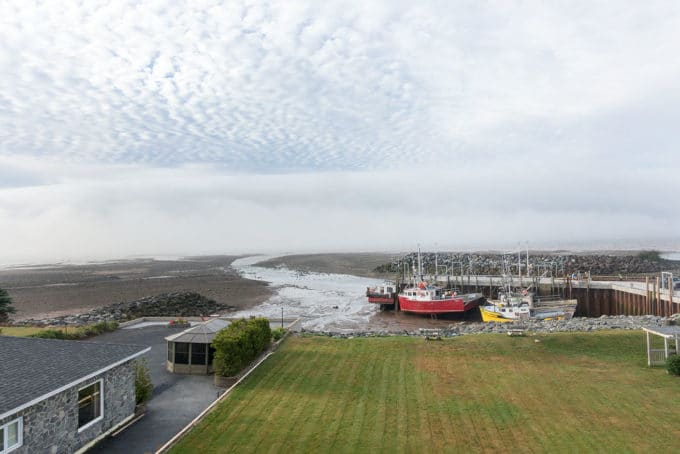 Our hotel The Parkland Village Inn was situated right at the docks of Alma where we had a spectacular view of the tides coming in and going out. Our third-floor room not only gave us a great view but let us enjoy the delightful breezes coming off the Bay of Fundy.
If you blink you might miss the Village of Alma, and that my friends would be a mistake! Have I mentioned lobster lately?
The fresh seafood in New Brunswick is plentiful and delicious and everyone in the province takes pride in serving up deliciousness for locals and visitors alike. This lobster roll I enjoyed at the Alma Lobster Shop was just a sampling of what we ate while we were there.
Our last night in New Brunswick would be spent in Moncton but on our way to Moncton, we had one very important stop to make. Lisa and I were going to walk on the Ocean Floor at low tide at Hopewell Rocks.
Since I didn't stay for high tide later that day, I've borrowed an image from Hopewell Rocks Park to show you the same area underwater.
As we made our way to Moncton we stopped at various craft studios that were part of the Fundy Studio Tour, one of which was Norman Bradford Farm Life Studio. I got a beautiful print for my kitchen to remind me of my time in New Brunswick.
We arrived in Moncton later that day just in time for lunch! I know it's a rough life….sigh. We had a great lunch at Gusto Italian Grill and Bar, where Lisa had this decadent stuffed Chicken Parm.
After lunch, we checked in at The Residence Inn by Marriott and went out exploring the city. Then it was back to the hotel for a quick nap before dinner.
Although we didn't get a chance to see it for ourselves, Moncton is known for the Tidal Bore caused by the Bay of Fundy tides. The Tidal Bore occurs twice daily as the waters of the Petitcodiac River roll back upstream in one wave that can go up to 2 feet high. This phenomenon has turned into a surfers dream, where they can ride a wave for more than 2 hours.
Our last dinner in New Brunswick was at the Tide and Boar where we had the pleasure of dining with two of the New Brunswick Tourism representatives. And I had to have one last plate of delicious fresh oysters.
And I couldn't have come to Canada and not had Poutine and it was love at first bite. Wild boar, cheese curds, caramelized onions, chicken gravy and house-made ketchup on a bed of hand-cut fries took this poutine to another level of deliciousness.
As we packed our bags in the morning for our flight back to Orlando, Lisa and I talked about all the things we had done and seen, the people we had met and all the glorious seafood we had consumed. It was indeed the trip of a lifetime.
New Brunswick is so familiar, yet so different. It's truly a world away and yet so easily accessible, right across our border. Would I go back? In a heartbeat. With the world in turmoil and not everyone looking favorably on Americans, the Canadians welcome us with open arms and our dollar goes a long way. If you haven't visited, it's time you did. You'll make memories that will last a lifetime.
Did you really think I'd visit Canada and not stop at Tim Hortons? This is the first in a series of posts about my adventure in New Brunswick, Canada.
Click on the link to read my second post about the Acadian way of life in Caraquet. And If you enjoyed my post about New Brunswick please leave a comment, I love hearing from you!