My review of Killarney Ireland
This year I finally made it across the pond to Ireland. After landing in Dubin we made our way by train down to the colorful town of Killarney Ireland.
It was a journey of planes, trains and automobiles to get us to our final destination, but after an initial travel day of 18 hours, we finally made it to our hotel. After settling in it was time for a taxi ride into town for dinner and sightseeing.
My first stop was Murphys Bar to visit my friend Sean Murphy. But as luck would have it both Murphy's Bar and their upstairs restaurant Lord Kenmare were fully booked.
Sadly there was no room at the inn for Chef Dennis….sigh But they directed us down the street to a local establishment where I was able to get dinner and some liquid refreshment.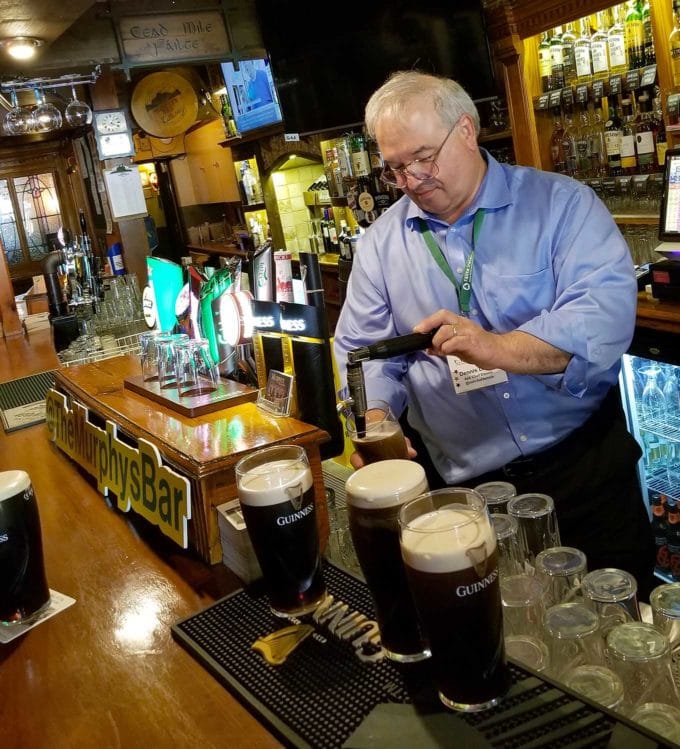 I did make it back to Murphys on two other occasions to sample their deliciousness, and also got a lesson on how to pour the perfect pint of Guinness.
Now the residents and most travelers agree that Killarney Ireland is a tourist destination. But don't let that dissuade you from visiting. Killarney is nothing like your typical tourist town.
Killarney does have its share of gift shops and souvenir shops but you'll also find restaurants, taverns and stores that the locals shop, dine and drink in.
First and foremost I am in awe of the natural beauty that they call Ireland. With quaint picturesque villages, rolling hills dotted with sheep, breathtaking shorelines and majestic mountains, Ireland has it all. And Killarney is the gateway to Dingle Peninsula and the famed Ring of Kerry. On a rainy day in Killarney, we made our way to Ross Castle and even on a rainy day the view was spectacular!
But what made the biggest impression on me was the kindness and friendliness of the Irish People. And what surprised me the most was the exceptional culinary scene in Killarney and all over Ireland. We call it Farm to Fork. The Irish simply call it dinner.
And to be certain, in Killarney, Ireland there is no shortage of pubs. And these days the pubs in Ireland serve some of the best food you'll find! One of our favorite lunch stops was the Celtic Whiskey Bar & Larder where we feasted on these ah-mazing local mussels and so much more.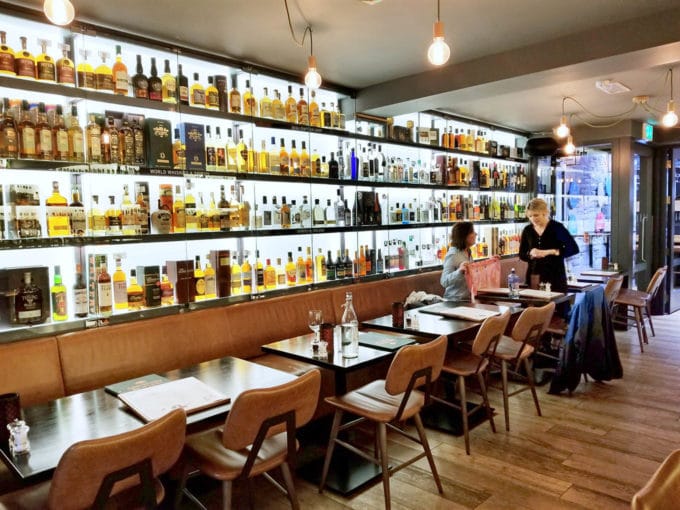 Although we were only in for lunch, I was blown away by the selection of whiskey and other libations they stocked. This image only shows a portion of their stock.
If you're looking for a bowl of Authentic Beef and Guinness, the best you'll find in Killarney is at Murphy's Bar. Just make sure to tell my friend Sean Murphy that Chef Dennis sent you!
We enjoyed a lot of traditional Irish fare in Killarney and make to leave room for dessert at any of the pubs or restaurants you visit. After a dinner of traditional Shepards pie and ham and cabbage, my wife and I shared this OMG delicious Sticky Pudding at Caragh's Restaurant.
When I first decided to visit Ireland I thought that I'd have to suffer from the food they served. What I found was delicious, fresh, locally sourced dishes just about everywhere I went. Chefs pride themselves on using local products and what we consider Farm to Fork in the United States is simply referred to as dinner in Ireland. So if you're looking for a Culinary Destination like no other, visit Ireland.
Visting Ireland has been on my bucket list for many years and now that I've visited I can't wait until I can return to see more of their beautiful country. Killarney was definitely a great place to visit first. There's a lot to do and see in Killarney and its the perfect spot to visit the surrounding areas. On a rainy day in Killarney, we went to visit Ross Castle one of the first stops on the Ring of Kerry.
"Ross Castle is located just outside the town of Killarney on the Ross Road. It is very well signposted and easy to find. Originally the home of an Irish Chieftain (O' Donoghue Ross) Ross Castle Killarney was probably built in the late 15thcentury. The castle is a typical example of the stronghold of an Irish Chieftain during the Middle Ages. It sits on the banks of Lough Leane on a majestic site looking out on to the lake and Inisfallen Island (home to a 7th century monastery). It is reputed to be one of the last strongholds of significance to fall to Cromwell's forces in the 1650's.."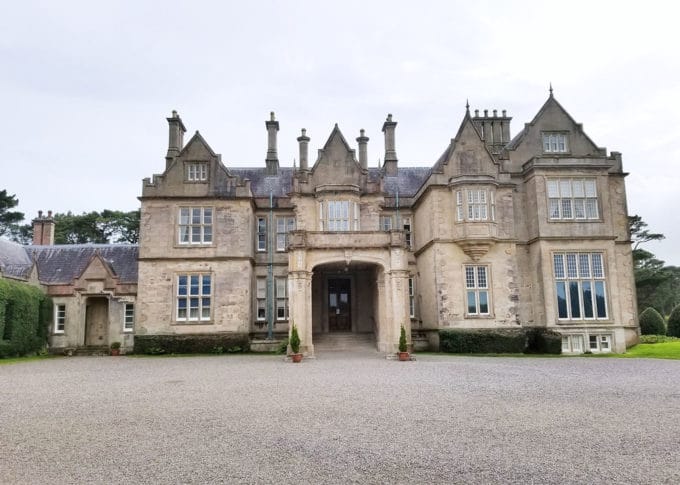 The Muckross House is a nineteenth-century Victorian mansion set against the stunning beauty of Killarney National Park. The house stands close to the shores of Muckross Lake, one of Killarney's three lakes, famed worldwide for their splendor and beauty.
After a Jaunting Car ride, we made our way over to Torc Waterfall which is a short ride away from the Muckross House. Jaunting cars can be rented on the property.
"Killarney National Park was the first national park in Ireland, created when Muckross Estate was donated to the Irish Free State in 1932. The park has since been substantially expanded and encompasses over 102.89 km2 (25,425 acres) of diverse ecology, including the Lakes of Killarney, oak and yew woodlands of international importance and mountain peaks.
It has the only red deer herd on mainland Ireland and the most extensive coverage of native forest remaining in Ireland. The park was designated a UNESCO Biosphere Reserve in 1981."
While visiting Killarney make sure to stop by St. Mary's Cathedral, built 1842-1855. The cathedral was designed by the renowned English Architect Augustus Welby Pugin and is considered to be one of the most important and best Gothic Revival churches of the nineteenth century in Ireland. It's not to be missed!