I love everything about the fall season and that includes pumpkin desserts. And my pumpkin praline cheesecake is definitely one of my favorites!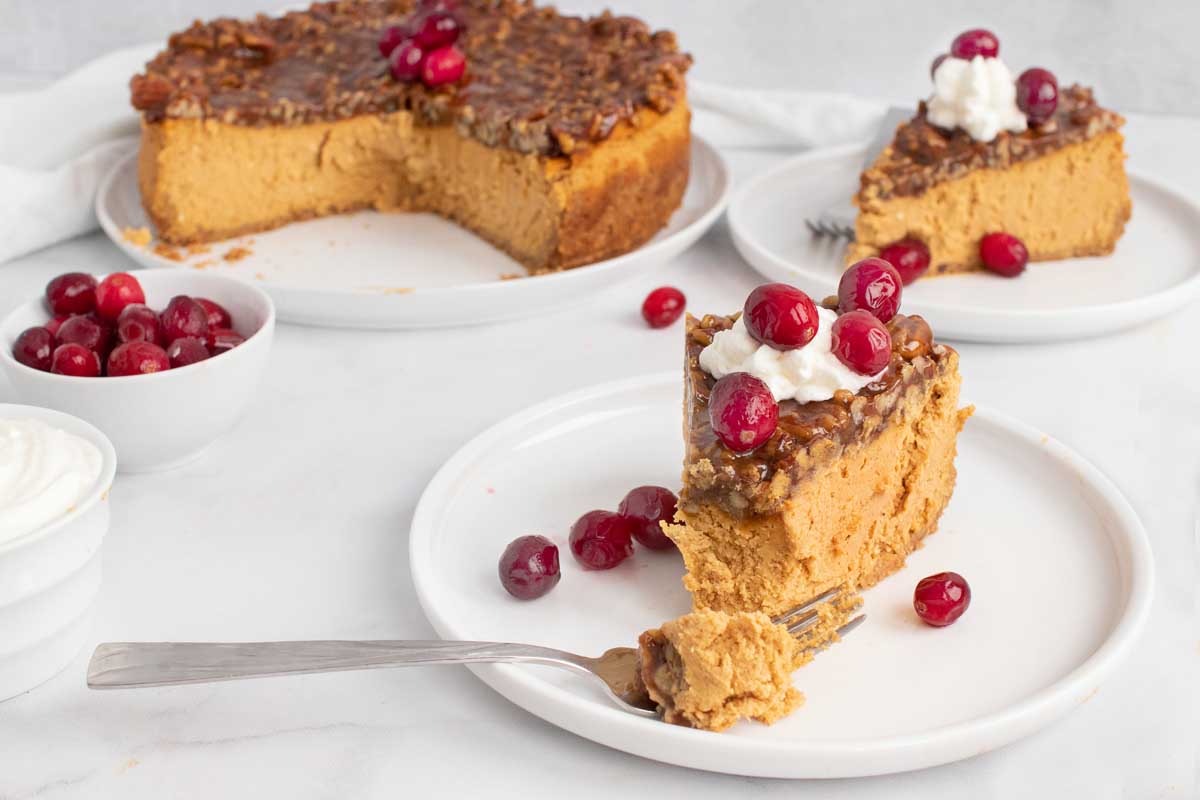 This is the perfect fall cheesecake to serve your friends and family. Who wouldn't love a slice of this creamy delicious pumpkin cheesecake? Finished with a delightful pecan praline and homemade whipped cream….sigh.
I think fall is my favorite season. I love the cool fall nights and all the deliciousness that comes with the season.
What ingredients do I need to make a Pumpkin Praline Cheesecake?
Let's start by gathering the ingredients we need to make Pumpkin Praline Cheesecake. In Chef Speak this is called the "Mise en Place" which translates to "Everything in its Place".
Not only does setting your ingredients up ahead of time speed up the cooking process, it also helps ensure you have everything you need to make the dish.
How do I make a graham cracker crust for the cheesecake?
Now I couldn't just make a plain pumpkin cheesecake, it needed a little something to
Place the graham crackers in the bowl of a food processor and process into a fine meal.
Add the melted butter and mix together to make the crust
Press mixture onto bottom and up the side of a 9-inch springform pan one inch to two inches.
Place on the center rack of a preheated 350 degree oven for about 15 minutes, until firm. Remove from the oven and allow to cool.
How do I make a Pumpkin Praline Cheesecake?
In the bowl of your stand mixer add the cream cheese and beat until smooth
Slowly add in the brown sugar, scraping down the sides of bowl
Add in the flour, cinnamon, allspice, salt, eggs, vanilla and pumpkin. Mix for 2 -3 minutes until well blended and smooth.
Pour the cheesecake mixture into prepared crust and place in a preheated 350 degree oven for one hour.
After the hour, turn off the oven and leave the cheesecake in the oven for one additional hour
Remove the cheesecake from the oven and allow to cool completely on wire rack
Place the cheesecake in the refrigerator to chill for at least 4 hours (overnight is better)
How do I make a Praline topping?
in a saute pan or sauce pan add brown sugar, and corn syrup, heat until the corn syrup is well blended into the sugar
Add in the pecans and let the mixture brown slightly
Add the dulce de leche (or caramel) to the pan and continue to simmer until thickened
Pour the praline mixture on the top of the cheesecake spreading it evenly. Return the cheesecake to the refrigerator to allow the praline to cool and harden.
For an added touch, garnish the pumpkin praline cheesecake with sugared cranberries.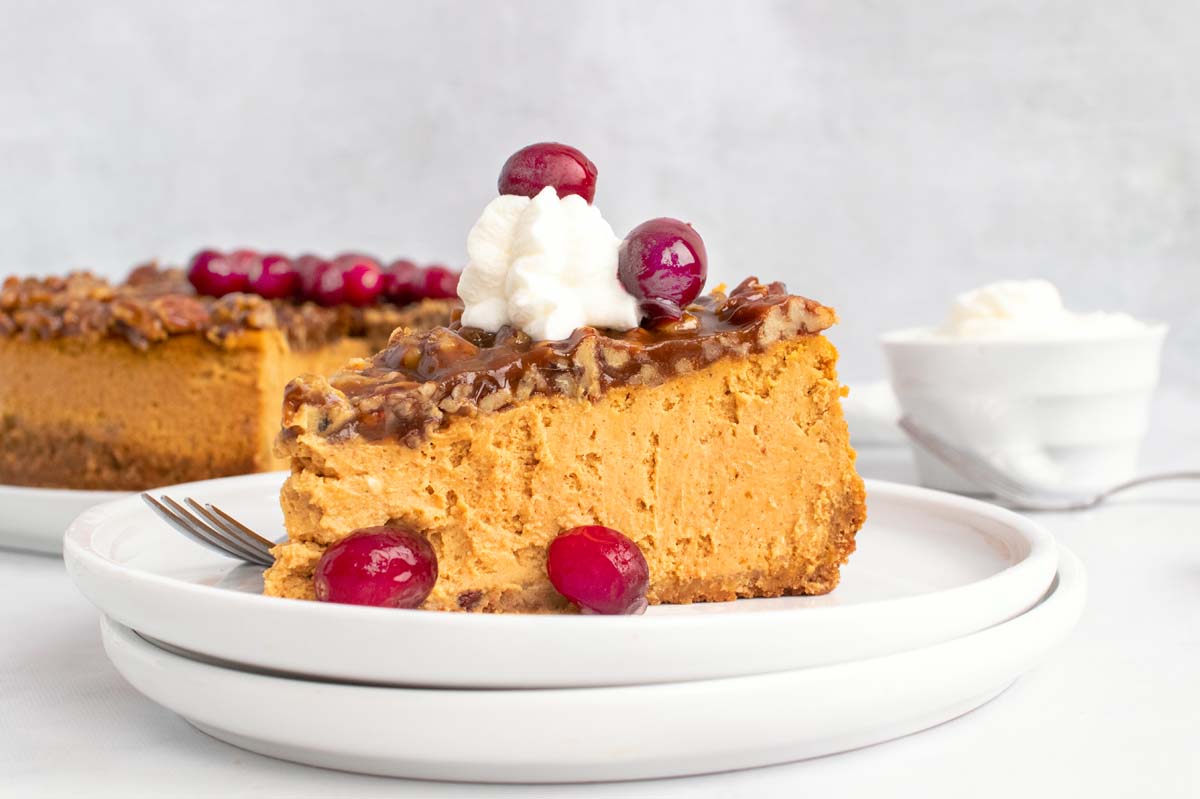 Serve up this delicious pumpkin praline cheesecake with homemade whipped cream and watch the smiles around the table!
More Dessert Recipes You'll Love!