Who wants to sit down to a bowl of Old Fashioned Rice Pudding? I love the Creamy texture of the rice pudding, with just the right amount of sweetness and a hint of cinnamon.
Loaded with plump golden raisins, it's a dessert that brings back memories with every delicious spoonful.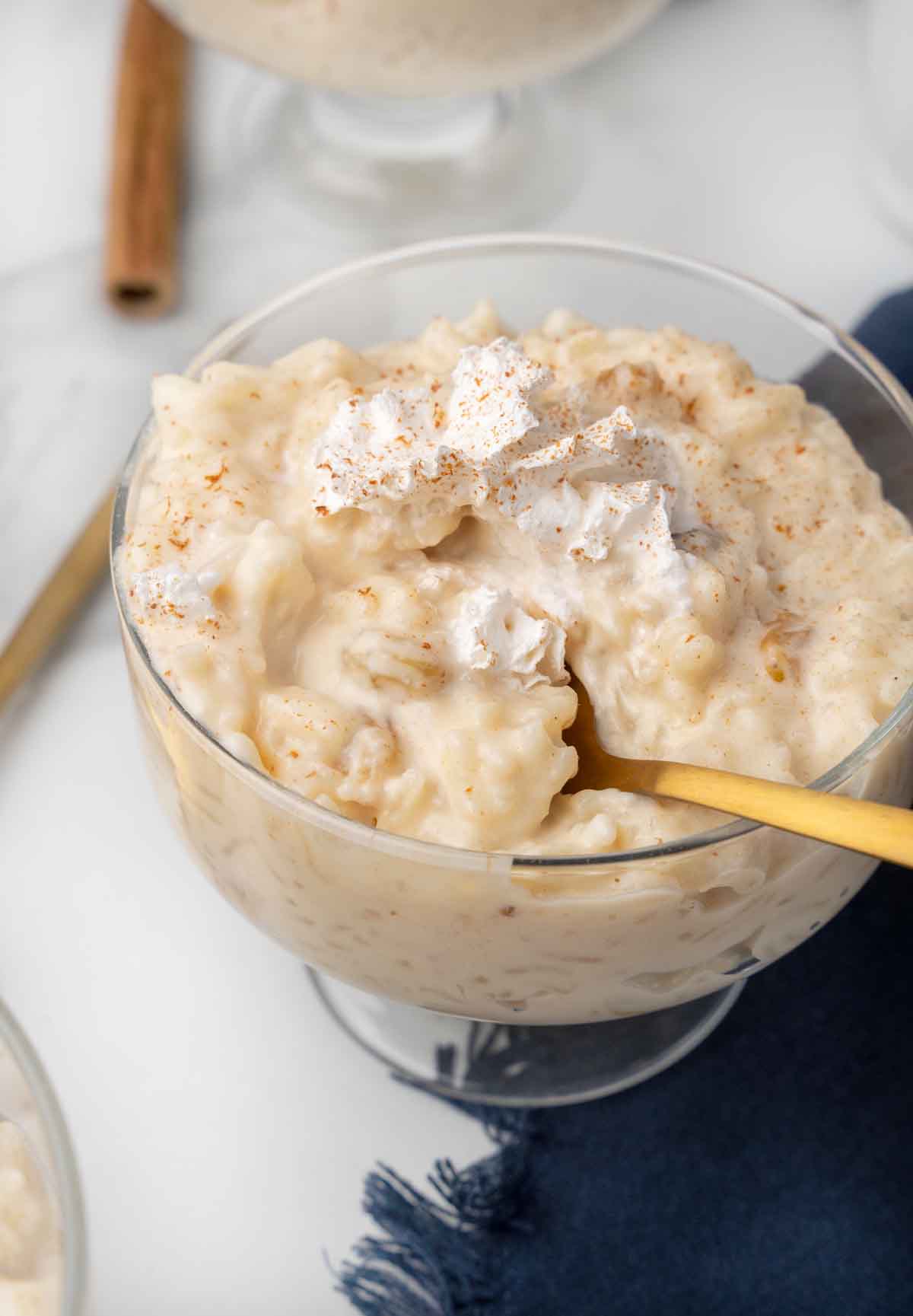 One of my earliest memories is of my grandmother feeding me Rice Pudding in her kitchen. I didn't want to wait for it to cool down and she loved feeding me.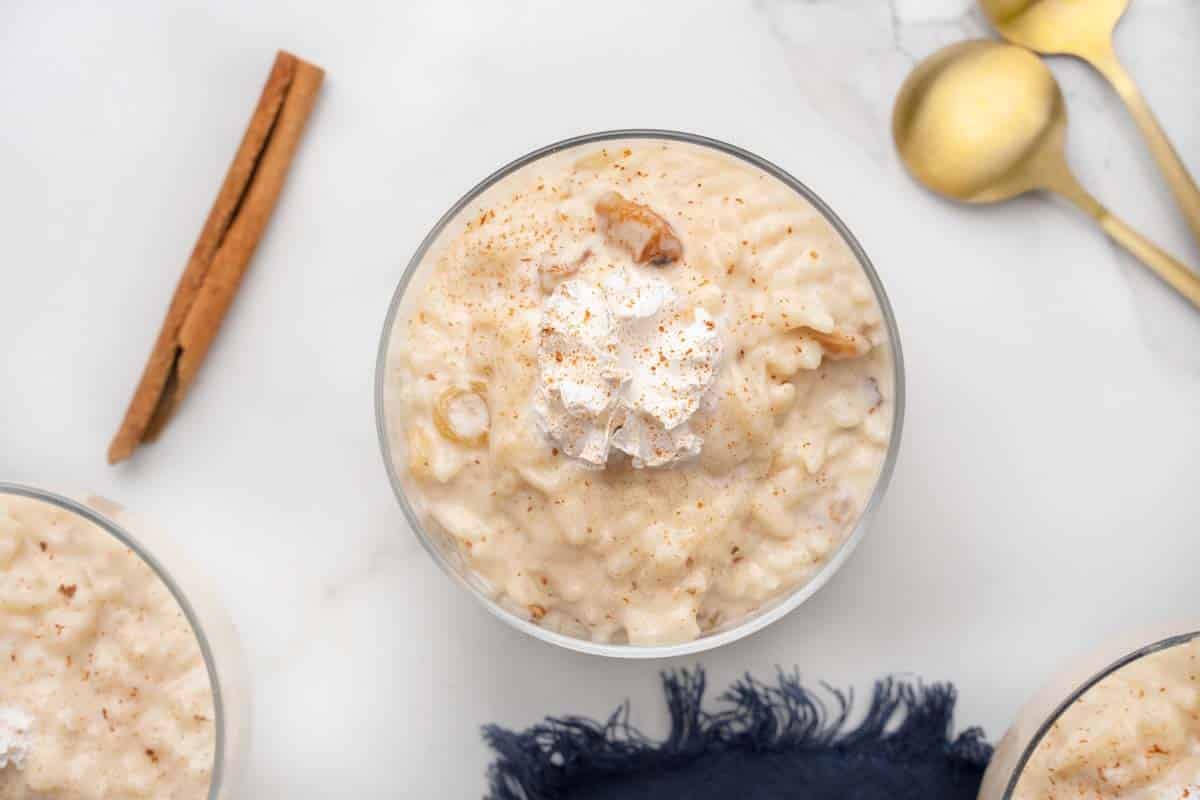 I'll admit that I used to buy KozyShack Rice Pudding, but one bite of my homemade version, and there is no going back.
Ok, I admit that everything has a time and a place, but if you can spare about an hour, you will be very happy that you made The Best Rice Pudding you'll ever make!
If you're looking for another Classic American Dessert my Bread Pudding is exceptional!
Ingredients to make Classic Rice Pudding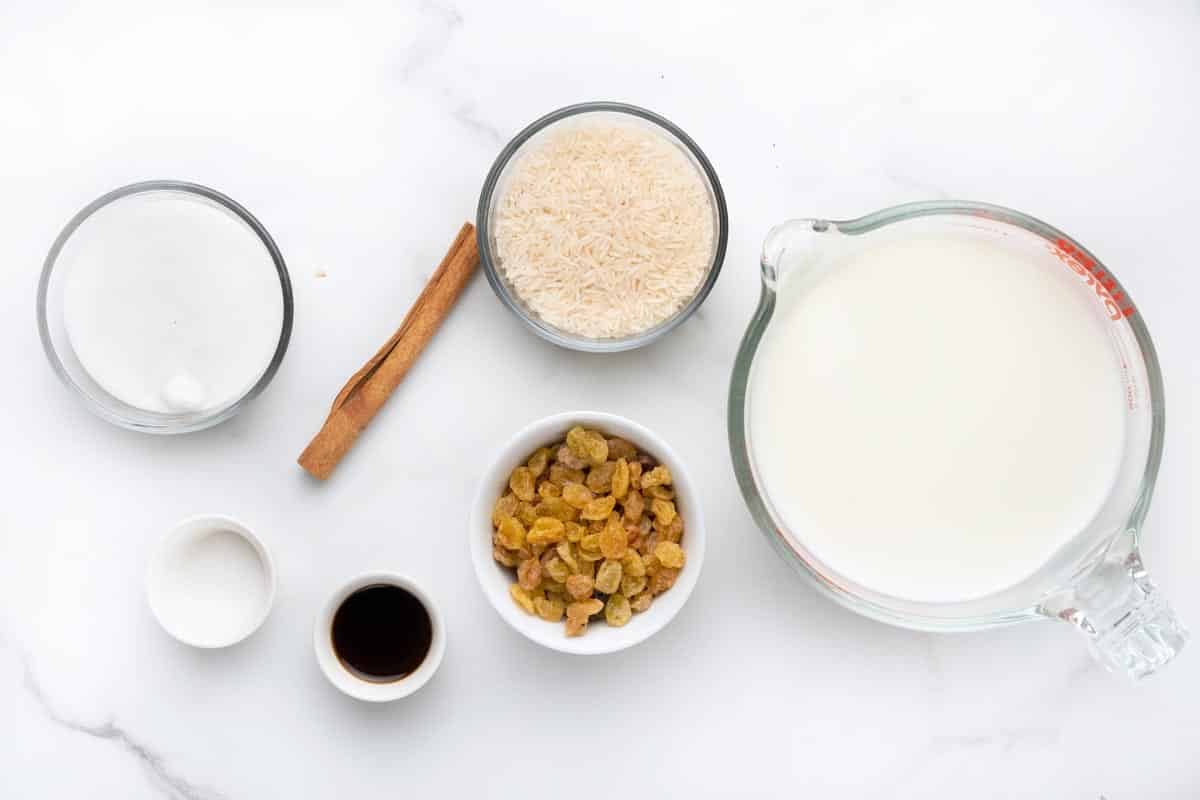 Let's start by gathering the ingredients we need to make Classic Rice Pudding. In Chef Speak, this is called the "Mise en Place," which translates to "Everything in its Place."
Not only does setting up your ingredients ahead of time speed up the cooking process, it also helps ensure you have everything you need to make the dish.
Simple Ingredients
whole milk
granulated sugar
long grain white rice
vanilla extract
cinnamon stick
salt
golden raisins – optional
You can use regular raisins instead of golden raisins or any of your favorite dried fruit, like craisins. You can also use vanilla bean paste instead of a vanilla extract. Brown sugar can also be used in place of white sugar. It won't be as sweet, but it will add a lovely flavor.
And for a richer version of this Classic American Dessert, you can add 2 egg yolk or whole eggs to the milk to make a custard, but it really doesn't need them.
And while long-grain rice is great for this recipe, Arborio rice (risotto rice), which is a medium-grain rice, will also work very nicely for my creamy rice pudding recipe.
Coconut milk can also be used as part of the milk addition to make this delicious dessert. It adds a nice light coconut flavor to the pudding.
How to make Rice Pudding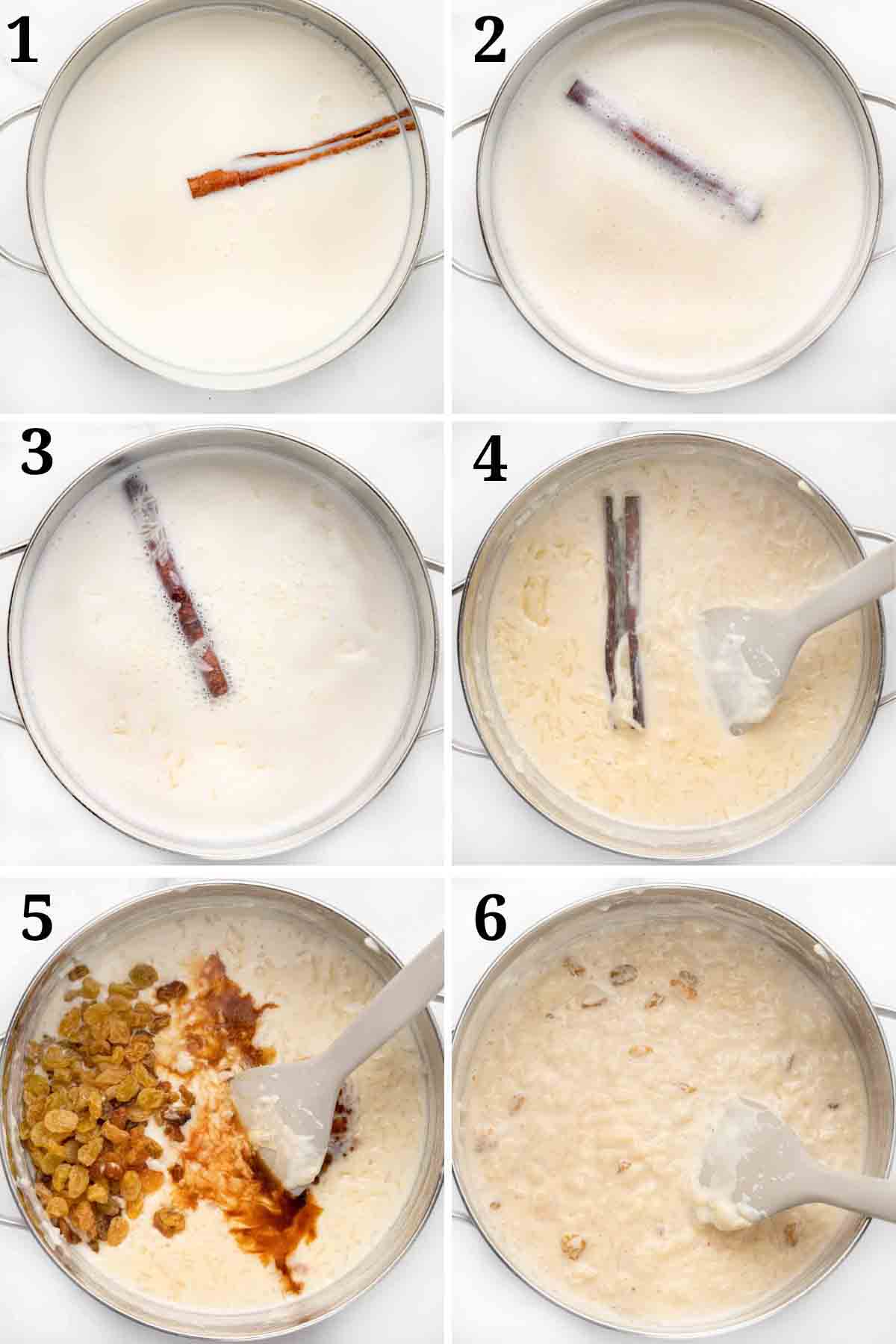 Combine 5 ½ cups milk, ½ cup sugar, cinnamon stick, and salt in a medium saucepan.
Place on a burner over medium to medium-high heat.
Bring the milk mixture to a low boil.
Add the uncooked rice to the milk, mix well, and reduce the heat to low.
Allow the rice mixture to cook at a gentle simmer, reducing heat as needed.
Continue cooking the rice mixture for 45- 60 minutes, stirring frequently to make sure it isn't sticking to the bottom of the pan. (depending on the stovetop heat, the time can vary).
The rice pudding mixture will thicken up to the consistency of Greek yogurt.
Once thickened, remove from the pan from the heat and stir in the vanilla extract and ⅔ cup raisins.
Allow the rice pudding to cool and if needed, add the additional milk to thin out the mixture or if you're feeling decadent, add heavy cream instead of milk.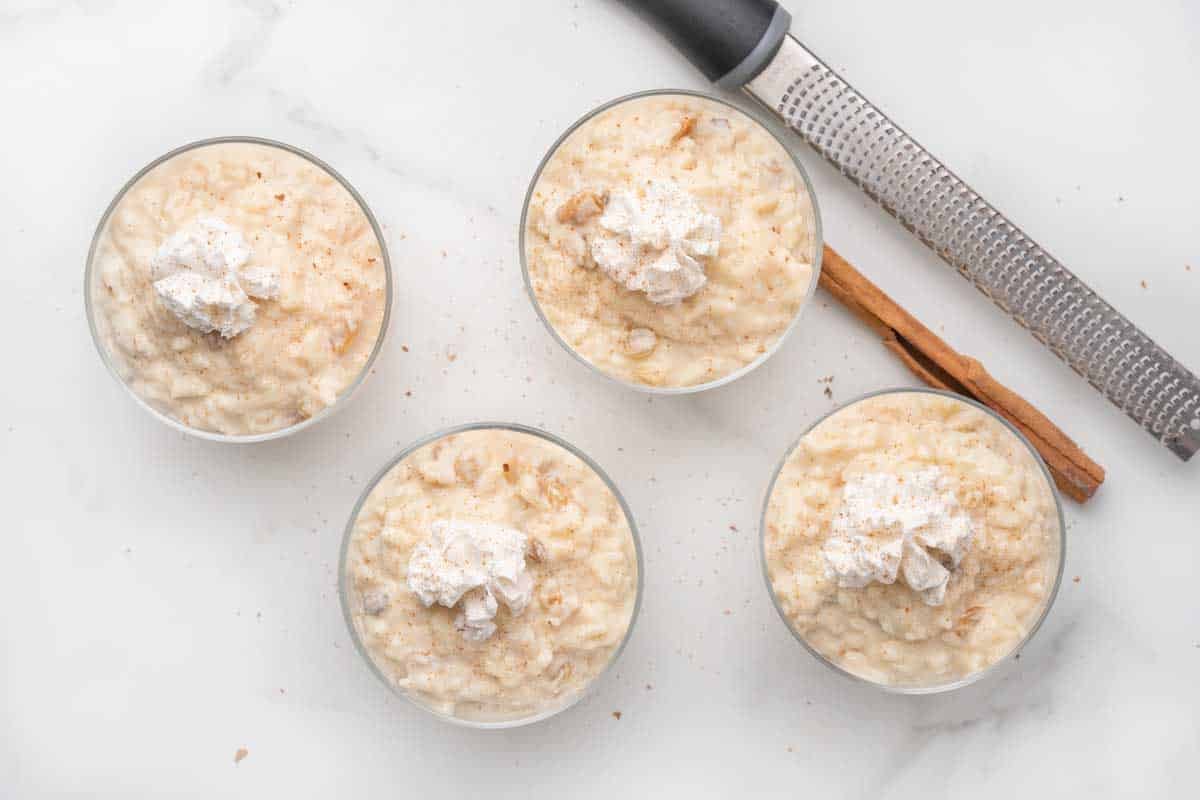 Sprinkle with cinnamon to serve, and top with freshly made whipped cream. If you want to forgo the whipped cream stir a little heavy cream into each portion before serving.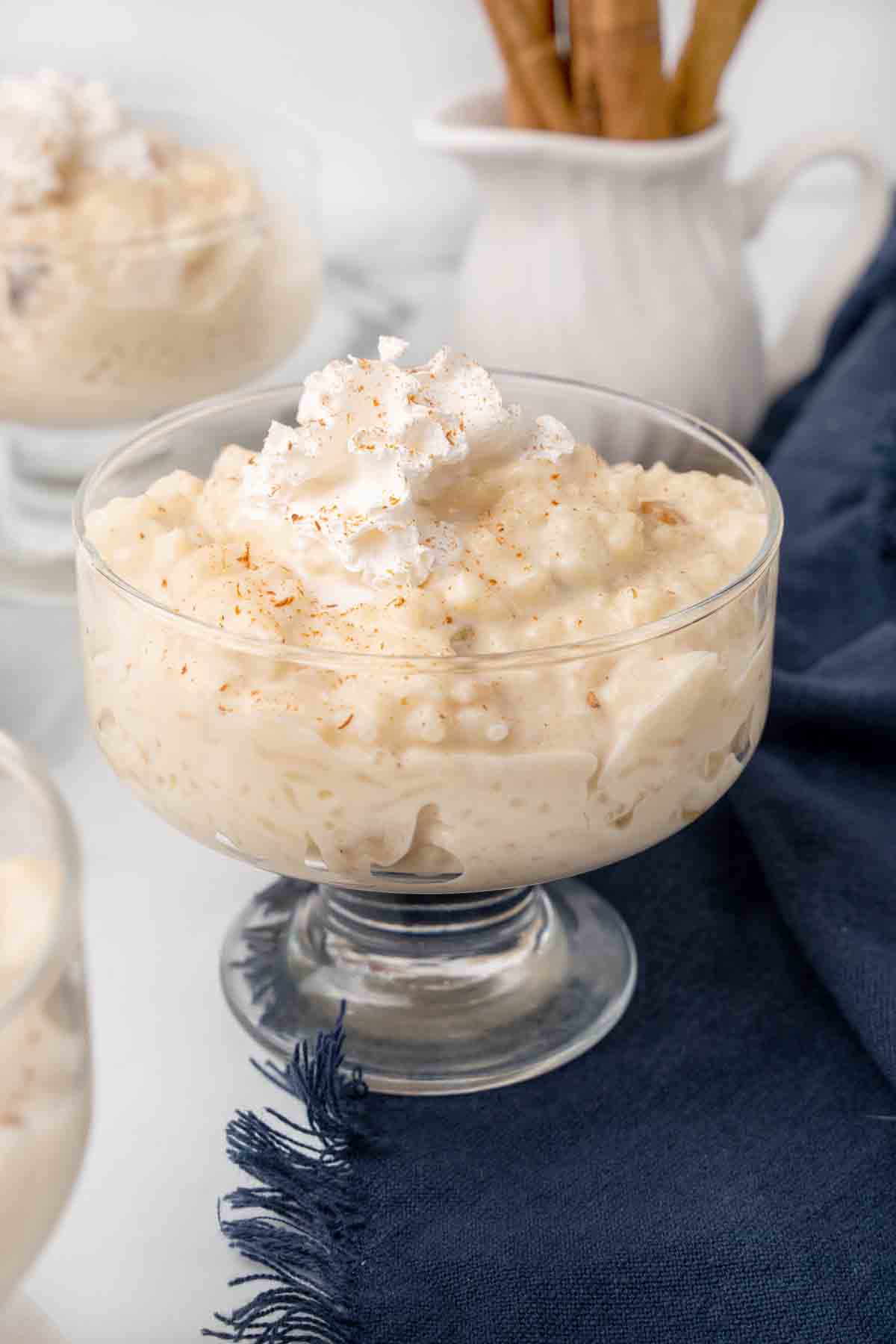 Your family and friends are going to love this delicious dessert and your going to love my easy recipe for homemade rice pudding.
Recipe FAQ's
What type of rice is best for rice pudding?
That is a question that many people disagree on. Typically this dish is made using long grain White Rice. While I have found that medium grain Arrborio and other risotto rice work equally as well. Other starchy rices, such as Jasmine rice will also work. You can even make it with brown rice but the grains will be tougher.
Should rice pudding be served warm or cold?
That is a matter of personal preference and I honestly like them both ways. Although I will tell you that letting it sit overnight and chill will add more flavor to the pudding. Serving it cold allows you to add topping and whipped cream. But serving warm, you can stir in heavy cream or top it with vanilla ice cream.
What goes well with rice pudding?
If you want to have some fun with your rice pudding, you can add toasted coconut, toasted pecans, sliced bananas, chocolate chips, butterscotch chips or your favorite chips. Berries will also go well with this pudding.
More Dessert Recipes You'll Love!