A Meyer lemon scone is without a doubt one of the most delicious scones you'll ever make, not to mention how insanely easy there are!
Now you know from my last post that I love Meyer Lemons, and that my philosophy is "when life gives you Meyer Lemons, you have to bake"   it's just that simple!
With my easy to make scone recipe that very adaptable, you'll be baking scones on a regular basis for your family and friends.  And believe me there is no better way to show off your culinary skills than with fresh baked scones!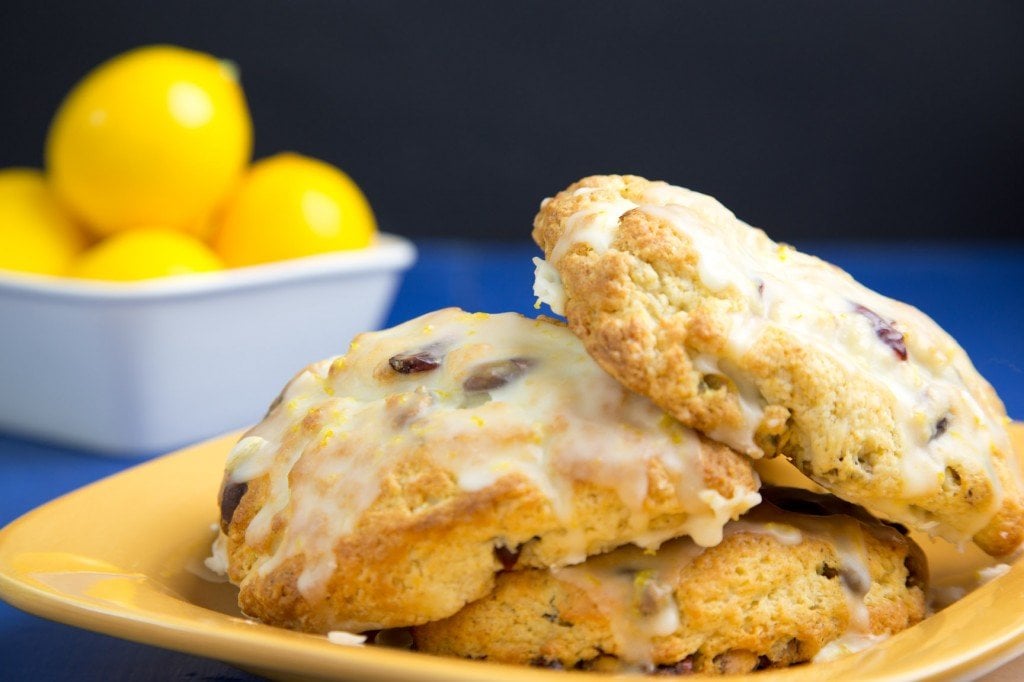 Meyer Lemon Scone with Pistachio's and Cranberries
Ingredients
Scone
2

cups

all-purpose flour

1

tablespoon

baking powder

teaspoon

½ Salt

5

tablespoons

Sugar

1

teaspoon

vanilla extract

Zest of one Meyer Lemon

Juice from one Meyer Lemon

12

tablespoons

unsalted butter

cold and cut into cubes

cup

½ heavy cream

cup

½ Greek yogurt

cup

½ salted pistachios

cup

¾ dried cranberries
Glaze
1

cup

½ confectioners' sugar

Juice from 3 Meyer lemons
Instructions
Scone
Preheat oven to 400 degrees F. Line a sheet pan with parchment paper.

In the bowl of a food processor add in the flour, baking powder, salt, sugar and lemon zest, pulse to blend.

Add the cubes of butter and pulse until the butter has been cut into the mixture, it should like coarse grains of sand.

In a small bowl, mix together the yogurt, cream, Meyer lemon juice and vanilla until combined.

Add to the flour mixture and mix with a spoon until the mixture just starts to come together. (Do not over mix)

Add the cranberries, and pistachios, mix just enough to incorporate.

Form the mixture into a ball and place on the parchment paper.

Use your hands to form the dough into a large circle and flatten about one inch thick.

Cut the scones into 8 pieces and separate on your baking sheet*

Brush the finished scones with a little cream or milk to get good color as they bake

Bake for 15-20 minutes, or until a deep golden brown in color. Transfer to a wire rack to cool.
Glaze
Mix Meyer lemon juice and zest with confectioners' sugar until smooth, allow to set for a few minutes before using.

Spoon glaze over scones, smoothing over the scone with the bottom of the spoon.

Allow glaze to set up for 15 minutes before serving if you have the time. If not don't worry about it and just enjoy!

Notes

* Separating the scones into individual portions you get more crunchy exterior, which is the best part of the scone.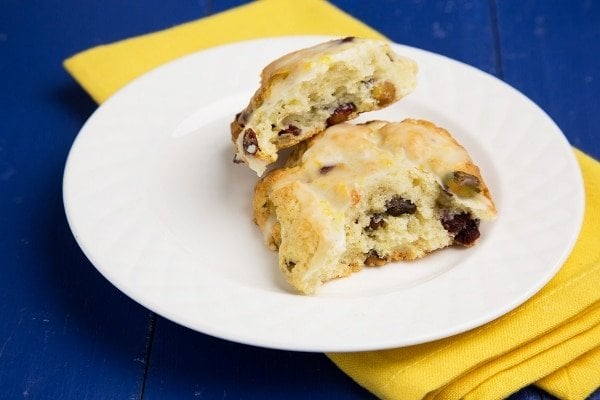 Thanks for stopping by and I hope you enjoy my recipe and get to bake up some deliciousness with your very own batch of Meyer lemon scone!