This post includes affiliate links. As an Amazon Associate I earn from qualifying purchases.
How to make a Bee Sting Cake-
Hi, Chef Dennis and his Wonderful Readers! I'm Debby, of A Feast for the Eyes.
At first, I couldn't decide what recipe to make—sweet or savory? A friend of mine suggested that I go with what my German roots (my other half is Mexican). I pondered about what to make and finally settled on making a traditional cake called "Bienenstich" or "Bee Sting Cake".
My father was military, and my mother was born and raised in Bavaria. They married and we lived in Hawaii and California. As a kid, our family was stationed in Germany for a few years. The bonus was that we were able to visit my "Oma" often, while we were there.
I remember this cake, fondly, because of the sticky and sweet honey almonds and the creamy filling. My "Oma" would buy one of these cakes, at the local bakery and serve thick slices with coffee. There are many versions as to how the cake got its name—
According to Wikipedia: "the cake may have earned its name from its honey topping: according to one legend, a bee was attracted to it, and the baker who invented the cake was stung. Another source cites a legend of German bakers from the 15th century who lobbed beehives at raiders from a neighboring village, successfully repelling them, and celebrated later by baking a version of this cake named after their efforts."
The cake isn't quite like an American cake. It's more of a pastry texture and it is filled with a pastry cream and topped with honey glazed almonds. This was my first attempt at making this cake. I made the pastry cream, the night before. You could take some shortcuts by using vanilla pudding, or Bird's Eye Custard Powder, and I wouldn't tell anyone. However, pastry cream really isn't that hard to make, from scratch. I used an easy recipe from "Joy of Baking".
You'll want to organize and measure your ingredients, milk (whole or 2%), vanilla bean paste (or pure vanilla extra or ½ vanilla bean), egg yolks, white sugar, flour and cornstarch. This is optional, but you can add either Grand Marnier (which I did), Kirsch or even Amaretto.
In a saucepan bring the milk just to boiling (just until milk starts to foam up.) Remove from heat and add slowly to egg mixture (tempering), whisking constantly to prevent curdling. Then pour the egg mixture into a medium saucepan and cook over medium heat until boiling, whisking constantly.
When it boils, whisk mixture constantly for another 30 – 60 seconds until it becomes thick. Remove from heat and immediately whisk in the liqueur (if using). Stir in vanilla bean extract, or extract) Pour into a clean bowl and immediately cover the surface with plastic wrap to prevent a crust from forming.
Cool to room temperature. If not using right away refrigerate until needed, up to 3 days. Whisk or stir before using to get rid of any lumps that may have formed.
The brioche dough isn't too complicated to make and is what makes the Bee Sting Cake so special.
If you have a stand mixer, it's really easy to do. You can mix this, by hand, because the dough is much thinner than making a bread dough.
I warmed whole milk (110 F) and some honey and added Active Dry Yeast to it. 10 minutes later, the mixture was foamy and ready to make the dough. To the yeast mixture, 2 (room temperature eggs) are added, sugar, a little salt, a mixture of all-purpose flour and bread flour and then 1 stick of softened butter, until just blended. It will be very soft.
Place the dough into a buttered bowl, and cover with plastic wrap. Allow the dough to double in volume (about 2 hours). Gently press the dough down, and knead a few times (you'll want to flour your hands). Cover and refrigerate for at least 4 hours, and up to 12. (I made this a day ahead of time, too).
The next morning, I removed the dough and placed it into a 9" buttered springform pan. Shape into a ball, and gently, press the dough to fit the pan. Cover and allow it to puff up—about an hour. NOTE: I turn my oven on WARM for 2-3 minutes, then turn it off and place the covered dough into it. (This gives the dough a warm environment and helps to speed up the process.) Preheat the oven to 350, when the dough has risen.
For the Honey-Almond Topping: Combine ¼ cup, each, unsalted butter, sugar, honey and a pinch of salt. Bring to a gentle boil, on the stovetop, and remove from heat. Add ¾ cup sliced almonds and pour over the dough.
Place the pan on a parchment covered baking sheet (the honey mixture will seep through the bottom) and bake for 22-25 minutes, until golden and bubbly. Place on a cooling rack and remove from the pan after 10 minutes.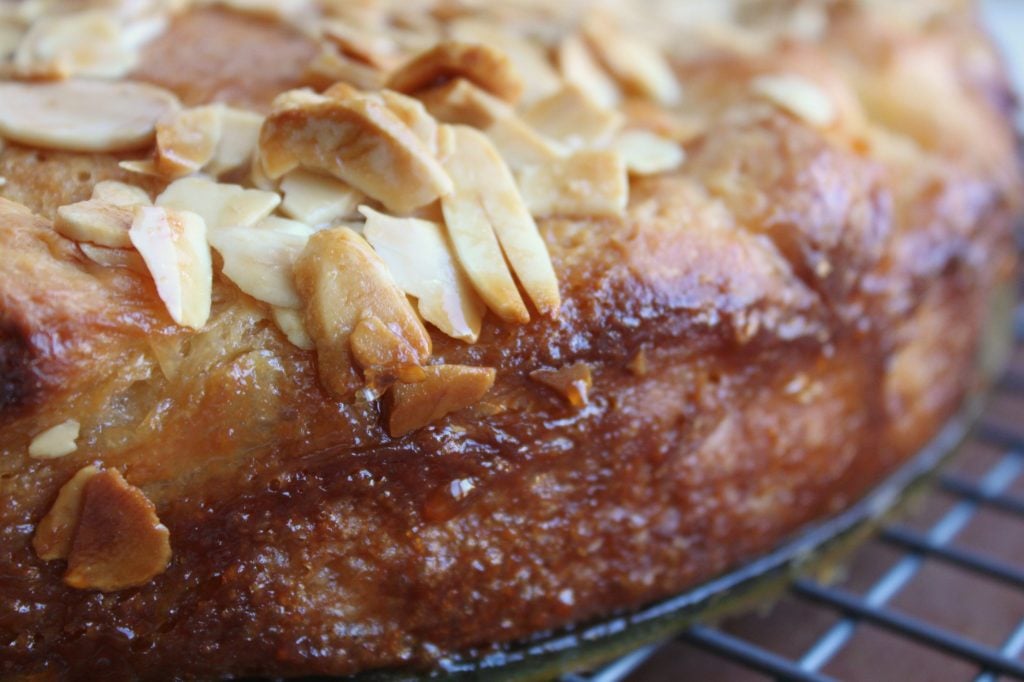 The aroma of the cake is intoxicating—butter and honey…wow! There is a beautiful sticky caramelization on top and all around the cake. You'll be tempted to cut into it, but let the cake cool, completely.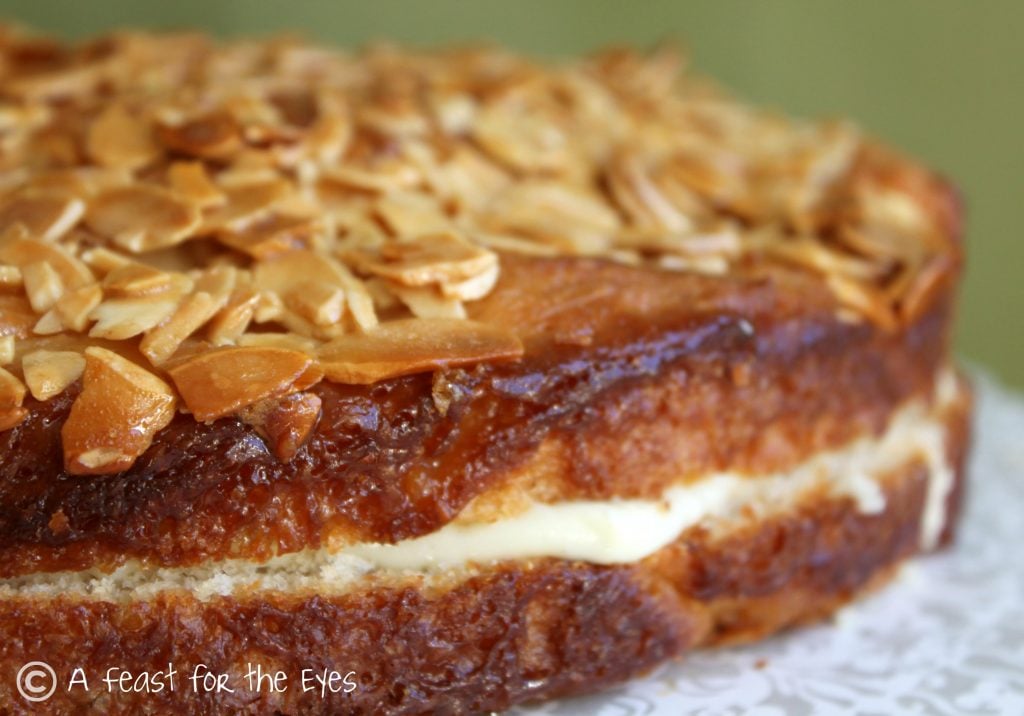 Carefully slice the cake in half, with a serrated knife, and add the pastry cream. Now, brew a fresh pot of dark roast coffee or make a pot of tea.
Slice with a sharp knife and serve.
A flood of childhood memories, in Bavaria, has just come back. This looks like as I remembered.
TASTING NOTES: The cake is not very sweet. It has the texture of pastry, and the pastry cream is mildly sweet. The honey almonds…oh, that is really what makes this cake so special! It's sticky and honey sweet, with just the right amount of richness of butter—I could eat a bowl of the almond topping all by itself.
I wish my Oma was still alive, so she could see what her Granddaughter learned to make, in the United States. An unorthodox variation I will make the next time is to add a layer of either apricot or raspberry jam, before adding the pastry cream.
This would be perfect to serve for Brunch, and I'll be making this for Christmas morning.
If you enjoy delicious desserts you may also like these recipes: