When you think of Greensboro, North Carolina you wouldn't know just how steeped in history it is. And you certainly wouldn't think of it as a Culinary Destination. But in both cases you'd be wrong and thanks to the folks at Visit Greensboro I had an opportunity to spend some time with the locals and learned just how ah-mazing Greensboro is.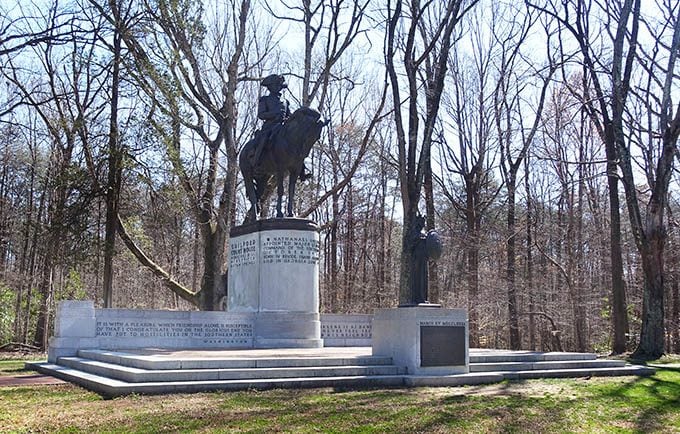 Greensboro is a community rich in history and tradition, dating back to before the revolutionary war and continuing through the sixties as an important part of the civil rights movement that helped change America for the better.
Located at 134 S. Elm Street in the heart of downtown Greensboro, North Carolina, the International Civil Rights Center & Museum is an archival center, collecting museum and teaching facility devoted to the international struggle for civil and human rights. The Museum celebrates the nonviolent protests of the 1960 Greensboro sit-ins that served as a catalyst in the civil rights movement.
We also visited the Greensboro History Museum where the tale of this city is woven like the fabric of one its most important textiles, cotton and one of the cities favorite sons author O.Henry.
In 1899 Moses and Ceasar Cone partnered with Emanuel and Herman Sternberger of South Carolina to build a flannel production plant called Revolution Mills. In 1905 under Proximity Manufacturing Company the Cone brothers built White Oak Cotton Mills in Greensboro. By 1908 it was the world's largest producer of denim. The heavy-duty blue denim manufactured by the mills controlled by Moses gave him the reputation of being "the Denim King." The company has produced the denim fabric for Levi Strauss & Company since 1915. They are the exclusive supplier in recent years of the fabric for Levi's brand 501 jeans.
The old mill is being reclaimed and repurposed as apartments, restaurants and will also be the new home of Natty's Greens Brewery and Brew Pub.
And that brings us to food….sigh, glorious food. Greensboro is not lacking in the culinary department, to say the least. And if you can't find deliciousness on every corner, you're not in Greensboro!
Breakfast is the most important meal of the day, and the Smith Street Diner will take care of that meal with their daily offerings including biscuits the size of a cat's head. They also serve lunch and dinner.
Lunch in Greensboro was my favorite meal of the day, it was more of Guy Fieri's type of eats. Diners, Dives and Drive-ins where you can savor every bite, make a mess and lick off your fingers because it was just that delicious! This Cheeseburger I had at Hop's Burger Bar is a prime example.
And I'd be remiss if I didn't mention Kris Fuller and Crafted – The Art of the Taco. You can see Chef Kris at the counter. We got to chat for a bit and I was really sorry I wasn't able to visit her later that day at her new restaurant Crafted- The Art of Street Food. Sigh…. so much deliciousness, so little time.
I sampled two of the tacos available on the menu. One was a buffalo shrimp po'boy with cucumber and tomato, and the other was a pulled pork, pimento mac and cheese taco. My wife who doesn't like Mexican food devoured her Fish taco with a grilled pineapple salsa. She pointed out the menu which said Crafted wasn't a Mexican restaurant, it was a taco joint.
When it was time for dinner your choices are limitless. You can continue to eat like I did for lunch or get serious and enjoy the complex culinary creations at any one of the fine dining options in Greensboro. This OMG Braised Lamb Shank Tagine served on tomato chickpea ragout was too good for words! I even got to visit with Chef Leigh in the kitchen of the Green Valley Grill while he prepared this dish.
The Green Valley Grill is the house restaurant at the O.Henry Hotel where I stayed for 4 nights. Talk about delicious convenience! The rooms were well appointed and the bed was so comfortable I found myself sleeping past 8 am each morning.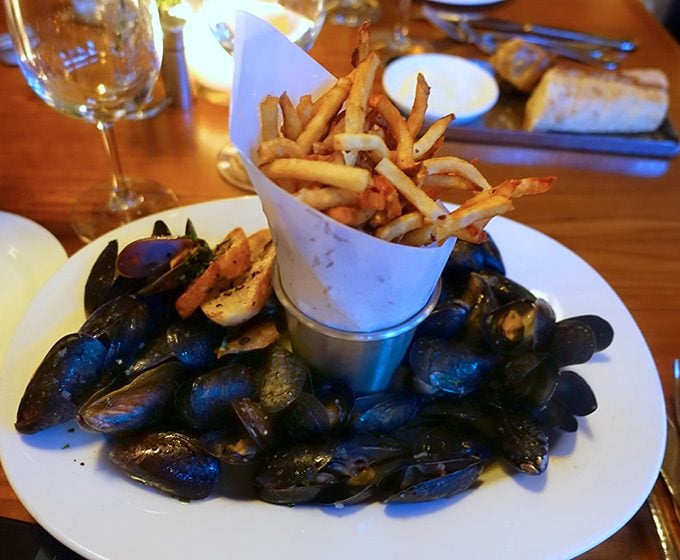 Other ah-mazing dinner options were found at the O.Henry's sister property the Proximity Hotel. Every Wednesday the Printworks Bistro features their legendary Mussels and Frites with delicious affordable wine selections. Of course, we enjoyed a whole lot more that evening…sigh.
We also enjoyed an ah-mazing dinner at 1618 Seafood Grille that all the locals I had spoken with highly recommended. And after dinner, I understood why. The way our server Dion described each dish on the menu I wanted to order everything. But when asked what his favorite was, he didn't hesitate and told me the potato crusted flounder was not to be missed. Served in a roasted acorn squash filled with dirty rice accompanied by a corn and black bean pan sauce and beet coulis. It was a symphony of flavors!
But it's not just about the food in Greensboro. The folks in town take their beers seriously and there are over a dozen craft breweries right in the Greensboro area for you to try. I'm not a beer drinker but I do believe I was converted at the Preyer Brewing Company. Every beer I tasted was unique and flavorful. Straying from my usual stout I fell in love with their Belgian white ale.
I was also treated to a tour of the brewery and pub by the wonderful folks at Natty Green's Brewing Company where we dined on ah-mazing pub fare like there Rueben (pictured above).
Their humble beginnings started with draught houses and turned into a full-fledged craft brewery which will be expanding into another facility at Revolution Mills in the near future. I got a first-hand look at their new building and you can bet I'll be back to see it when it opens!
And just when you thought Greensboro couldn't get any more delicious, they also have a distillery. Artisinal distilleries are not as common as breweries but can be found in more of our cities. Finding Fainting Goat Spirits in the downtown section was yet another reason to visit this beautiful city.
We got the full tour and learned about distilling spirits from the owners of the company and even got to taste their trademark Gin, Vodka and a sampling of white whiskey (unaged bourbon). The gin is like nothing I've tasted, full of aromatics and so flavorful. I can't wait to try it out in some of my favorite cocktails. Of course, I'll have to wait four years to taste their flagship bourbon.
So if you've never been to Greensboro, North Carolina or if it's been a few years since you've seen this beautiful small city, it's time to rectify that. With all there is to do in the area, especially now that it's spring, Greensboro is the perfect vacation spot. A destination where the locals greet you like neighbors and you'll always find a delicious place to satisfy your cravings. I only scratched the surface of the dining options in the area, as well as the breweries.