As the weather gets cooler I look forward to creating delicious slow-braised dishes in my kitchen. My Tomato Braised Sicilian Pork Chops will definitely fill your belly and warm your soul.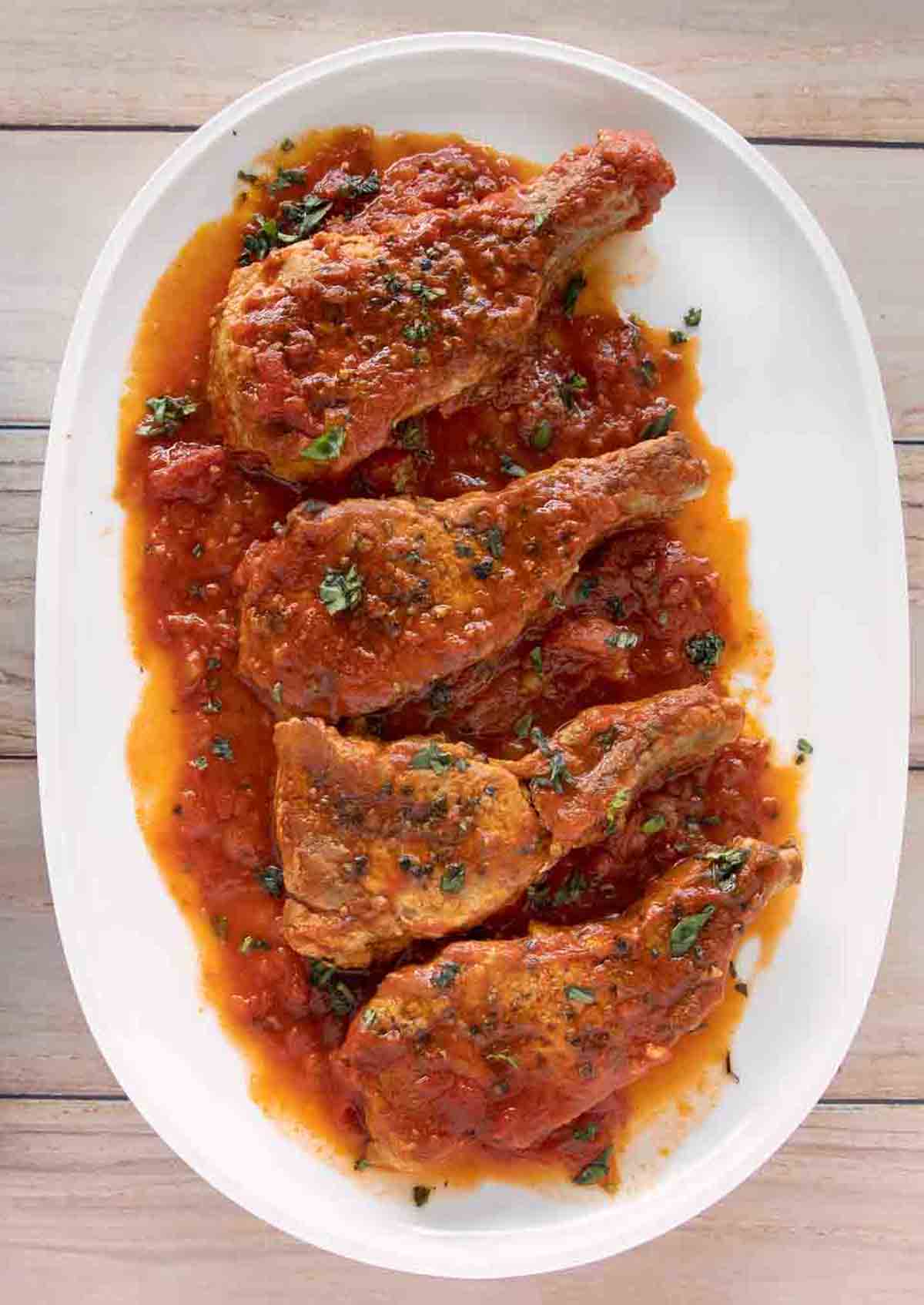 My Sicilian Pork Chops couldn't be easier to make and the sauce is incredible!
Ingredients to make Tomato Braised Sicilian Pork Chops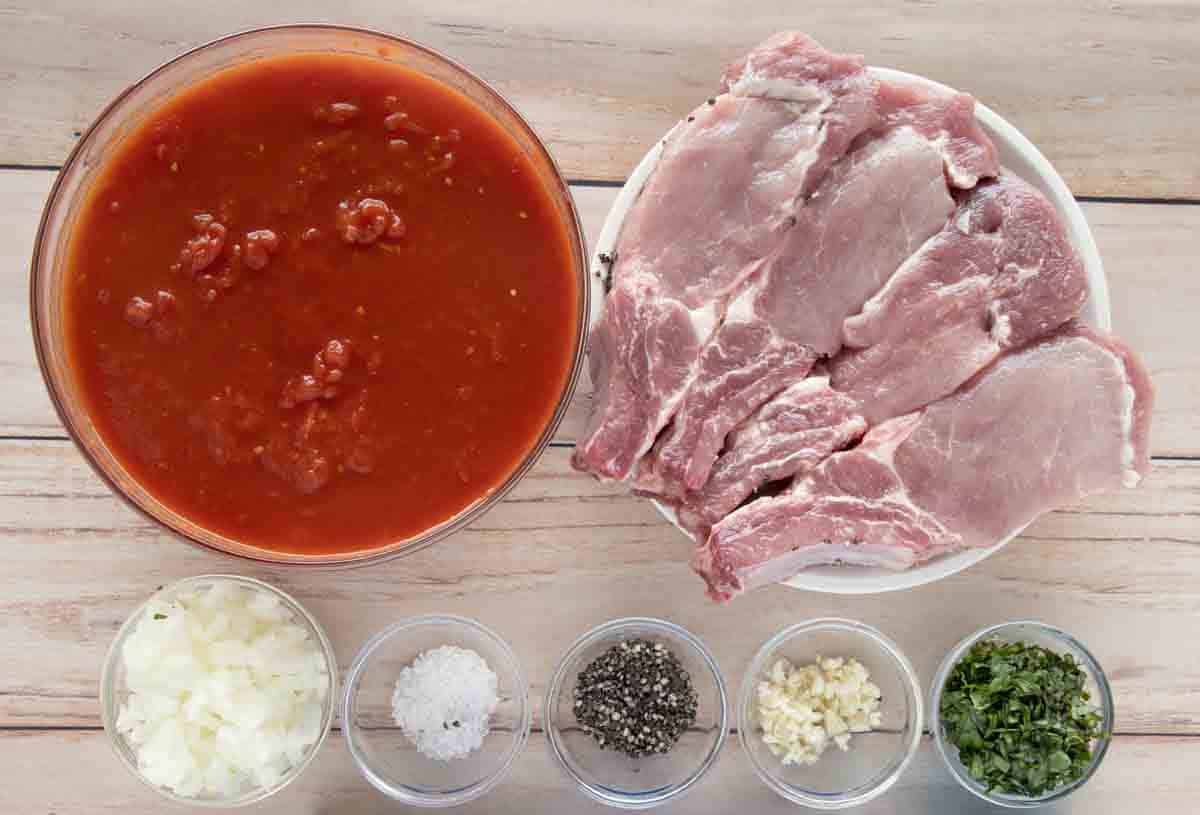 Let's start by gathering the ingredients we need to make Tomato Braised Sicilian Pork Chops. In chef speak, this is called the "Mise en Place" which translates to "Everything in its Place".
Not only does setting your ingredients up ahead of time speed up the cooking process, but it also helps ensure you have everything you need to make the dish.
What type of pork chops should I use for braising?
Look for thick-cut pork chops, or buy a rack of pork and cut it into the right size chops. That's what I did for this dish.
One of the issues we come across when cooking pork is how pork has changed over the years. Today's pork chops are usually way too lean and need to be brined or slow-braised to make them tender.
Your other option is finding a heritage pig farmer that still lets pigs be pigs and hasn't bred them to be lean and large.
How to make Sicilian Pork Chops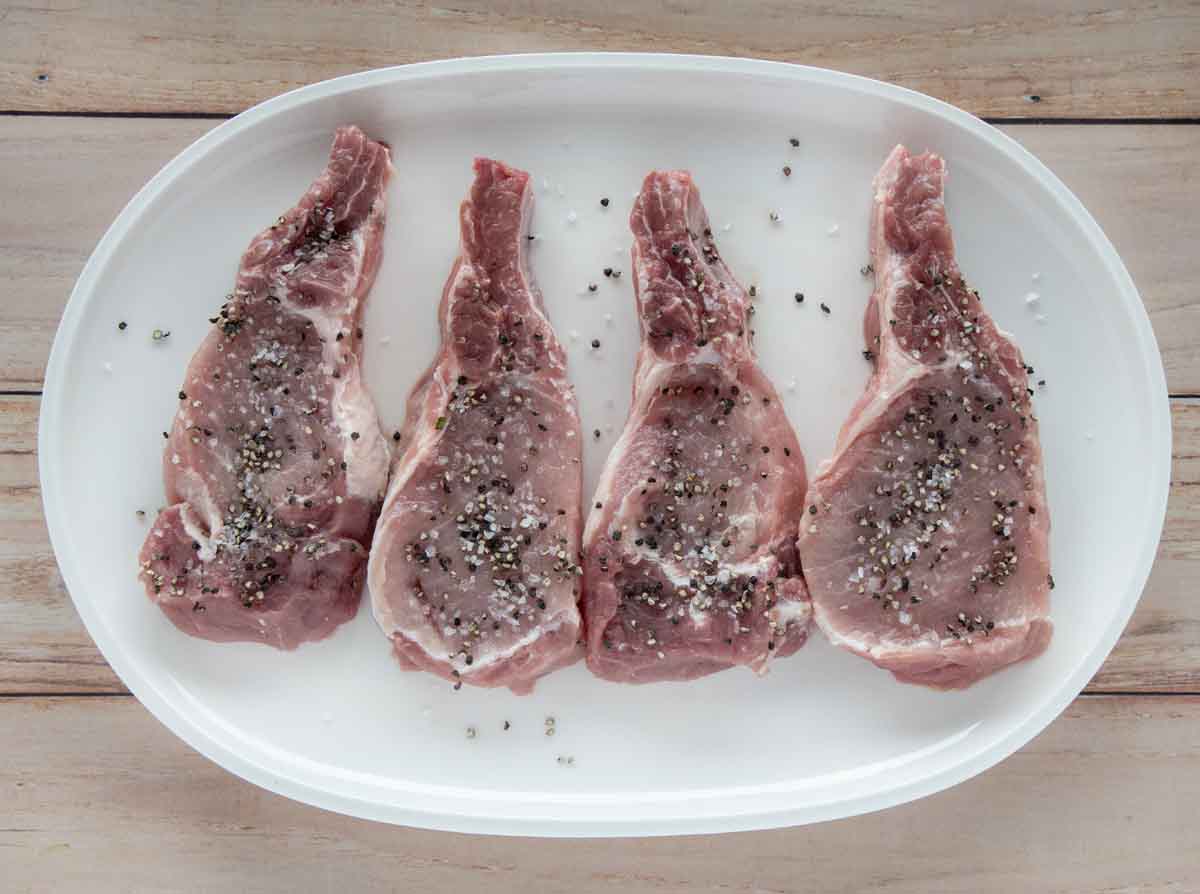 Start by seasoning the pork chops on each side with coarse sea salt and cracked black pepper. Add as much or little pepper as you like, but I always advise going a little heavier than you think on the salt because it never seems to be enough when it's cooked.
*If you use regular table salt and black pepper, cut down on the amounts since it's a smaller grain and you'll use more.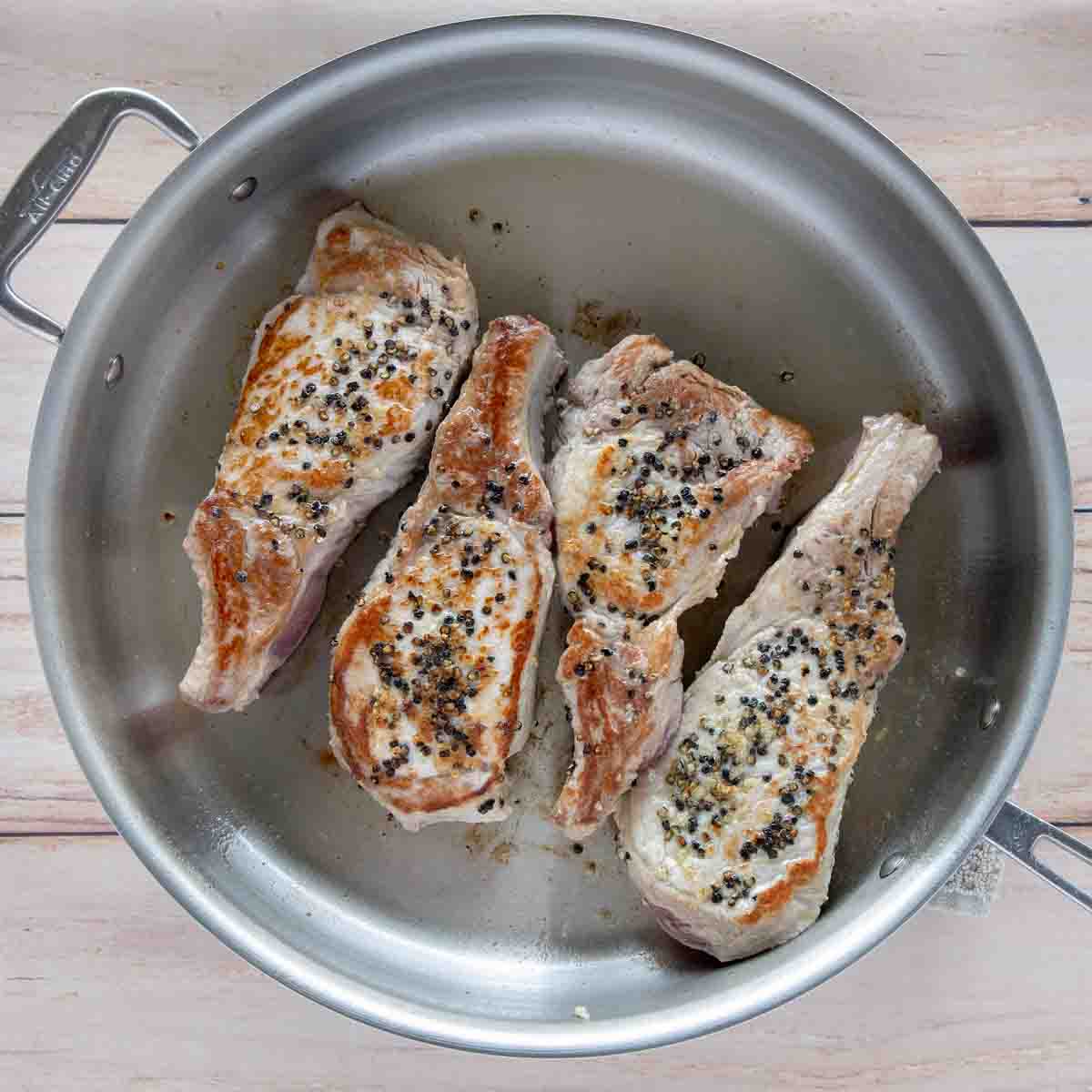 The next step is to pan-sear the seasoned pork chops in a large skillet over medium-high heat for 2-3 minutes on each side.
Don't move them around, allow them to sear undisturbed. After searing remove the pork chops from the pan and set them aside until needed.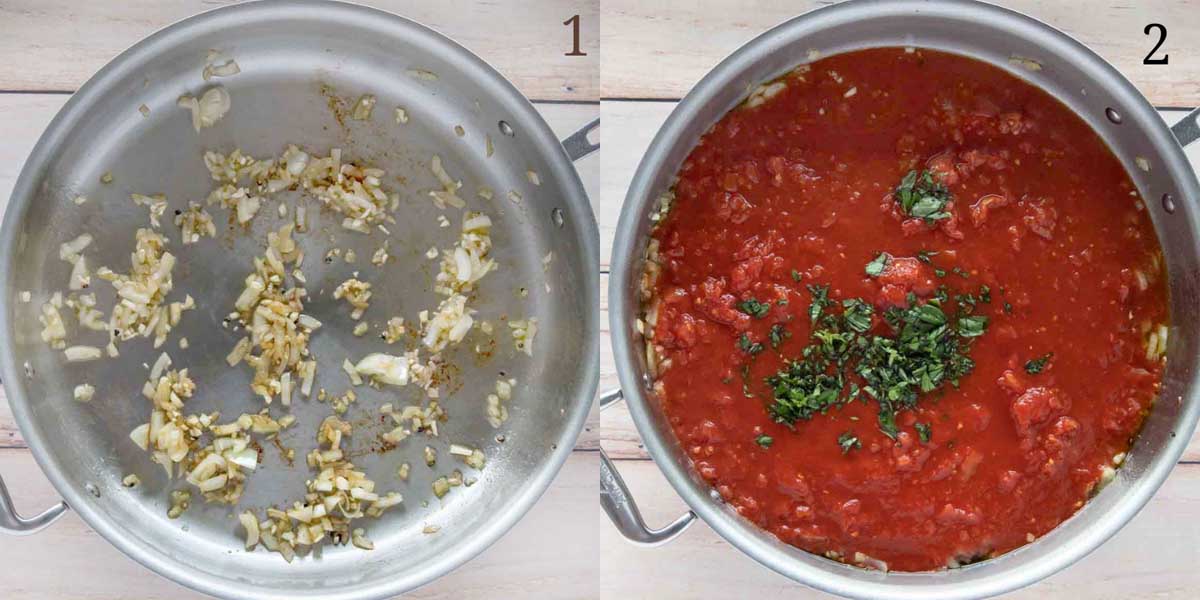 Saute the onions and garlic over medium heat for 1-2 minutes until fragrant, then add the tomatoes and seasoning to the pan. Bring to a light boil then reduce the heat to simmer.
Do I have to make the marinara spicy?
No, you don't. This is your dinner, make it to your personal tastes.
What else can I add to my marinara?
You could add capers, olives (black or green), or mushrooms.
Can I use store-bought spaghetti sauce for braising?
No, you can't. Premade store-bought sauces aren't meant to be heated for extended periods. Trust me, it will well be worth the effort and really won't take much time to prepare.
Add the pork chops to the spicy marinara.
Wrap the pot tightly with foil and place it into a preheated 325-degree oven and cook for 2.5 hours.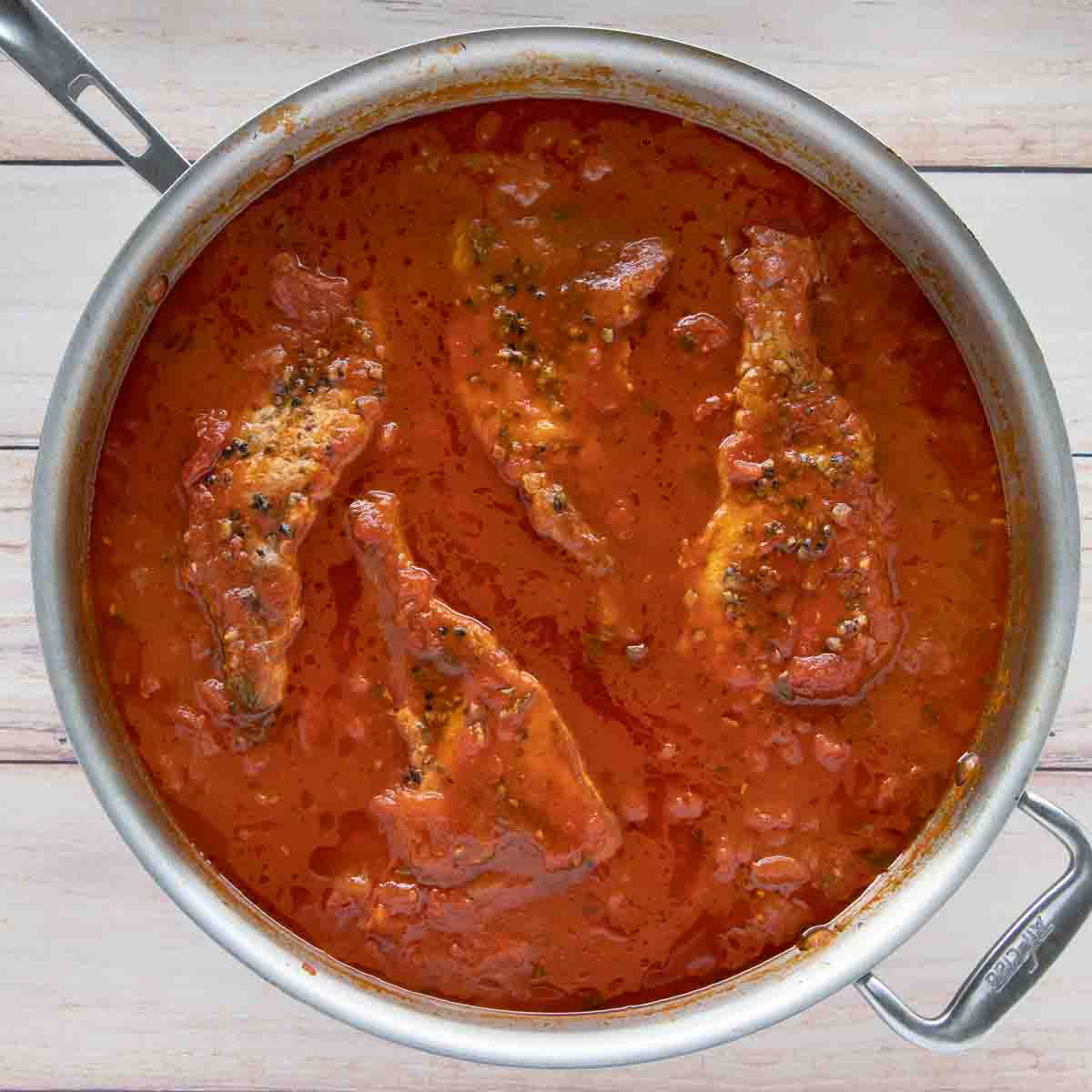 When the pork chops are ready, check the sauce and reseason if needed. If the sauce isn't thick enough you can let it simmer for a little longer on the stovetop. If the sauce is too thick you can add a little water to the sauce.
*Be careful not to move around the pork chops too much so they don't break apart.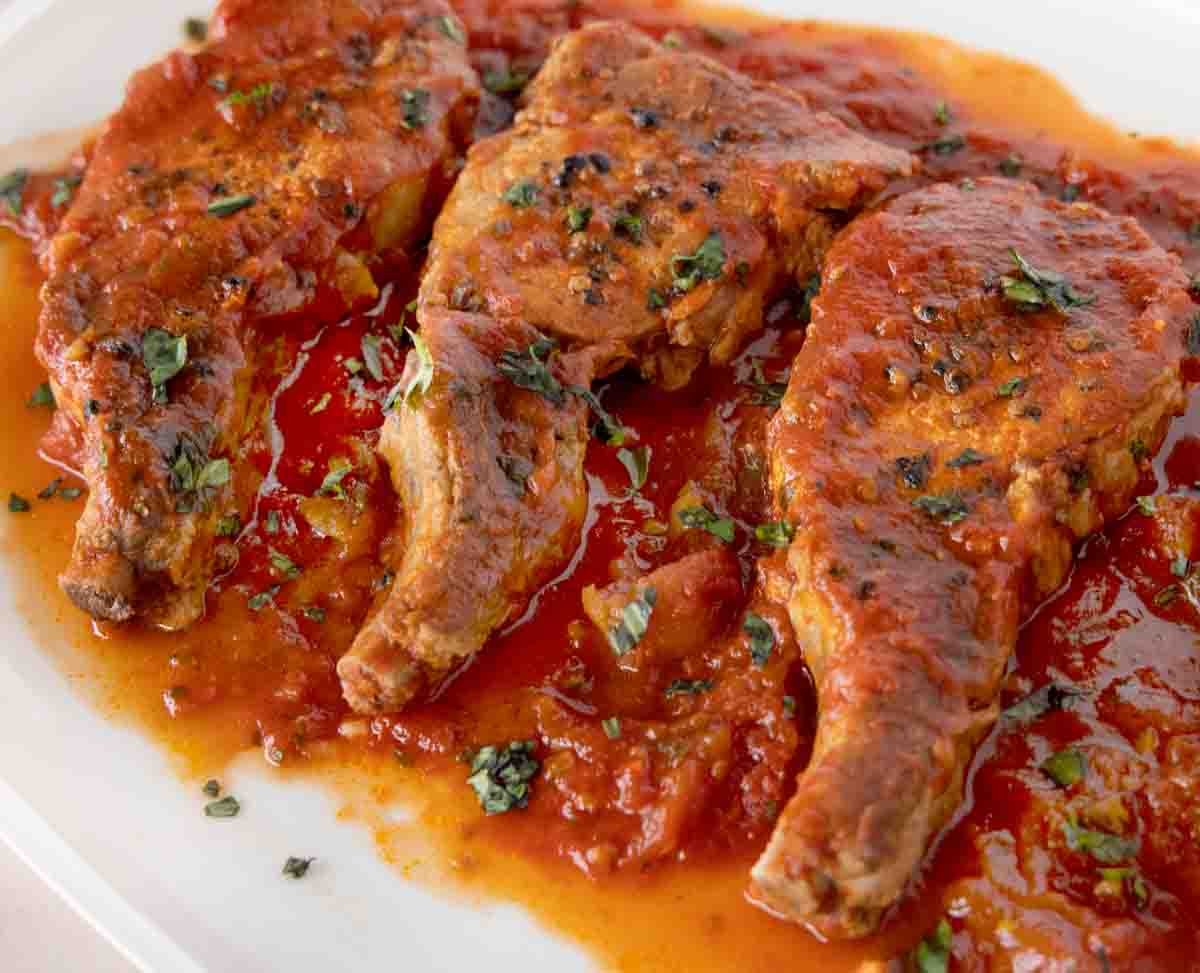 More Pork Recipes You'll Love!