There's just something extra cheerful about an Irish Pub and Raglan Road in Disney Springs (previously known as Downtown Disney ) is no exception!
But Raglan Road isn't just your average Irish Pub, it's authentic Ireland. Built entirely in Ireland, then shipped, lock, stock and beer barrel to Downtown Disney.
While the food is sure to please, my advice is to start with a taste of Ireland while you're looking over the menu.
I started the evening off with a flight of Irish beers that included Guinness Irish Stout, Smithwicks Irish Ale, Harp Irish Lager and Kilkenny Irish Cream Ale. That gave me a real taste of Ireland without breaking the bank.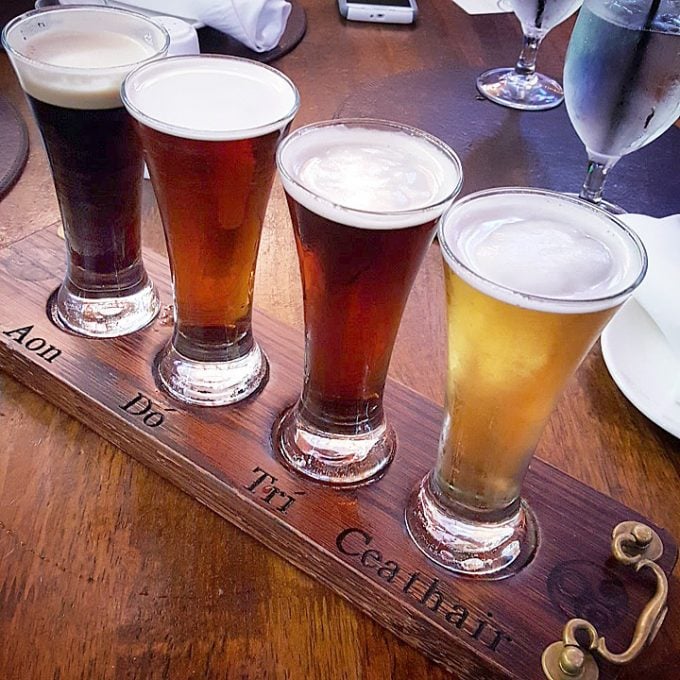 If you don't fancy a flight of beers, just ask for a pint of your favorite liquid refreshment.
In Ireland, pouring the Perfect Pint is considered an art form and they're darn serious about art at Raglan Road. In fact along with the building they brought their own unique Irish beer dispensing system with them, which enhances the quality, freshness, and structure of the beers.
Of course if you'd like something a wee bit stronger or non-alcoholic your server will be happy to oblige your request.
One of my favorite dishes at Raglan Road is their very popular Scallop Forest, consisting of Georges Bank scallops in a golden batter served with citrus lime dipping sauce & sweet chili jam.
They have an eclectic Irish menu with delicious tastes of their homeland, so don't go expecting Corn Beef and Cabbage.
Be adventurous and try the re-invented Classic Irish dishes they serve as well as what I like to call Irish Fusion Dishes.
If you still have room for dessert try Chef Dundon's gift to America the Dunbrody Kiss. Chef Dundon uses chocolate, chocolate and then more chocolate to make this dessert……sigh
And what would an Irish Pub be without entertainment? Every night whether you dine inside or out you'll be treated to a variety of Irish entertainers including dancers, troubadours and bands playing jigs, reels, pub favorites and traditional Irish songs.
According to management at Raglan Road since the pub is so authentic, the entertainers have no idea they're not still in Ireland and they ask for your help keeping the secret.
"So you need to act really Irish to keep them from catching on – that means drink, howl, dance on the tables, drink some more and sing as you've never sung before"
Raglan Road is located at The Landing, Disney Springs, 1640 East Buena Vista Drive, Lake Buena Vista, Orlando FL 32830. They are open from 11 am until 11 pm. serving lunch and dinner followed with a bar menu from 11 pm until 1 am.
The Rollicking Raglan Brunch Menu is served from 10 am to 3 pm Saturday & Sunday. (gluten-free menu items are available)
Live Music starts at 4 pm till late, with an Irish band and Irish dancers performing 5 pm – 10 pm 7 nights a week. Open till 2 am every night.
Slainte!