You'll love my Little Plates!
One thing I can say with certainty is that we definitely eat better than we did before I started blogging. Now I'm not saying that being a chef and the one doing all of the cooking at home that we didn't eat well, but lets just say we didn't eat quite as adventurously. That being said, every now and then we  have to take a little break, and eat a little lighter.
Now that doesn't mean it has to be boring or not as delicious, it just means we cut back a bit. For us what it means is eating in more of a European fashion,  and for this dinner that meant "Little Plates"  or Tapas.
We started the night with a very simple but oh so tasty little plate of Bruschetta. A very simple dish consisting of  toasted bread lightly oiled and rubbed with garlic, topped with chopped tomatoes, basil and gorgonzola picante  crumbles.
One of the great things about having a good source for cheese is being able to get a nice variety of artisan imported cheese. I do have to admit that until recently I never knew there were different types of gorgonzola cheese. I don't know what category the generic variety we get at local supermarkets is closest to,  but Picante or Mountain which is aged longer and has a more pronounced flavor is definitely a much better product! And then there's Dolce which is creamy and an almost spreadable version of gorgonzola, aged for 3 months with a milder sweeter flavor.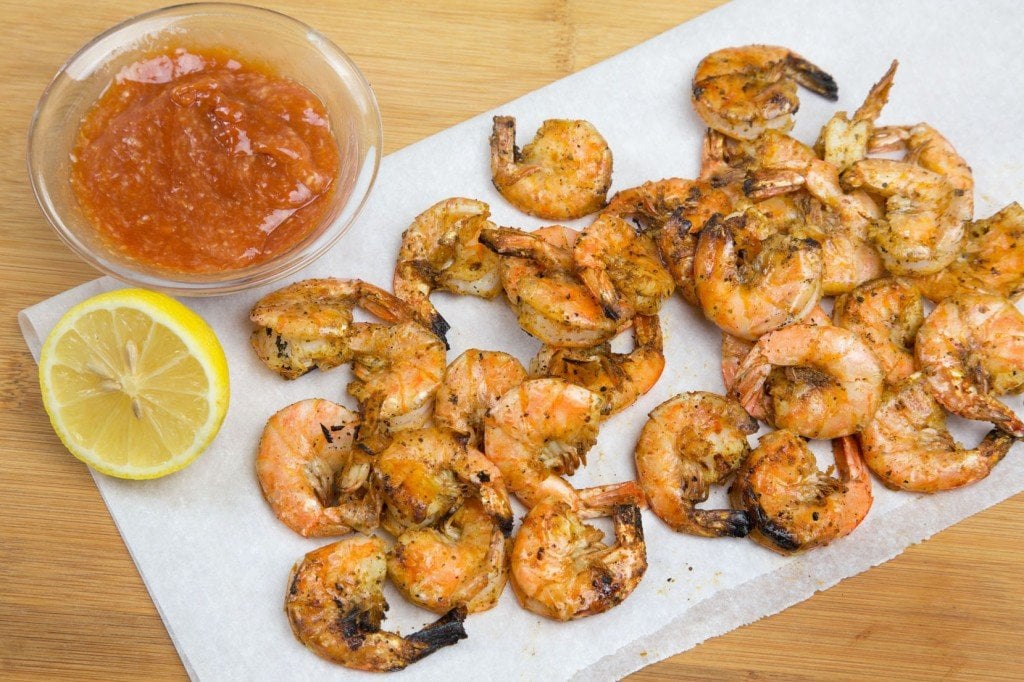 We then moved on to another simply prepared dish,  grilled shrimp. Lightly oiled and seasoned with old bay, grilled for just a few minutes on each side and served with tangy cocktail sauce. I always use the shell on variety, which keeps the shrimp a little moister and adds to the fun of eating them. Not to mention that they look great with the shell on them!
But we finished up the meal with what was always one of the best selling appetizers in any of the restaurants I worked in and that was mushrooms stuffed with crab imperial. I'll let you in on my secret for adding a little more flavor to this dish and that is to add a little marsala wine in the baking dish, the mushrooms will soak up that extra flavor and be exceptional!
Print Recipe
Little Plates
Ingredients
8

medium to large mushroom caps

3

ounces

lump or claw crab meat

1/2

tsp

finely chopped Italian parsley

1/2

tsp

finely chopped red peppers

2

tbsp

mayonnaise

1

large egg yolk

1/4

tsp

sugar

1/4

tsp

old bay

1

ounce

marsala wine
Instructions
In a small bowl mix together, the mayonnaise, parsley, peppers, sugar, old bay and egg yolk. Blend well, this is your imperial sauce

Add imperial sauce to crab meat and fold together gently.

Pull stem our of mushroom cap, using a knife to clean out any pieces of the stem that might have stuck.

Cut a little off the bottom of the mushroom so it sits flat

Fill mushroom caps with crab imperial mixture mounding on top of the cap

Place in baking dish, and pour marsala wine in the bottom of the baking dish

Bake at 350 degrees for 15-20 minutes
All we needed  to complete this meal was a nice glass of wine, and an espresso afterwards. We even had a little room left for dessert and luckily I had some homemade gelato in the freezer, but we'll leave that for another post!
Thanks for stopping by!