Why pay high restaurant prices when you can make the same thing at home. Use your favorites and my clam casino for your broiled seafood combination!
This post includes affiliate links. As an Amazon Associate I earn from qualifying purchases.
How to make a broiled seafood combination featuring clams casino
Making delicious restaurant style meals at home is really easier than you think, and dishes like a seafood combination are not only perfect for that intimate dinner for two, but also for a party of eight, It's all in the timing!
Ingredients can vary depending on what's available and what you like, but a standard seafood combo, usually has, Flounder, scallops, shrimp, and some form of crabmeat, other than that whatever else you like can be an added bonus. In my restaurant days, we stuffed the shrimp with crab imperial, or sometimes the dinner would include a small lobster tail and that would be stuffed with crab imperial. In my restaurant days, Clams Casino was king and I made one of the best clams casino you'll ever have, and there were always a few on any seafood combo I served
I don't know when clams casino lost their popularity, and it's a rare occasion to find them on a menu. For those of you that have never had them, you really need to make them. The next time you friends or family over make two dozen and watch them disappear, I promise you they will be the hit of the evening! If you're pressed for time, you can make the clams up ahead of time, they store well and can even be frozen. I'll let you in on a little secret to opening clams easily too!
If your stuffing clams, throw them in the freezer for about an hour, rinse them under cool water and just slip a knife in and they open like magic! Now this only works for stuffing clams, please don't use this method for clams on the half shell! While we're talking about clams, I want to mention that you need to be sure your source is reliable, small bags of clams will always have a tag on them, telling you when and where they came from, it's the law! This is true for mussels too. If your buying clams or mussels by the dozen and they're on display, you can ask to see the tag that came off the original container. Only buy shellfish from reliable sources you trust!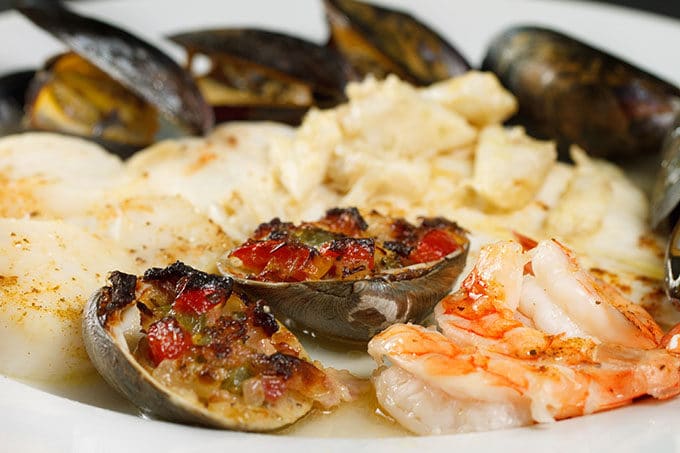 My seafood combo was very basic with 3 shrimp, 4 scallops, a small piece of flounder with some jumbo lump crabmeat, a half a dozen mussels, and of course my clams casino. I placed all my seafood (except the crabmeat and clams casino) in a baking dish with a little water in the dish, and spooned a little melted butter over the seafood and a sprinkle of old bay, place in a 350-degree oven for about 20 minutes. I kept the casino in a separate dish because they needed a few minutes under the broiler, after their time in the oven.
The crab meat I gently sauteed in melted butter and topped the flounder with the crab meat when I was ready to serve dinner. Make your favorites sides, a small salad, and you've just saved yourself about 65% of what the meal would have cost you if you had gone out to dinner.
Print Recipe
Clams Casino
Why pay high restaurant prices when you can make the same thing at home. Use your favorites and my clam casino for your broiled seafood combination!
Ingredients
24

Top neck clams-cleaned

8

ounces

Butter

1/2

pound

Bacon

thinly sliced

1

Large

Red Bell Pepper-

small dice

1

Large

Spanish or Va dahlia Onion

-small dice

1/2

cup

grated Romano Cheese

1

teaspoon

Oregano

1/2

teaspoon

Black Pepper

1

Tablespoon

fresh Italian Parsley

finely chopped
Instructions
Chop the onion, and bell pepper into a small dice

Slice the bacon slices about 1/8 of an inch thick.

place the butter, bacon, peppers, and onions into a medium sauce pan and cook on low heat for about 15-20 minutes.

Remove the pan from the heat and add the grated Romano, black pepper, Oregano (and always use dry, fresh oregano does not work as well) and the chopped parsley. Mix well.

Place into the refrigerator and stir it occasionally so all the ingredients stay well blended, until the butter has firmed back up. This will take at least 2 hours, so give yourself time.*

Take the clams out of the freezer, and rinse them in a bowl with running water for about 5 minutes.

Open your clams with the blade of a knife, just be careful!

Take a spoonful of the prepared Casino mix and make a nice mound of it on top of the clam, pressing it into the clam firmly with your hand. Repeat this process until all of the clams are stuffed.

Now place your clams in a casserole, there will be butter run off, so we don't want that spilling into your oven.

Place the clams into a 375 degree oven for about 15 minutes, then finish for about 5 minutes under your broiler or until the bacon and tops begin to get nicely browned.
Notes
*Casino mix can stay refrigerated for at least 3 days before you use it. *Now for the purists out there, do feel free to start with fresh clams, and a clam knife, Its not too difficult to open the clams that way, just make sure you use a clam knife and not a kitchen knife.
Nutrition
Calories:
366
kcal
|
Carbohydrates:
4
g
|
Protein:
7
g
|
Fat:
36
g
|
Saturated Fat:
19
g
|
Cholesterol:
88
mg
|
Sodium:
504
mg
|
Potassium:
138
mg
|
Sugar:
1
g
|
Vitamin A:
1450
IU
|
Vitamin C:
28.2
mg
|
Calcium:
87
mg
|
Iron:
0.5
mg