How I spent my summer vacation: I Love Lucerne
Visiting Lucerne Switzerland had always been a dream of both myself and Lisa and last summer we got to make that dream come true!
After looking at the map of Switzerland I decided that Lucerne with its central location would be the perfect spot for our base camp in Switzerland during our stay. (This is the view from our front our room at the Art Deco Hotel Montana)
Unfortunately (or fortunately), Lucerne was such a beautiful city, we didn't want to leave and spent most of our time exploring this picturesque fairy tale city.
In the picture above you see the iconic Kapellbrücke bridge (aka Chapel Bridge) which spans the river Reuss in the center of town. The Kapellbrücke is the oldest wooden covered bridge in Europe, as well as the world's oldest surviving truss bridge.
How do I get to Lucerne, Switzerland?
The Swiss do a great job of getting you from point A to point B in Switzerland, no matter where you are in their country. And the Swiss do stick to schedules!
If you are going to be flying into Switzerland, the nearest airport to Lucerne is in Zurich. From Zurich airport, it's a 60 minutes journey by car and from Zurich main station (Zürich HB) and about a 45-minute trip by train.
If you travel by train, there are usually two departures every hour. Make sure to take the direct train, it will be a much easier journey. The other train makes numerous stops along the way.
You can purchase your train tickets online in advance of your trip on the SBB website or at the airport when you arrive in Zurich.
Car rentals are also available at the airport as well as shuttle service. Expect to pay around $200 for a taxi or shuttle.
What will I find in Lucerne, Switzerland?
Lucerne is Fairy Tale City, complete with a glacial lake, covered bridges, church spires….. and of course the Swiss Alps.
Lake Lucerne is a pristine Swiss lake with sparkling blue water and surrounding snow-capped mountains. We were there in early July and although the lake was still a little chilly locals and tourists alike enjoyed swimming and boating in that beautiful lake.
On a rainy afternoon we had a delightful cruise around Lake Lucerne on the Paddle Steamer (PS) Schiller. This classic paddle steamer was constructed in 1906 with its unique Art-nouveau Salon is favored for its timeless elegance. The showpiece of the boat is the first-class salon with exquisite materials such as satinwood, ebony and mother-of-pearl
Lunch on board the Schiller was a culinary event. From the classic table setting and impeccable service to the 3-course lunch everything was perfect!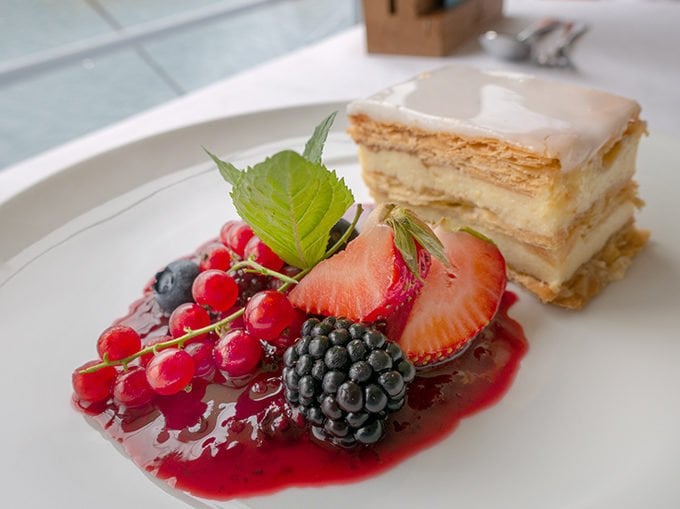 Dessert was every bit as delicious as it was beautiful.
A great way to appreciate the size of the lake is on a cruise and there are plenty of options to choose from.
And a trip to Lucerne isn't complete without seeing the Lion of Lucerne.
Designed by Bertel Thorvaldsen and hewn in 1820–21 by Lukas Ahorn. The Lion of Lucern commemorates the Swiss Guards who were massacred in 1792 during the French Revolution when revolutionaries stormed the Tuileries Palace in Paris.
What Mountains can I visit in the Lucerne Area?
Visiting Mount Pilatus was another highlight of our trip. The top of Pilatus was lost in the clouds during our visit and that made our adventure even more special.
Commissioned in 1889 the Cogwheel Train has a gradient of up to 48 percent, making it the steepest cogwheel railway in the world.
The trip takes about 30 minutes travel time from the base at Alpnachstad to the Pilatus Kulm, passing alpine meadows and striking rock formations.
But the real experience was being in the clouds at the top of Pilatus. Some of the clouds went right through us as we stood on the observation deck of the mountain.
And just a short ferry ride across scenic Lake Lucerne and funicular ride away you will find Bürgenstock Hotels and Resort. And experience one of the most amazing resorts in the world.
In the heart of Central Switzerland, a dazzling, unparalleled world awaits you: with private Residence Suites, four hotels, nine restaurants and bars, shopping, two spa areas, one wellness center and more than 30 business event rooms, with a capacity for conferences for more than 600 guests.
Make sure to take time to visit Bürgenstock and dine at one of their iconic Restaurants. We dined at Spices Kitchen and couldn't have had a better meal anywhere in the world. This is just one of five appetizers we were served (before dinner).
Where to Stay in Lucerne
Trying to figure out the best location in any city you visit is never easy. On recommendations from friends as well as the Lucerne Tourism Board, we ended up booking our room at the Art Deco Hotel Montana.
When I booked our room I opted for a Lakeview and I was not disappointed! We had two balconies facing Lake Lucerne and the town center. This was the view we had from the side balcony of our room at the Art Deco Hotel Montana.
And dining at The Hotel Montana's Kitchen Club is a Culinary Experience you don't want to miss!
And I loved being able to watch the chefs working in the open kitchen from our table.
Where Can I Find the Best Swiss Chocolate?
We did have one rainy day during our stay, but there's always something to do in Lucerne! We spent the morning touring Max Chocolatier seeing how all their chocolates are made.
And tasting the finished products. I honestly can say I've never tasted chocolate anywhere that was as good as the Chocolate we sampled. It was simply amazing!
Where Can I Eat in Lucerne?
There are no shortages of great places to eat in Lucerne.
As I mentioned above the Art Deco Hotel Montana has an excellent restaurant with the Montana Kitchen Club, and the main dining room has amazing views of the lake along with their epicurean delights. They also have a buffet breakfast which you can purchase at a discount when you book your room.
Chef Dennis Travel Tip-
Including your breakfast when you book your room while in Europe is the most economical and easiest way to find a good breakfast.
One of my other favorite spots to eat in Lucerne was Restaurant Barbatti.
From the Antipasto to the Tiramisu this classic Italian restaurant will have you think you're dining across the border in Italy!
I mentioned that everything in Switzerland was expensive. That is everywhere except Migros.
While most times you stay from shops at the train station, Migros is an exception to this rule.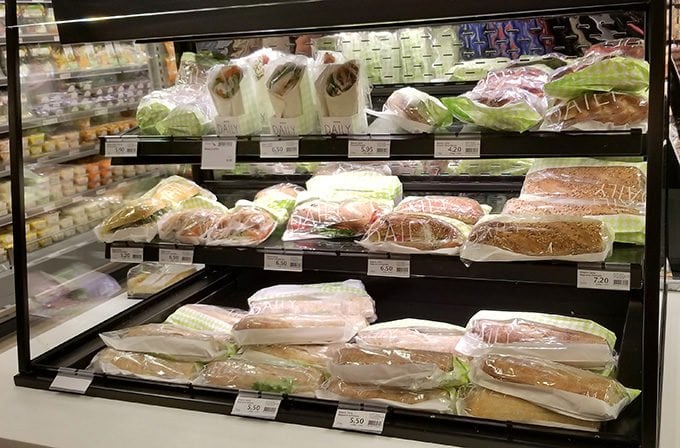 Migros is a full-service grocery store that has fresh made sandwiches, salads and bakery items as well as fresh fruit and reasonably priced beverages. You can get a bottle of water or a coke for about a dollar. Anywhere else in town its going to be a closer to $6.00.
Migros is conveniently located in the shopping area under the Lucerne train station.
It's a great way to save some money while enjoying a delicious lunch along Lake Lucerne. After all who wouldn't enjoy a picnic by Lake Lucerne?
How do I get around Lucerne?
The Visitor Card Lucerne is included with an overnight stay in one of the city's hotels and includes free use of the buses and trains within the city (zone 10). The buses in Lucerne are the easiest way to get around town (and also to Mt. Pilatus) and Swiss transportation is always on time.
There are around 500 licensed taxis in Lucerne and in general they are clean, safe, reliable – and expensive. It's usually easy to get one, even in rush hours. You'll find taxis at official taxi stands at the train station, at Schwanenplatz, behind Hotel National and in other spots around town. Or you can easily hail one in the street.
Nextbike is a bike sharing system where you can pick up bikes at any one of the 70 locations in town around the clock, either by calling the hotline or using their app or website. When you enter the bike's number in the app, it gives you the number code for the bike lock – and off you go. Fees are charged to your Visa or Mastercard. Before you can start you need to register online.
When is the Best Time to Vist Lucerne?
June thru September is the peak season with temperatures from the mid-50s to mid-70s. Lucerne's proximity to the Alps ensures that it is cool even in summers, particularly in the evenings. This is a great time to explore the outdoors and even go for hiking or biking tours. July and August are the busiest months and also the most expensive. Make sure to make your bookings in advance and bring along a jacket for the cool evenings.
May and October are considered to be off-season in Lucerne, with temperatures from the low-40s to high-50s. This is when you'll find the best travel deals.
November till mid-April is the skiing season when skiing enthusiasts from across the world come here to indulge in winter activities in the surrounding mountains. Expect temperatures ranging from the low-40s to high-20s.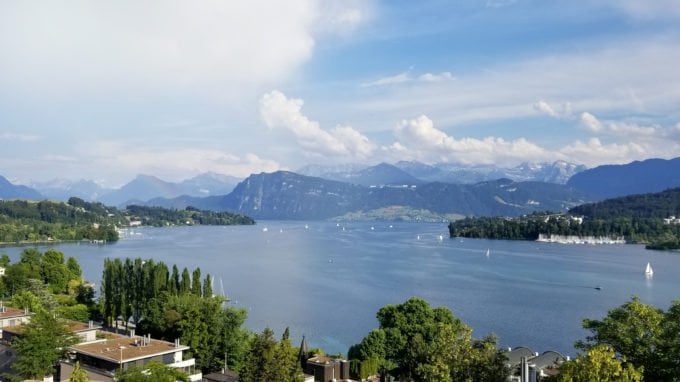 If you enjoyed my post about visiting Lucerne please leave a comment, I love hearing from you!