Some days it's good to be me, especially when Life's a Beach at the King and Prince Beach & Golf Resort on St Simons Island! I have loved becoming a travel blogger and thanks to my new found passion I was asked to be part of a media group and review the King and Prince for my blog. I told you, some days it was good to be me.
When we first stepped into the King and Prince Resort on St Simons Island, we were blown away! We knew this was going to be a delicious vacation, but the pictures hadn't done this beautiful resort justice. It went beyond what we had imagined and continued to amaze us during our stay.
The Historic King & Prince is the only hotel in St. Simons that is right on the beach. It has five pools, including a main pool that overlooks the ocean, on-site tennis courts and bike rentals. Their in-house restaurant, Echo, is fantastic for breakfast, lunch or dinner. You'll also find their full-service bar perfect for just about any other time day or night. In addition to hotel rooms in the historic portion of the resort, there are also villas and houses for rent on the property.
St. Simons Island is one of a string of Islands in Georgia that make up the Golden Isles. It's located on the southeast corner of Georgia, with easy Interstate access via I-95. It's about equal distance from Savannah, Ga., or Jacksonville, Fl.
St Simons Island is on the Georgia coast and is the furthest point west on the Atlantic seaboard of the US, almost directly under Cleveland, Ohio…..if you drew a straight line. That's one of those strange but true facts that makes you pull out a map of the United States to see for yourself. Go ahead, I'll wait while you check.
What you'll find at the King and Prince is an oasis. Palm trees, swimming pools and miles and miles of white sand beaches…….sigh
But what you don't expect to find is a natural phenomenon that happens every time the tide goes out. It's a great opportunity to find shells as the water recedes. We found our first sand dollar on the beach by the King and Prince.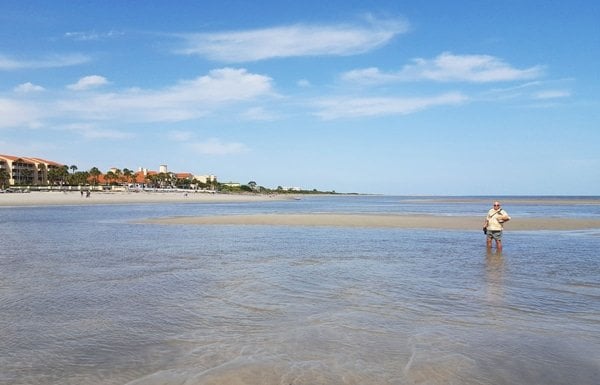 On some parts of the beach you can walk out about a mile, just be aware of the tides so you don't get trapped trying to get back to shore. Unfortunately, some people have made that mistake and not made it back to shore.
Of course being safety conscious (and not a strong swimmer) I stayed close to shore and enjoyed wading through the pools of water around the sandbars. It wasn't cold and I loved walking through the water to the next sandbar! Can you say Island Paradise?
Upon our arrival, we were greeted with a Bloody Mary Bar, which seems to be a Sunday tradition at the King and Prince. Although you can get whatever you want whenever you want at the King and Prince, service goes above and beyond in all departments. We were especially taken by the housekeeping staff….. and the front desk staff….. and the kitchen staff…. and the bartenders….. did I leave anyone out?
As the evening cools you can find yourself sitting around this fire pit, enjoying life with the new friends you made on your trip.
I'm going to talk about food at the King and Prince in another post, there's just too much deliciousness to share for just one post. But here we are gathered at the breakfast table, planning the day's activities with our new friends.
Sunrise at the King and Prince is spectacular, and this view from our balcony couldn't have been better.
Except when its accompanied with a nice glass of wine, as you unwind from a day of sightseeing, delicious meals and walks on the beach. Now I've got Georgia on my mind…….
The King and Prince Beach & Golf Resort is a member of Historic Hotels of America, the Southern Living Hotel Collection, and on the National Register of Historic Places and has been awarded the TripAdvisor Certificate of Excellence.
You can learn about the King and Prince on their website.
Click on these links to learn more about St Simons Island and the rest of the Golden Isles of Georgia.
The King and Prince Beach & Golf Resort
201 Arnold Road, St. Simons Island
Georgia, 31522
Reservations or Information call : (800) 342-0212 or (912) 638-3631