My Coconut Easter Cake Experience:
When King Arthur Flour contacted me to work on their Cake Decorating Promo, I asked them if they were sure they had the blogger.   But as it turned out they were serious, and I got a great little care package complete with their Cake Essentials  DVD   that covers everything from ingredients to decorating techniques.   These turned out to be life saving tips when I made my Easter Cake.
Not only did I get the DVD, but I also got a set of offset spatulas to add to my kitchen tools.   If you've never used an offset spatula on your cakes, you don't know what your missing. The Cake essentials DVD answered a lot questions I had about baking cakes, and I got to see their master baker Susan Reid in action.  She makes everything look so easy, and unfortunately that's what caused my over confidence….sigh   (This is the Offset spatula that I recommend  Wilton 409-7716 Angled Icing Spatula, 13-Inch, Black
 )
You see I'm not really a baker by trade, I bake because I enjoy it, not so much because I'm good at it.   There's a reason I never became a pastry chef, or for that matter a garde manger Chef……I just don't have the patience or the dexterity to do that type of intricate work.    My joy comes with the first 6 courses, not the last course.
Now somewhere along the line I did teach myself enough baking to have fun with it, but  I knew better than to try to get too fancy.   But after watching Susan's DVD, I was inspired and thought I'd make a cake and decorate it.    If nothing else I get a gold star for trying.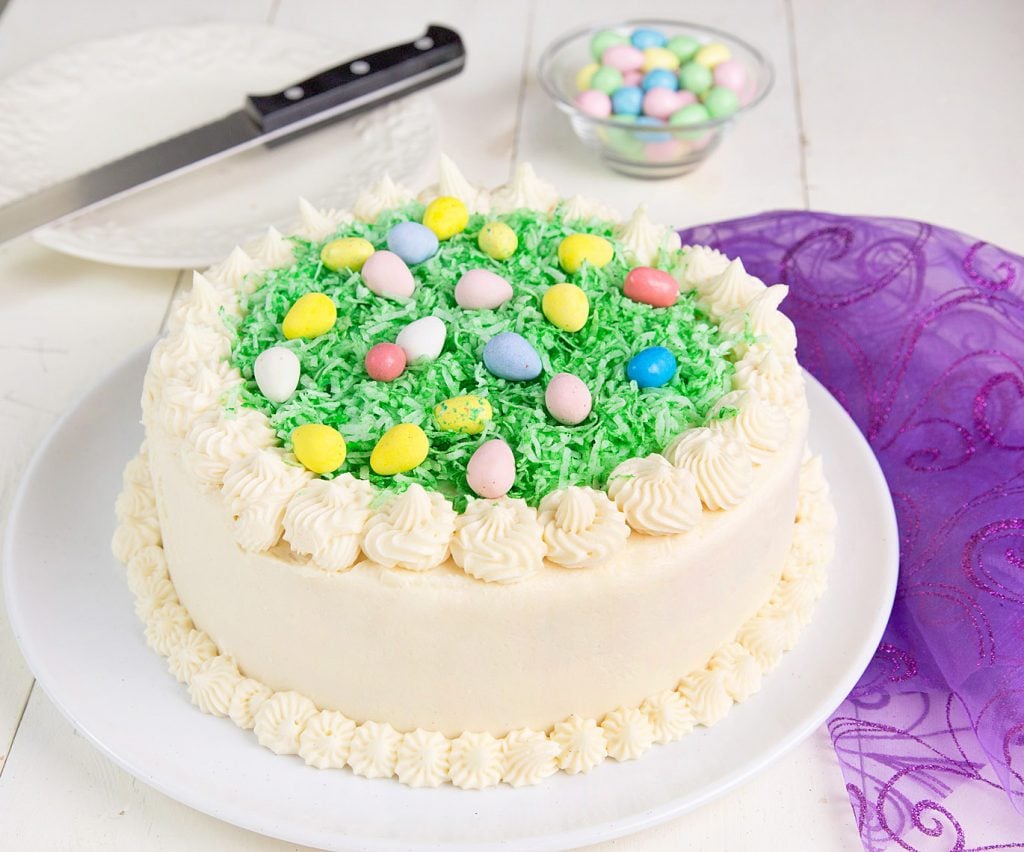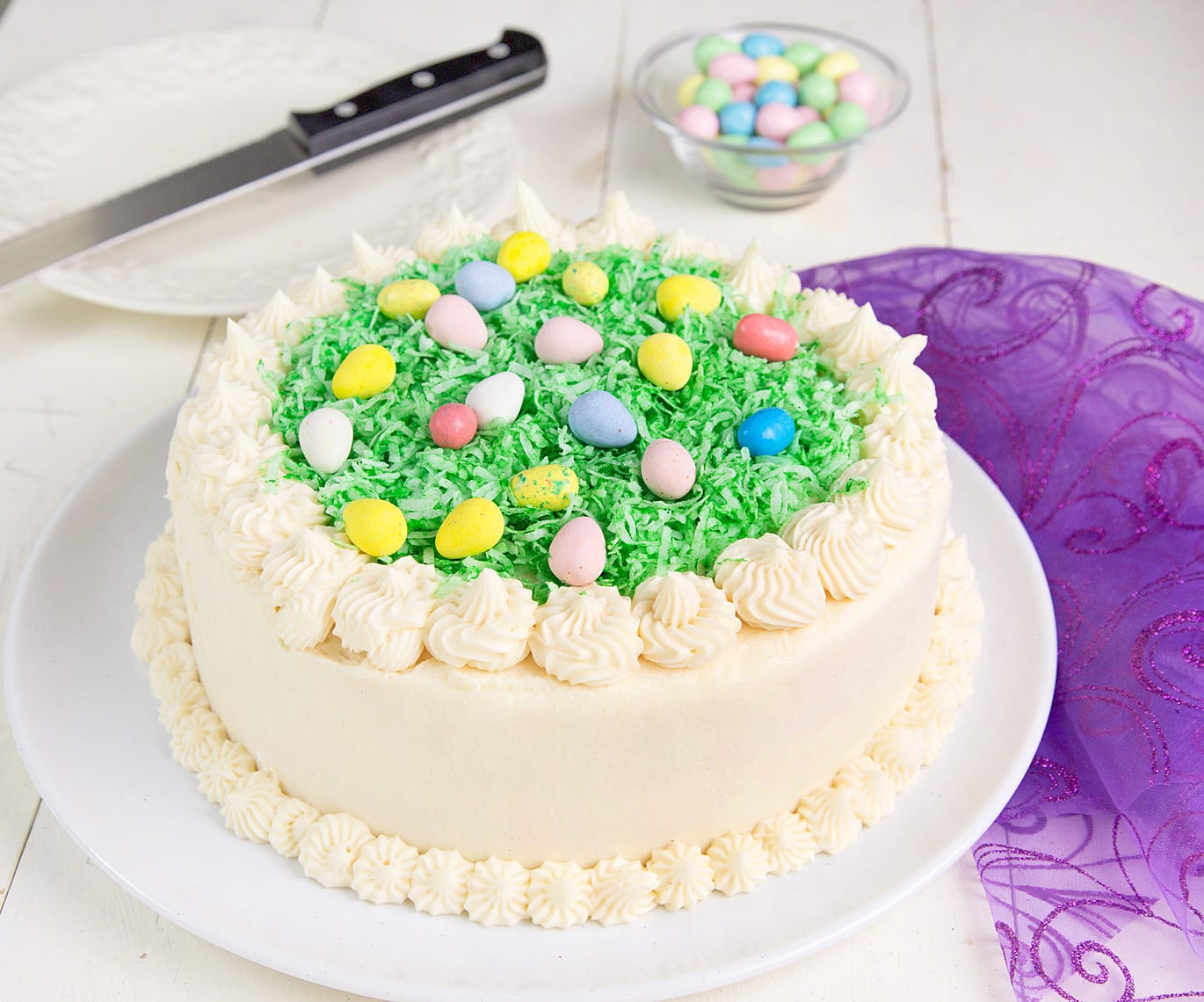 I did learn a lot from the Cake Essentials DVD about why my cakes didn't always come out the way they should and what I needed to do to ensure that they started coming out better.   So armed with that knowledge I began a classic yellow butter cake recipe to use with for my Easter Cake.   The batter failed….sigh    But the good news was I realized it failed and didn't keep going on. So I started again, and got it almost right the second time.
I think the problem was with butter, it was not at that sweet spot, where it was soft enough without being too soft.   One thing I will share with you is that all of the refrigerated ingredients need to be at room temperature (and they do mean all of them, not most of them).
My second attempt was much better but still a little short of the mark.   As Susan would put it, the structure of my Batter was not right, and when the structure isn't right, the cake can't support it self while rising which causes a myriad of problems, one being a bit too dense.   That is what this cake suffered from slightly.   I didn't get quite the rise I should have, but it wasn't a complete failure either.   I will say the flavor was excellent and the cake wasn't dry, so those points are in my favor…..maybe a silver star.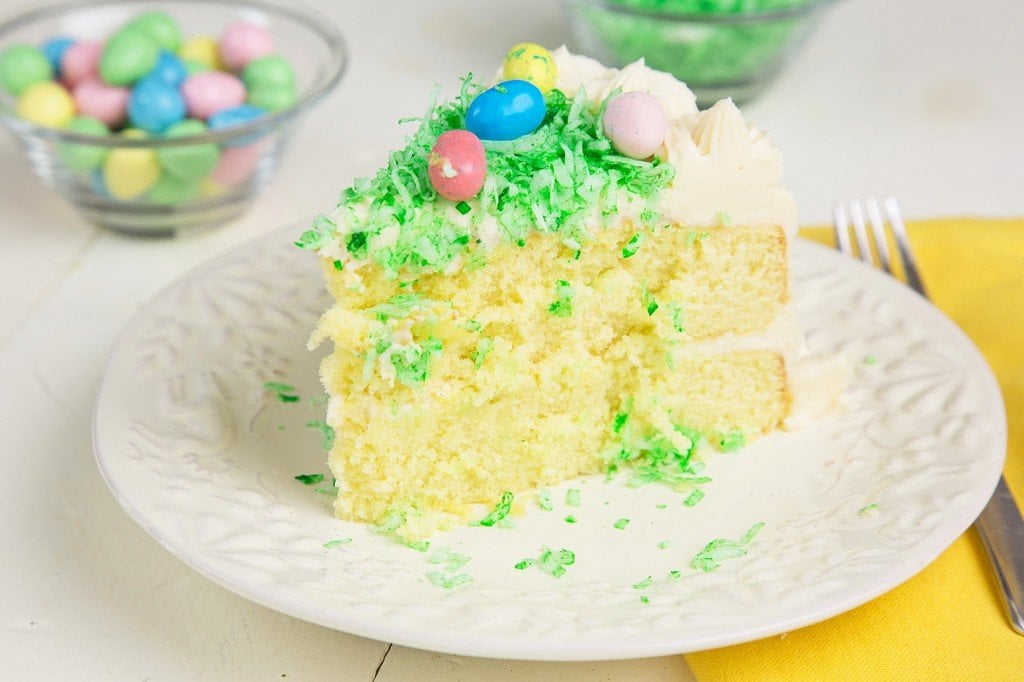 If you'd like to try your hand at cake decorating, a small starter kit can help as well as Parchment Circles!  Never again will I trace out the cake pan and cut my own circles, this has to be one of life's simple pleasures!    I am definitely ordering more of those parchment circles!  (You can find those items at these links : Wilton 2104-1364 12-Piece Cupcake Decorating Set
   Regency Wraps Parchment Paper Circles – 8″
 )
While thinking about the crumb coat, I forgot to put enough frosting in the center of the cake but we're going to pretend I did that on purpose to cut down on the calories…. at least that's my story and I'm sticking to it!  I hope you get to make your own Easter Cake this year and that you're family and friends appreciate and love the results!
My Coconut Easter Cake
Ingredients
Cake
12

tablespoons

butter -softened

6 ounces

1 3/4

cups

sugar

12 1/4 ounces

3/4

teaspoon

salt

2 1/2

teaspoons

baking powder

2

teaspoons

vanilla

4

large eggs

2 yolks - room temperature

2 1/4

cups

all-purpose flour

11 1/2 ounces

1 1/2

cup

milk - room temp

12 ounces
Mascarpone frosting
12

ounces

mascarpone - room temp

6

ounces

butter - room temp

1

tablespoon

vanilla

6

cups

10 x sugar
Topping
4

ounces

flake coconut

green food coloring

your favorite robin egg candy
Instructions
Cake
Preheat oven to 350 degrees F

In a large mixing bowl, cream together the butter, sugar, salt and baking powder until light and fluffy, about 5 minutes

add the eggs in one at a time to the butter mixture, beating well after each addition. (make sure to scrape down the bowl between each step)

Add 1/3 of the flour, then half the milk, and repeat the process until you've added the last third of the flour. (scrape down the bowl frequently)

Pour the batter into greased and floured or parchment lined 9 inch baking pans and smooth out batter.

Bake for 25 - 30 minutes or until the cake begins to pull away from the sides of the pan.

Allow to cool on wire racks for 10 minutes, then turn out the cakes and continue cooling on wire racks until completely cooled.
Frosting
mix together mascarpone and butter and whip until light and fluffy (about 5 minutes)

Slowly add the 10 x sugar, one third at a time, mixing well and scraping down the bowl after each addition.

Add vanilla and mix until fully blended
Topping
mix 4 or 5 drops of green food coloring to the coconut (or more if you want it darker) and mix until all the coconut is the same shade of green
Assembly
Put together cake layers with one cup of frosting in between each layer.

Spread a small amount of frosting over the entire cake making a light coating, this is your crumb coat. Refrigerate for 20 minutes then apply frosting to the entire cake with an even coat.

Place frosting into a pastry bag, and using the star tip make little flour shapes by squeezing out the frosting and pulling up. Go around the top of the cake with large flowers, and around the bottom of the cake with smaller flowers

Place green coconut on the top of the cake inside of the circle of flowers.

Place candy robin eggs on top and refrigerate for 30 minutes before serving.
Although KAF did send me product and equipment, all of the opinions expressed in this post are my own.  I have used KAF for most of my life and love their products, it's a name you can depend on.