A few weeks ago I had the pleasure of visiting Atlanta for the first time. I know what you're saying, how could I have missed visiting one of the most traveled to city in the country? Well, truthfully as many of us have, I'd been to Atlanta on a few occasions. Unfortunately, it was only to change planes in their massive airport.
Thankfully the folks at Discover Atlanta invited me to visit the Buckhead section of their beautiful city and attend the SITSum Conference for travel bloggers. Not only did I get to attend, I also was asked to speak on Live Streaming.
One of the first sights we were treated to was the Swan House aka President Snow's Mansion from the Hunger Games. As part of the Atlanta History Center, it gives us a glimpse into lifestyles of the rich and famous circa 1930s era Atlanta.
"Swan House, traditionally known as one of the most recognized and photographed landmarks in Atlanta, is an elegant, classically styled mansion built in 1928 for the Edward H. Inman family, heirs to a cotton brokerage fortune. The mansion, designed by famed Atlanta architect Philip Trammell Shutze, provides a glimpse into the lifestyle of this Atlanta family during the 1920s and 1930s. Explore the many rooms of this beautifully restored historic house and enjoy gardens, fountains and breathtaking views on the Swan House grounds. We offer a variety of experiences at the Swan House including Open House Experiences and a special Capitol Tour"
Walking into Atlanta's Buford Highway Farmers Market was like walking into a Theme Park for Chefs and Home Cooks. I have never seen such a variety of unique and exotic produce, organic fruits and vegetables at any one location. There were items I'd never seen before and a diverse meat and seafood department. Experience our world tour – we specialize in all types of authentic ingredients, traditional ethnic cuisine, and hard-to-find items.
There were items I'd never seen before and my head was swimming with ideas on how to use each and every one of them! The Buford Farmers Market also has a diverse meat and seafood department. They also specialize in all types of authentic ingredients, traditional ethnic cuisine, and hard-to-find items from around the world. You can find specialties from Korea, Mexico, Central and South America, the Caribbean, West Africa, Japan, China, Thailand, Vietnam, the Philippines, Eastern Europe and more.
With morning sessions, afternoon excursions and nightly dinners we made the most out of our time in Atlanta and although I saw a lot of amazing sites in the Buckhead section of town, we only began to scratch the surface of things to see and do in Atlanta.
Speaking of dining, our group of merry travelers was treated to some best restaurants in the Buckhead section as we got to sample the menus at the ATLAS Buckhead, South City Kitchen and Del Frisco's. At South City Kitchen we got to enjoy two of the Souths greatest culinary contributions, Fried Green Tomatoes and Pimento Cheese. It was a beautiful thing.
Our next day started out with another set of sessions (one in which your's truly presented on Live Streaming). The sessions were presented at The Ponce City Market and if you've never been it's a must see destination. Once a Sears Roebuck Distribution point, this million plus square foot building has been restored and renewed as a dining and shopping destination, complete with office space, apartments, and its own rooftop amusement park.
"The National Trust for Historic Preservation recognizes Ponce City Market as "History in the making," and recognizes the project as part of a plan to move Atlanta forward while maintaining and emphasizing the city's unique history and culture. "
In early 2014, Travel + Leisure ranked Ponce City Market as one the 25 in its list of "The World's Coolest New Tourist Attractions."
With outdoor dining areas like this reimagined space of the original building, it's easy to see why it has this distinction.
Then of course, there's the rooftop amusement park, Skyline Park. The site upon which The Sears Roebuck Building was constructed in 1926 was once the site of the famed Ponce de Leon Amusement Park, which was shut down in 1923. The Sears Building still houses the spring which was discovered by Ponce de Leon on his search for the fountain of youth.
The view from the roof is not to be missed. You can even grab a ride on the slide before checking out the new rooftop bar and restaurant.
I had a delicious time trying out a few of the restaurants at lunch time and then enjoyed a backstage tour of the market. One of my favorite stops was the Saint Germain Bakery.
I had time to enjoy a cappuccino and this OMG delicious Apricot Danish at the Saint Germain Bakery.
As our tour of the Buckhead section of Atlanta continued we were treated to a champagne toast at Dior located in The Shops Buckhead Atlanta. And yes the ladies in our group got to try on original Dior creations.
We ended up having dinner at Doraku Sushi, where sushi chefs capture the flavors of Latin cuisines with the sushi traditions of Japan.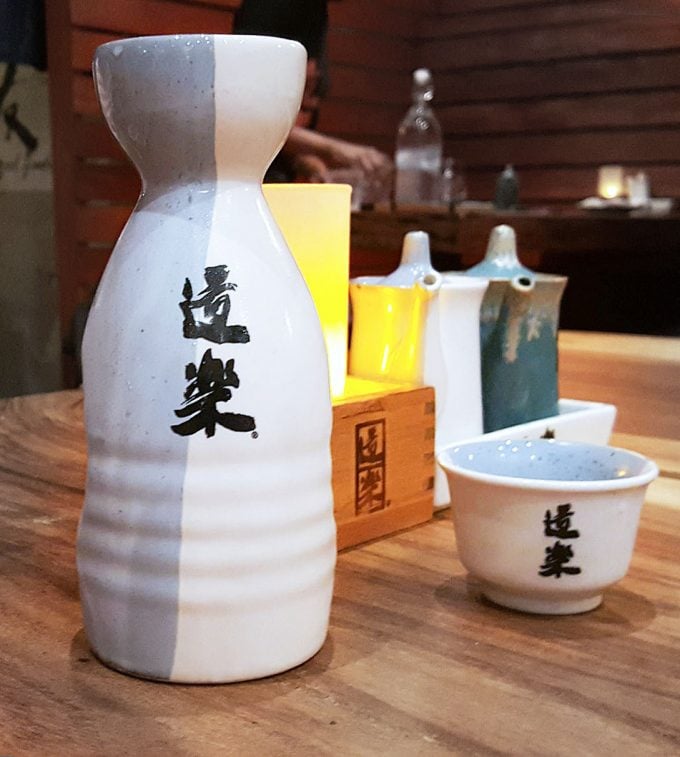 Not only did we get to enjoy traditional sake with our meals, we also got a personal sushi making lesson from the chef .
I had a delightful stay at the W Atlanta-Buckhead Hotel and enjoyed one of the best french dip sandwiches I've ever had with their signature Short Rib Sandwich with Truffle Fries.
Cook Hall is beautiful space with ah-mazingly delicious food with fast and friendly service. It's in the downstairs area of the hotel so its easy to get to and also provides room service.
At the end of my stay in Atlanta, not only had I been privileged to attend and speak at SITSum, I was wined and dined at some of the best Culinary destinations in Atlanta. I've already started planning my next trip to Atlanta and will definitely be bringing Lisa with me so we can see more of this beautiful city.