I was recently invited to take a culinary journey to The Beachwalk Resort in Hallandale Beach and I'm very happy that I did! The nice folks at the Beachwalk Resort gave me a beautiful suite on the 18th floor that came with everything we needed for a relaxing vacation in Southern Florida.
*I did receive the room as compensation for the review, but all of my opinions on the Beachwalk Resort are honest and 100% mine.
Of course it doesn't hurt that I absolutely love Florida and I think that's why people enjoy having me review their properties. Happy people always leave better reviews. And when you have views like this from your balcony its not hard to be happy!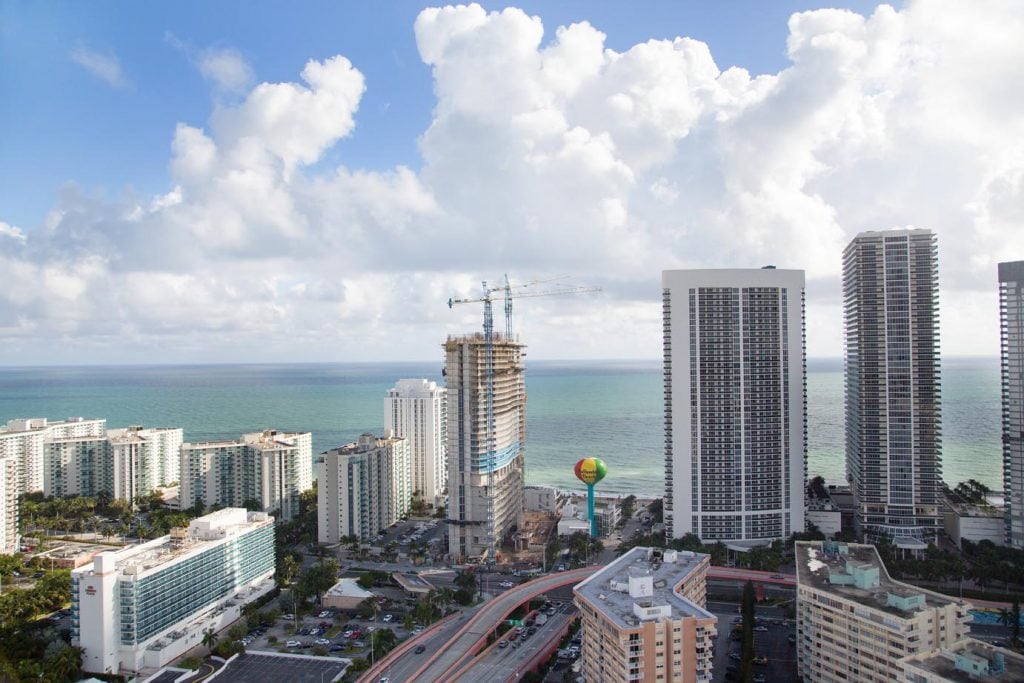 With a view of the crystal clear aquamarine ocean and those fluffy, fluffy clouds that Florida is famous for, we almost didn't want to leave our room. After all it's not often that I get this kind of view. The Beachwalk Resort is located at the crossroads of Hallandale Beach Boulevard and the Intercostal Waterway, equidistant from Miami Beach to the south, and Ft. Lauderdale to the north.
The resort has a very European feel to it, not only in design but in the furnishings. The rooms were spacious and the kitchen was fully stocked with everything you'd need for an extended stay, including a washer and dryer. There's a Walmart within walking distance, where you can pick up everything you need to prepare your own meals or anything you may have forgotten to pack.
The one-bedroom/one-bath suites feature contemporary Italian furnishings, floor-to-ceiling windows in the spacious living room and master bedroom. With 738 sq. feet of room in your one bedroom suite you get to relax and enjoy your stay. I've really gotten spoiled staying in cottages and suites and when the cost is the same as one room in chain hotel, it doesn't make sense to not to enjoy this type of luxury.
I mentioned you can cook your meals, but if you're like me, you enjoy letting someone else cook for you when you're on vacation. The Beachwalk Bistro is located on the ground floor of the resort with lots of delicious dining options, from breakfast to dinner as well as stylish fully stocked bar.
The Bistro is located next to the pool which is a great place to enjoy your cocktails or meals! I had never seen an Infinity Pool before and I can see why they're becoming so popular, it gave the pool an entirely different feeling. As you can guess I made good use of the pool as well as the the deck. But if you're a true beach aficionado the resort offers shuttle service to Hyde Beach and there's no need to worry about packing for the beach. Hyde Beach Kitchen + Cocktails has everything you need on-site! Find the perfect spot on the beach and take advantage of their complimentary beachside towel, chaise, and umbrella service for your perfect little slice of paradise.
The resort offers complimentary bicycles if you're looking to get out and about without having to take your car or if you just want to get in a little exercise. But if it's exercise your looking for the resort also offers a state of the art fitness center.
If you need a break from the beaches of South Florida, the resort offer shuttles to Aventura Mall and Gulf Stream Park Casino.
Lisa and I took the shuttle to dinner at Hyde Park one evening, where we had a spectacular meal overlooking the ocean! They also have a van that drops you off and picks you up at the restaurant.
When we arrived at Hyde Park Kitchen and Cocktails for dinner, Lisa and I were both impressed with the ambiance of the restaurant. Not only are you right on the ocean, but the decor was low key and relaxing which made for a truly enjoyable evening.
We decided to eat inside since the winds had been a little blustery. The winds didn't seem to deter the locals, because when we left later that evening the outside was full.
Lisa and I decided to dine on "little plates" that evening so we could sample more of the deliciousness that the restaurant offered. One of the dishes we enjoyed was the Lobster Pasta, a creamy lobster sauce, piquillo peppers, capers and a half butter roasted lobster. They practically had to roll me out of the restaurant, we ate so many delicious dishes and even dessert.
I snapped this picture at the elevator to our floor, it had a great view of the night sky and the busy city below us.
Then we returned to our room and the balcony for another glass of wine and the beautiful evening.