This post includes affiliate links. As an Amazon Associate I earn from qualifying purchases.
This is a sponsored Post written by me on behalf of Nutrisystem. All opinions and text are 100% my own.
SHOPPING FOR A WAY TO LOSE WEIGHT?
Three weeks into Nutrisystem for Men and I'm happier than I've been in a long time, plus I'm 20 pounds lighter! I feel good, my clothes not only fit but also are getting loose, and I'm enjoying delicious and satisfying meals. If you're in the market for losing weight, but are hesitant to start a "diet", then Nutrisystem is for you! It's really very simple – trust in the plan and you will be rewarded on the scale.
I think Nutrisystem should have that printed on a t-shirt for me with "ask me how" on the back of the shirt. I know you want to lose those extra pounds and it couldn't be easier on Nutrisystem for Men and Lean 13 for Women. You'll see results and feel better.
When I started the program I will admit, I was not expecting to see so many choices and so many of my favorite meals – waffles, pasta, pizza, and desserts!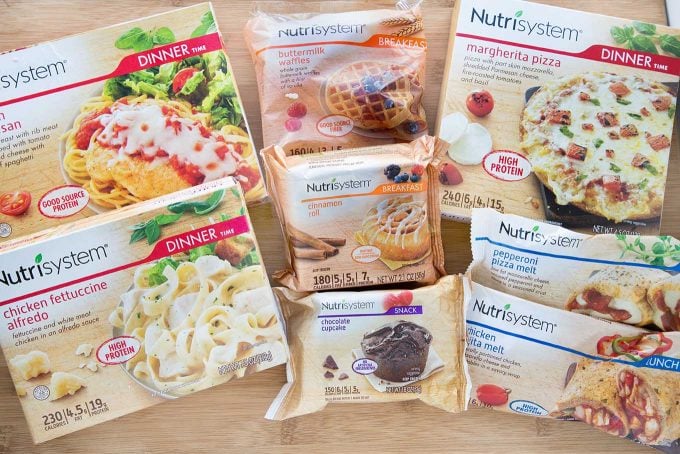 I love to eat, and I guarantee most of my friends would proudly admit to the same…and those that wouldn't are simply lying. Food is one of life's pleasures that not only fills the belly, but soothes the soul. Eating brings strangers together and stirs powerful memories of times in our past. Food remembers things you don't and one bite of a familiar food can bring those memories back to the surface.
What Nutrisystem has shown me is that I can still really enjoy what I'm eating, but I can do it in a healthy way that's pretty easy when I plan ahead.
Every few days, I make up a large tossed salad including some of my specialty salads, like my Tomato Salad pictured above. I used a super sweet tomato variety pack with celery, basil and scallion that you can find in most grocery stores. I add my favorite sugar-free Italian dressing and the result is a restaurant-worthy tomato salad!
Another favorite of mine is a delicious slaw that I make out of a prepackaged slaw with brussels sprouts, broccoli, napa cabbage, kohlrabi, carrots and kale. Add a sugar-free ranch dressing and you've got an ah-amazingly delicious slaw!
Also, I prep veggies ahead for snacking so I can satisfy my hunger when it occurs. Waiting too long to eat when you're hungry is what makes you ravenous and leads to bingeing. So be prepared to tackle cravings! Radishes, carrot sticks, or celery sticks are healthy and delicious snacks that you can have ready in your fridge. To keep them fresh, soak them in water and you'll always be ready when hunger strikes.
Now's the time to start seeing results and feeling better! Sign up today! Nutrisystem for Men and Lean 13 for Women!
This is a sponsored conversation written by me on behalf of Nutrisystem. The opinions and text are all mine.