This post includes affiliate links. As an Amazon Associate I earn from qualifying purchases.
This is a sponsored Post written by me on behalf of Nutrisystem. All opinions and text are 100% my own.
A New Type of Recipe for Weight Loss
If you're like most of the world (me included) you over indulge during the holidays. For Americans, it's even worse because we start with Thanksgiving at the end of November and don't stop until the dust has settled in January. This year was no different as we went from one friend's house to another leaving a trail of cookie and cake crumbs along the way. I can't even remember if I saw a vegetable during the month of December…well, at least not one that wasn't covered in cream and fried onions…sigh.
I even went as far this year as to decide that making a resolution to eat better and lose weight would only be fooling myself. But just as I was resigned to my overweight fate, an email magically appeared from Nutrisystem asking me to take part in a 28-day challenge to lose weight. The universe had intervened on my behalf and given me another chance to lose weight and be the healthier self I want to be.
My doctor has been encouraging me to take off some weight for the past few years to keep me heart-healthy and able to do the activities I enjoy. But the real reason for the weight loss is standing next to me in the picture above. I want to be around to enjoy my retirement years with my wife. After all, isn't that why I worked so hard all those years?
The hardest part about dieting, at least for me, is having food on-hand that not only tastes good, but also gives the body what it needs to lose weight. Nutrisystem has got that covered! From Pancakes to Fettuccine Alfredo, the Nutrisystem for Men program offers delicious meal options that you can eat without feeling guilty or sidetracking your weight loss. One of the primary benefits of the Nutrisystem program is portion control. Learning when to stop eating is the lesson, and having pre-portioned snacks and meals makes losing weight easier.
So here I go, I signed up and I'm ready to lose weight, improve my health and have more energy! On the Nutrisystem for Men program you can lose up to 15 lbs and 7 inches overall in your first month! Sign up today and let's do this together! And to the women out there, you're invited too!
Here's a look at what I received my first week…not only do you receive the pre-packaged food you need to be successful, but you also get tools and support to make the journey easier!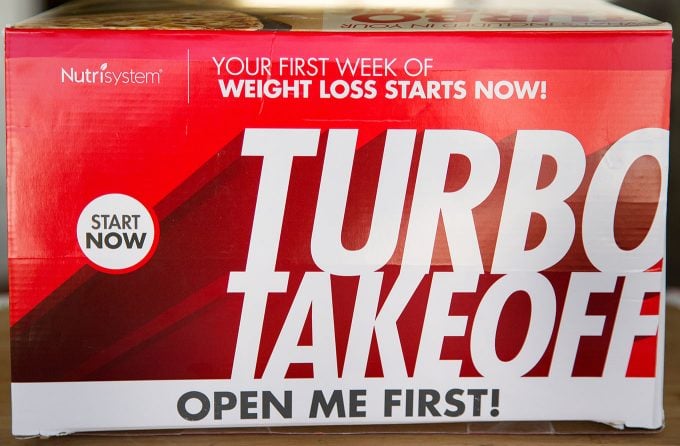 The 7 Day Turbo Takeoff is designed to make your first week as easy as possible, while giving you the incentive of great initial results to keep you motivated to continue.
The above is a photo of my Day One products, which I paired with fresh vegetables (not shown). The program includes eating at least 4 daily servings of vegetables, but the great thing is you can have as much as you want throughout the day, as long as you're choosing from the list of approved non-starchy vegetables. I was actually surprised to see so many choices!
During my first day, I snacked on carrots, celery, and radishes. And on Day Two I added more of the veggies from the list…bell peppers, kale, tomatoes, beets, mushrooms and eggplant.
With more than three dozen vegetables to choose from, and a complete array of herbs and spices, you've got a wide variety to work with to keep from getting bored with what you're eating. Being creative with your veggies can add a lot of flavor to your day! Look for my recipe suggestions over the next few weeks as I chronicle my weight loss journey using Nutrisystem for Men!
Do you need to lose weight too? Join me on Nutrisystem for Men (or Lean 13 for women) and let's lose some weight together!
This is a sponsored conversation written by me on behalf of Nutrisystem. The opinions and text are all mine.