This post includes affiliate links. As an Amazon Associate I earn from qualifying purchases.
You shouldn't need a reason to visit Delaware's Quaint Villages in Kent County, DE. But just in case, keep reading.
This is a sponsored post for Delaware's Quaint Villages. All opinions are 100% my own.
Delaware is the first state and sadly probably not the first state you think of when it's time to plan a vacation. And let me tell you that has got to change.
Besides Delaware's beautiful beaches, they have miles of wilderness to explore. Pictured above is the Bombay Hook National Wildlife Refuge.
I spent the morning at Bombay Hook — bird watching, and just enjoying a picture perfect day in Kent County, Delaware.
What else can you do in Delaware's Quaint Villages?
Now here's where it gets fun! You might know that Delaware has horse racing but did you know it has casinos?
The Dover Downs Hotel & Casino was kind enough to upgrade me to Spa Suite during my visit and life couldn't have been better. The hotel staff was friendly always there to help.
I even had a TV built into the mirrors in the master bathroom of my suite. Talk about living in the lap of luxury!
Dover Downs has another noteworthy attraction.
And that would be the Monster Mile at Dover International Speedway. Part of the year they have NASCAR and other racing events and part of the year they have harness racing.
I was lucky enough to take a spin around the track at Dover International Speedway in the pace car and found out why they call it the Monster Mile. Those turns really take a toll on your body — I can't imagine doing 400 miles on that track!
But you know why I travel
it's for the food ……sigh. And Delaware's Quaint Villages have plenty of that going on!
From freshly baked bread, rolls and pastries by a classically trained French Chef at La Baguette Bakery and Catering in Downtown Dover where Chef Ludovic Bezy works his magic. I wanted to pack up the whole bakery and take it home to Florida…. how I miss good bread. Don't forget to order a few Cruffins while you're there. It's a muffin made out of croissant dough, stuffed with a variety of ingredients.
I'm sure you know that Delaware is on the Atlantic, and that means fresh seafood.
On a rainy Saturday morning, I didn't have much to do but eat. So I went to JP's Wharf in Frederica for some of their amazing seafood dishes and desserts.
We started off with their own freshly harvested oysters. Yes, they have their own boats and waters for oyster harvesting. I had them on a half shell, goldenly fried and this ah-mazingly delicious plate of broiled oysters.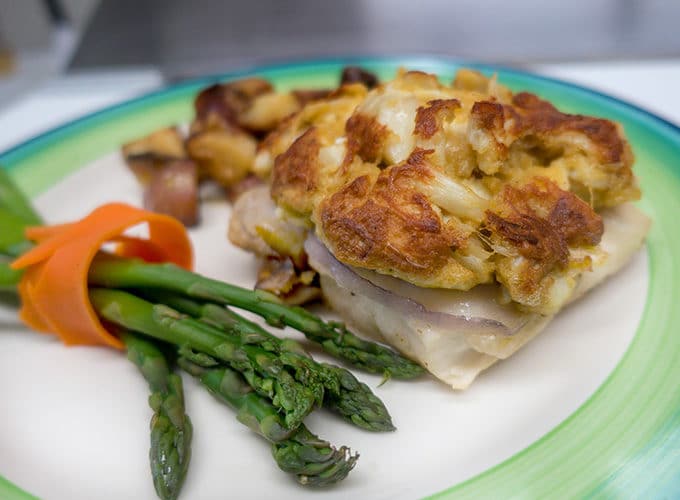 But I didn't stop there as Chef Hunter cooked up his signature rockfish with lump crabmeat for me to try. I was speechless….
And of course, there was dessert. I started with one of the best Italian Rum cakes I've ever had, then moved on to their world-famous Strawberry Pie. They pretty much had to roll me out of the restaurant but I was one happy chef on my drive back to Dover Downs.
Another day meant another delicious meal at Brick Works Brewery and Eats in Smyrna, Delaware. The kitchen just kept sending out food and like the trooper I am, I just kept eating it!
This Pork Schnitzel Sandwich couldn't have been any better and the egg simply took it over the top in deliciousness. Of course, there was more.
The Bandit Chicken sandwich was even better than the Pork Schnitzel. Well, maybe not better, but it was at least as good. I was going to take it to the airport with me but ate the whole sandwich in the car before I got out of the parking lot.
There was more food, but since I was at a brewery I thought I'd show some of the delicious craft beers I tried. It was lunchtime so I tried not to overdo it.
Remember I mentioned casinos?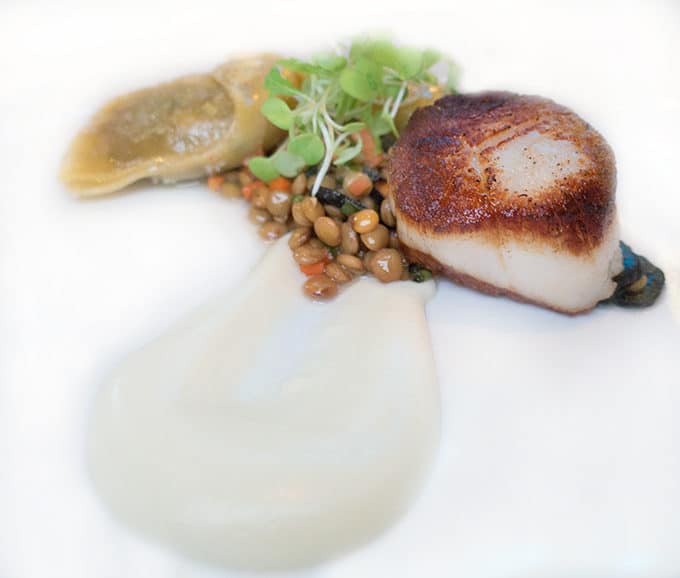 One of the best meals from start to finish I have had in a while was at Bonz inside the Harrington Raceway & Casino. This Perfectly pan-seared scallop and beef short rib ravioli was served on a bed of lentils with a vinaigrette that was incredibly delicious.
My entree was Scottish salmon topped with lump crabmeat and wrapped in puff pastry with an Old Bay-seasoned hollandaise, that was simply crazy delicious. I did have another appetizer and dessert with my meal– each course better than the last.
And although I didn't get a chance to eat at Michele's at Dover Downs Hotel & Casino for dinner, I did get to try their Sunday brunch and spend some time talking with their chef. I couldn't believe the selection of foods they had out for brunch and if you're ever in the area it's not to be missed!
Did someone say wine?
And just when you think that Delaware's Quaint Villages couldn't possibly have any more to offer, they do! I got to spend a fun afternoon sampling wines and learning about Harvest Ridge Winery
There is so much that goes into winemaking. I got a great lesson in the various ways wine is aged. These stainless steel vats are one of the methods used.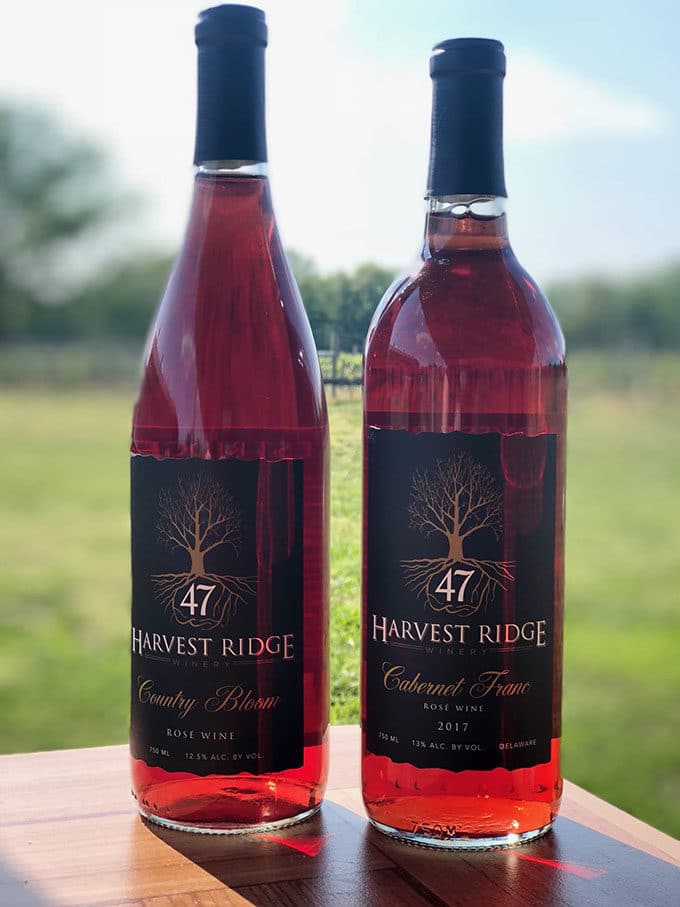 I even got to bring a few bottles of their Rosé home. You gotta love my life!
Donuts make me happy
And you can't leave Delaware without visiting one of their farms and markets. Although it was raining when I visited, I got a tour of Fifer Orchards and enjoyed a few of their legendary Apple Cider Doughnuts with their oh-so-delicious and creamy apple cider doughnut ice cream.
If you love to travel and enjoy good food you may also like these Culinary Travel posts: