This post includes affiliate links. As an Amazon Associate I earn from qualifying purchases.
Thanks to Alyssa from Everyday Maven for sharing this Red Bean and Millet Vegan Chili as a guest post.
Today, I am here to share a Vegan Red Bean Chili with Millet with you. Since it's winter and so cold right now, there is nothing like a quick and healthy bowl of Chili to warm your bones for lunch or dinner.
I make a lot of chili in my house and at any given time, have one or two variations in my freezer. It is just an easy meal that everyone loves and is really versatile — high in protein and can be low in fats.
You can top baked potatoes with it, serve it over rice or Quinoa, alongside a salad or cooked vegetables. Make tacos out of it, use it as a burrito filling or even top of scrambled eggs!
Then there are the toppings – baked tortilla chips, stirring in polenta, roasted corn, cilantro, raw onions, Greek yogurt, shredded cheese, pickled jalapenos, guacamole and on and on. Another great thing about chili – as long as everyone likes the base, the toppings are up for customization so you can really please everyone!
This Vegan Red Bean Chili with Millet might be short on beef, chicken or turkey but its not short on taste. I used a combination of Mexican and Ancho Chili Powders to give this a mild kick and finished it with some Millet for a bit of texture and extra heft. This freezes great and comes together with a minimal effort.
A huge Thank You to Chef Dennis for hosting me here today and I hope to see some of you over at Everyday Maven!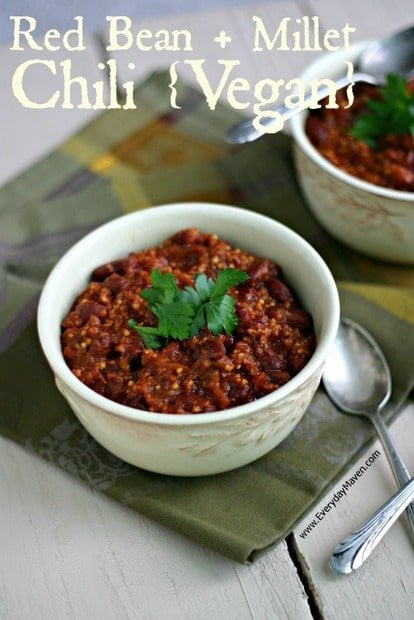 If you enjoyed this recipe you may also like these: