This post includes affiliate links. As an Amazon Associate I earn from qualifying purchases.
Today it gives me pleasure to introduce my friend Alyssa ,the Everyday Maven  where you'll find everyday recipes made healthy and simple.
Today, I am here to share a Vegan Red Bean Chili with Millet with you. Since it's winter and so cold right now, there is nothing like a quick and healthy bowl of Chili to warm your bones for lunch or dinner.
I make a lot of chili in my house and at any given time, have one or two variations in my freezer. It is just an easy meal that everyone loves and is really versatile — high in protein and can be low in fats.
You can top baked potatoes with it, serve it over rice or Quinoa, alongside a salad or cooked vegetables. Make tacos out of it, use it as a burrito filling or even top of scrambled eggs!
Then there are the toppings – baked tortilla chips, stirring in polenta, roasted corn, cilantro, raw onions, Greek yogurt, shredded cheese, pickled jalapenos, guacamole and on and on. Another great thing about chili – as long as everyone likes the base, the toppings are up for customization so you can really please everyone!
This Vegan Red Bean Chili with Millet might be short on beef, chicken or turkey but its not short on taste. I used a combination of Mexican and Ancho Chili Powders to give this a mild kick and finished it with some Millet for a bit of texture and extra heft. This freezes great and comes together with a minimal effort.
A huge Thank You to Chef Dennis for hosting me here today and I hope to see some of you over at Everyday Maven!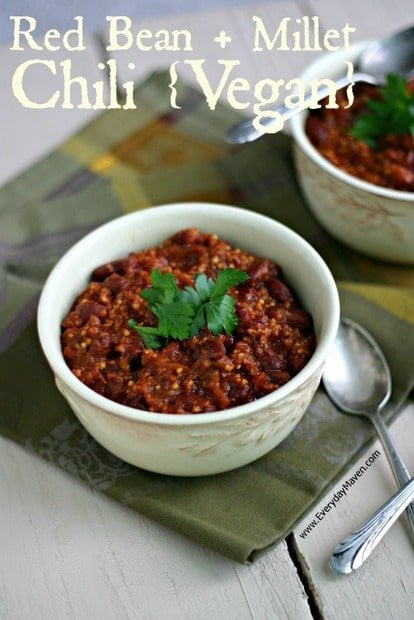 Print Recipe
Red Bean and Millet Vegan Chili
Ingredients
1

tablespoon

olive oil

5

cloves

to 6 medium garlic

chopped

1

medium yellow onion

chopped

2

celery ribs

chopped

1/2

jalapeno

seeds removed, chopped

2

tablespoons

chili powder

1 1/2

tablespoons

ancho chili powder

1

tablespoon

ground cumin

1

teaspoon

ground coriander

2

teaspoons

dried oregano

2

teaspoons

kosher salt

pinch crushed red pepper flakes

1

bay leaf

1/2

cup

millet

4 1/2

cups

cooked kidney beans

or 3 14.5-ounce cans rinsed and drained

1 28-

ounce

can crushed tomatoes

2

cups

bean broth or vegetable stock
Instructions
Chop garlic, onion, celery and jalapeno. To save time, use your food processor (which is what I did!). Prepare onion, celery and jalapeno by quartering or chopping into large chunks. Add garlic, celery and jalapeno to bowl of food processor and process until chopped. Add in onion and pulse a couple of times.

Combine all spices in a small bowl.

Measure millet and broth and set aside.

Open beans, rinse and drain or measure cooked beans and bean broth.

Heat a large soup pot over medium high heat. Once hot, add oil. Add garlic and onion mixture and cook, stirring occasionally, for 4 to 5 minutes.

Next, add in the spices and cook for 1 minute, stirring constantly.

Add millet, beans, crushed tomatoes and broth. Stir to combine and bring to a boil.

Once boiling, cover, lower light to a simmer and cook for 30 minutes.

Remove lid, raise light to medium and continue to cook uncovered for an additional 15 minutes. Excellent topped with cilantro or parsley and baked tortilla chips. Serve and Enjoy!
Notes
I cooked the Kidney Beans from dried and used the bean broth but a vegetable broth and canned beans that are rinsed and drained will work just the same. P.S. If you are cooking your kidney beans from dried, read this – unlike most beans, they need to be boiled for 10 full minutes to kill off a naturally occurring toxin. 4 Weight Watchers Points Plus Per Serving — Individual Serving is 1 Heaping Cup