You'll wonder why you haven't been eating more turkey after you see this easy to prepare delicious Turkey Milanese with a fresh cranberry sauce and Romanesco.
This post includes affiliate links. As an Amazon Associate I earn from qualifying purchases.
Turkey Milanese with Cranberries and Romanesco. Because turkey isn't just for Thanksgiving!
While shopping last week a few weeks ago I happened to see a strange looking Broccoli…..hmm, it had a pointed top. While standing in front of the display, smartphone in hand googling Romanesco, unnoticed one of Wegman's produce employees had come up alongside me.
As he spoke there was no need guessing what part of the world he came from, as he told me how delicious Romanesco is……it was of course from his home country of Italy! He begins to extol the virtues of this wondrous vegetable and how good it was grilled or roasted, and then he went on telling me how delicious it was in Risotto……well my friend you had me at Risotto. I picked up two heads, one to roast and for risotto.
As I wandered through the store and finally into the meat department, I was thinking of Thanksgiving and all of the wonderful dishes that I would be preparing, and I thought to myself what a shame it was we didn't eat turkey more often.
And when I found slices of turkey breast in the meat department I decided to make Turkey Milanese. Lightly breaded and sauteed in olive oil, served warm from the pan, tender and flavorful….. sigh.
I decided to go with the Milanese, I could of course just dredge the slices in flour and saute them without the breadcrumbs, but a protective layer of bread crumbs really helps a cut of meat like the turkey scallopini, it keeps it moist and tender.
I decide a homemade warm cranberry sauce would make a lovely addition to the turkey Milanese. And now the meal was really getting interesting.
Do you remember the Romanesco? Well, one head was roasting in the oven and the other head was well on its way to becoming a delicious risotto.
As I plated the meal, I couldn't help but spoon some of that gorgeous steaming cranberry sauce over my Turkey cutlets, and one just had to find it's way into my mouth, drenched in that tangy sweet cranberry sauce…..sigh, it was a beautiful thing and  to say that I was not disappointed would have been an understatement! Those flavors were meant to be together, it was outrageously delicious! Lisa, of course, enjoyed her Turkey Scallopini  Milanese style, and she seemed to enjoy her meal every bit as much as I did.
I can promise you that turkey will be finding its way onto my home menu more often, and I hope you give it a try, I know once you do you'll be serving turkey more often too! And if you love turkey you might enjoy my Turkey Croquette recipe.
If you've tried my Turkey Milanese recipe or any other recipe on askchefdennis.com please don't forget to rate the recipe and let me know where you found it in the comments below, I love hearing from you! You can also FOLLOW ME  on Instagram @chefdenniseats and @chefdennistravels,  Twitter and Facebook.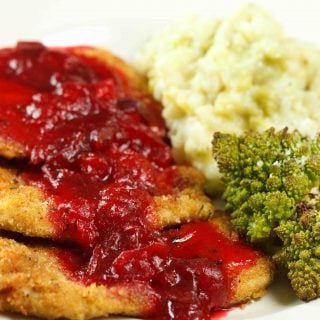 Print Recipe
Turkey Milanese
You'll wonder why you haven't been eating more turkey after you see this easy to prepare delicious Turkey Milanese with a fresh cranberry sauce and Romanesco.
Ingredients
Turkey Milanese
1 1/2

pounds

turkey breast

pounded 1/8-inch thick, 8-10 cutlets

1/2

cup

all-purpose flour

1/2

tsp

sea salt

1/2

tsp

black pepper

3

eggs

beaten

2

cups

Italian seasoned bread crumbs

1/2

cup

olive oil
Risotto Romanesco
1/4

cup

olive oil

divided

1

clove

garlic

thinly sliced

1/2

small onion

chopped

1

cup

uncooked Arborio or Carnaroli rice

1

head Romanesco cut into florets

3-4

cups

chicken broth

Salt and pepper to taste

1/4

cup

grated Romano cheese
Instructions
Turkey Milanese
Using the flat side of a meat hammer pound the turkey until 1/8 inch thick.

Combine the flour, 1/2 teaspoon salt and 1/2 teaspoon pepper in a medium bowl.

Place the eggs in a second medium bowl and lightly beat.

Place the seasoned bread crumbs in a third medium bowl.

Dredge the turkey in the flour and shake off any excess flour.

Dip the turkey into the eggs and then into the bread crumbs to coat.

Heat the oil in a large skillet over medium heat.

Cook the turkey, in batches, until golden brown and cooked through, 2 to 3 minutes on each side, adding more oil, if needed.

Remove from the skillet and drain on paper towels.

Serve immediately or keep warm in a 200-degree oven.
Risotto Romanesco
In a saucepan heat 2 tablespoons oil.

Saute garlic and Romanesco for about 3 minutes or until garlic is tender.

Add 1 cup chicken broth, salt and pepper to taste and allow to simmer uncovered, for about 10 minutes, then remove from heat.

In another saucepan heat remaining oil, add onion and cook until tender, about 3 minutes.

Add rice and stir until rice is coated.

Add 1/2 cup chicken broth stirring constantly until absorbed

Add in romanesco and chicken broth, stirring until the liquid is absorbed.

Add remaining broth, 1/3 cup at a time, stirring constantly, continue to cook, uncovered, over medium-low heat until all of the liquid is absorbed.

Rice will be creamy and grains tender when done. (Total cooking time is about 20 minutes.)

Mix in the Romano cheese and drizzle with good olive oil before serving.
Nutrition
Calories:
721
kcal
|
Carbohydrates:
63
g
|
Protein:
38
g
|
Fat:
34
g
|
Saturated Fat:
6
g
|
Cholesterol:
147
mg
|
Sodium:
1474
mg
|
Potassium:
541
mg
|
Fiber:
3
g
|
Sugar:
2
g
|
Vitamin A:
235
IU
|
Vitamin C:
10.3
mg
|
Calcium:
154
mg
|
Iron:
5.3
mg