During my time as a restaurant chef, Broccoli Tortellini Alfredo was always one of the popular dishes on the menu. The cost was lower because it was basically a pasta dish and everyone kind of fooled themselves into thinking it was healthy because it had broccoli in it! Hey, whatever works for you is ok with me.
The truth about most restaurant-style dishes is the majority of them are pretty easy to make and can be on your dinner table in a relatively short time. The trick to most dishes I made during my restaurant days was having the ingredients on hand and ready to use. Once you've got that taken care of most of the work is done.
That's when the magic happens in the kitchen and you start having fun cooking up delicious dishes for your friends and family! And trust me the happier you are in the kitchen the better the food will taste. You'll also enjoy spending time in the kitchen and before long you'll be making dinner all the time and saving a lot of money along the way!
Ingredients to make broccoli tortellini alfredo
Start by gathering the ingredients you'll need to make broccoli tortellini alfredo. In chef speak we call this the mise en place which loosely translates to everything in its place.
The broccoli and tortellini need to be par-cooked so you could prep your ingredients earlier in the day or the day before making the cooking process quick and easy.
Do I have to use Heavy Cream?
No, you don't. You can use light cream and even low-fat Greek yogurt.
*FYI, you can't heat Greek yogurt, it turns to liquid. If you want to use yogurt heat the tortellini and broccoli in a little milk with the seasonings. Then toss the mixture with Romano cheese and low-fat yogurt.
You can also make a version of this dish using chicken stock or vegetable stock instead of cream. My wife can't tolerate too much cream so she had a small portion of the alfredo version and a larger portion of the broth version.
What can I use instead of Cheese Tortellini in this dish?
There are a lot of choices in the fresh pasta department of your supermarket. You can also find more choices in the freezer section. You'll find many different fillings to choose from so use what you enjoy eating. Recipes are guidelines!
Mini-ravioli
Tortelloni
Gnocchi
Dry pasta shapes of your choice
How to make broccoli tortellini alfredo
Let's start making our dish. The first step is to saute the mushrooms. If you have any white wine on hand, deglaze the pan with a splash of white wine.
*Deglazing the pan helps release the bits of deliciousness that have stuck to the pan. You don't have to use wine, you can also use sparkling water.
Add the heavy cream, grated Romano cheese and spices to the pan. Bring the cream to a low boil, and let it continue to cook for about 5 minutes. The sauce will reduce and thicken.
Once the cream mixture has thickened, add the broccoli florets, tortellini and carrots to the pan. Mix them together with the alfredo sauce and heat the mixture over medium heat until the broccoli and tortellini are fully heated. Then serve and enjoy!
*If the mixture gets to thick add milk, water, stock or more cream to thin out the sauce.
Do I have to use mushrooms?
No, you don't. In fact, you don't have to use broccoli if you don't like broccoli. You can use any of your favorite veggies in this dish. I always tell my friends that recipes are guidelines and to cook with ingredients that you like to eat.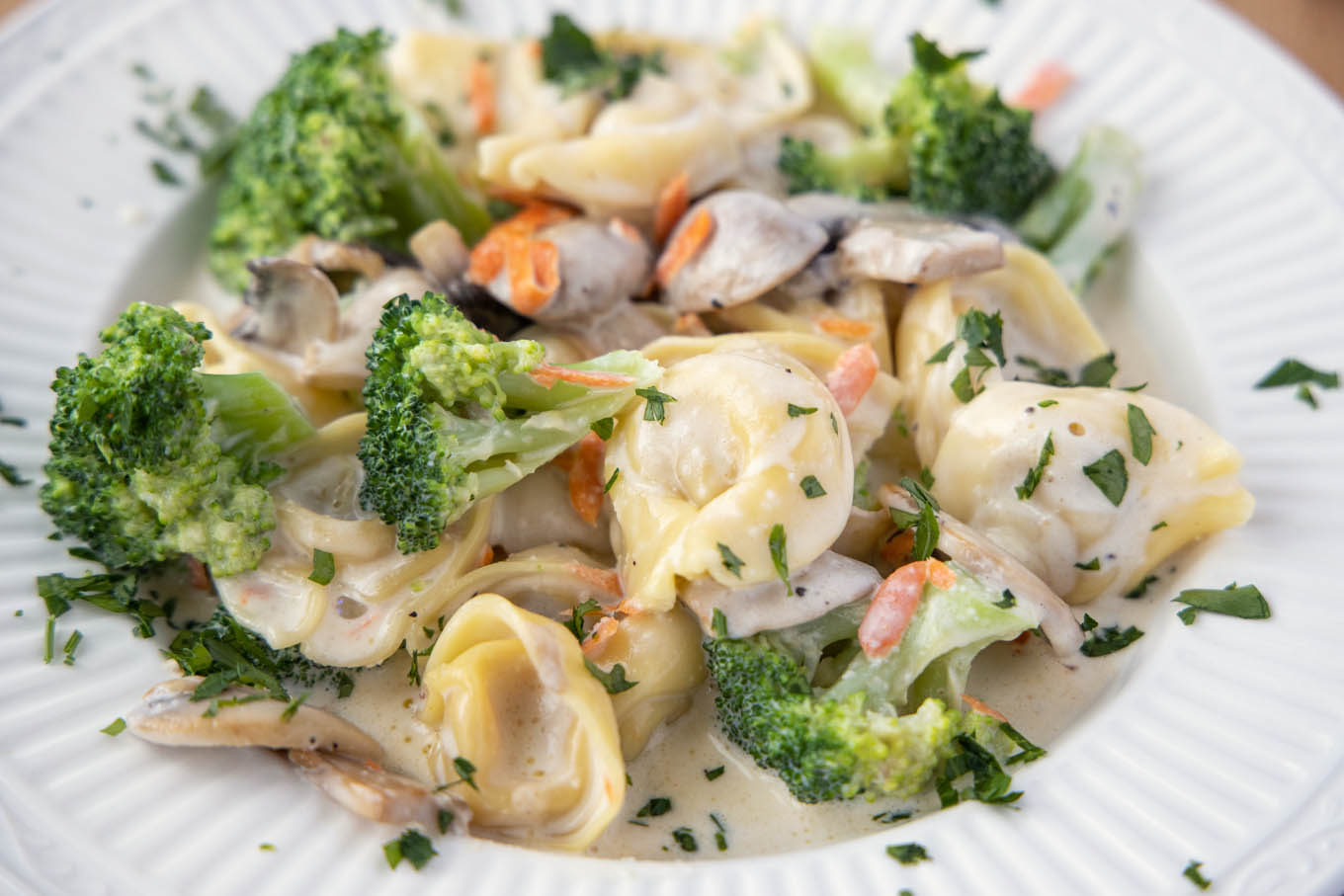 Serve the broccoli tortellini alfredo immediately and garnish with chopped parsley and more shredded carrots if you like.
More Recipes You'll Love!