It seems so long ago that Mama Jeanette taught me how to make this classic dessert from her hometown of Sienna just as her mother had taught her, and her mother's mother before her.
Mama Jeanette's version of Tiramisu recipe is one of the most requested recipes I have on my blog, and the only complaint I receive is that so many people assume it's beyond their skill level and are afraid to try making this amazing dessert. Recently I've gotten quite a few emails asking that I do step by step pictures of my Tiramisu to help them through the process.
While step by step images are not a regular feature on my blog, in this instance I'm happy to oblige in the hopes that they will help everyone to understand the process more clearly. Once you get through your first sabayon you'll see just how easy it is to make this classic and it will become your signature dessert, requested by your friends and family.
What is Tiramisu?
Translated from Italian, tiramisu comes from the phrase tirami su 'pick me up.' It's also known as a Tuscan Trifle as legend has it created in Sienna in the 17th century for a visit from the Grand Duke of Tuscany.
Tiramisu is a rich, layered dish that classically contains hard ladyfingers or Savoardi, mascarpone cheese, espresso, egg yolks, sugar, Marsala wine, rum and cocoa powder. Of course, there are as many Tiramisu recipes as there are Italian grandmothers.
How do you make Classic Tiramisu?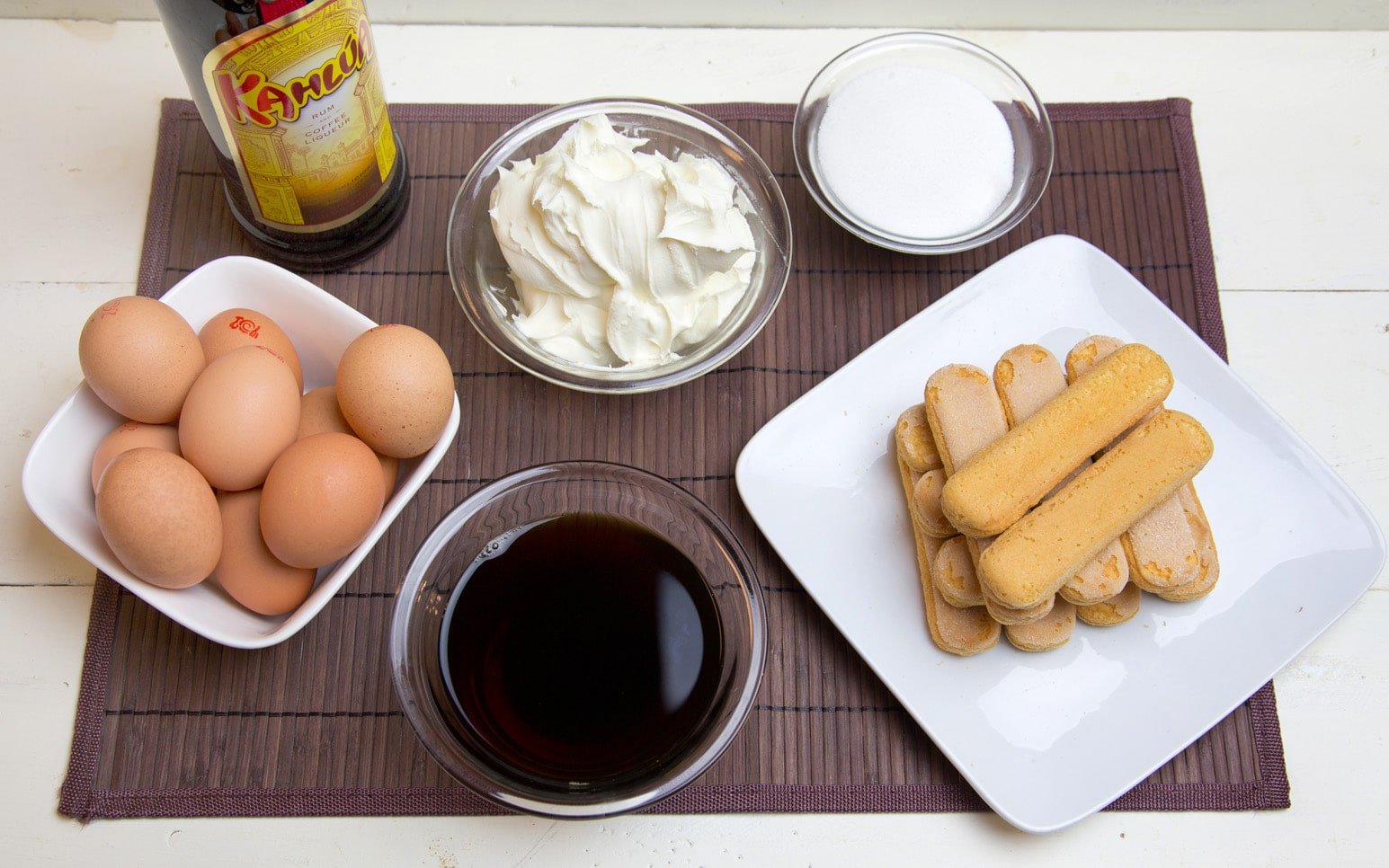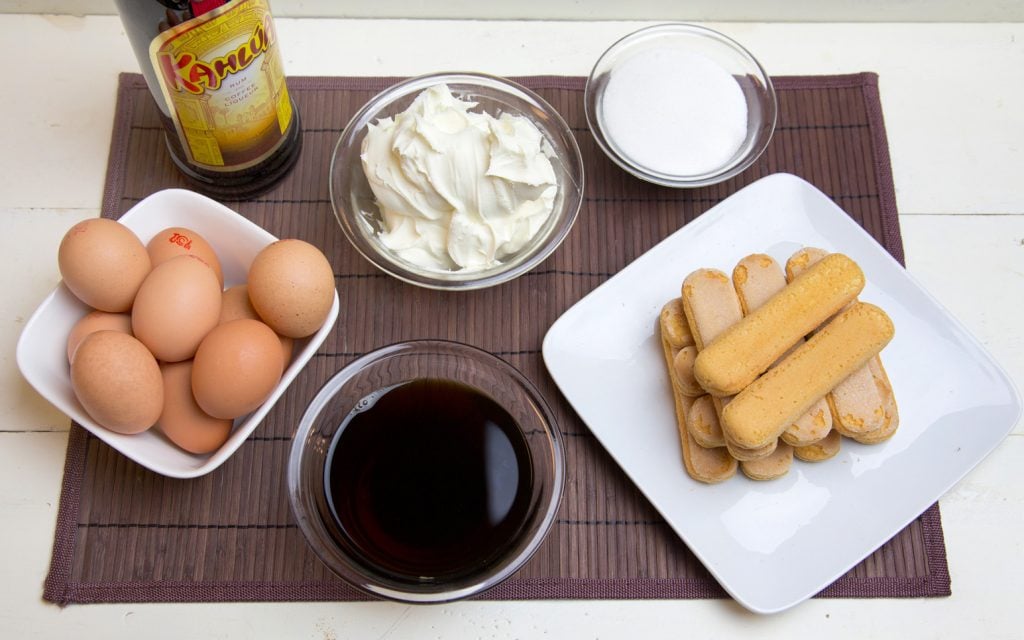 Tiramisu Prep
Egg yolks and sugar become your Sabayon
add in the Mascarpone
add the whipped cream
fold in the whipped cream
finished mascarpone cream
dip the Savoiardi ladyfingers in the coffee-Kahlua mixture
layer the prepared ladyfingers in the bottom of the pan
add a layer of Tiramisu cream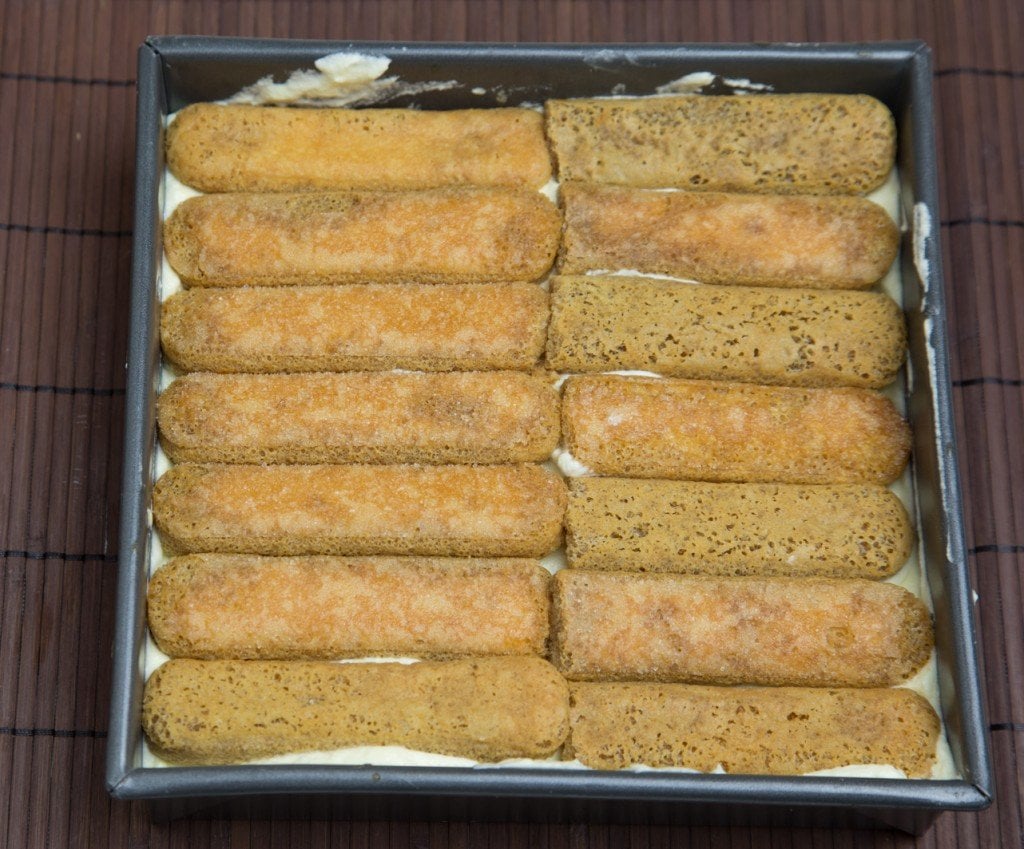 add another layer of prepared ladyfingers
add another layer of Tiramisu cream and dust with unsweetened cocoa
Chef Dennis Tiramisu Tips for a perfect Tiramisu:
Make sure your mascarpone and egg yolks are at room temperature.
Don't oversoak your ladyfingers. A quick dip in and out of the espresso mixture is all that is needed. Soggy ladyfingers will ruin this dessert.
Beat the whipped cream slowly (over 10 minutes) and it will hold up for an extended period.
Traditionally Marsala wine is added to the espresso in a classic tiramisu, but I prefer keeping the flavor of the coffee using a coffee liqueur like Kahlua.
Chill for at least 4 hours, overnight is best to let the ladyfingers soften and the filling to firm up.
I can promise you once you've made your first Tiramisu with my recipe you'll never be happy with restaurant Tiramisu again. And definitely, plan on making it on a regular basis, it's just that good! And if you love Tiramisu make sure to check out my Peach Tiramisu with Raspberries.
Chef Dennis Tip***
Only use Crunchy SAVOIARDI (ITALIAN LADYFINGERS) Cake style ladyfingers will get too soft.
Chef Dennis Tip***
If for some reason your Tiramisu doesn't firm up, don't throw it away! You can freeze the cream and have an amazing frozen dessert. I have done this when testing new recipes. Use a springform pan and you can slice it. Add fruit or other toppings and you've got an amazing dessert.
Equipment I use to make Tiramisu:
If you enjoy delicious desserts you may also like these recipes:
One of my favorite desserts will always be Tiramisu and it's so easy to make I thought I needed to do a Tiramisu Recipe Step by Step tutorial for everyone.