My easy-to-make and amazingly delicious Tiramisu recipe is made with coffee-soaked ladyfingers, creamy mascarpone, homemade whipped cream, and dusted with cocoa powder for the perfect finish on this classic Italian dessert.
And don't worry, my Tiramisu Recipe is made without using raw eggs!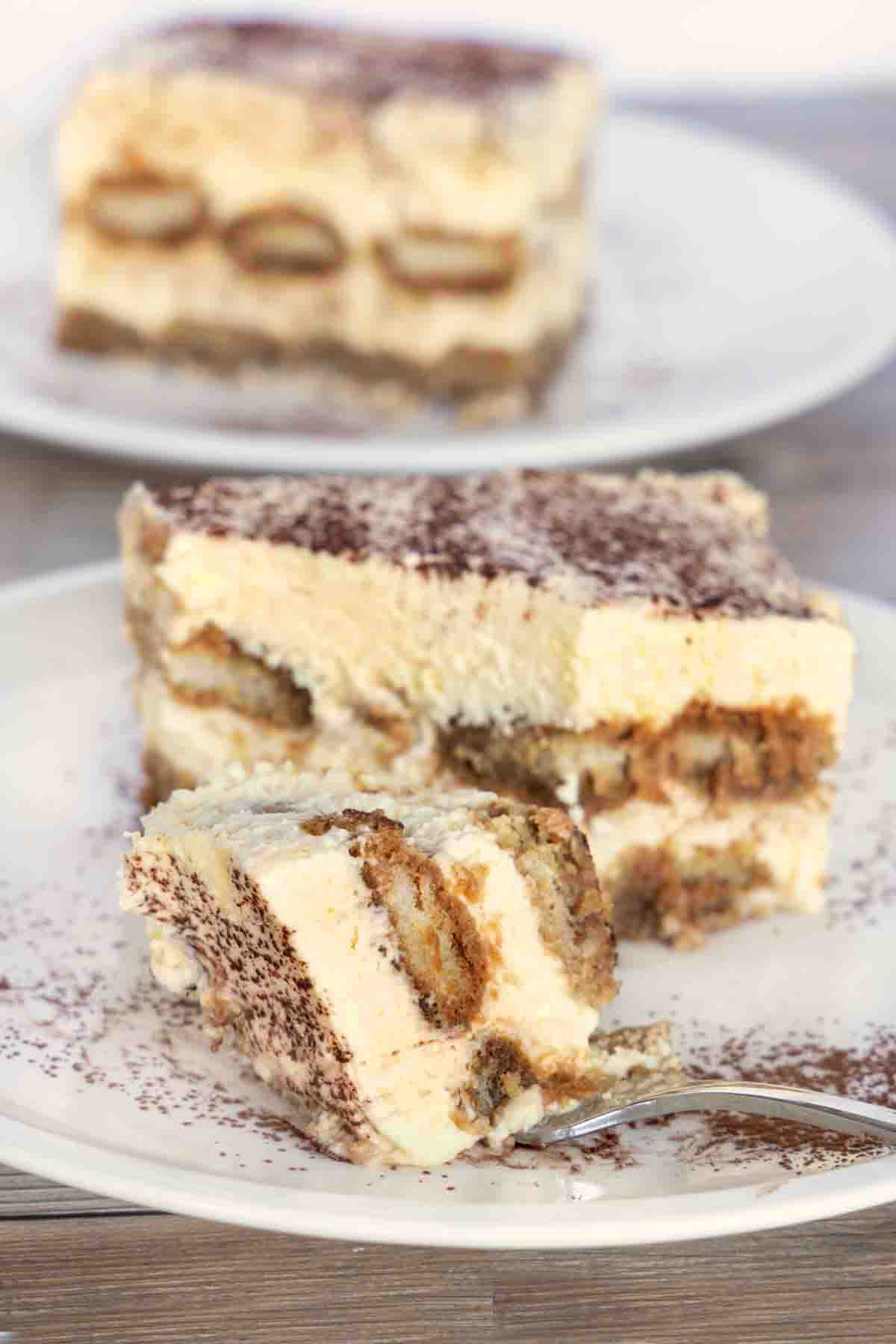 I have tried many recipes for tiramisu over the course of my lifetime, and I can promise that you'll agree that this is The Best Tiramisu Recipe you'll ever make! It took many attempts to perfect my recipe, and I'm happy to share it with my friends and followers so they can enjoy my all-time favorite dessert!
My tiramisu recipe may be a little different than most that claim to be "authentic tiramisu," but truth be told, there are as many different recipes as there are Italian grandmothers, each with its own little twist. Some of which aren't really tiramisu at all.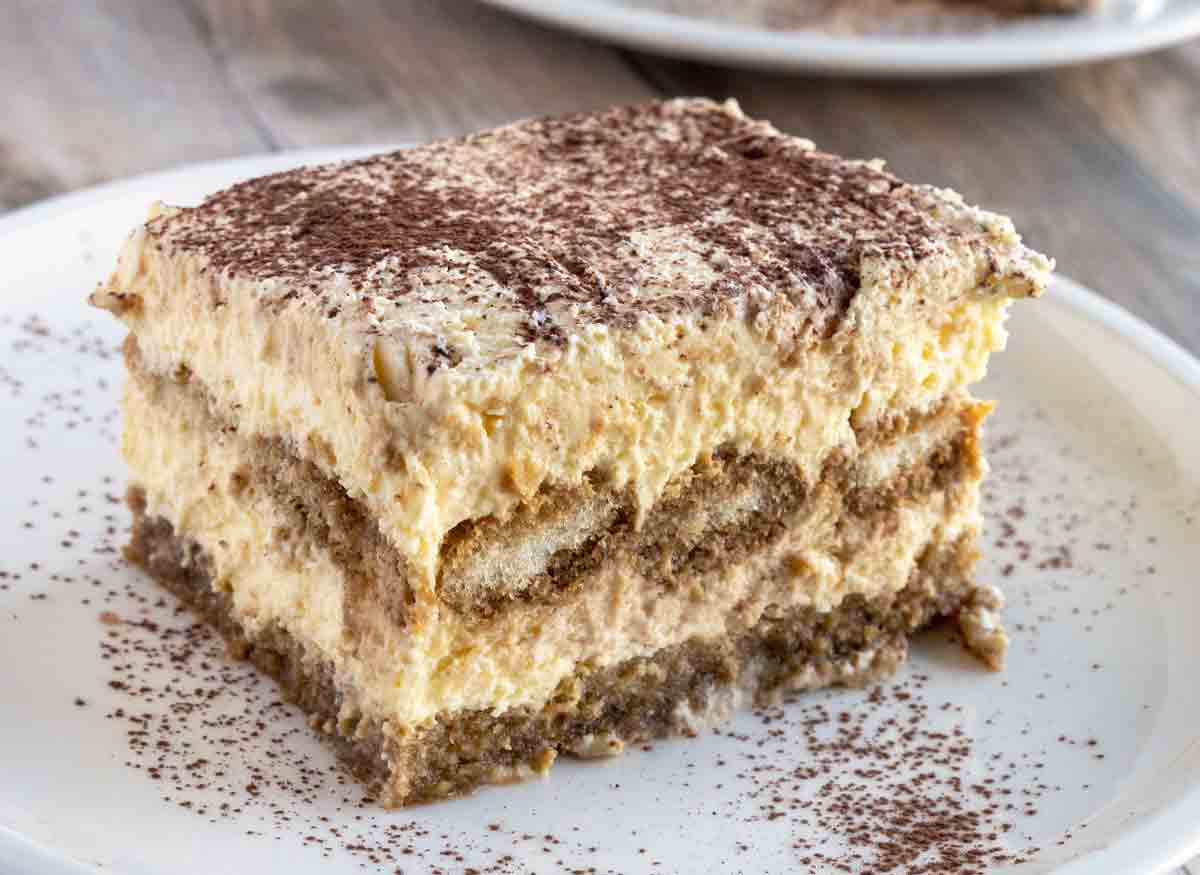 My tiramisu recipe speaks of a time when I first sampled this Italian classic when food had a magical quality all its own. When Mama Jeanette saw the best in me and taught me how to make Authentic Italian Tiramisu. I am forever grateful for all her lessons in life and cooking.
Ingredients
I've had so many questions about the process of making Tiramisu that I've added step-by-step pictures to help you along the way.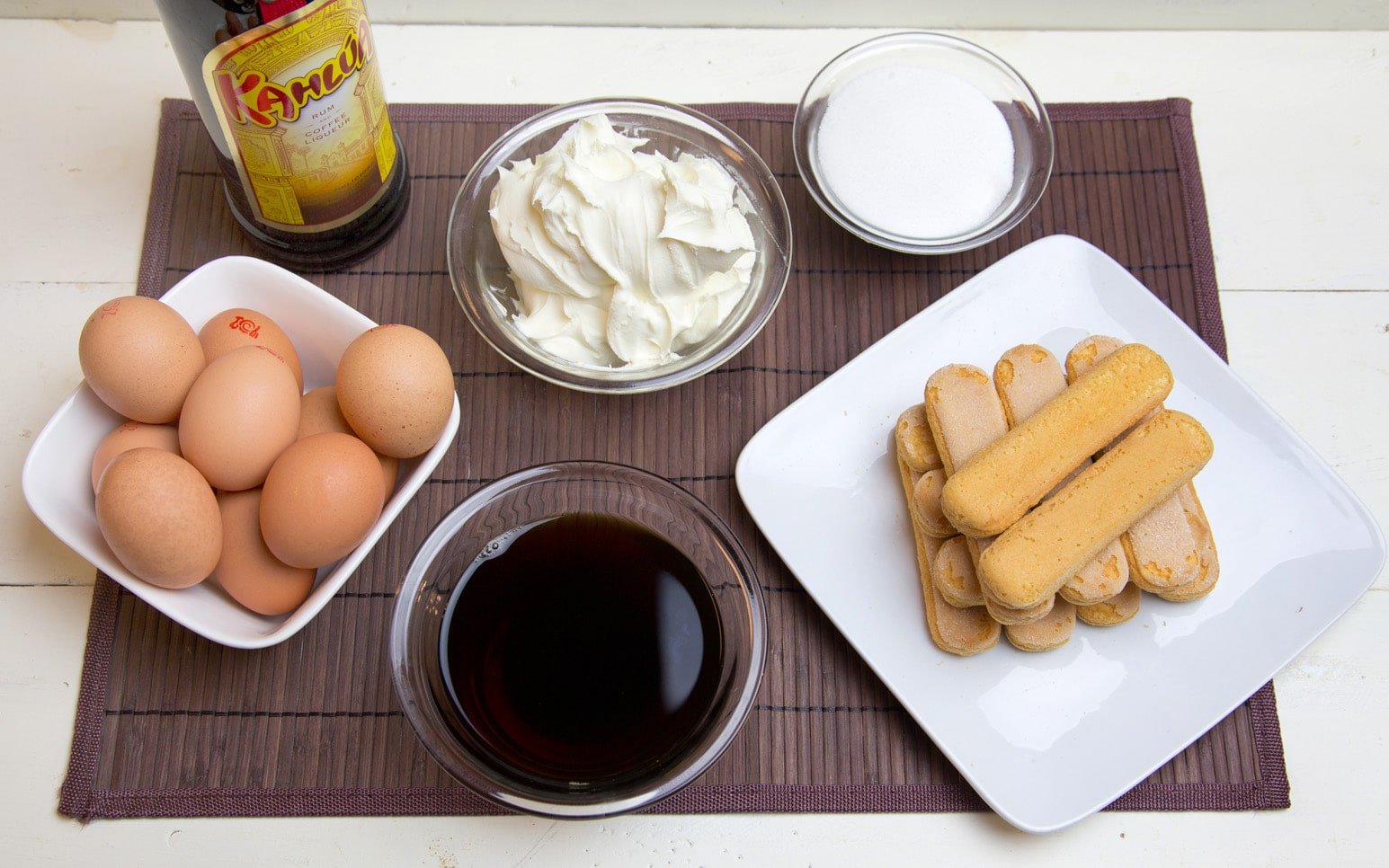 Let's start by gathering the ingredients we need to make Authentic Italian Tiramisu. In Chef Speak, this is called the "Mise en Place," which translates to "Everything in its Place."
Not only does setting your ingredients up ahead of time speed up the cooking process, it also helps ensure you have everything you need to make the dish.
Chef Dennis Tip: Have the eggs and mascarpone at room temperature before making this recipe. That will help them mix together more smoothly. You only need egg yolks for this recipe, so save the egg whites for a healthy omelet or meringue.
What is Mascarpone?
Mascarpone is basically the Italian version of cream cheese. It is made of whipped cream, stabilized with an acidic ingredient such as lemon juice or citric acid. Mascarpone cheese has a smoother consistency; it's milder in flavor and has twice as much fat as cream cheese. Cream cheese can be substituted for mascarpone, but the flavor and consistency won't be the same.
*Galbani is my first choice for mascarpone. Bel Giosi and Vermont Creamery are also good choices. Always make sure the mascarpone has a long use-by date. Old mascarpone can cause the tiramisu cream to be too loose to set properly
How to make Tiramisu Cream
It's a lot easier than you might think to make tiramisu. Just follow my step-by-step instructions, and you'll be making tiramisu better than your favorite local restaurant!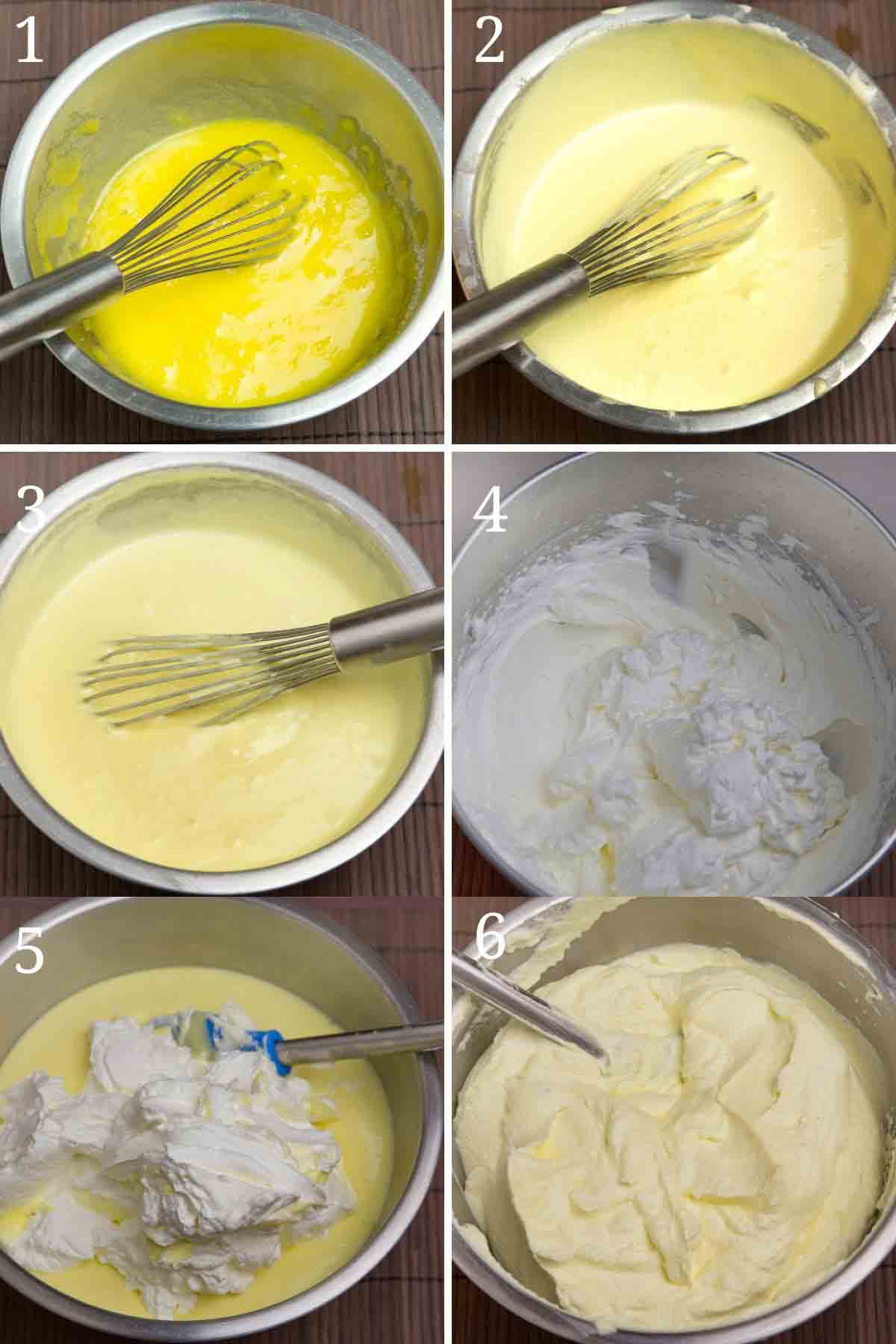 The first step is whipping the egg yolks (approx. ½ cup) and the sugar until they are very thick. *One of the mistakes people tend to make is under-whipping the egg mixture.
Using a double boiler method with a bowl over a pot of simmering water, whip the mixture until it has almost doubled in volume and is thick.
Add room-temperature Mascarpone to the whipped yolks, and mix until well combined. Don't overmix; this can cause curdling. *Mascarpone only needs to get to set out for 15-20 minutes. Don't let it get warm.
In a separate bowl, use an electric mixer to whip the cream to stiff peaks (a hand mixer or stand mixer is fine). This process should be slow, starting on low and increasing the speed gradually over ten minutes. **This method is how you keep the whipped cream from breaking. The cream should be ice-cold and as fresh as possible. Look for heavy cream with the longest expiration date.
Gently fold the whipped cream in the mascarpone mixture and refrigerate until you are ready to assemble the tiramisu.
Chef Dennis Tip: Always use the freshest products available. If the eggs, cream or mascarpone are close to the expiration date, they can break down in the recipe.
How to make Perfect Whipped Cream
Whipping your cream is also where some people make a mistake. The idea with whipped cream is to do it slowly. Using an electric mixer, begin whipping the cream on low, increasing the speed over 10 minutes. This makes a whipped cream that will last for days in your fridge without the aid of gelatin.
*If you make whipped cream as a topping for desserts, don't forget to add sugar and vanilla; for the tiramisu, we are not adding powdered sugar or vanilla to the mixture.
Why is my Sabayon grainy?
If you used regular sugar instead of superfine / castor sugar, your finished sabayon might be grainy. That's okay. It will finish dissolving while your tiramisu is firming up.
*If you can't find superfine sugar or caster sugar, you can always pulse your sugar in a food processor to make the grains smaller.
Chef's Pick
Superfine Caster Sugar
Superfine caster sugar dissolves easily and is perfect for making tiramisu and many of your favorite desserts and whipped cream.
Buy On Amazon
This post includes affiliate links. As an Amazon Associate, I earn from qualifying purchases.
12/11/2023 09:48 am GMT
Why did my sabayon curdle?
Over-whipping can cause the fat to separate, causing the mixture to curdle.
Allowing the mascarpone to get too warm can wreak havoc with the fat in the mascarpone, causing it to curdle.
Using mascarpone that is too cold can cause curdling. Let it sit out for 15-20 minutes before using.
The brand Bel Gioso has been reported to cause curdling, although I have never experienced this.
How to make Tiramisu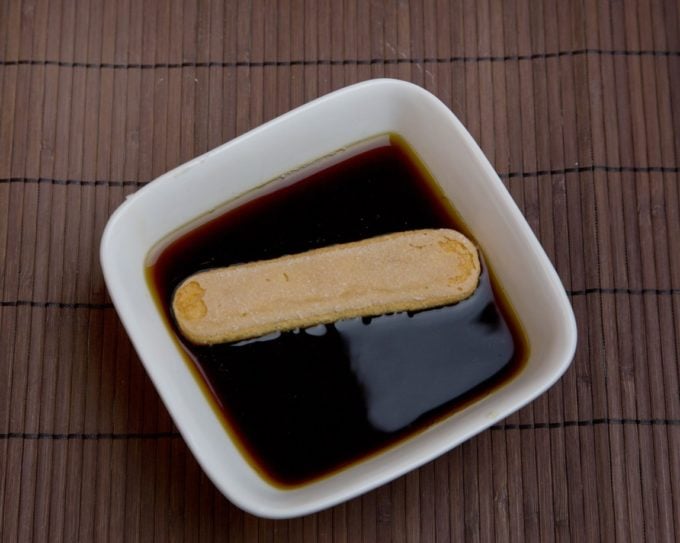 The first step is a quick dip of the ladyfingers in the coffee/Kahlua mixture. The coffee flavor of the Kahlua enhances the overall flavor, but it can be left out if you want to make this dessert alcohol-free. And if you're not a fan of Kahlua, you can use Gran Marnier, dark rum, or Marsala in its place.
*Instant espresso powder can be used to make the coffee for dipped ladyfingers.
How do I prepare the ladyfingers:
Dip the ladyfingers in the coffee mixture. If you don't want the added caffeine, decaf coffee or decaf espresso can be used.
Brushing on the coffee mixture instead of dipped ladyfingers is a great way to control how much liquid gets on the ladyfingers.
Only use crunchy Savoiardi (Italian ladyfingers); cake-style ladyfingers will get too soft.
Chef's Choice
Savoiardi Ladyfingers
These Savoiardi ladyfingers are the perfect choice for making tiramisu. The crisp light cookie makes all the difference in this classic Italian dessert.
Check Price On Amazon
This post includes affiliate links. As an Amazon Associate, I earn from qualifying purchases.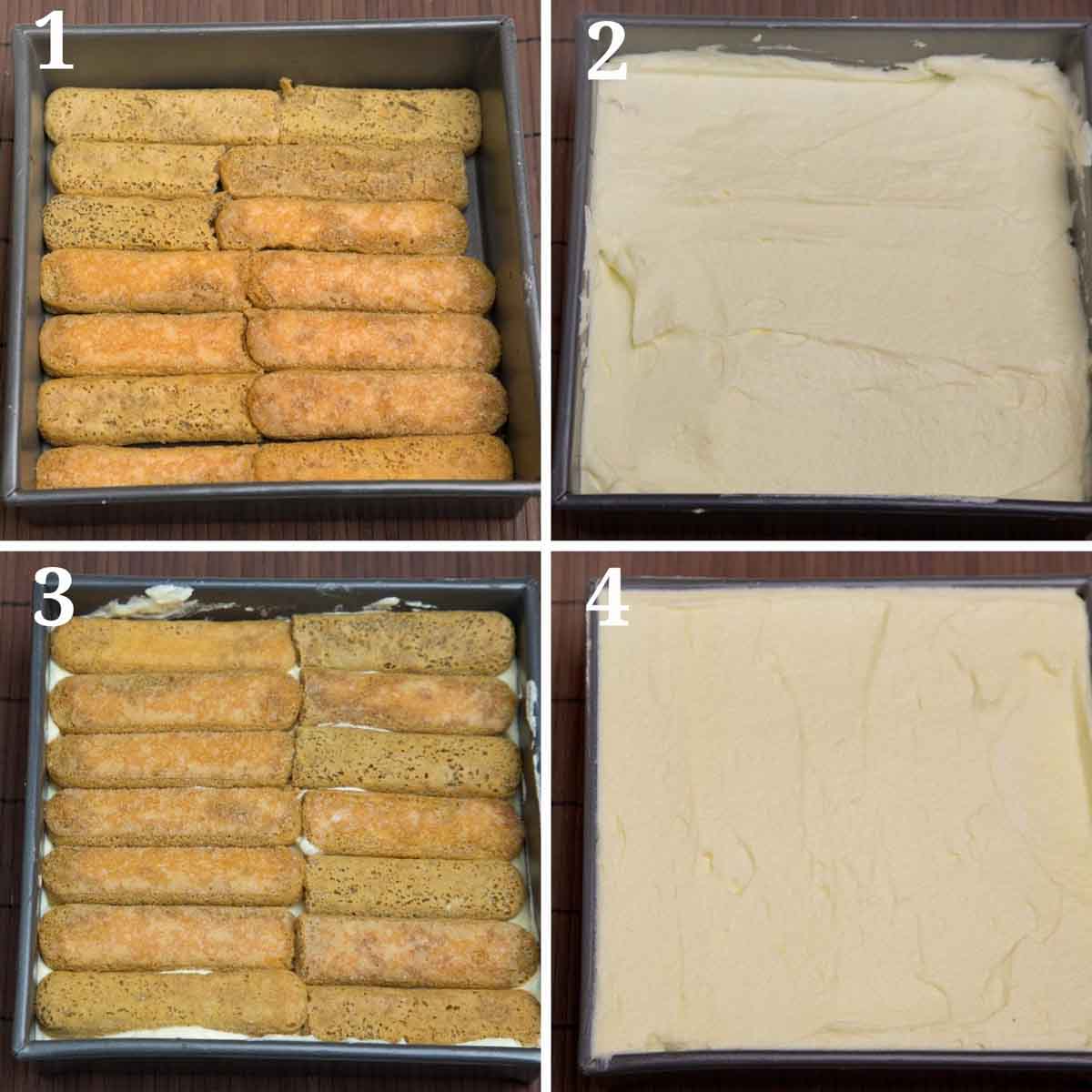 Set your pan up with a layer of coffee-soaked ladyfingers. (Standard 9″x 9″ pan)
Then add your first layer of tiramisu cream mixture. Use half of your mixture and spread it evenly.
Add a second layer of prepared ladyfingers to the pan.
Add the remainder of the tiramisu cream mixture and spread evenly.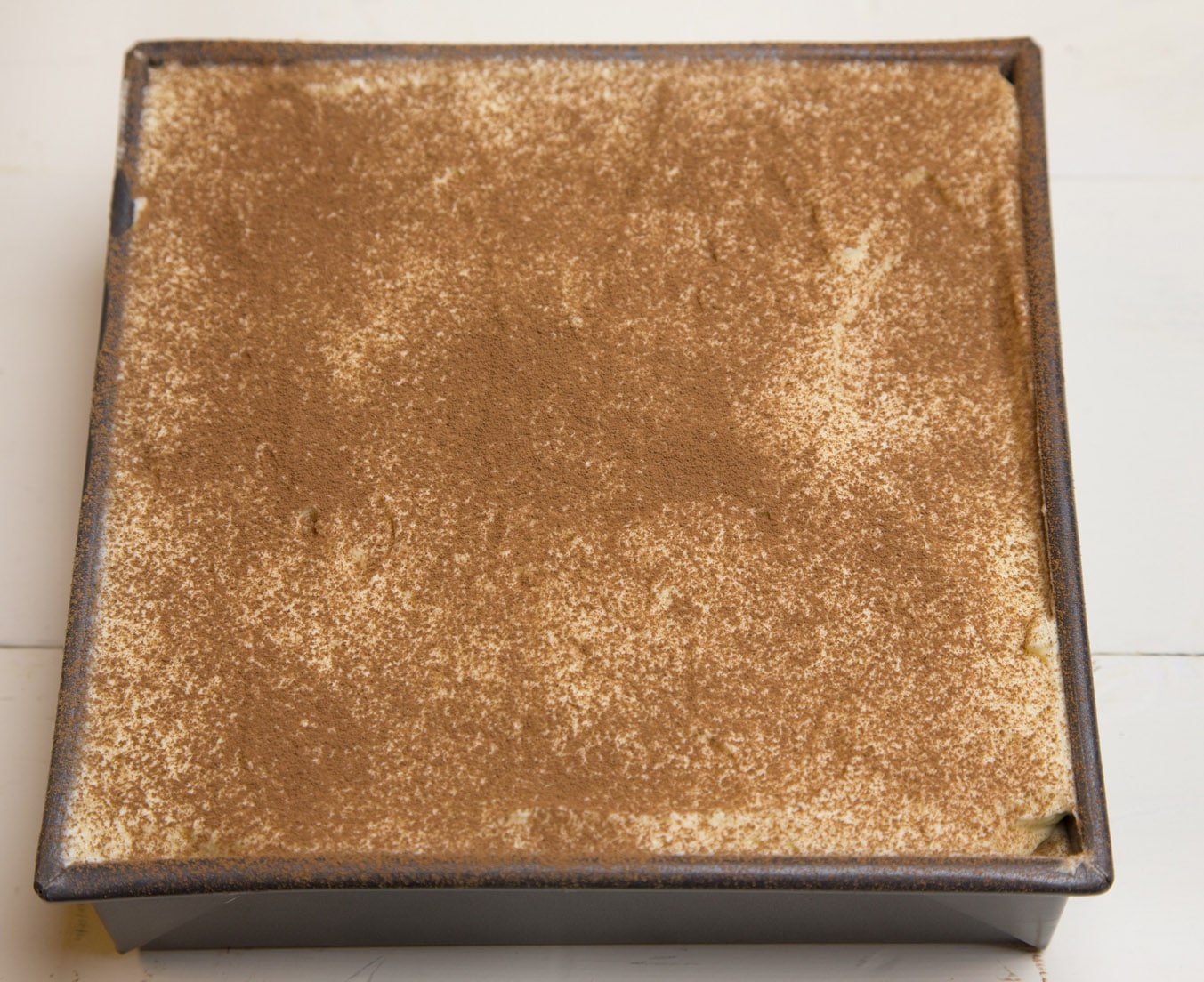 Dust the tiramisu with cocoa powder and you're finished!
Now comes the hardest part. Let the tiramisu set up for at least 6 hours; overnight is best. This tiramisu can be made a day or two ahead of time and should last in your fridge for up to a week.
Chef Tips to Make the Best Tiramisu:
Quick Dip – Dip the ladyfingers one or two at a time. A quick dip on each side is enough. You can also use a brush to coat the ladyfingers with the coffee mixture.
Do not over-soak the ladyfingers or the layers will be soggy and not hold up.
Double Boiler – When whisking the egg yolks and sugar over the double boiler, make sure the bowl is not touching the water beneath it.
Allow the yolk mixture to cool until it's just slightly warm by using the whisk to help disperse the heat. This will cool down the mixture quicker.
Use very cold whipping cream -whip the cream slowly over about 10 minutes and the cream will be more stable and hold up.
Do not overmix the cream– When folding the cream into the mascarpone sabayon mixture, do not overmix, or it may become grainy.
Allow the tiramisu to chill for at least 6 hours or overnight before slicing to allow it time to fully set up.
Tiramisu can be made in advance- it holds up well and can be made up to two days ahead of time.
Tiramisu will last refrigerated for up to 6 days.
FAQ about Tiramisu
Can I freeze tiramisu?
Yes, you can freeze tiramisu. Use plastic wrap and place it directly against the surface (without cocoa powder) to prevent skin from forming; cover tightly. Repeat the process with an additional layer of plastic wrap and then cover with tin foil and freeze. To defrost, let it sit at room temperature for 15-20 minutes. After it has defrosted, add a layer of cocoa powder and serve.
Can I make the tiramisu without alcohol?
Yes, you can. Leaving out the Kahlua is not a deal-breaker, just use more coffee when dipping the ladyfingers.
What can I substitute for mascarpone?
There are two methods that you can use to make a faux mascarpone. You won't get quite the same flavor, but it will work. Blend 8 ounces softened full-fat cream cheese with ¼ cup heavy cream, and 2 tablespoons softened unsalted butter; OR – Blend 8 ounces softened cream cheese with ⅛ cup whipping cream and ⅛ cup sour cream.
Can you use raw eggs in tiramisu?
No, you should not use raw eggs! The eggs in my version of tiramisu are slowly cooked over the simmering water as you whip the sabayon. This tiramisu will be safe to eat if you follow my directions.
How to Save your Tiramisu if it doesn't set:
If, for some reason, your Tiramisu doesn't firm up, don't throw it away! You can freeze the cream and have an amazing frozen dessert. I have done this when testing new recipes. Use a springform pan, and you can slice it. Add fruit or other toppings, and you've got an amazing dessert.
Equipment I used
More Recipes You'll Love!