This post includes affiliate links. As an Amazon Associate I earn from qualifying purchases.
This is a sponsored post written by me on behalf of Tyson Foods, Inc. All opinions are entirely my own
I love Football Season and I love to eat so when Tyson Foods, Inc asked me to create a Tabletop Tailgate Party using their products I was half way to the store before I said yes!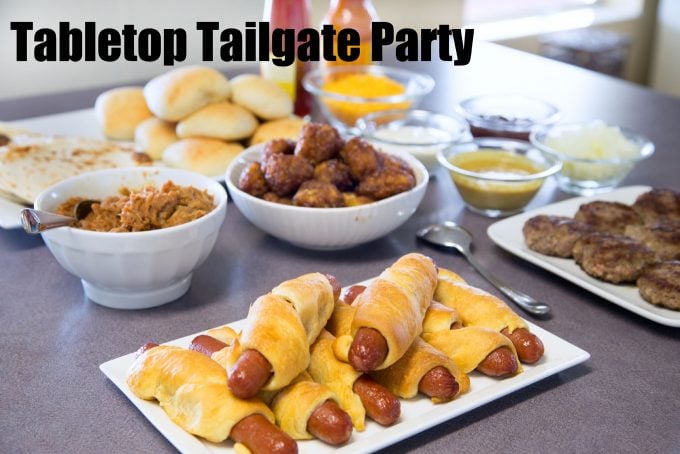 Yeah I know, I'm a chef and I can make anything from scratch. But the truth is I don't always want to spend time in the kitchen, slaving over a hot stove.
Sometimes I want to let someone else do the majority of the work for me so I can feed my guests without getting worn out in the process. After all, it's about Game Day, tasty treats and enjoying the game with my friends.
I've mentioned before that I'm a Walmart shopper, and that I enjoy shopping there for everything I need, including groceries. Not only can I depend on Walmart for quality but also for a great variety of products. And Tyson makes it ah-mazingly easy to pick up everything I need for an easy-peasy Tabletop Tailgate Party! So the first step in creating delicious Game Day Snack Hacks was a trip to Walmart.
First on my list of goodies were Tyson® Any'tizers® Snacks and you've got lots of delicious flavors to choose from. I went with the Sweet & Spicy Boneless Chicken WYNGZ because I've never had them before and they sounded delicious.
I couldn't help myself with so many delicious diversions to choose from and ended up with a sandwich-themed Tabletop Tailgate Party to entertain my friends that were coming over to watch the game. Pick your favorites the next time it's your turn to supply the food for the game. And remember it's not about spending lots of time in the kitchen, it's about your friends and football.
Hillshire Farm® Smoked Sausage (Beef Sausage Link)
Hillshire Farm Cocktail (Hillshire Farm® Lit'l Smokies®)
Jimmy Dean® Roll Sausage
IF Tyson Chicken Wings (to make your own style Tyson Individually Frozen Chicken Wings)
Tyson Any'tizers (boneless or bone-in)
Tyson Crispy Chicken Strips
Ball Park® Frozen Pulled Pork
Ball Park Hot Dogs

Since I was doing a sandwich-themed tailgate party, I opted for slider rolls and tortillas. Guys love to eat with their hands and this makes it easy to do.
I did go all gourmet on the guys with my snack hack of Ball Park Hot Dogs wrapped in crescent rolls. They were really good with the honey mustard I made to go with them. Needless to say, that plate was empty in record time.
I grilled up the Jimmy Dean All-Natural Sausage on my grill pan which let them get a little crispy in parts for sliders.
My favorite were the Sweet & Spicy Bourbon Chicken Wyngz. I used them on tacos, sliders and popped a few of them in my mouth (while no one was looking).
The Ball Park Shredded Pork made delicious little sliders. The pork had to be the easiest to make and most convenient, coming in small microwavable pouches that you could heat up in a matter of minutes. Luckily I bought extra, the guys ate all of the first wave of food before halftime! I did manage to sneak off with my first plate of deliciousness before the guys completely devoured everything on the table. They think it's funny that I take pictures of my food, but don't really care what I do as long as I keep feeding them. If you're excited about
They think it's funny that I take pictures of my food, but don't really care what I do as long as I keep feeding them. If you're excited about Game Time Season and love to create Snack Hacks for hosting small gatherings of friends and family during the weekend games, turn to Tyson Foods is a brand you can trust. #TabletopTailgate
If you've tried my Tailgate recipes or any other recipe on askchefdennis.com please don't forget to rate the recipe and let me know where you found it in the comments below, I love hearing from you! You can also FOLLOW ME  on Instagram @chefdenniseats and @chefdennistravels,  Twitter and Facebook