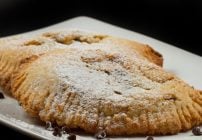 You'll love this old world homestyle Italian pastry. The easy to make pie crust will make my Sweet Ricotta Hand Pies a family favorite for years to come.
This post includes affiliate links. As an Amazon Associate I earn from qualifying purchases.
Perfect for breakfast or dessert, my Sweet Ricotta Hand Pies will add a taste of the old world to your table. They're easy to make and will make your mornings feel like a special occasion.
Trying to decide what to make is no easy task. There are so many memories and recipes in my head that picking one to share can sometimes be daunting. So when I hit a creative brick wall I do what many people do I take a nap.
When I woke up the memory was as clear as that morning so many years ago when Mama Jeanette had made those sweet little pies for breakfast. She had given me her favorite wake up call "daylight's burning sonny boy, get yourself up, there's work to be done and breakfast is on the table". That morning breakfast had been these sweet ricotta hand pies.
I never learned how she made them but I do remember them all to well, they weren't quite as good as Mama Jeanette's but they did rekindle even more memories with each taste of that sweet ricotta pie, and for a few moments I was back in that old kitchen as a young boy so many years ago.
Someday's I stop and think where has the time gone, and what have I done my life. One of my favorite songs is by Trisha Yearwood, it's called "The song remember when", it talks about how we can hear a certain song on the radio, and it instantly transports us back to that time, whether it be good or bad, it takes us home. I feel the same away about food, there are certain dishes that I will always associate with times in my life.
Today my friends is one of those of days and one of those dishes. I had all but forgotten this sweet ricotta pastry that Mama Jeanette had made for me, and today the memories came flooding back like a tidal wave….. I hope I did them justice with my version of her sweet ricotta pie, and perhaps if you try them, you can make some of your own sweet memories to go along with them.
Print Recipe
Sweet Ricotta Hand Pies
You'll love this old world homestyle Italian pastry. The easy to make pie crust will make my Sweet Ricotta Hand Pies a family favorite for years to come.
Ingredients
Sweet Cheese Filling
1

cup

Mascarpone cheese

1

cup

Ricotta cheese

1/4

cup

flour

1/4

cup

sugar

1/8

tsp

salt

1

large egg

1

tsp

lime zest

1/2

tsp

vanilla powder

1/4

tsp

cinnamon

1/2

cup

mini chocolate chips
Sweet Pastry
4

cups

flour

2/3

cup

sugar

1

tsp

baking powder

1/2

tsp

salt

8

oz

unsalted butter very cold cut into pieces

(2 Sticks)

2

oz

ice water

4

large eggs
Instructions
Sweet Cheese Filling
In a mixing bowl add ricotta, mascarpone, sugar, flour, egg, lime zest, vanilla powder, salt, and cinnamon and blend together

Add in chocolate chips

Refrigerate for two hours*
Sweet Pastry
In the bowl of your food processor, add 4 cups of flour, baking powder, sugar and salt and pulse a few times to mix.

Add the very cold butter slices to the food processor and pulse until all the butter has been incorporated

Add the eggs and pulse until it begins to ball up on the blade of the food processor.

If your dough looks too dry and a ice water a little at a time until it starts to come together.

Place dough on floured surface and roll into two logs.

wrap in plastic and refrigerate until you are ready to use them.
Assembly
Preheat oven to 350 degrees

remove dough from refrigerator for at least 1/2 hour.

Cut logs into 8 pieces each and roll them into small circles, on a floured surface, using a rolling pin.*

Place a tablespoon of filling in the center of the dough and close to make a half moon.

use a fork to seal the edges, cutting off any excess dough.

repeat until all the pies are made.*

Bake for 20-25 minutes or until the dough is a golden brown.
Notes
*I put my mixture into the freezer for about an hour to get it to firm up
*use a french knife to go under the pastry to lift it off the work table
*If dough is too soft, refrigerate for about 30 minutes until its firms back up.
Nutrition
Calories:
405
kcal
|
Carbohydrates:
41
g
|
Protein:
8
g
|
Fat:
22
g
|
Saturated Fat:
13
g
|
Cholesterol:
104
mg
|
Sodium:
237
mg
|
Potassium:
103
mg
|
Fiber:
1
g
|
Sugar:
15
g
|
Vitamin A:
705
IU
|
Calcium:
87
mg
|
Iron:
1.9
mg