Makes three 4-inch tarts. Make the tart dough and bake off the shells first. Gather ingredients and play with designs while they're in the oven.
 It's hard to believe that an entire month has gone by at school…..where does the time go?  Allow if you ask my body, it'll tell you it feels more like a year!   Pretty soon we'll start getting our much needed extra days off….sigh   I still remember looking at the school calendar as I contemplated going to work there.  I couldn't believe we got that many days off!   Now I live for the extra days, and we'll be getting one towards the end of this month, then another on November 1st, then it's Thanksgiving and that means Christmas is just around the corner……I'm almost giddy with anticipation!!    Gotta calm down now, I think I just reminded everyone not to wish their lives away, and  to enjoy the fall…..I have remember that……sigh
But as time marches on, one thing is certain, until you get tired of rambling, I'll keep posting!   That being said, It's Guest Post Friday…..WooHoo!!    Today my friends it's my great pleasure to introduce you to Lynn from Sacatomato.    When visiting with Lynn, you'll find not only delicious creations like her Roasted Tomato Soup  or her Gluten Free Fig Muffins , but she'll also take you to festivals and happenings in and around the Sacramento area.  It's like having your own personal guide, taking you to the best places in town!   But that's not all,  there are restaurant reviews, wines and did I mention Local Artisan products?   I guess what I'm trying to say is you'll never be bored when you visit Sacatomato  and as a bonus you'll also get plenty of drool worthy images to lust over!
So sit back, relax, put your feet up and get ready for fig-a-liciousness as I give you………
Sacatomato
Savor the Harvest With An Easy Tart
Creativity.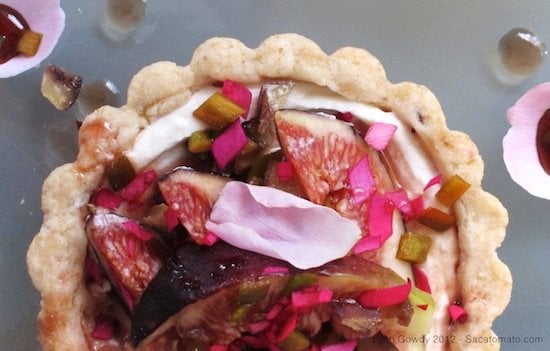 When chef Dennis invited me to be a guest on his blog, the wheels started churning nonstop, like my food mill with tomato sauce these days.  The creative process started.
Each week chef Dennis shares some creation: an item he developed, resurrected, or altered to make healthier, like this Buffalo Shrimp Po Boy.  He can take something old and view it in new ways or from a different perspective.  That's creativity and it's contagious.  That's how this sweet and savory fig-a-licious tart was born.
I'd had tarts on the brain after making them with a friend a short time ago.  Not wanting to totally give in to my sweet tooth, I put various items on the counter: a creamy soft goat cheese, roasted chestnuts, thyme, walnuts, a long Italian green pepper, some recently made rhubarb syrup, Maldon sea salt and figs.
I started with a simple butter crust- pate brisée – with the addition of thyme and walnuts.  Now I always add an herb and nut to this dough for flavor, texture and an inviting aroma.
Putting the tart together was a fun process, it's playing with play dough.  A spreadable ingredient, something to put items on, is a great base from which to build.  I like creamy goat cheese, e.g., Laura Chenelor Redwood Hill Farms because it's tangy, soft and easy to spread.  And you can easily mix things into it.  I added a little rhubarb syrup and fresh thyme.
With base established, I mapped out possibilities and played around.  This was the end result.
I added figs, sprinkled with peppers and chestnuts, a small pinch of sea salt over the top, and a drizzle of rhubarb syrup.  The finale, rose petals.  My friend Julie always puts edible flowers on tarts, nice idea.  Thanks to Julie and Chef Dennis for inspiring creativity!
I hope you'll try creating your own tart or follow my recipe as a base.  Making this tart is fun time in the kitchen.
Makes three 4-inch tarts. Make the tart dough and bake off the shells first. Gather ingredients and play with designs while they're in the oven.
Ingredients
Tart Dough
1

cups

¼ all-purpose or pastry flour

1

stick cold butter

pinch of kosher salt

big pinch of fresh thyme

chopped (or small pinch of dried)

cup

¼ walnuts

finely chopped

cup

¼ ice water
Filling
6

ounces

to 8 creamy goat cheese

about 1 cup

1

tablespoons

to 2 syrup of your choice or balsamic vinegar

I used rhubarb syrup

8

t

to 10 figs

cut into quarters (if fresh figs aren' available, soak dried figs in warm water then drain)

1

inch

sweet long green pepper

cut into ¼- pieces (1/4 to 1/3 cup)

4

pieces

roasted chestnuts

chopped into small

3

to 4 fresh rose petals

cut into strips (yes they are edible!)
Instructions
Tart Dough
Put flour into the bowl of food processor.

Cut butter into small pieces and put on top of the flour.

Pulse the butter into the flour until it resembles coarse meal. (It's OK if some of the butter pieces are larger.)

Turn on the food processor and gradually add the ice water through the tube, just until the dough begins to come together. You may not need all the water. The key here is to not add too much water; you don't want a dough ball. You want dough that barely holds together.

Put dough on the counter and gather it together with your hands into a loose ball. Place on a piece of plastic wrap, quickly form into a disk and refrigerate for 30 minutes.

Preheat oven to 400 degrees F.

Divide dough into three pieces. One at a time (put other two back in refrigerator), place dough on a lightly floured countertop.

With a lightly floured rolling pin, roll the dough to ¼-inch thick circle. Place in a 4-inch tart pan.

Lightly press the dough into the bottom and up the sides. Roll over the top with the rolling pin to get rid of excess dough. Repeat this with the remaining two pieces of dough.

Pierce the bottoms all over several times with a fork. (Prevents the dough from puffing up while baking.)

Place a piece of parchment paper over the dough, then put beans, rice or baking weights on top. Bake for 20 minutes, or until golden brown. Cool on a wire rack then carefully remove.
Filling
Mix goat cheese with 1 tablespoon of syrup. Consistency should be like soft peanut butter so add more if necessary.

Divide between the three tart shells and spread evenly to coat the bottom.

Arrange figs on top of spread. I placed them in a circle then randomly put a few on top. Two to three figs per tart work well.

Drop the pepper and chestnut pieces over the top, then sprinkle with rose petal strips.

Finish with a zigzag drizzle of syrup. Savor every bite!
What perfect tart for the season, so many wonderful flavors and its just beautiful!  I love when food looks as good as it tastes!  Now before you forget, head on over to Sacatomato and say hi to Lynn, just don't forget to tell her Chef Dennis sent you!   Spend some time looking around, I know you'll find a lot of new ideas going through recipes, and you never know what you might discover in the other sections of her blog!  But one things for certain, you'll make a new friend, and I'm sure you'll enjoy the journey as you wander through the pages of her blog.
Have a wonderful weekend my friends, get out and do something fun,  find a quiet little bistro with outside dining, bring a sweater and enjoy the cool crisp evening…sigh
I think Philadelphia is beckoning me..time to make some reservations!   Cheers!