Cook up deliciousness just like your favorite restaurant my with my stuffed rack of lamb. It's easy to make and will definitely be a show stopper!
Total Time:
1
hour
15
minutes
This post includes affiliate links. As an Amazon Associate I earn from qualifying purchases.
Restaurant Style Deliciousness just got easier with my Stuffed Rack of Lamb!
If you're looking for a show-stopper for your next dinner party, or for an extra special dinner at home, my Stuffed Rack of Lamb is exactly what you're looking for.
What Ingredients do You Need to Make a Stuffed Rack of Lamb?
Let's get our ingredients ready (aka mise en place). Lamb racks come two to a cryovac pack, so keep that in mind when purchasing them.
You'll find lamb is very expensive at your local grocer, but big box stores like Sam's Club usually have them at a much better price, and I've found the quality of their lamb to be excellent.
You'll also find that New Zealand lamb is smaller than the American variety and fairly mild in flavor.
What can I stuff a rack of lamb with?
When stuffing a rack of lamb you can be as creative or simple as you desire. Changing the ingredients to include what you enjoy is the key to enjoying your time in the kitchen. If you like what you're eating, you're going to be happier creating delicious dishes in your own kitchen.
Bread and herb stuffing
Bread, herb and ground lamb (or pork sausage)
Bread, herb and bitter greens
Bread, herb apples (or pears), pecan and goat cheese (optional)
As you can see the options can be as creative as you like. The two common ingredients in all of the stuffings are bread and herbs and that is to give the stuffing substance to hold together and give the finished product eye appeal.
You can also simply roast the rack coating it with either oil or dijon mustard and your favorite seasonings.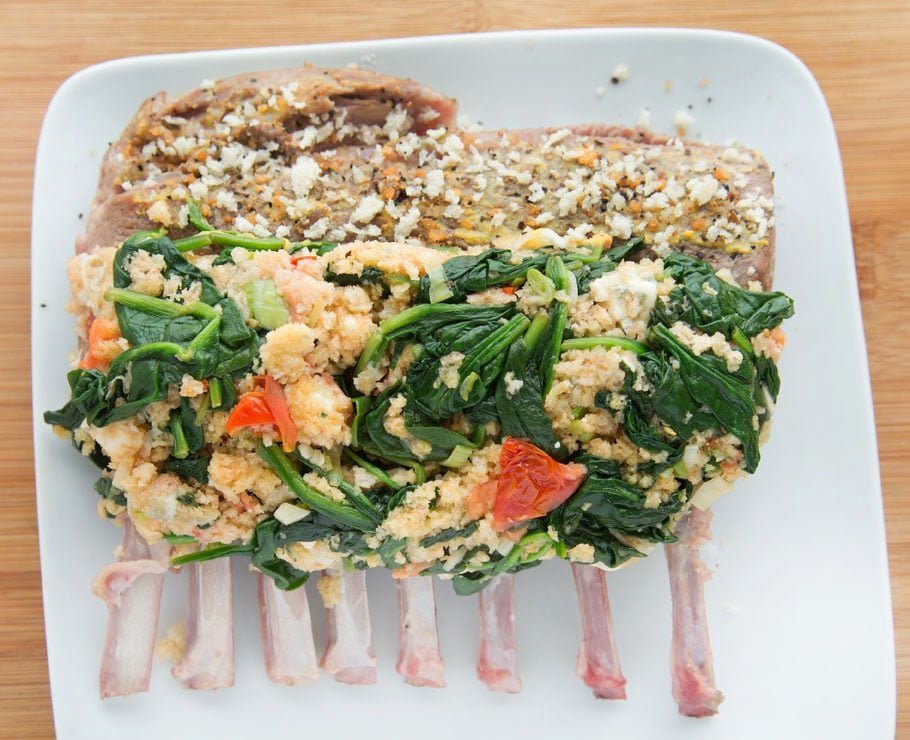 Once your ingredients are combined all the hard work is done and your stuffed rack of lamb is ready to roast. It really is that simple.
How do you make a restaurant-style rack of lamb?
The only thing you have left to do to make this an over the top meal is to make a demi-glace for the lamb. It's simply a stovetop reduction that will produce delicious results faster and easier than you thought possible!
Restaurant-style dishes are easier to make than you might think. Following a few simple rules and learning the techniques used by professional chefs will open up a whole new world of cooking to you. After all, it's not rocket science it's simply about the ingredients you use and the way you prepare them.
Can I Cut the Rack of Lamb into smaller portions?
Yes, you can. Prior to stuffing the rack of lamb, you can cut the rack in half or into 2 or 3 bone segments. Then stuff the segments and roast. The smaller racks will take less time to cook, so remember to keep an eye on them. You may need to reduce the cooking time by 30-40 percent.
Using a digital insta-read thermometer will help you cook the perfect Rack of Lamb.
If you enjoyed this recipe you might also like these recipes:
Print Recipe
Stuffed Rack of Lamb
Cook up deliciousness just like your favorite restaurant my with my stuffed rack of lamb. It's easy to make and will definitely be a show stopper!
Ingredients
2

lamb racks at room temperature

2

cups

baby spinach

2

tablespoons

scallions

chopped (shallots make a nice substitute)

1

clove

garlic

chopped

1

cup

bleu cheese cheese

1

cup

panko bread crumbs

1

egg

lightly beaten

1/2

cup

grape tomatoes cut in half

or roasted red peppers

Sea Salt and Black Pepper to taste
Demi-Glace
1

teaspoon

chopped shallot

1/2

cup

red wine

1/2

cup

beef stock

1

teaspoon

butter rolled in flour

beurre manie

lamb fat from roasting pan
Instructions
Clean some of the fat and silver skin from lamb. Season with sea salt and black pepper. (lamb should be at room temperature before roasting)

Place lamb meat side down in hot saute pan and allow the meat to sear well, then turn it over and sear the other side. Set aside until ready to stuff

Saute spinach until it starts to wilt, then add tomato halves and continue to saute for a minute, then add the chopped scallions and saute for another minute.

Remove the spinach mixture from the heat and allow to cool.

After the spinach mixture has cooled down a bit, place the mixture in a strainer and squeeze out as much of the liquid as possible in the strainer.

Place the spinach mixture into a mixing bowl and add the bread crumbs, cheese, and egg. Mix well and season with sea salt and black pepper to taste.

Take half the mixture and place it in the little gully between the high part of the lamb rack and the bones. Mound the stuffing evenly distributing on the top of the rack of lamb.

Repeat the process with the other rack, then season them both with a teaspoon of Montreal brand beef seasoning (or just cracked black pepper and sea salt) then sprinkle the meat with a little of the panko bread crumbs.

Place the Rack of lamb in a 400 degree preheated oven for about 20 minutes. Temp the lamb using a thermometer until it reads 125 degrees ( the internal temperature will rise 5-10 degrees more after removing from the oven) Allow lamb to rest 10 minutes before cutting.
Demi-Glace
Place chopped shallots in a small saucepan over medium heat. Add red wine and beef stock.

Bring mixture to a boil and allow to reduce by 50%.

Add butter rolled in flour to thicken the sauce, continue simmering on low for about 20 minutes or until reduced by half again.

The sauce should be thick enough to coat the back of a spoon. You want to the sauce to be thick enough to remain stationary on the plate, it should not be watery.

Add any lamb fat that was in the roasting pan to the sauce to kick up the flavor a little more.

Add sauce to plate, starting in a corner of the plate so you can see some of the sauce, then position the stuffed rack in the center of the plate and serve.

You can easily serve a half a rack per person with a seafood item for a surf and turf dinner!
Nutrition
Calories:
1165
kcal
|
Carbohydrates:
14
g
|
Protein:
47
g
|
Fat:
98
g
|
Saturated Fat:
45
g
|
Cholesterol:
257
mg
|
Sodium:
818
mg
|
Potassium:
824
mg
|
Fiber:
1
g
|
Sugar:
2
g
|
Vitamin A:
1940
IU
|
Vitamin C:
7.6
mg
|
Calcium:
264
mg
|
Iron:
5.1
mg