If you love toffee this easy to make version made with saltines will rock your world. Just beware saltine toffee is highly addictive and will keep you coming back for more!
This post includes affiliate links. As an Amazon Associate I earn from qualifying purchases.
How to make Saltine Toffee-
Last week at work there was a discussion among my staff about making toffee out of saltines. I just listened…over the years I have heard a lot of different recipe idea's but this almost made me laugh. Then I thought about it, my staff loves to eat, they love my food. So if they know what good is, then just maybe this Saltine Toffee was the real thing!
To be sure I reviewed the recipe with both Kathy and Christine, both had made it successfully…..hmmm, it didn't sound too hard, I mean it certainly wasn't an involved recipe…..how could it work? how could it really taste that good?? So I ate another 3 pieces……..yup it will work. So this weekend saltines in hand, I made the toffee.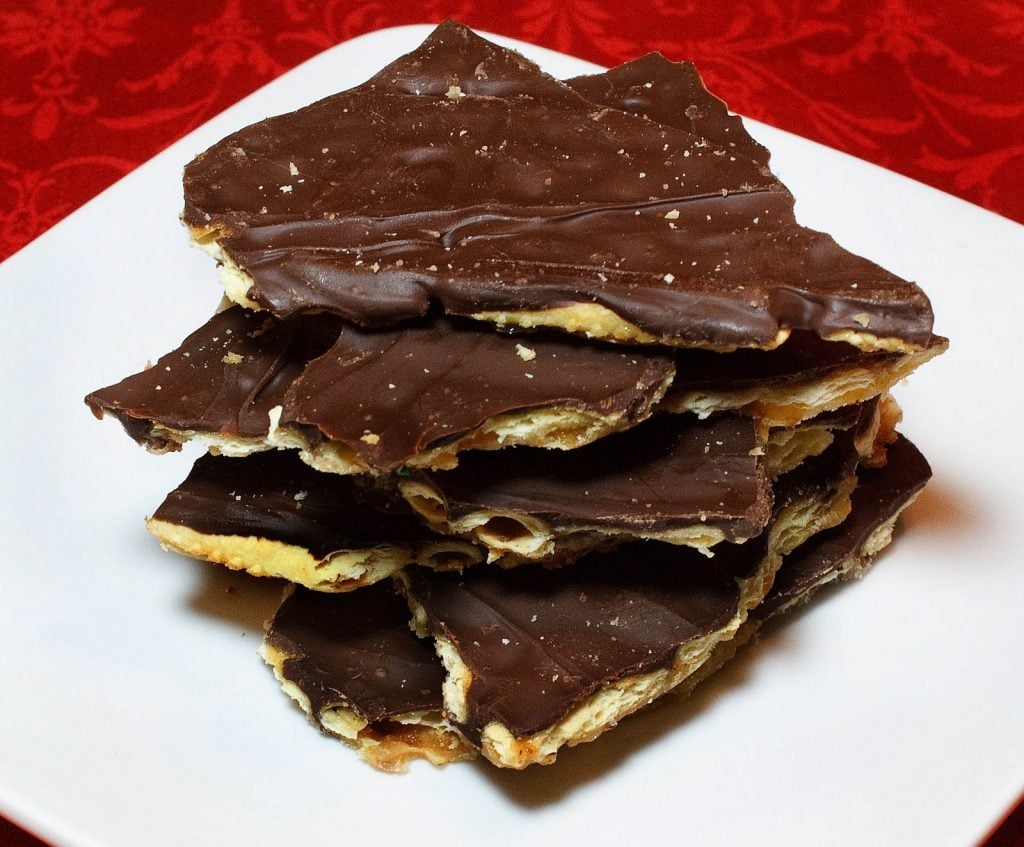 I made the Chocolate first, everything seemed to be working ok, although it didn't seem like I had enough chocolate, darn I need to start writing down recipes! So I added another bag of Chocolate chips, now I felt better, the chocolate spread nicely, and everything was covered. So into the freezer, it went. After about 15 minutes I took it out and started breaking up the bark. I anxiously stuffed a hunk into my mouth…..hmm, it wasn't the same…….too much chocolate taste, not enough toffee……just to be sure I ate another piece…no it's not the same. Where was that wonderful toffee taste? Sigh…..I really need to pay more attention when someone is giving me a recipe.
Not to be deterred I started again. I had white chocolate begging to be used! Ok, I need more toffee flavor! In my mind that gave me two options, 1. increase the amount of butter and sugar 2. decrease the number of saltines. I chose option 2.
I found a smaller baking dish, instead of the cookie sheet, and instead of using two packs of crackers, I used almost one. This would work, I could feel it (actually it was all the chocolate from the first batch I felt, sugar overload!!)….but not to worry, we would have toffee!
You can either allow it to cool naturally or if you're as impatient as I am, carefully lift the parchment paper at the ends overhanging out of the baking dish and place on a cookie sheet that will fit into your freezer.
Leave to cool in the freezer for about 20 minutes. The chocolate should be slightly frozen and when you slam it on the counter it should bread some. If not just use your hands to break it apart into pieces.
If you have a sweet tooth you might also like these recipes: