Making a rainbow layer cake or cupcakes is easier than you think! Have fun with the family and create this masterpiece in your kitchen this weekend.

One of my absolute favorite things to eat is cake. I have always loved celebrations of every kind because most of them involve cake. White cake, chocolate cake, marble cake, German chocolate cake, lemon cake. When I thought about what I wanted to post on Chef Dennis' blog, the first thing I thought of was cake. I am simultaneously celebrating one year of food blogging, so nothing sounds more fitting!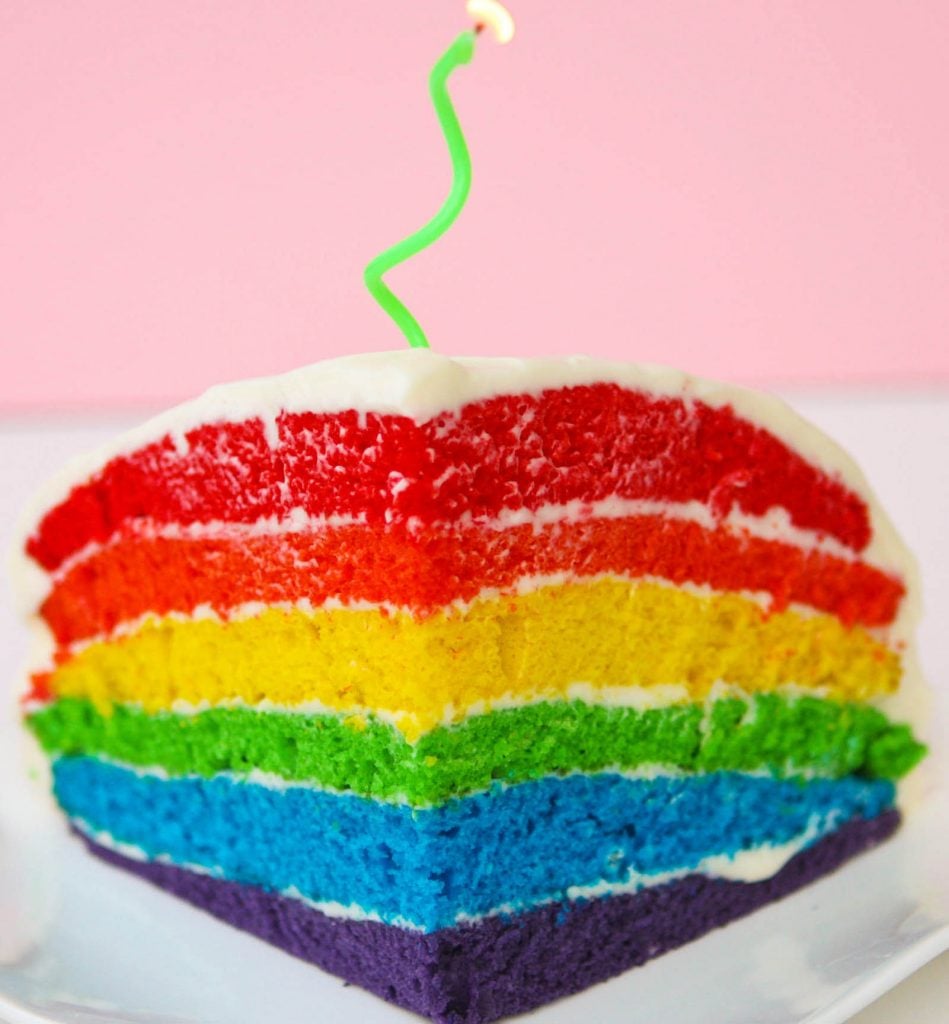 So rainbow cake it is! This was my first attempt at a rainbow cake, and let me just say that it involved a bit of trial and error.
Fear not, though. None of you will have to endure the same learning pains that I did. I will tell you exactly what you need to do in order to create this beautiful rainbow cake!
Due to the "trial and error" that I referred to, I had extra batter and extra frosting. I had a little bit of fun with it, and it made my 4-year-old squeal with delight.
I was lucky to snap this photo because his eager little hands were within inches of the frame, ready to grab that pretty cupcake for himself.
Print Recipe
Rainbow layer cake and cupcakes
Ingredients
One 18.25-ounce box classic white cake mix

Red

, orange, yellow, green, blue and purple food coloring

Three 8-ounce packages cream cheese

, softened

3/4

cup

butter

, softened

1

teaspoon

vanilla extract

3

cups

confectioners' sugar
Instructions
Preheat oven to 350 degrees F..

Prepare the cake batter according to package directions. Divide the batter evenly between six small bowls

Using food coloring, make the batter in each bowl a different color of the rainbow (red, orange, yellow, green, blue, purple). Stir well so the batter is evenly coated.

Make the frosting: In a large bowl, combine the cream cheese and butter. Beat with a hand-held mixer on medium speed until creamy. Mix in the vanilla.

Add confectioners sugar one cup at a time and beat on low until combined.

Generously spray six 9-inch round cake pans with cooking spray. One color at a time, pour the colored cake batters into the pan and bake in the preheated oven for 10 minutes per cake.

allow cakes to fully cool on wire rack after baking

Place the purple cake on a serving platter once it has completely cooled in the pan. Top with a thin layer of frosting. Spread the frosting to within ½ inch of the edge of the cake. Repeat with the blue, green, yellow, orange and red cakes, in that order.

Coat the sides and top of the cake generously with the remainder of the frosting.
Notes
[Start with purple and go up the rainbow back to red so you can stack the cakes on the platter as you go. I found that the cakes sometimes broke apart if I allowed them to sit on a rack or on wax paper while cooling.]