Rain, rain go away!  Wow, the rain just keeps coming down, the rivers and creeks are flooded, and it got so bad, that we couldn't even have our first full day of school.  Enough already with the rain…..sigh   I'm finally back to work after a very busy summer, and its nice to get back to my routine, now if only the weather would co-operate!  Let's hope for the best, tomorrow's another day, and I have a lot of food in the walk-in!
But we all know why were here today, it's guest post Friday, my favorite day of the week!  Not only is it the end of a week but it's a time when I get to spotlight one of my friends and introduce them to the blogging community.  Today it's my pleasure to bring  you Megan from Pip & Ebby – Messy Kitchen!  For those of you that don't already know Megan, I'm sure after today, you'll have found a kindred spirit, and a good friend.   Your also going to find an extremely talented chef and photographer!
So sit back, relax, put your feet up and get ready to hit the kitchen for a snack, because after this post your going to be hungry, as I give you…….

Hello! My name is Megan (aka Pip) from Pip & Ebby – Messy Kitchen. What an honor to be posting on Chef Dennis' blog! He was one of the first people to reach out to me when I began this food blogging adventure. I immediately found him to be helpful, selfless, talented and filled with valuable information. Since then, I have seen him reach out to many other food bloggers, and I continue to be inspired by his kindness and knowledge.
This post is timely since I have been food blogging for exactly one year! Now, a year after starting this adventure, I cannot imagine not having this blog. It has been a constant positive aspect of my life, through some rough patches.
My blog features all types of food. Growing up, my mother had a hard time finding anything that I wouldn't eat. I loved everything (minus pickled beets). Today, I make a wide variety of foods in my kitchen (minus anything involving pickled beets). I declare a special love for salads, vegetables, meats and sweets. But I really do love it all. I adore creating food, photographing food, writing about food and eating food.
One of my absolute favorite things to eat is cake. I have always loved celebrations of every kind because most of them involve cake. White cake, chocolate cake, marble cake, German chocolate cake, lemon cake. When I thought about what I wanted to post on Chef Dennis' blog, the first thing I thought of was cake. I am simultaneously celebrating one year of food blogging, so nothing sounds more fitting!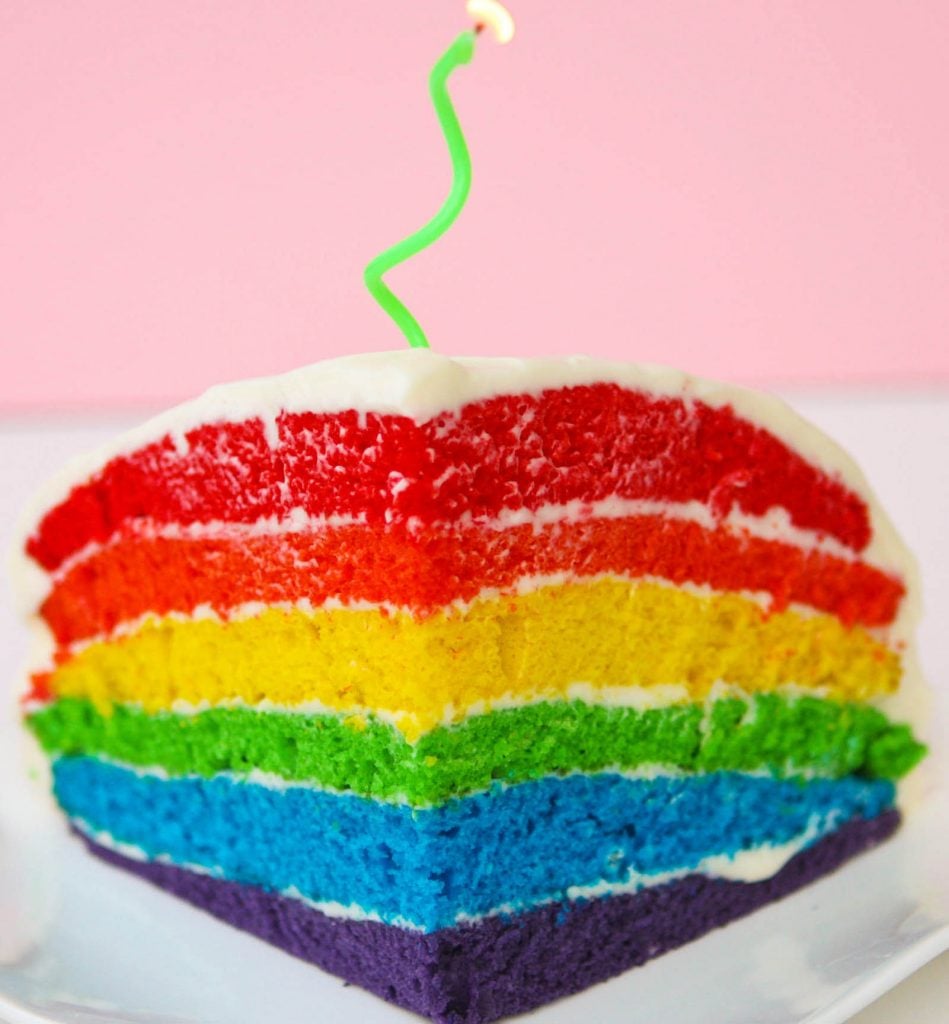 So rainbow cake it is! This was my first attempt at rainbow cake, and let me just say that it involved a bit of trial and error. Fear not, though. None of you will have to endure the same learning pains that I did. I will tell you exactly what you need to do in order to create this beautiful rainbow cake!
Author:
Megan from Pip and Ebby-Messy Kitchen
Ingredients
One 18.25-ounce box classic white cake mix
Red, orange, yellow, green, blue and purple food coloring
Three 8-ounce packages cream cheese, softened
¾ cup butter, softened
1 teaspoon vanilla extract
3 cups confectioners' sugar
Instructions
Preheat oven to 350 degrees F. Prepare the cake batter according to package directions. Divide the batter evenly between six small bowls. Using food coloring, make the batter in each bowl a different color of the rainbow (red, orange, yellow, green, blue, purple). Stir well so the batter is evenly coated.
Make the frosting: In a large bowl, combine the cream cheese and butter. Beat with a hand-held mixer on medium speed until creamy. Mix in the vanilla. One cup at a time, add the confectioners' sugar and beat on low until combined.
Generously spray a 9-inch round cake pan with cooking spray. One color at a time, pour the colored cake batters into the pan and bake in the preheated oven for 10 minutes per cake.
[Start with purple and go up the rainbow back to red so you can stack the cakes on the platter as you go. I found that the cakes sometimes broke apart if I allowed them to sit on a rack or on wax paper while cooling.]
Place the purple cake on a serving platter once it has completely cooled in the pan. Top with a thin layer of frosting. Spread the frosting to within ½ inch of the edge of the cake. Repeat with the blue, green, yellow, orange and red cakes, in that order.
Coat the sides and top of the cake generously with the remainder of the frosting.
Due to the "trial and error" that I referred to, I had extra batter and extra frosting. I had a little bit of fun with it, and it made my 4-year-old squeal with delight. I was lucky to snap this photo because his eager little hands were within inches of the frame, ready to grab that pretty cupcake for himself.
Thank you, Chef Dennis, for allowing me to be a part of your awesome blog!
*******
What did I tell you, now that is one gorgeous cake, and I love that cupcake!   I do have to see if I can do this for my girls they will absolutely love them!  Now before you forget head on over to Pip & Ebby – Messy Kitchen, and say hi to Megan!  Just don't forget to tell her Chef Dennis sent you!  (don't forget to wish her a Happy Blogoversary too!)
I would also like to remind you that our friends  friends Adam and Cheryl Barnes from Picture Perfect Meals have been selected as one of 5 finalists for Country Living Magazines Blue Ribbon Blogger Awards and would really appreciate your vote!    There in the lead right now and would like to stay there!  So please go over and vote for them, it's really easy just click on the Vote ribbon and follow the links,  and remember you can vote everyday!  So lets help them out,  I know  Cheryl and Adam will appreciate your support!
Thank you so much for stopping by,  Have a wonderful weekend, and unless you need it in your part of the world, let's hope for a  warm sunny weekend, I could certainly use one right about now!
Cheers!
Dennis