If your looking for a cake to wow your guests this is it! What could be better than a Pumpkin Marshmallow Brown Butter cake with a cinnamon Swiss buttercream! It's easier than you think to make this delicious creation.
Total Time:
1
hour
20
minutes
This post includes affiliate links. As an Amazon Associate I earn from qualifying purchases.
Wouldn't you like to make this Pumpkin Marshmallow Brown Butter Cake for your family this weekend? Thanks to my friend Krissy's Creations and her delicious guest post you now have the recipe. (this blog no longer exists)
While brainstorming ideas of what to guest post, I knew I wanted to make something sweet. One of my favorite things to bake is cake, especially ones with multiple layers and flavors.
Don't y0u just love marshmallows? Browned, soft, gooey and delicious. How could I use them in a recipe?
So I came up with this decadent Pumpkin Brown Butter Cake with Toasted Marshmallow Filling and Cinnamon Swiss Meringue Buttercream.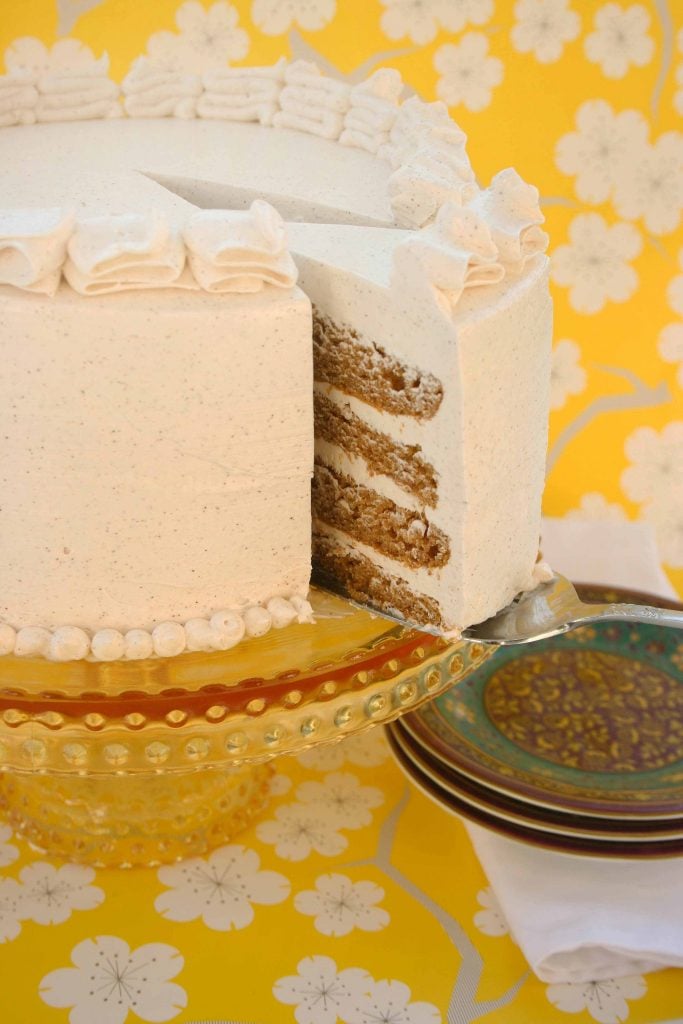 I know it seems like a lot and may seem overwhelming, but it's not as hard as it sounds.
Trust me! (You're probably thinking, "How can I trust you? I barely know you." Well, at least hear me out on this: Just be confident in the kitchen and you can do anything. Yep anything!}
This creation starts out with a Pumpkin Brown Butter Cake.
Most pumpkin cakes taste like muffins. They don't have the moist and spongy cake quality and are often not sweet enough. Well, this cake is different. It has the perfect balance of sweetness and moistness, with the addition of brown butter to add a bit of nuttiness and flavor.
The cake is filled with a Toasted Marshmallow Filling. Made with real toasted marshmallows! To create the filling, all you do is toast up some marshmallows in the broiler. Combine the toasted marshmallows with the basic butter and confectioners and some extra marshmallow fluff, and you're done! You just created a tasty filling reminiscent of a marshmallow roasting on a fire.
The cake is then topped off with a Cinnamon Swiss Meringue Buttercream. The swiss meringue buttercream adds a silky and smooth texture, which offsets the sweetness of the cake and filling.
All of these flavors mesh together perfectly to create an indulgent fall-flavored cake. It would be a great addition to your Thanksgiving dessert table. And everyone will be in awe of what you created!
If you love cake you may also like these recipes: