Total Time:
2
hours
30
minutes
One of the great joys in life is a Roast Pork Sandwich and Philadelphia is renown for having one of the best pork sandwiches in the country!  Unfortunately that doesn't hold true for many of the restaurants that serve them!   I have had a lot of tasteless pork sandwiches where the owners just go through the motions because they feel they have it on their menu.
You know, it's not rocket science people, its just a Roasted Pork Loin!   You rub it with  brown mustard and hit it with an abundance of Montreal Beef Seasoning and you've got one of the most flavorful pieces of pork you could ever hope for.  The secret really is all that great cracked black pepper in the Montreal seasoning.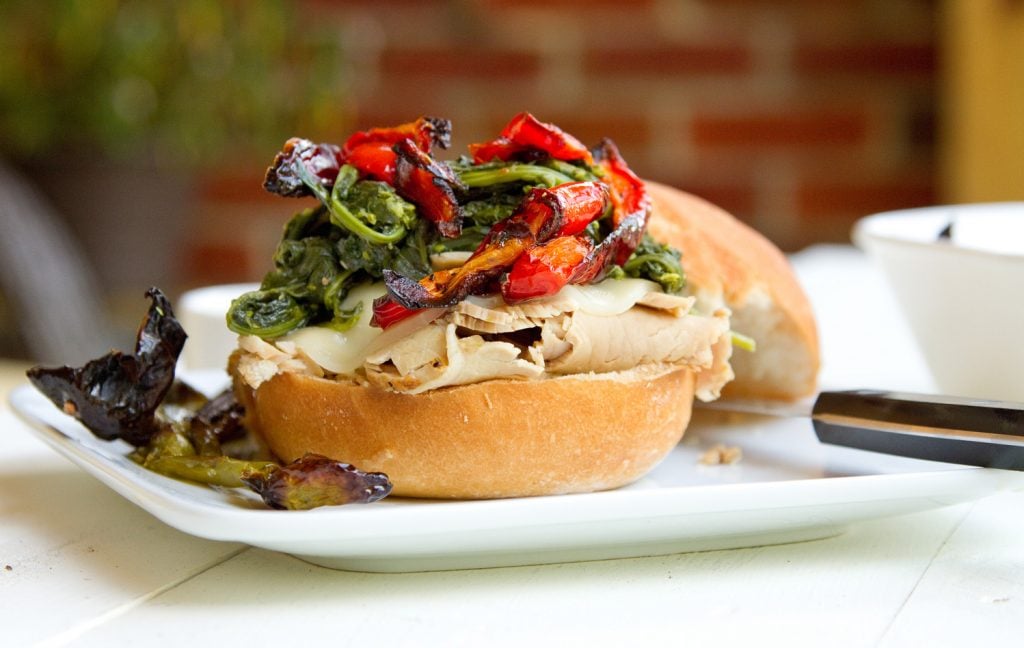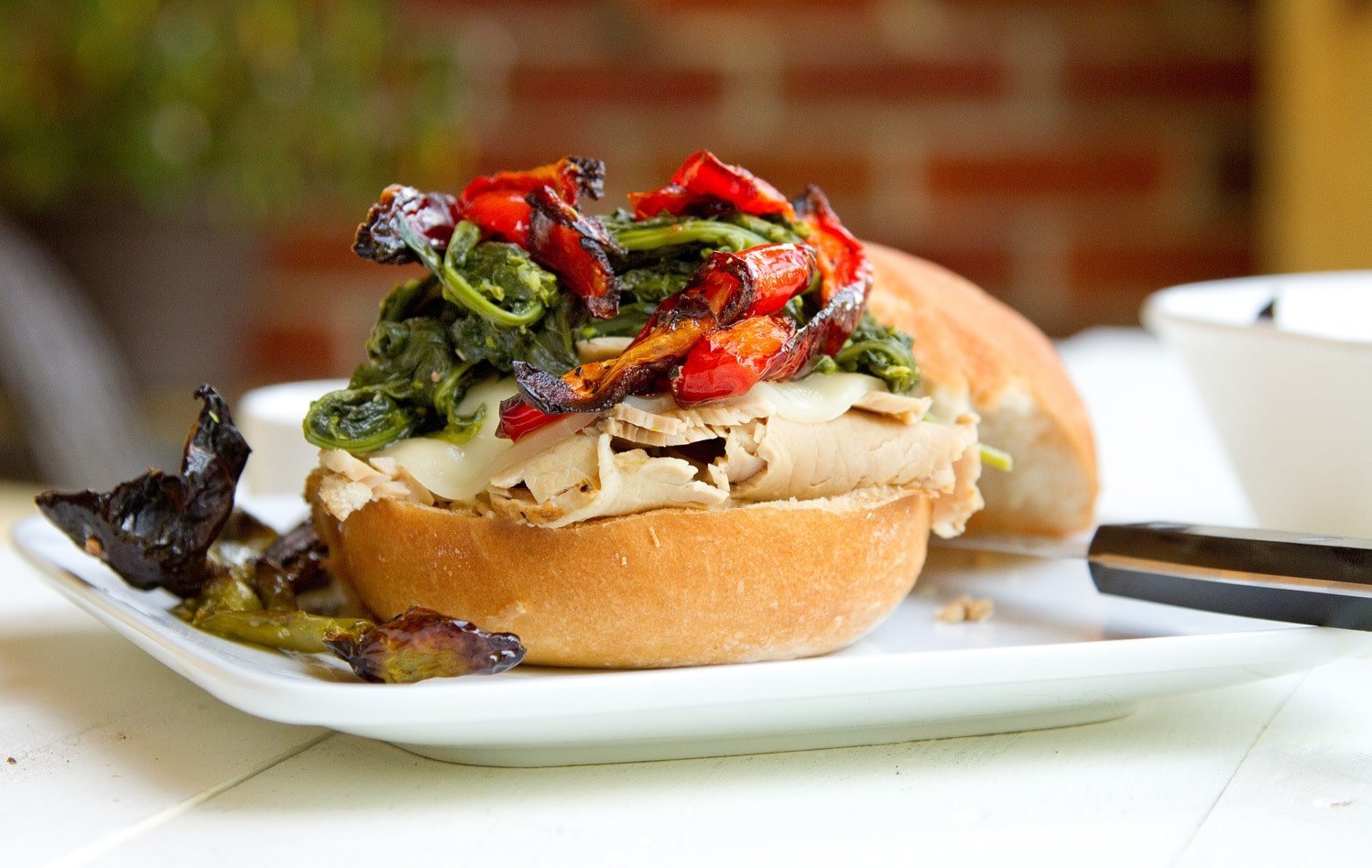 Most of the restaurants and taverns that feature a Philly Style Pork sandwich offer it a couple of ways.  You can get it straight up with just a slice or two of provolone on it, or you can get it Italian Style which to me is the true Philly Style Roast Pork Sandwich.   The Italian Style comes with broccoli rabe (or spinach) that has been sauteed in olive oil with a healthy amount of garlic, roasted red peppers, and aged provolone cheese…..sigh,  its a wonderful thing.   That is of course if they bother to season the pork and don't just throw it in the oven!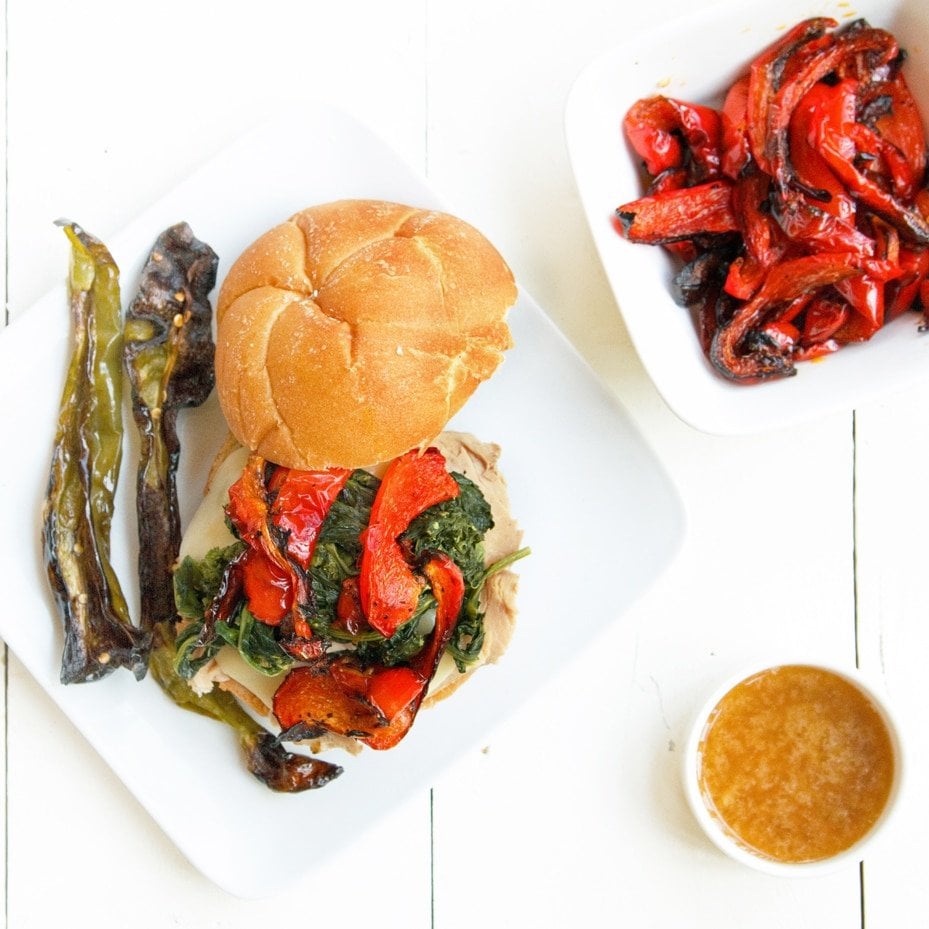 And no self respecting purveyor of roast pork would serve that glorious sandwich with out a side of Italian Long Hot Peppers. Those are the peppers that let you know just how hot they are as soon as you start cooking them, these were no exception!  I'm afraid my days of long hots are far behind me, but to be truly authentic you gotta have them!
Don't forget to pick up some good kaiser rolls for this sandwich, and your choice of provolone.  I used regular provolone, Lisa just isn't a fan of the aged provolone, its a bit too sharp for her.   Of course I would have used them both on my sandwich, I do love cheese!
Ingredients
Roast Pork
1

lbs

pork loin

4-5 / 2 Kg

1/4

cup

brown mustard

60 ml

4

tbsp

Montreal Beef Seasoning*

60 g

1

lb

sliced Provolone aged or regular

550 g

12

Kaiser rolls or the roll of your choice
Broccoli Rabe
1

head broccoli rabe

2

tbsp

olive oil

30 ml

1

clove

of garlic diced
Roasted Red Peppers & Long hots
2

large red peppers

olive oil

sea salt and pepper to season
Make Your Own Montreal Beef Seasoning
2

tablespoons

paprika

30 g

2

tablespoons

cracked black pepper

30 g

2

tablespoons

kosher salt

30 g

1

tablespoon

granulated garlic

15 g

1

tablespoon

granulated onion

15 g

1

tablespoon

crushed coriander

15 g

1

tablespoon

dill

15 g

1

tablespoon

crushed red pepper flakes

15 g
Instructions
Pork Roast
Coat top side of pork roast with brown or deli mustard, rub into meat.

Sprinkle a liberal amount of Montreal Steak Seasoning over the mustard, covering the top completely.

Place meat in 350 F degree oven (177 C), add a little water to the bottom of the pan and roast the pork loin for about two hours or until a meat thermometer reads 150 F (66 C) degrees. (the temp will rise 10 degrees as it sits)

After the Pork has cooled completely cut it into thin slices to re-heat in the au jus.

Add some water to all of the meat drippings and use this as your base for the pork au jus.
Broccoli Rabe
Wash and trim the broccoli rabe removing any bad leaves and cutting off the stems, leaving only the leaves and flowers.

Place the broccoli rabe into a pan with water and allow to boil until the broccoli rabe is tender. (do not use a full pot of water, use just enough to cook)

Drain Broccoli rabe and saute in olive oil with chopped garlic, sea salt and pepper to taste.
Roasted Red Peppers and Long Hots
Wash peppers, and cut down the center removing all the seed and membranes.

Slice the red peppers about 3/8 of an inch thick (1 cm)

Coat with olive oil and season with sea salt and black pepper

Roast in 350 degree oven for 20-25 minutes

Keep the peppers separate during the process, otherwise the long hots will make everything hot!
Make Your Own Montreal Beef Seasoning
Combine paprika, crushed black pepper, kosher salt, granulated garlic, granulated onion, crushed coriander, dill, and crushed red pepper flakes, mix well.
Assembly
Reheat the sliced pork in the au jus you saved from the pan

place slices of roast pork on kaiser roll, add provolone, broccoli rabe and roasted red peppers.

serve with extra au jus and long hots!
This is definitely a sandwich worth making, your friends and family will absolutely love you for making it!   It's also a great way to have some fast food in your freezer.  There is just the two of us at home, so when I make this type of roast pork I freeze what we don't eat into portions that we can reheat for dinner another night.  I also keep extra Kaiser rolls in the freezer and you know you can always find a large variety of cheese in my fridge, and provolone is usually one of them!  So dinner on a hectic night just got easier!
I'll be posting a follow up to my "Food bloggers Guide to G+" later in the week so keep an eye out for it!  Have a great week my friends!