Every home cook should have a Classic Pot Roast Recipe in the repertoire. It's an easy dish to make and is the perfect comfort food when friends and family gather and you don't want to spend all day in the kitchen.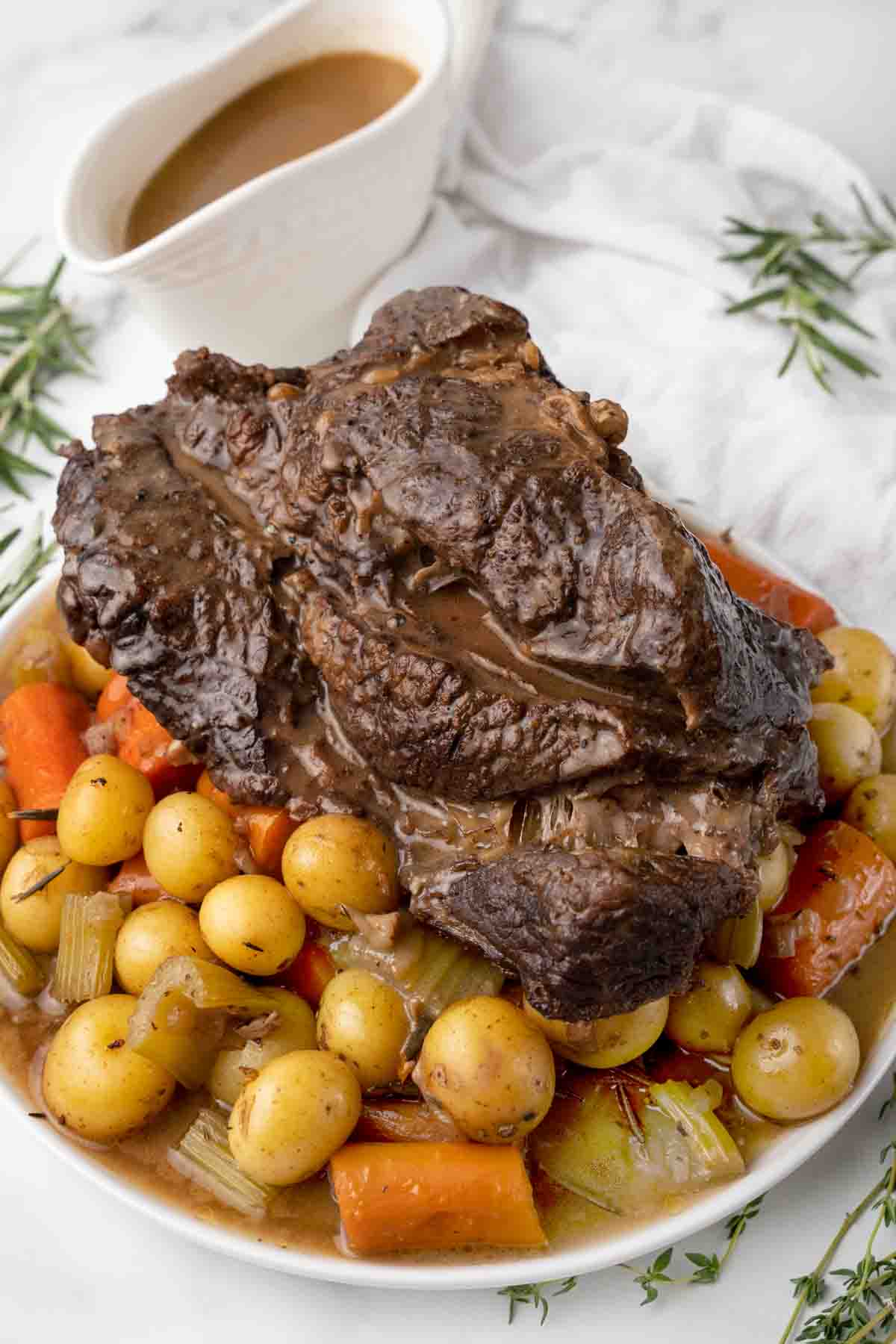 Made with simple pantry ingredients, this tender, fall apart Beef Roast is slow cooked and served with a hearty gravy, potatoes and carrots creating a delicious one pot meal.
This is my favorite roast beef recipe but if you're looking for another tender and delicious beef recipe, my Guinness Beef Stew is OMG delicious!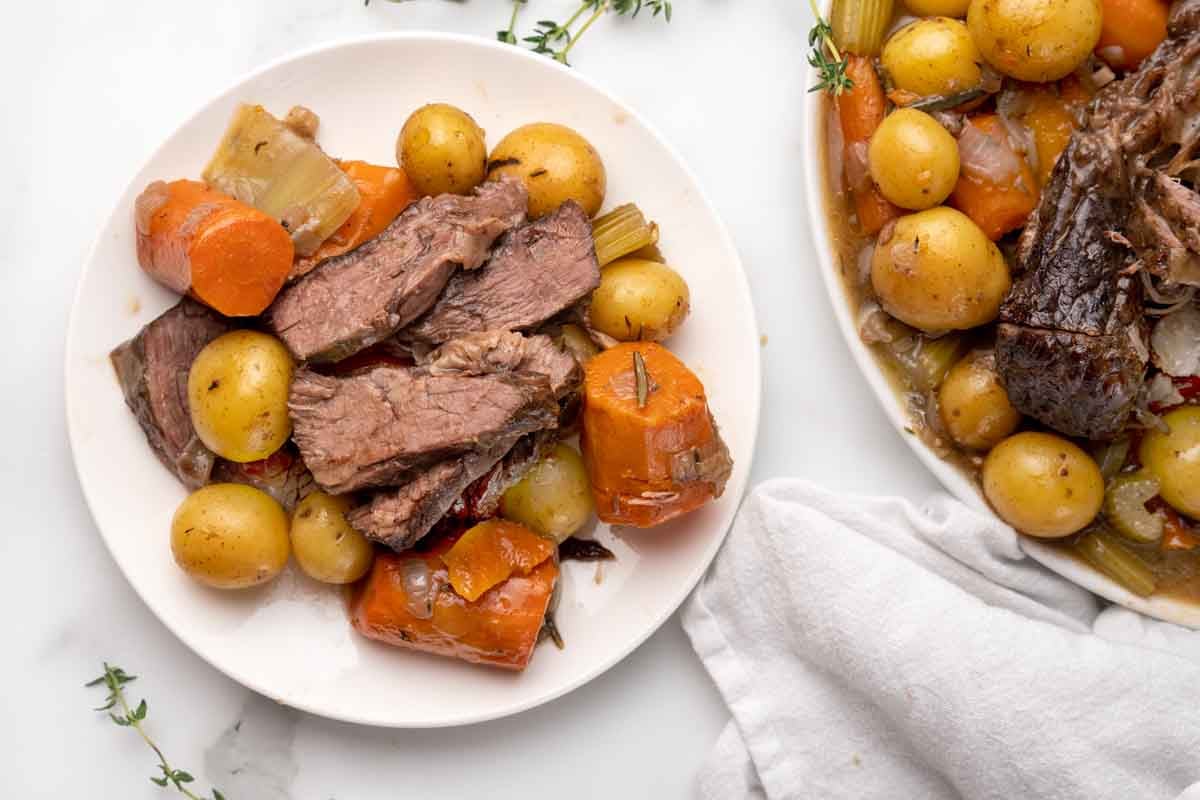 Perfect for Sunday Supper this tender and juicy Pot Roast is easy enough for even the novice cook to make.
Although thought of as an American Dish, the origins of pot roast can be traced back to medieval times, when tough cuts of meat were cooked in a pot with vegetables and liquid to make a very filling and hearty meal.
Over the years Pot Roast evolved into a popular and comforting dish that was made in many of the European countries, before finally making its way to America. Where it became the Classic Recipe for the Sunday Dinner Pot Roast.
Ingredients to make Pot Roast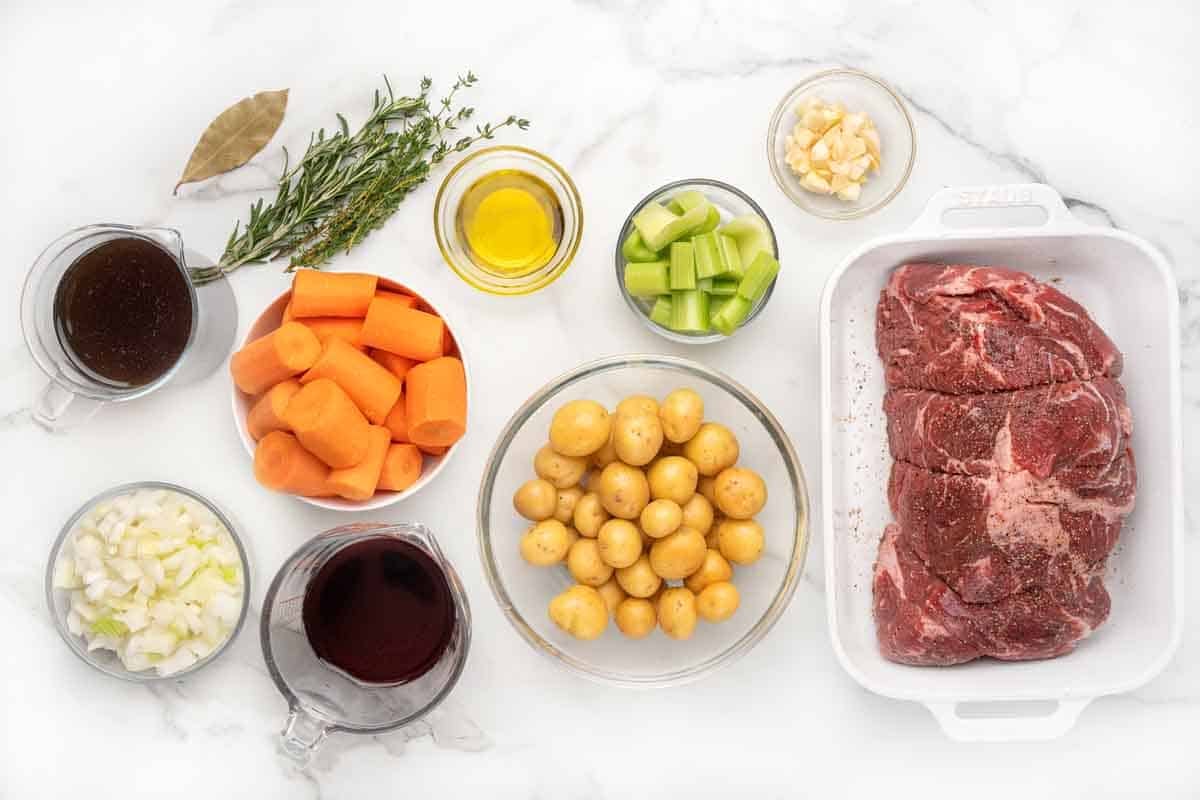 Let's start by gathering the ingredients we need to make Classic Pot Roast. In Chef Speak, this is called the "Mise en Place" which translates to "Everything in its Place."
Not only does setting up your ingredients ahead of time speed up the cooking process, it also helps ensure you have everything you need to make the dish.
boneless chuck roast generously seasoned with salt and black pepper
olive oil
onion chopped
carrots 
celery 
garlic 
fresh rosemary 
fresh thyme
bay leaf
beef broth
red wine
baby potatoes (yukon gold or red potatoes)
unsalted butter
all-purpose flour
*some recipes include tomato paste, I didn't feel this recipe needed it, but feel free to add tomato paste, worcestershire sauce, dijon mustard and your favorite herbs to make this recipe your own.
What cut of beef is best for pot roast?
When it comes to pot roast the beef needs to have the right balance of fat and connective tissue, so when it breaks down during the slow cooking process, the results yield a tender and flavorful roast. Pot roast is traditionally made using the tougher cuts of beef that are well-marbled with fat. As the beef cooks, the marbled fat breaks down and tenderizes the meat.
Chuck – My first choice is a boneless chuck roast. It's affordable and was made for braising.
Brisket – Brisket is also an excellent choice for pot roast, It braises well and makes deliciously tender roast that is easy to slice.
Round – Top Round is the last choice as it has the potential to be juicy and flavorful. The problem is that it's very lean compared to chuck and brisket. So it's important not to over cook the roast or it will dry out. 
How to make Pot Roast
Allow the roast to sit covered and unrefrigerated for 1 -1½ hours to come to room temperature before cooking.
Pat dry the roast with paper towels and season generously with salt and black pepper.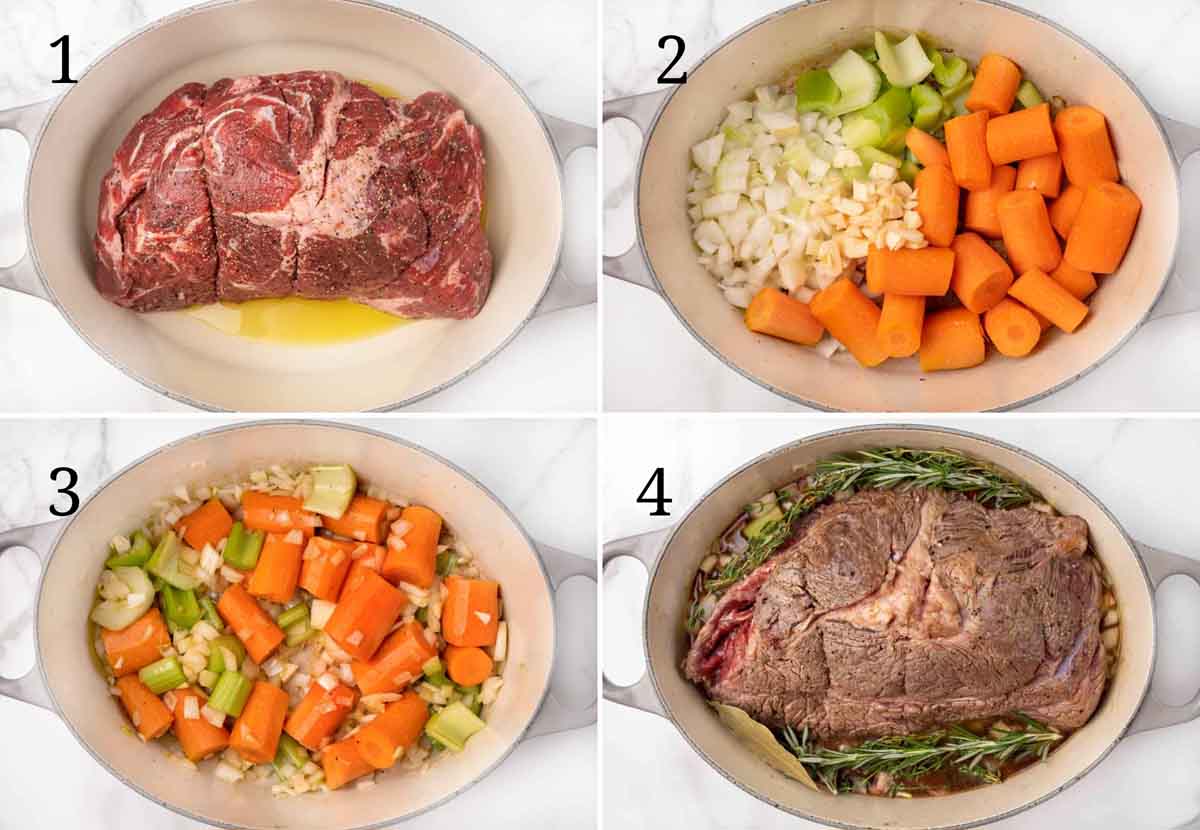 Heat 1 tablespoon olive oil over medium-high heat in a large dutch oven or a large pot with lid. Sear the roast in the hot pot until browned, turn the roast and continue to sear all the sides. 3-4 minutes per side, add additional oil as needed.
Remove the roast from the pan. Add the onions, carrots, celery and garlic to the pot with additional olive oil as needed.
Let the veggies cook for 3-4 minutes.
Add the roast back to the pan, along with the beef broth, red wine and herbs.
Bring to a light boil on the stovetop over medium-high heat. Cover and reduce heat to simmer.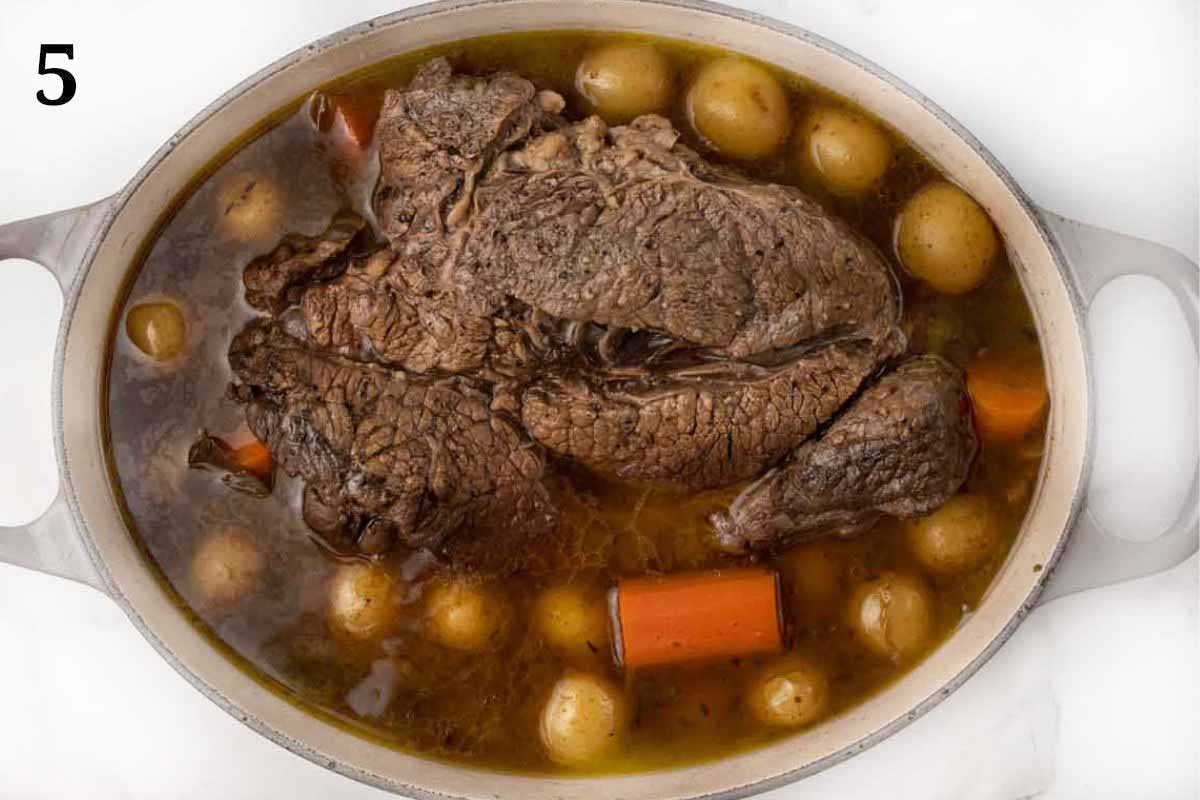 Cook for 2 hours on simmer, then add the baby potatoes to the pot. Continue to simmer for another 1½ – 2 hours until potatoes are fork tender.
Scrape the bottom of the pan to release all the tasty browned bits, before removing the liquids to make the gravy.
How to make beef gravy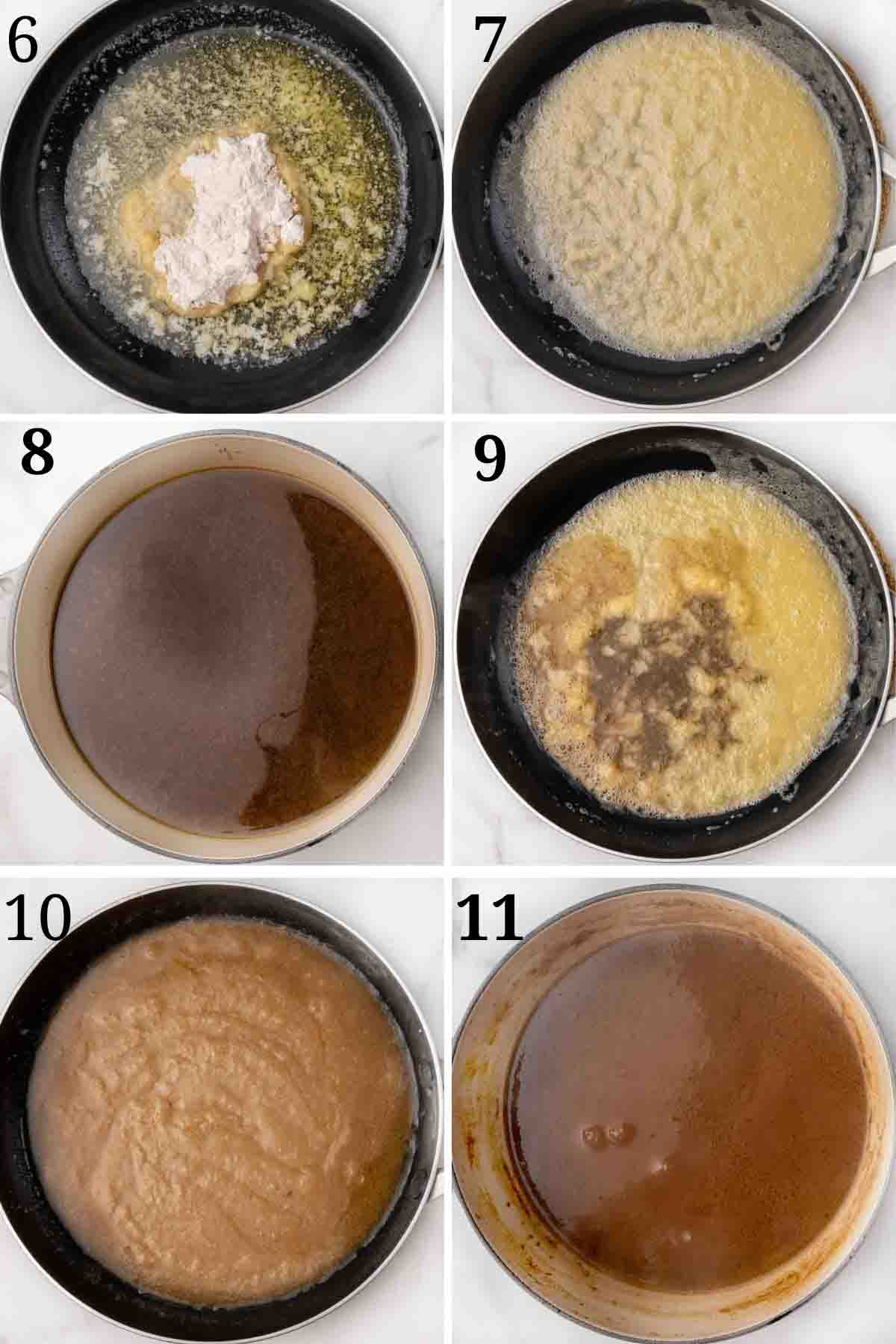 Add two tablespoons of all-purpose flour to two tablespoons of melted butter.
Allow to cook over low heat for 2-3 minutes and set aside until needed.
Bring the liquids from the pot roast to a light boil.
Add one cup of the liquid to the roux.
Mix until well blended.
Add the roux mixture into the rest of the liquids and whisk until well blended. Taste and reseason as needed.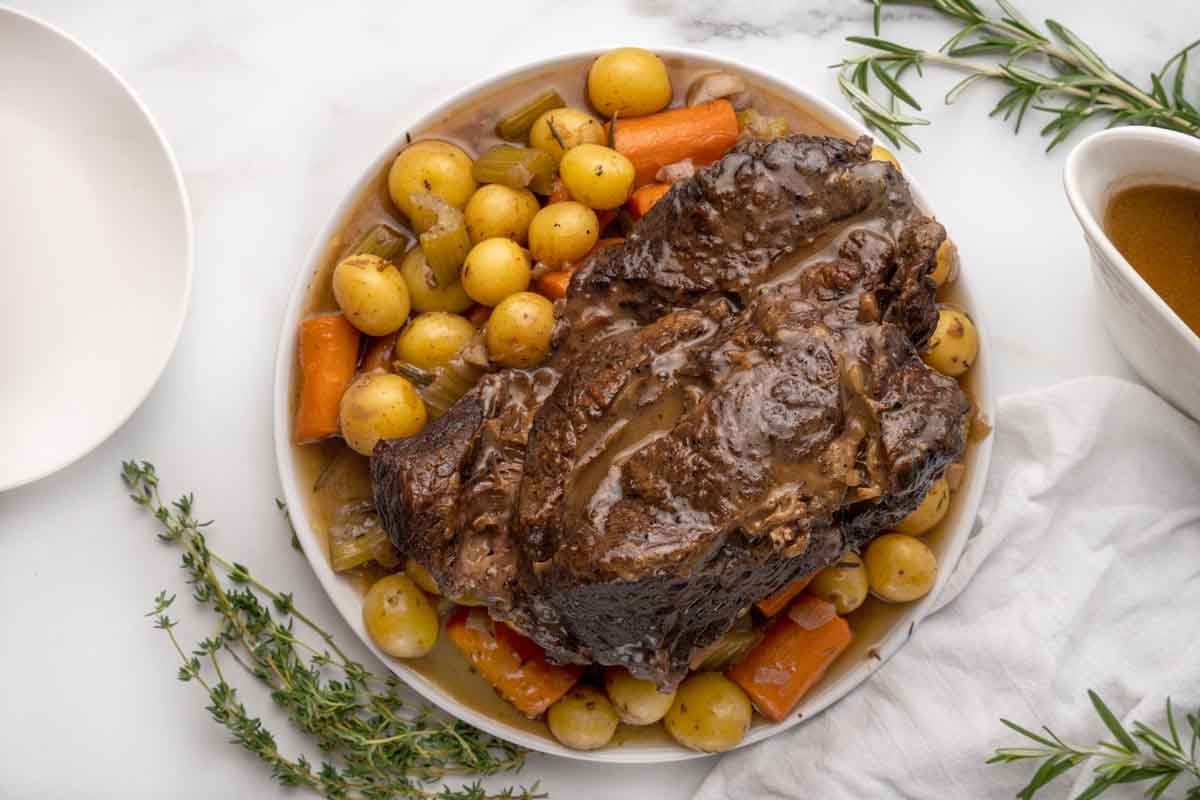 Your going to love this oh-so-delicious fork tender, melt in your mouth pot roast. Served with whole baby potatoes, chunks of sweet carrots, and a perfectly seasoned beef gravy.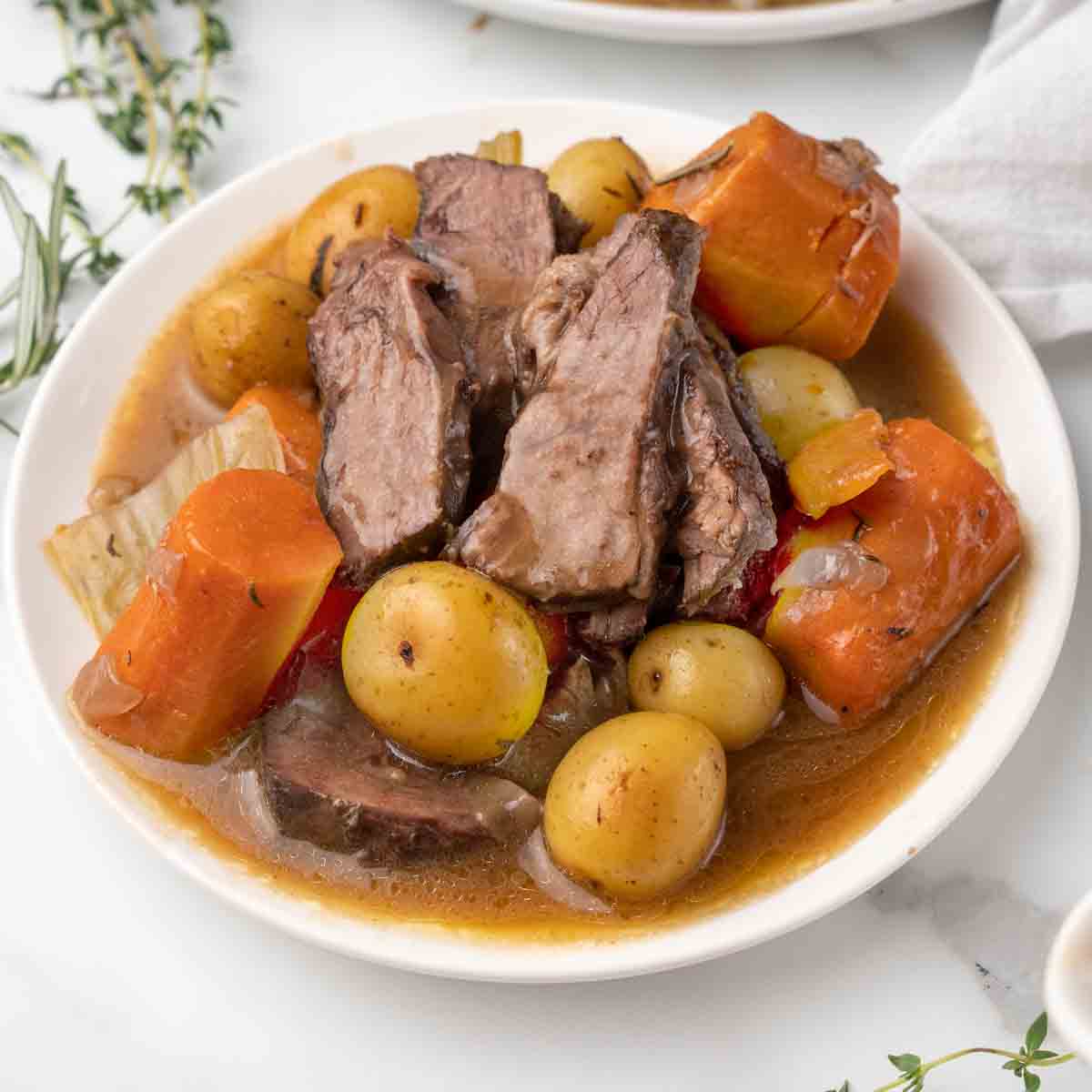 Wouldn't you love to sit down to dinner without spending hours in the kitchen? This pot roast is the perfect Sunday dinner, without all the work!
How to cook pot roast in the oven:
Preheat the oven to 275 degrees F.
You will need a Dutch Oven or large pot for this method.
Follow the recipe instructions until it's time to cover and slow cook the roast.
At this point cover the roast with a lid or aluminum foil and allow it to

roast for 3-4 hours, or until the meat is starting to falling apart. 

When the dutch oven pot roast is finished cooking, follow the instructions for making the gravy.
How to cook pot roast in a slow cooker:
Sear the roast in a large pan or if your slow cooker has the capabilities in your slow cooker. Follow the instructions for this process.
Follow the recipe instructions until it comes to cooking the pot roast. Cook the beef roast for 6-8 hours on a low temperature or until it's falling apart. The low setting is the preferred method for a roast this size. You don't want to rush the process.
Follow the instructions for making the gravy,.
Recipe FAQ's
How long does pot roast take to cook?
The time it takes to braise pot roast in a dutch oven will depend on the size of the roast. 3 to 4-pound roast should be checked for doneness between 2 and 2½ hours. Larger roasts will need to be cooked for 3 -3½ hours,
How do you know when the pot roast is done?
The meat will be fork tender when the pot roast is cooked and ready to eat. This happens when the internal temperature is between 190ºF to 205°F. This is the sweet spot for tough cuts of meat like a chuck roast. The higher temperature lets the marbled fat melt into the meat which makes it tender and tasty.
How do I make a pot roast tender?
When it comes to cooking chuck roast, it's low and slow.
Whether you cook your pot roast using a stovetop, oven, slow cooker, or pressure cooker method, you'll always get the most tender and flavorful results if you use low temperatures over a longer period of time.
More Beef Recipes You'll Love!